[Japan Sports Notebook] NBA Relaunch Gives Rui Hachimura, Wizards a Shot at Reaching Playoffs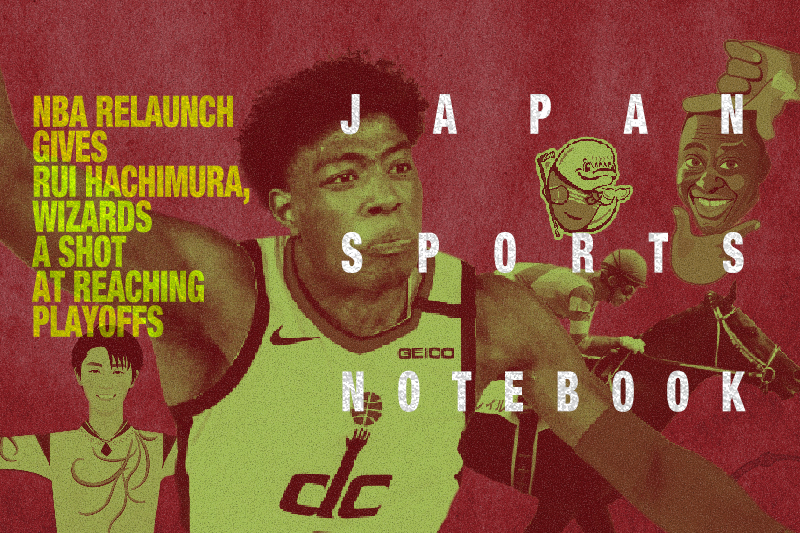 Rui Hachimura and the Washington Wizards are returning to competition this summer after NBA owners approved a plan to relaunch the season on July 31 with 22 of 30 teams.
The 2019-20 NBA season has been suspended since March 11, when Utah Jazz center Rudy Gobert tested positive for the coronavirus.
On Thursday, the NBA Board of Governors authorized the return-to-play schedule by a 29-1 vote.
The NBA plan, which has been discussed and modified over the course of several weeks, will put nearly two dozen teams in a "safety bubble" at Walt Disney World in Florida.
The Wizards (24-40) are in ninth place in the Eastern Conference standings. The eight teams in front of them in the standings and the top 13 teams in the Western Conference standings are set to compete in the revamped format. The Milwaukee Bucks (53-12) and Los Angeles Lakers have the best record in the East and West, respectively.
Wizards general manager Tommy Sheppard said: "Although we know that there are much more meaningful and important issues in our country to focus on at this time, we are extremely grateful for the opportunity to play basketball again. Our players and coaches have done a tremendous job of staying ready and active from a basketball perspective..."
NBA Commissioner Adam Silver issued the following statement on Thursday: "While the COVID-19 pandemic presents formidable challenges, we are hopeful of finishing the season in a safe and responsible manner based on strict protocols now being finalized with public health officials and medical experts."
According to published reports, the NBA plans to conduct COVID-19 testing on a daily basis.
Teams are scheduled to play eight games to close out the regular season, followed by a possible play-in tournament to determine the final playoff spots, followed by the four rounds of playoff action. The NBA Finals would end on Oct. 12 at the latest, if there are no further changes to the schedule.
In 41 games as a rookie, Hachimura is averaging 13.4 points and 6.0 rebounds.(RELATED STORY Wizards Coach Scott Brooks: Rui Hachimura 'Had a Great Year' as a Rookie)
HORSE RACING
Unbeaten Contrail wins Japanese Derby
Yuichi Fukunaga rode Contrail to a come-from behind victory at the 87th Japanese Derby on Sunday at Tokyo Racecourse.
Contrail, who is unbeaten in five starts, took the lead down the stretch in the Grade I race, pulling ahead in the last 200 meters.
The 3-year-old colt beat Salios by three lengths. Weltreisende placed third 4 3/4 lengths behind Contrail, who completed the 2,400-meter race in 2 minutes, 24.1 seconds at the Tokyo Yushun, aka Japanese Derby.
After the race, Fukunaga told reporters that his horse's "talent is bottomless."
"His potential is high. Contrail has joined the ranks of elite horses."
With victories in the first two legs of the Japanese Triple Crown, including the Satsuki Sho in April, Contrail has a shot at completing the trifecta at the Kikka Sho, a 3,000-meter test of endurance, in October at Kyoto Racecourse.
In 2011, Orfevre became the last horse to win the Japanese Triple Crown.
FIGURE SKATING
Illustrator's Passion Shines Through in Sketches
Passions for sports can propel athletes to greatness.
Indeed, fans are also known to share great passion for athletes and sporting events.
Some fans channel that passion into producing artwork that expresses admiration for athletes.
Such is the case with Fukuoka resident Mika Matsuda, a 47-year-old illustrator who enjoys sketching pictures of past and present skaters, including fan favorites Yuzuru Hanyu and Mao Asada, and coaches. Her work as seen on Twitter and Instagram has brought a popular following.
Jack Gallagher, a longtime Japan-based journalist who has attracted a large following on social media due to his figure skating expertise, recently wrote an interesting profile of Matsuda for his newly launched website.
Among Matsuda's compelling insights was the following explanation for why she enjoys drawing pictures of two-time Olympic champ Hanyu: "Yuzuru Hanyu is my favorite skater. He was a big training point for me, because his face can be the most difficult to draw. I look very carefully at his photos. His expressions during his programs really differ. He has a wide range of facial expressions. He does not have a set facial expression that he is known for."
Articles on Gallagher's website appear in English and Japanese.
Gallagher also hosts a bilingual figure skating podcast, "Ice Time." His most recent guest (episode No. 37) was retired skater Daisuke Murakami.
BASEBALL
Sakamoto, Oshiro Test Positive for COVID-19
Yomiuri Giants shortstop Hayato Sakamoto and catcher Takumi Oshiro have tested positive for the coronavirus, the team said Wednesday.
Kyodo News reported that polymerase chain reaction tests administered to both players on Tuesday "showed only traces of the coronavirus."
As a result, epidemiologist Mitsuo Kaku doesn't believe the teammates are a "high risk.
"The two players had recovered from their infections, and it appears a significant amount of time had passed," Kaku was quoted as saying by Kyodo News. "For that reason it appears there is not a high risk they would expose others around them."
Cromartie Launching YouTube Channel
Retired Yomiuri Giants great Warren Cromartie is setting up a YouTube channel, he said in a Twitter post this week.
"Hello everyone," tweeted the 1989 Japan Series MVP. "I'm starting my new YouTube channel 'Cromartie channel.' Please subscribe. This is going to be your channel, an entertaining channel speaking with celebrities, sports figures from around the world. I look forward to hearing from you."
SOCCER
Grampus' Kanazaki Hospitalized for Virus
Nagoya Grampus forward Mu Kanazaki was hospitalized on Tuesday, a day after testing positive for the coronavirus, the team said on Wednesday.
The 31-year-old had a 38.5 C fever on May 29, according to the J. League club.
The J. League first division is set to relaunch its season on July 4.
ICE HOCKEY
Yokohama Grits to Play in Asia League Ice Hockey
The upstart Yokohama Grits have joined Asia League Ice Hockey for the 2020-21 season, it was announced this week.
The Grits,who hired former NHL center Mike Kennedy as head coach in late February, will enter the sprawling circuit as the fifth Japan-based team (Tohoku Freeblades, Oji Eagles, East Hokkaido Cranes and Nikko Icebucks are the others). South Korea and Russia teams also compete in the league.
The 2019-20 AIHL season began on Aug. 31, 2019.
Keio University ice hockey team members initially established the Grits organization, which was reorganized into an official business in May 2019.
Kennedy, 48, played for the Dallas Stars, Toronto Maple Leafs and New York Islanders in the 1990s, appearing in 145 regular-season games. In recent years, he's worked as the Florida Panthers' director of hockey operations and set up the Hockey Training Academy in Mississauga, Ontario.
BASKETBALL
Akita Team Joins WJBL
The Akita-based Prestige International Aranmare women's squad is joining the Women's Japan Basketball League for the 2021-22 campaign.
The team was established in 2015.
GOLF
JLPGA to Start Season on June 25
The Japan Ladies Professional Golfers Association is scheduled to open its season on June 25 with the Earth Mondahmind Cup.
The Camellia Hills Country Club in Chiba will host the event.
This week's announcement also provided some details on the rest of the 2020 season, which has been on hiatus for three months.
Earth Mondahmin Cup, the Japan Ladies Professional Golfers' Association and tournament organizers announced Wednesday.
In a season impacted by the COVID-19 outbreak, the JLPGA is set to play just 18 of 37 tournaments this year.
Editor's note: Interested in submitting a news item for possible inclusion in the Japan Sports Notebook? Send an email with relevant information to odevened@gmail.com, or JAPAN Forward's comment's page or Facebook page and look for future editions of Japan Sports Notebook on our website.
Author: Ed Odeven
Follow Ed on JAPAN Forward's [Japan Sports Notebook] here on Sundays, in [Odds and Evens] here during the week, and Twitter @itsjapanforward.