Japan Suspends 'GoTo' Tourism Campaign to Prevent Year-end COVID-19 Spike
~'Normally this is a time for celebration and abundant business…but we need to do something to protect the medical system.'~
Japanese Prime Minister Yoshihide Suga announced on Monday, December 14, the nationwide suspension of the "GoTo" tourism boost campaign from December 28, 2020, to January 11, 2021.
This announcement was made following a Cabinet meeting, where the latest rise in COVID-19 cases throughout Japan was tackled.
The "GoTo" Campaign was an ambitious plan that sought to provide subsidies to consumers to help boost the tourism industry, a section of the economy that had been hit particularly hard during this pandemic.
The campaign, which was rolled out last July, was later adjusted to exclude Tokyo in August to curtail the rise in COVID-19 infections at that time. This is the first time the campaign is suspended in its entirety, nationwide.
In addition to the nationwide suspension, the Prime Minister declared that Tokyo and Nagoya had been removed as destinations in the GoTo Campaign effective immediately and until December 27.
Decreasing the Medical System's Burden
Yoshihide Suga, Prime Minister of Japan
Yasutoshi Nishimura, Minister of Economic Revitilization

"Following the recommendations of the COVID-19 government subcommittee, we are trying to stop a further increase in the spread of infections and decrease the burden on medical institutions. We are taking strong steps to make sure that everyone can see a calm start to the New Year," Prime Minister Suga said.
In an earlier press conference, Minister of Economic Revitalization Yasutoshi Nishimura explained that it had become clear that the only option was to decrease opportunities for contact with the virus.
"We received the suggestion [from the government COVID-19 subcommittee] that people should pass a quiet New Year. Normally this is a time for celebration and abundant business…but we need to do something to protect the medical system. That is why Prime Minister Suga has taken this decision," Nishimura said.
Nishimura added, however, that the expert committee had deemed it not necessary to declare a state of emergency.
Message to People in Tokyo
Tokyo Governor Yuriko Koike held a press conference in the evening of December 14 to explain the new policy's implications for people in Tokyo.
"I know that the end of the year is a very important time for businesses. I know that I am asking a burden of people, but I would like to ask for everyone's cooperation," she said.
She then gave practical suggestions, asking citizens: "Please avoid traveling in and out of the city. Please consider changing the period when you were planning to go back to your hometown for the end of the year."
She left her city with this concluding thought: "With the end of the year in sight, we need to do our utmost to protect the medical system. We are working with the Medical Association to prepare for that."
The Tokyo Metropolitan Government has asked people over 65 and with pre-existing health conditions to refrain from using the tourism boost campaign. These new developments widen the net to include everyone.
In addition, Tokyo has asked businesses serving alcoholic beverages to close before 10 P.M. On December 14, it was announced that this last measure will be extended until January 11 next year.
The Numbers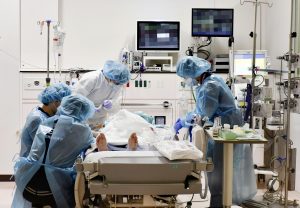 Japan has been enduring a spike in cases this month. On December 12, there were 3,041 new daily infections. On December 14, the number of serious cases hit an all-time high at 73 people.
At the same time, the medical systems around Japan, in regions such as Osaka and Sapporo among others , have been under pressure for several weeks.
Between November 11 and December 5, the highest number of cases had been oscillating around 2,500 a day nationwide, significantly up from earlier months but well below the current levels.
Local media has also been quick in reporting that recently Suga's approval rate has been dropping, which might have played a role in prompting stronger steps to tackle COVID-19 at this point in time.
Measures for Businesses, Medical Facilities
Suga enumerated several measures designed to reduce pressure on struggling businesses and hospitals.
For businesses, the Prime Minister explained that the government would be increasing economic recovery compensation to ¥1.2 million JPY (approximately $11,565 USD) per business per month.
Further measures were announced to support the hospitals and medical staff that had been put under pressure during the pandemic
"We plan to support the expansion of medical facilities fighting COVID-19 by providing income compensation to increase available beds, for example, in intensive care units," the Prime Minister announced.
Mr. Suga elaborated how the government was implementing new special compensation for medical workers fighting the virus, amounting to ¥15,000 JPY ($145 USD) per hour for doctors and ¥5,500 JPY ($53 USD) per hour for nursing staff.
The government will provide funds so that hospitals can pay companies in the private sector to perform everyday tasks such as routine cleaning. That way, the medical staff will be able to focus on their medical tasks.
In a final appeal, Suga strongly urged citizens to exercise caution in the coming weeks:
"I would like to ask all citizens, especially when eating out, to carry out basic COVID-19 prevention measures, and to think carefully before going back to their hometowns at the end of the year. That way, everyone can start the year calmly, and for that I would like to ask for everyone's cooperation," he said.
The Prime Minister said the government would consider whether to loosen the current measures around January 11, 2021, and decide at that point what steps would be appropriate going forward.
Author: Arielle Busetto