Japanese Astronaut Noguchi, SpaceX Team Lift Off for International Space Station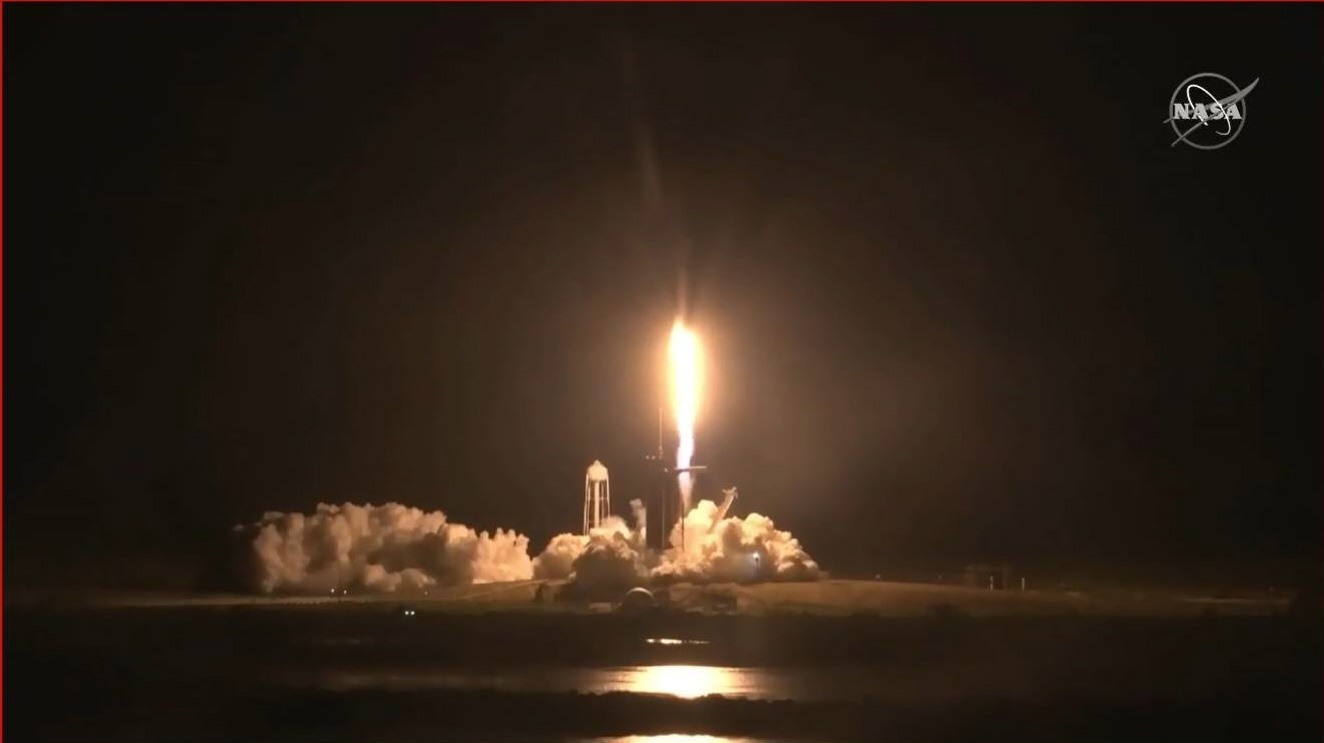 ~The spacecraft is called Resilience, symbolizing the power to recover from adversity. ~
With astronaut Soichi Noguchi as the first Japanese on board, the new SpaceX Crew Dragon successfully lifted off precisely ontime from the Florida's Kennedy Space Center at 19:27 EST on Sunday, November 15 in Florida, USA, (9:27 A.M. Monday, November 16 in Japan) and is now headed to the International Space Station (ISS).
Noguchi's mission, which also involves three American astronauts, docks at the International Space Station one day later, at 23:00 EST on Monday, November 16 (EST). The mission calls for an extended stay of around six months aboard the ISS.
"We hope to give everyone something to feel encouraged about by showing that the challenge of space exploration can be tackled despite the [pandemic] difficulties," the 55-year-old astronaut of the Japanese Aerospace Exploration Agency (JAXA) said in a news conference prior to the departure amid the COVID-19 pandemic.
Noguchi's first flight into space was aboard the U.S. Space Shuttle Discovery in 2005, followed by a trip via the Russian Soyuz spacecraft in 2009. His third mission coincides with the first regular U.S.-manned space flight mission to the ISS in nine years and the world's first actual mission of a privately developed spacecraft.
"I am honored to be able to take part in this operation as a Japanese, which marks a historic turning point," he said.
JAXA astronaut Akihiko Hoshide arrives for the boarding of the SpaceX Falcon 9 rocket with the Crew Dragon capsule, before the launch of the NASA crew mission at Kennedy Space Center in Cape Canaveral, Florida, U.S., April 23, 2021. REUTERS/Joe Skipper
Training during the coronavirus epidemic had proved to be extremely challenging. Face-to-face training and discussions among the four astronauts were reduced to a minimum, such as extravehicular activities and simulations in preparation for emergencies. The remainder of the training was conducted by remote communication.
Fortunately, the new spacecraft is digitally compatible. Nevertheless, close attention had been paid to minimizing the risk of infection, such as reducing the number of training instructors and requiring frequent physical checkups, according to knowledgeable sources at JAXA.
Looking back on the training, Mr. Noguchi said: "We gave our full attention to doing what we could do at the time, one step at a time in day-to-day training. Miraculously, despite the very strict constraints, we were able to achieve almost 100 percent."
The launch was initially scheduled for the end of 2019, but was put off for nearly a year. In October, flaws were found in the same engine model as the spacecraft's, so the lift-off was postponed another two weeks for additional inspections. In that context, the weather delays in the week preceding the launch seem small by comparison.
In consultation with the three American astronauts, the spacecraft was named Resilience.
Mr. Noguchi noted: "We chose the name with the wish that the lives of people all over the world will return to normal as soon as possible. I hope to show by example the power of recovering from adversity by not giving up on space exploration."
(Read the story in its original Japanese here.)
Author: The Sankei Shimbun