Japanese Authorities On the Lookout for Increasing Cases of Gold Smuggling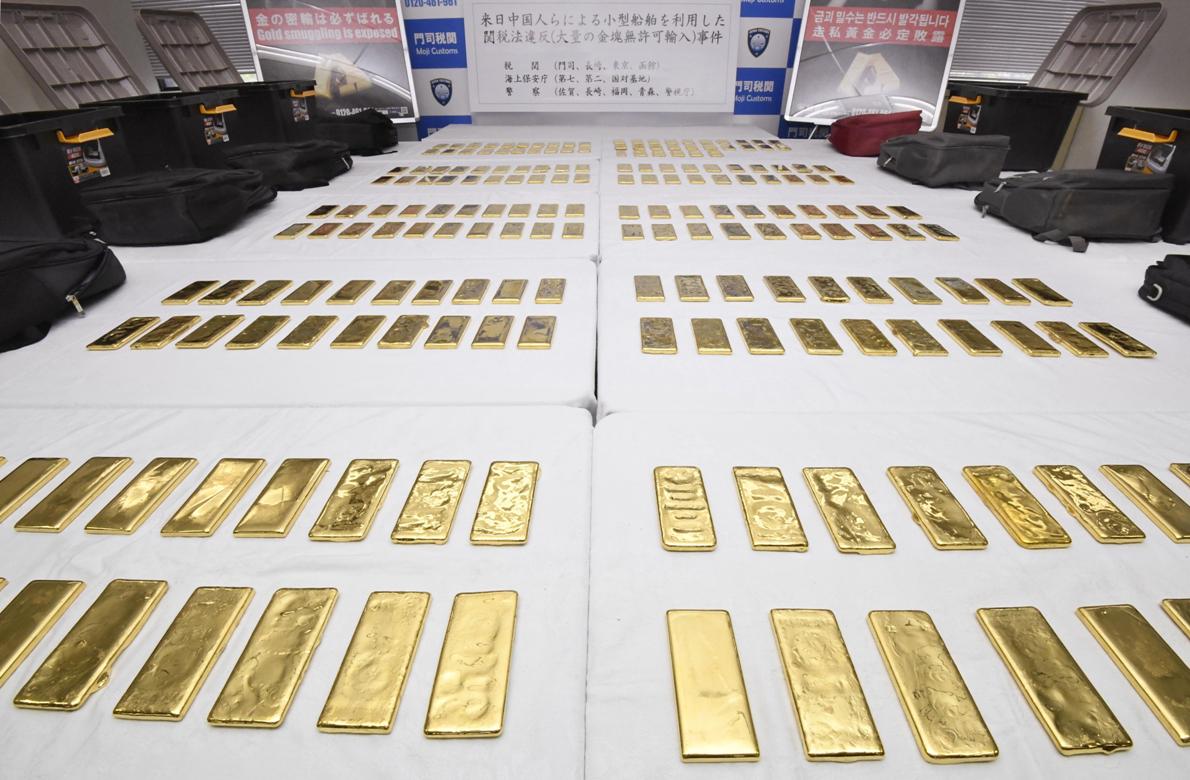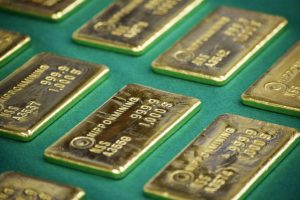 From ancient times until today, gold has attracted us by its dazzling light. As a hard asset that gains value in times of economic hardship and does not sway through industry trends, it has been increasingly in demand in recent years.
However, smuggling of gold has also increased accordingly. In January, 10 men and women, including some foreigners, were arrested by the Osaka police for trying to smuggle roughly 130 kilograms of gold from Hong Kong into Kansai International Airport.
Their motive is thought to be to dodge the consumption tax paid upon the import of gold, and so earn a marginal profit.
With the increase in consumption tax from 5% to 8%, the "juiciness" of smuggling has increased. When the tax is raised again, as was originally planned this past April, it's expected that there will again be a boost to smuggling. Authorities are stepping up their port-side investigations.
'Seems Heavy for Makeup'
It was the evening of February 14, 2015, and Cathay Pacific 502 from Hong Kong had landed at Kansai. Four passengers in their 30s and 40s disembarked. They appeared to be two couples on their way back from a trip, but, in fact, they were mules in a smuggling operation.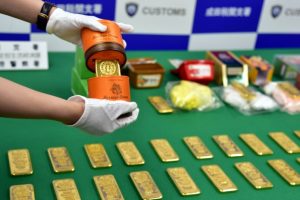 The four rushed into the airport to retrieve their check-in luggage from the baggage claim. Theirs were not the normal suitcases but 12 cardboard boxes. They lifted them off the conveyors and onto carts, which the two men begin to push outside.
When they had left Hong Kong, the four passengers declared that the boxes contained "makeup." But when a customs official saw the two men sweat and turn red as they lifted the 12 boxes into their carts, he thought, "That seems a little heavy for makeup."
Concerned about the suspicious activity, he asked to check the contents of the boxes. Opening the first box, he found that skin milk and lipstick made up only a thin layer. Below this were heavy black bags, containing bars of pure gold.
An International Operation
Roughly 130 gold bars were uncovered: 13-cm long, 6-cm wide, 2-cm thick, weighing 1 kilogram each. In terms of hard cash, their estimated worth is about $5.4 million USD. The haul also included 508 high-value wristwatches, with brand names like Rolex and Chanel, another $4.2 million.
It was one of the largest ever smuggling operations employing airport luggage. Learning of the arrest from customs authorities, the Osaka police began their own investigation. Besides the four mules, six people – including the operators of the scam and prospective buyers of the smuggled gold – were rounded up. This January, they were arrested on suspicion of tax evasion and unauthorized import.
According to Osaka police, the ringleader of the operation was a 52-year-old man working as an import broker in northern Osaka. Some of those involved had British and Korean passports, and the investigation is ongoing as police seek to identify international co-conspirators.
Authorities on High Alert
According to the Ministry of Finance, there were 177 cases of gold smuggling uncovered at Japanese ports and airports between July 2014 and June 2015. This represents a 22-fold increase over the eight cases of the previous year. The tax evasion rate also increased eightfold to $2.1 million, its highest rate ever.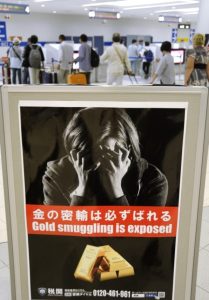 Kansai Airport handled about a quarter of the incidents over the year, 46 in total. With cases including vests with gold concealed inside or using double-layered suitcases, the tax evasion rate jumped $380,000 over the previous year.
In April 2014, the consumption tax rate rose from 5% to 8%. There is no tariff on the import of gold, but when over 200,000 yen ($1,790) of products are purchased abroad, the 8% consumption tax is incurred. Smugglers try to avoid this tax: when they go to a rare metal store, they can sell the gold as if they paid the tax, and pocket the difference.
Gold currently stands at $40,000 per kilogram. The tax on it is $3,000 per kilo, so 100 kilos of smuggled gold could earn $300,000 for the smugglers. This case had even more than that: sources told us that "the greatest advantage for the smuggler comes from the margin when it is sold within the country."
According to the Ministry of Finance and customs authorities, more than half of the gold smuggled into Japan comes from Hong Kong, followed by South Korea.
There is no tax on gold in Hong Kong, and when gold is exported out of Korea, the tax incurred upon purchase is returned to the buyer, so the profit margin at point of sale is greater. Customs agents are on high alert for inspecting luggage originating from these countries.
On Guard for New Tricks
According to Osaka Customs, even after June 2015, not yet included in the official statistics, it's expected that gold smuggling will rise over previous years. It was expected that the consumption tax would rise to 10% in April 2017; when it does rise, it's said, this will cause an accompanying increase in smuggling activities.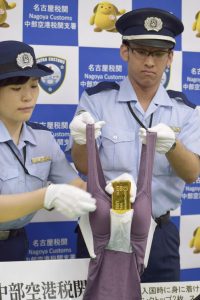 Instead of concealing smuggled goods in luggage, as has been the case up until now, it's feared that future smuggling operations will put the gold into international mail, as is the case with illegal drugs, or even use freight airplanes.
Investigators told us: "We're expecting an increase in smuggling from now on. There's also a possibility they will be changing methods. We must be on guard for any and all possibilities."
But gold is not banned for import as drugs and explosives are, so even when gold is discovered, it cannot be confiscated. Even when the amount of gold being carried in exceeds the legal limits, if it's determined that it will not be used for nefarious purposes, the gold can be returned to its owner after a fine is paid.
Investigators said: "It's a low-risk operation. Even when they're discovered at customs, they can continue smuggling many times over, and they often do."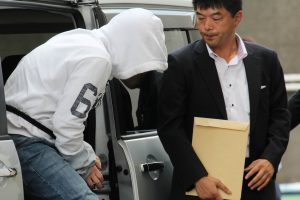 Smuggling requires overseas support, and large organizations will employ multiple mules, so that a smuggling case can become difficult to investigate. Often enough, when you cut down one mule, more will rise up in their place, like cutting off the heads of the Hydra, investigators explained.
A top investigator said: "Our number one deterrent is to ensure that active smuggling operations do not succeed. We are cooperating with customs and will put all our efforts into baggage checks."
(Click here to read the original article in Japanese.)