Legend of the Chinese 'Cyber Prometheus' of China's Great Firewall
Now Sentenced to prison, "Cyber Prometheus" the Beijing Olympics chief information security engineer taught how to safely jump over the CCP's "Great Firewall."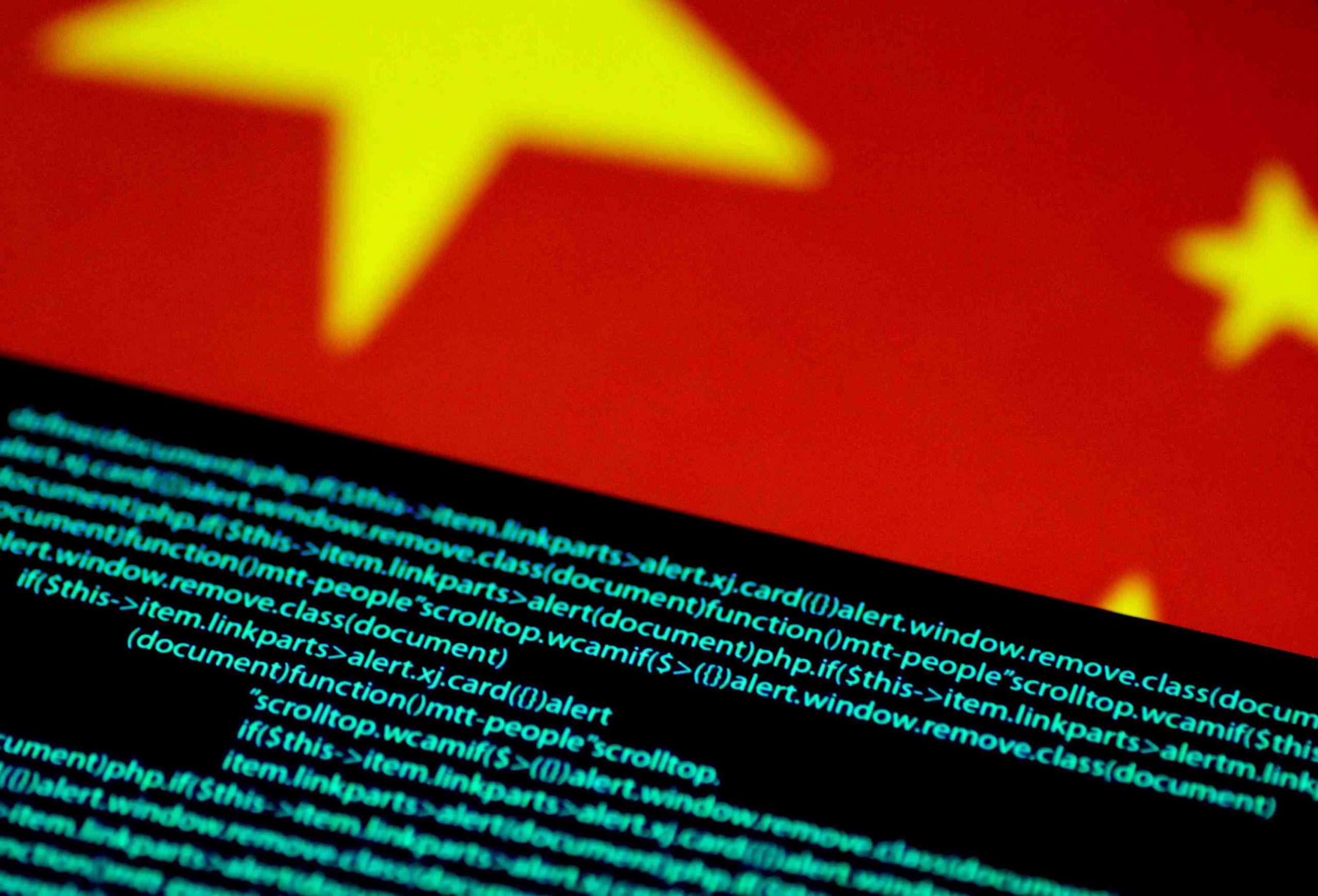 Several days ago, an urgent call for help in a WeChat group in China solved a mystery that has puzzled many Chinese netizens for nearly two years. After the WeChat exchange, we now know what happened to an anonymous blogger who is regarded as the Chinese "Cyber Prometheus."
He is the godfather of many Chinese netizens who learned from him how to "jump over the Great Firewall."
We also finally know the blogger's name.
Bei from Unit 701
The urgent WeChat call for help was sent to a neighborhood chat group in China with 37 members. A woman in the chat identified herself as Bei from Unit 701. Her husband is Ruan Xiaohuan, who blogs under the name "Program-think" (编程随想).
Ruan Xiaohuan was taken away by the Chinese police on May 10, 2021, and was sentenced on February 10, 2023. Bei is helping Ruan appeal his sentence.
On February 19, Bei was blocked at her neighborhood gate. The police then forced Bei to listen to a "talk" for more than two hours. Obviously, the police didn't want Bei to hire lawyers for her husband. The police "talk" was meant to intimidate Ruan Xiaohuan's wife.
After the police stopped her and berated her, Bei was afraid that she could also be arrested. She asked her neighbors in the chat group to call her parents or her lawyers should something happen to her.
A typical case of Communist brutality, something that happens in the People's Republic of China (PRC) every day.
But Bei added something that makes her case stand out. She told her fellow chat members that her husband was the Chief Engineer of the information security system for the 2008 Beijing Olympics and had contributed a lot to this country. "He is patriotic," she said.
She also posted her lawyers' telephone numbers for her neighbors to call.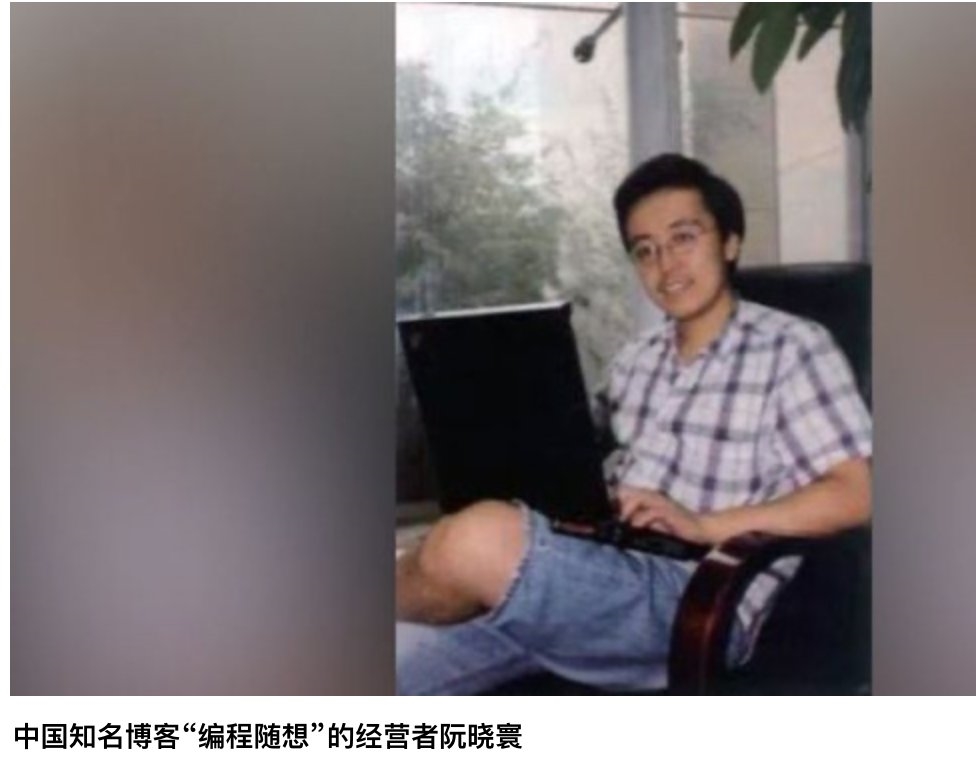 A Hero of Information Freedom
When the screenshot of Bei's chats was circulated on the internet, many Chinese people both inside and outside of China were extremely shocked. Bei had, inadvertently perhaps, revealed two big puzzle pieces at the same time: What happened to "Program-think"? And what was his real name?
"Program-think" was arrested and sentenced. His name is Ruan Xiaohuan.
There's more. People were equally shocked that "Program-think" was also the Chief Engineer of the information security system for the 2008 Beijing Olympics!
In 2009, "Program-think" started a blog that eventually became very influential. "Program-think" posted many articles about online safety, and about how to bypass the Chinese Communist Party's (CCP) "Great Firewall" of online censorship. He also published a lot of other articles on "improving thinking ability," "popularizing political knowledge," and "revealing the true face of the Party-state."
He also provided the public with many e-books on politics, psychology, history, economics, management, sociology, literature, philosophy, science popularization, and military affairs.
Via his blog and other platforms, "Program-think" taught Chinese people how to safely jump over the CCP's Great Firewall without being caught. His deep thoughts and marvelous online techniques inspired many people, and many regarded him as a mentor, an enlightener.
For many, he was the ideological mentor of most of the netizens who know how to climb over the Great Firewall today. Some even say he was as dear as a father to them, and a true hero.
The CCP Thwarted by an Insider
"Program-think" was gaining a tremendous following, and great respect, among the Chinese people. But he suddenly stopped updating his blog on May 9, 2021.
"Program-think" had previously said that if he was silent for more than two weeks, then he had either died or been caught by the People's Republic of China (PRC) authorities.
So, people knew something bad must have happened to him after he fell silent. But his online security awareness was so strong, his skills were so good, and he kept teaching others how to go over the Great Firewall without getting caught or discovered. So, it was hard for people to imagine how he could have gotten into trouble.
And yet, the fact was that "Program-think" had disappeared. Nobody knew where he was, what happened to him, or his true identity. But many Chinese netizens still talked about him from time to time. Many people missed him too.
Then, on March 21, 2023, a month or so after her "talk" from the Chinese police, the call for help from his wife Bei suddenly appeared on WeChat.
When people learned that "Program-think" was also the chief engineer of the information security system for the 2008 Beijing Olympics, they thought: "No wonder he knew so much about online safety. No wonder he knew how to jump over the Great Firewall."
The CCP had been thwarted by someone on the inside. "Program-think" was a double agent, an online freedom fighter for the Chinese people.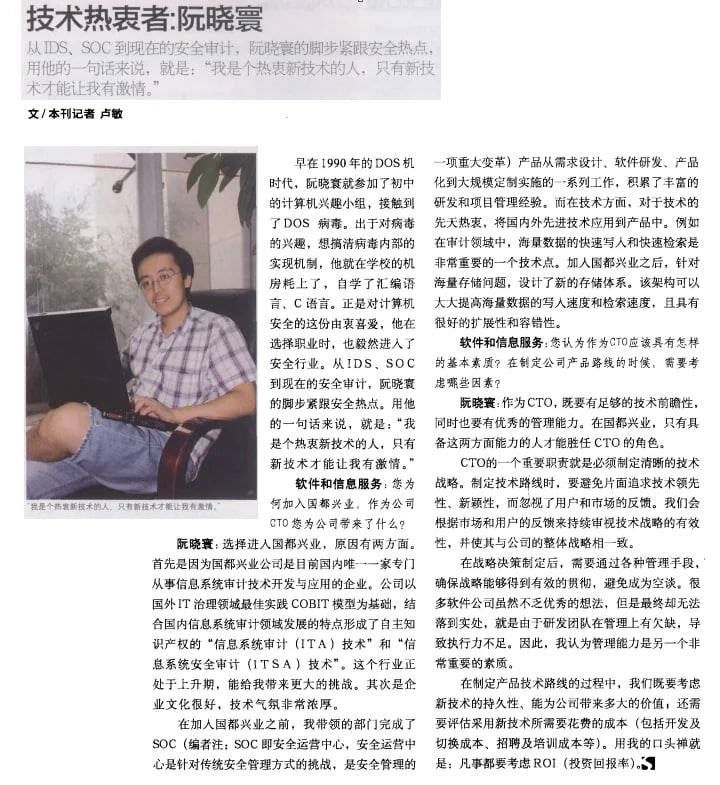 How 'Program-think' Got Caught
After some digging, one netizen in China later revealed how "Program-think" got caught.
More than ten years ago, Ruan Xiaohuan had registered an account at a Chinese online database and social networking service called Douban. He used the same name for that as his later blog handle, "Program-think."
Ruan later deleted that Douban account. However, Douban didn't delete his account information. They kept it, and this became the final clue for the CCP to track Ruan down.
Although he had been very cautious and had very advanced internet security techniques, Ruan might have forgotten about the old Douban account that he hadn't used much.
However, there are other people who suggest that Ruan was caught because western companies cooperated with the CCP, using big data technology to help the CCP find their quarry. Right now we don't know for sure.
Paying the Price for Freedom
It is now confirmed that Ruan Xiaohuan ー "Program-think" ー is currently detained in the Yangpu District Detention Center in Shanghai. He was sentenced to seven years in prison by the Second Intermediate People's Court of Shanghai on Feb 10, 2023.
Ruan's court-appointed "lawyer" did not disclose any details of the case to his family until the trial.
After the first trial, Ruan filed an appeal. His wife, Bei, hired two lawyers in Beijing, Mo Shaoping and Shang Baojun, to defend him.
However, his wife was then forcibly interrogated by the police outside her apartment building that day in February of 2023. She couldn't reach the lawyers she had hired to represent her husband. Also, Ruan's case has been transferred to the Shanghai High People's Court. The court again "appointed" two "official lawyers" for Ruan. This was done so that Ruan could not hire his own counsel.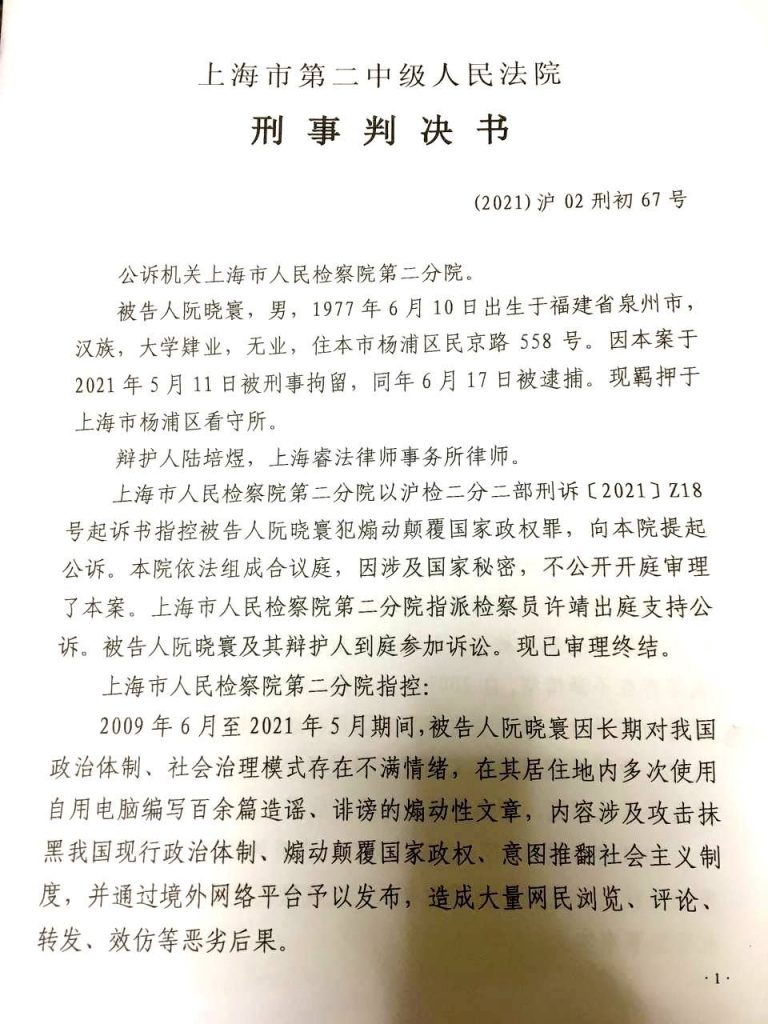 'Subversion of State Power'
According to his "criminal judgment," Ruan Xiaohuan, aka "Program-think," was basically charged with "Subversion of State Power."
His judgment states:
From June 2009 to May 2021, the defendant Ruan Xiaohuan, due to his long-standing dissatisfaction with China's political system and social governance model, wrote over a hundred fabricated and defamatory inciting articles using his personal computer at his place of residence. The content involved attacking and smearing China's existing political system, inciting subversion of state power, and attempting to overthrow the socialist system, and was published through overseas online platforms, resulting in a large number of netizens viewing, commenting, forwarding, imitating, and other adverse consequences.
This statement, for me, is no doubt an official confirmation of Ruan's online influence.
The judgment also states that the police seized and confiscated quite a number of computers, cellphones, hard drives, USB drives, and so forth from Ruan. One Chinese netizen commented that he hopes the police keep these items so that they can become exhibits in future Chinese museums after the fall of the CCP.
What 'Program-think's' Case Teaches Us about the CCP
In the past few days, many Chinese people have been circulating the latest news about Ruan Xiaohuan, "Program-think."
Ruan was well-known among internet-savvy Chinese people and considered a legendary figure. So, it was surprising and saddening to learn that he taught people how to bypass censorship and protect online anonymity, only to be caught due to an oversight in his own account information, or big tech's cooperation with the CCP.
For me, however, Ruan's arrest and legacy should be highlighted for the following three reasons:
First, he was the Chief Engineer of the information security system for the 2008 Beijing Olympics. His situation deserves attention from the international community, from anyone who attended or watched that great event.
Second, even someone like Ruan, who is very knowledgeable about network security technology, can be arrested. This shows how much effort the CCP has put into internet control.
It was said it took the CCP ten years of painstaking effort to catch "Program-think."
Third, the fact that Ruan was once entrusted by the CCP with the important task of ensuring information security for the 2008 Beijing Olympics indicates that he still had the trust of the Party in 2008. If someone like him can become an "enemy" of the CCP just one year later, then Xi Jinping and other high-ranking Communist officials should indeed have nightmares every day.
How many such "enemies" are hidden within the CCP? How long can rule maintained by high pressure last?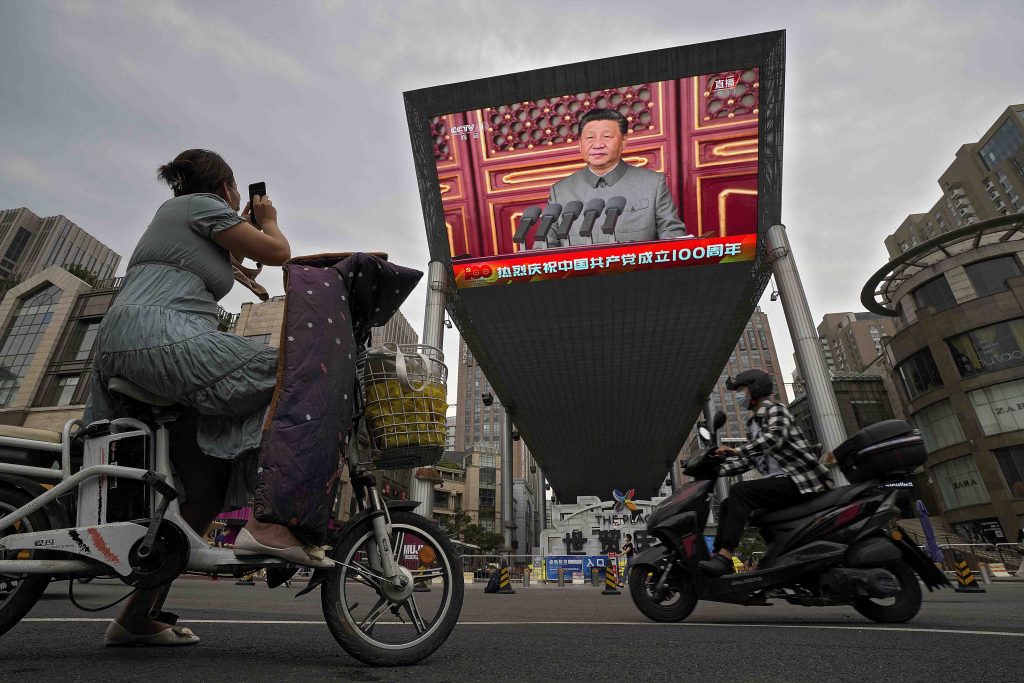 Freedom for China Will Come From the Chinese People
According to those who know him, Ruan Xiaohuan actually had the opportunity to go abroad. He could have done so, escaping from the inhuman system he fought against.
However, he chose to stay in China to help more Chinese people learn how to "climb over the Great Firewall" and master safe internet technology while spreading ideas of freedom and democracy.
During an early interview with him by a Chinese media outlet, "Program-think" said he was someone who was passionate about new technology, and only new technology could make him passionate.
He also said later, as the anonymous "Program-think," that:
When we were born, the Communist Party was already corrupt. It practiced dictatorship, trampled on human rights, and sold out our land. This is the helplessness of our generation. When our children grow up, if the Communist Party is still the same, or even worse, that will be the incompetence of our generation!
I believe it is exactly this kind of thinking and sense of responsibility that made him stay in China at the risk of his life to do enlightenment work on cybersecurity. It is a reminder that freedom from China will come from the Chinese people standing up to the Chinese Communist Party.
But the help of those outside of China is also indispensable. Let's hope that more people will know Ruan Xiaohuan's story and call for his release so that he can regain his freedom as soon as possible.
RELATED:
Author: Jennifer Zeng