Letter to Megumi: Somewhere in North Korea, We Know Your Hidden Strength Will Make You Survive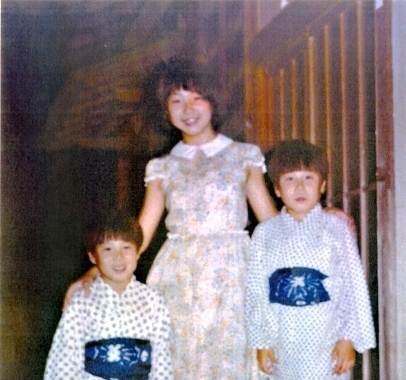 Megumi(center) and her little brothers before she was abducted
Hello, Megumi.
Here in Japan we have been having one really hot day after another. What are the summer days like where you are? Your mother and father are getting on in years and the summer heat and sun are ever more of a burden, but every daywe pray for your return to Japan, and, along with the many people who support us, we are doing our best.
Today is August 15th, a day with special significance for the Japan people—"the day the war ended" 72 years ago. Your father is 84. Your mother is 81. Memory of the war is deeply engraved in our memories.
When the war situation turned for the worse, your mother, who was then a 4th year elementary school student, was evacuated to a temple deep in the mountains of Kyoto Prefecture. Because as a child I had only known the city streets, the lush green and the scent of the mountains made a strong impression that even now remains with me. But, there was nothing to eat and I was always hungry. I was especially hungry walking the footpath to school.
Because everyone was so hungry, the dark brown handle on the sliding paper door looked like chocolate. When someone shouted, "There's some chocolate!" we all rushed over and desperately licked the handle. This may seem like a made-up story, but that was how starved we were.
Because we were so hungry we would put anything in our mouth. There were times when I sucked the sweet syrup from the beautiful azalea that bloomed in the mountains. It is hard to express how thankful we were for that sweetness.
War is an act that takes away the human right to life. In the midst of the many lives being lost then, I felt that everything around me in ordinary daily life was moving in the direction of death. For a child it was really something horrible to experience.
The abduction issue is like war, something that takes away the joy of living.
Now, North Korea is not only doing nothing to resolve the abduction issue, but it has nuclear weapons and missiles that it is thinking of using for destruction. I wish that the North Korean leadership will quickly realize the cruelty and fearful reality inherent in this, and turn instead in the direction of world peace. This is something I ardently want them to consider.
I find the complex international situation difficult to understand. I feel that I cannot see what the future holds, and am enveloped in impatience and uncertainty. For years the family has been saying, "Please, please do something to help," and the only thing we can do is continue believing that there will be a great day when all the victims return to Japan. What will the country, what will the government, do to rescue the victims of abduction?
War, abduction, any and all things that result in death are things without any real meaning. Rather than wasting the gift of life that heaven has given us, is it not the destiny of people to realize the joy of living and growing up in society?
Although we only spent 13 years together, I have many memories of the summers spent with you, Megumi.
Megumi, it was 1977 when you disappeared. It was during that last summer together that you wore a yukata for the first time and danced with friends. It was at a big summer festival in Niigata. There was a great crowd of people dancing so gorgeously to folk songs from Sado.
The yukata that you wore then was one that your mother had sewn from cloth that she had sought out in the city. The yukata had a floral pattern set against a dark blue background. You followed a model to tie the yukata with a yellow belt. "It's not going to come loose, is it? Is it OK?" you said while laughing. You were really pretty in the yukata that was a perfect match for you. "Although I thought you were a child, you have really started to look like an adult" is my fond recollection of how I was strangely impressed.
Speaking of summer, another thing was that you worked hard to overcome problems with "homework" where you were not doing well.
When you were in elementary school in Hiroshima, you had problems with swimming and a teacher gave you a homework assignment: "Be sure to learn to swim." At first you were really afraid of the water, but every day you put your all into practicing the basics, and in a short time you got to where you could swim a long distance in good form.
Megumi, you looked just like an ordinary girl, but you had a strong will and there were places where you were really tough. When you were little you had the courage to go off and get immunization injections and dental examinations—the sort of things children usually fear—on your own, saying "Off I go. I'll be back!"
Therefore, now even though 39 years have passed since you were abducted, we can believe that, even if you are confined somewhere in the depths of North Korea, you have a hidden strength that will let your survive.
Your father and mother are getting on in years and the things they have to worry about are always increasing, but we live every day feeling that Megumi is nearby. The morning glories that you like so much have flowered once again this year.
Megumi, it is my firm believe that there will come a day when you can put on a yukata and we can dance on a pleasant summer night. Once again this year in the middle of the summer [festival] dancing season, we are waiting for you.
Read the Japanese version of this article here.
Related articles:
Editorial: The Letters to Megumi Should be Read by All
A Letter to Megumi: 'Forty years have gone by without you… Don't ever give up, you are going to come home'
Letter to Megumi: We Long to Have You Back for the Next Children's Day
Letter to Megumi: We hope you'll return to the Japanese Summer and Your Mother's Stew
Read Japan Forward's special coverage of the abduction issue.