India-Myanmar-Thailand Trilateral Highway: A Promise to Transform the Region's Economic Landscape
A herd of elephants cross a road in the northeastern state of Assam, India, July 12, 2017. REUTERS

China's ambitious One Belt, One Road initiative has taken the world by storm and forced everyone to sit up and take notice. Most Asian countries have jumped on to the OBOR bandwagon, while New Delhi opted to sit out.
So, when recently, India's Cabinet Committee on Economic Affairs gave its approval for the upgrading and widening of a section of the roadway between the capital of India's Northeastern state of Manipur, Imphal, and the town of Moreh, located on the border with Myanmar, it generated some buzz in both academic and policy circles.
The Asian Development Bank (ADB) has provided loan assistance for this project under the South Asian Sub-Regional Economic Cooperation (SASEC) Road Connectivity Investment Programme.
While, on the surface, there is nothing special about this go-ahead, what is worth noting here is that this section of roadway is part of the ambitious India-Myanmar-Thailand trilateral highway, which, when completed in 2020, has the potential to transform the economic landscape of this entire region. The IMT highway will connect Moreh in India's Manipur state to Mae Sot in Thailand via Myanmar.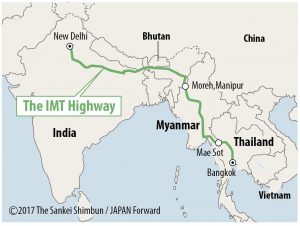 Bridge to Southeast Asia
So, why is this highway crucial for India?
First, it will help improve connectivity between India's remote Northeastern part and Southeast Asia. For long, the lack of physical connectivity with Southeast Asia has been an Achilles' heel in India's "Act-East Policy." The trilateral highway will improve India's connectivity with Myanmar and Thailand, and in the future there are plans to connect it with pre-existing roads and take it all the way to Vietnam.
Secondly, with the construction of this road, which started as the India-Myanmar friendship road way back in 2001, the recent non-attendance by India at China's Belt and Road Forum in Beijing seems to have injected a new measure of earnestness among Indian policy planners when it comes to executing such road projects.
Thirdly, Northeast India has been lagging behind other parts of the country when it comes to infrastructure. Earlier this year, Prime Minister Narendra Modi laid the foundation stone of India's longest river bridge over the river Lohit in the northeastern state of Assam, very close to the border with China. When completed, the IMT highway will also give easy access to the Northeastern states to the sea (via Myanmar).
Fourthly, as the recent stand-off with China over its road-building activity in Bhutanese territory (claimed by China) shows, Beijing is trying to improve the infrastructure in its border areas. This seems to be intended with the dual purpose of facilitating economic development and allowing quick movement of its military personnel and hardware, if needed. Hence, New Delhi's earlier strategy of not building good infrastructure in the Northeast, to deter Chinese invasion (as in 1962) obviously does not hold much ground, under the present circumstances. In the future, China has plans to build a rail head right to the doorsteps of the Indian state of Arunachal Pradesh.
What's In It For Myanmar?
There has been domestic opposition to some Chinese projects infrastructure in Myanmar, like the Myitsone dam. Hence, authorities in Myanmar are trying to find a balance between relying excessively on investment from China and seeking investment and technology from countries like India.
It was during the visit of President Htin Kyaw of Myanmar to India in August 2016 that an MoU for "cooperation in the construction/upgradation of the bridges and approach road in Tamu-Kyigone-Kalewa section" and an "MoU for cooperation in the Construction/Upgradation of Kalewa-Yagyi road section of the Trilateral Highway in Myanmar" were signed.
India is also involved in the Kaladan Multi Modal Transit Transport Project in Myanmar, which involves connectivity between Northeastern India and the port of Sittwe in Myanmar through the Kaladan river in Myanmar. This involves the building of an integrated port and inland water transport terminal in Sittwe, dredging and development of a navigation channel along the Kaladan river from the port of Sittwe until Paletwa (in Myanmar), and thereafter building road connectivity between Paletwa to the India-Myanmar border.
Possibility of Cooperation with Japan
However, there are quite a few challenges to the successful execution of this project.
First, the terrain in Northeast India and some parts of Myanmar, given its mountainous nature, will make the execution of the project difficult. These parts also experience heavy rainfall.
Secondly, there are still some insurgent outfits operating in parts of Manipur and also in Myanmar. However, the good news is that most of them are either on the run or in ceasefire mode with the governments of India and Myanmar.
Thirdly, since three countries—India, Myanmar, and Thailand—are involved in the construction of this highway, issues of coordination have risen in the past and will need to be sorted out in a mutually agreeable manner.
As regards cooperation with Japan, Tokyo's technical expertise could be key to the smooth execution of this project. New Delhi and Tokyo have already agreed to cooperate in the Asia-Africa Growth Corridor (AAGC), and Japan has its own Partnership for Quality Infrastructure initiative.
Although Japan sent a delegation to the Belt and Road Forum in Beijing, it is still undecided on its participation in the same. As Tokyo is already collaborating with New Delhi in the infrastructure sector, both in India and beyond, it could provide technical expertise to New Delhi in the execution of the IMT trilateral highway project too, and this could be a template for Indo-Japanese cooperation in the infrastructure arena in other parts of the world.
Seeing It Through
New Delhi must show its political heft and diplomatic acumen in order to not only finish this road by the deadline of 2020, but also in building a world-class road. Only then will it be able to provide an alternative to Beijing's aggressive infrastructure building activities in India's immediate neighborhood.
In addition, this year, India and ASEAN are celebrating 25 years of their dialogue partnership. The trilateral highway project will not only help India build physical connectivity with the ASEAN, but also improve the people-to-people contacts and increase goodwill towards New Delhi in this region. After all, as they say, a "good neighbor is far better than a distant relative."
Dr Rupakjyoti Borah is with the Institute of South Asian Studies at the National University of Singapore. He was an assistant professor of International Relations at PDPU, India, and a visiting fellow at the University of Cambridge in the UK, and at the Japan Institute of International Affairs in Tokyo. The views expressed are personal. Twitter@rupakj