Letter to Megumi: We hope you'll return to the Japanese Summer and Your Mother's Stew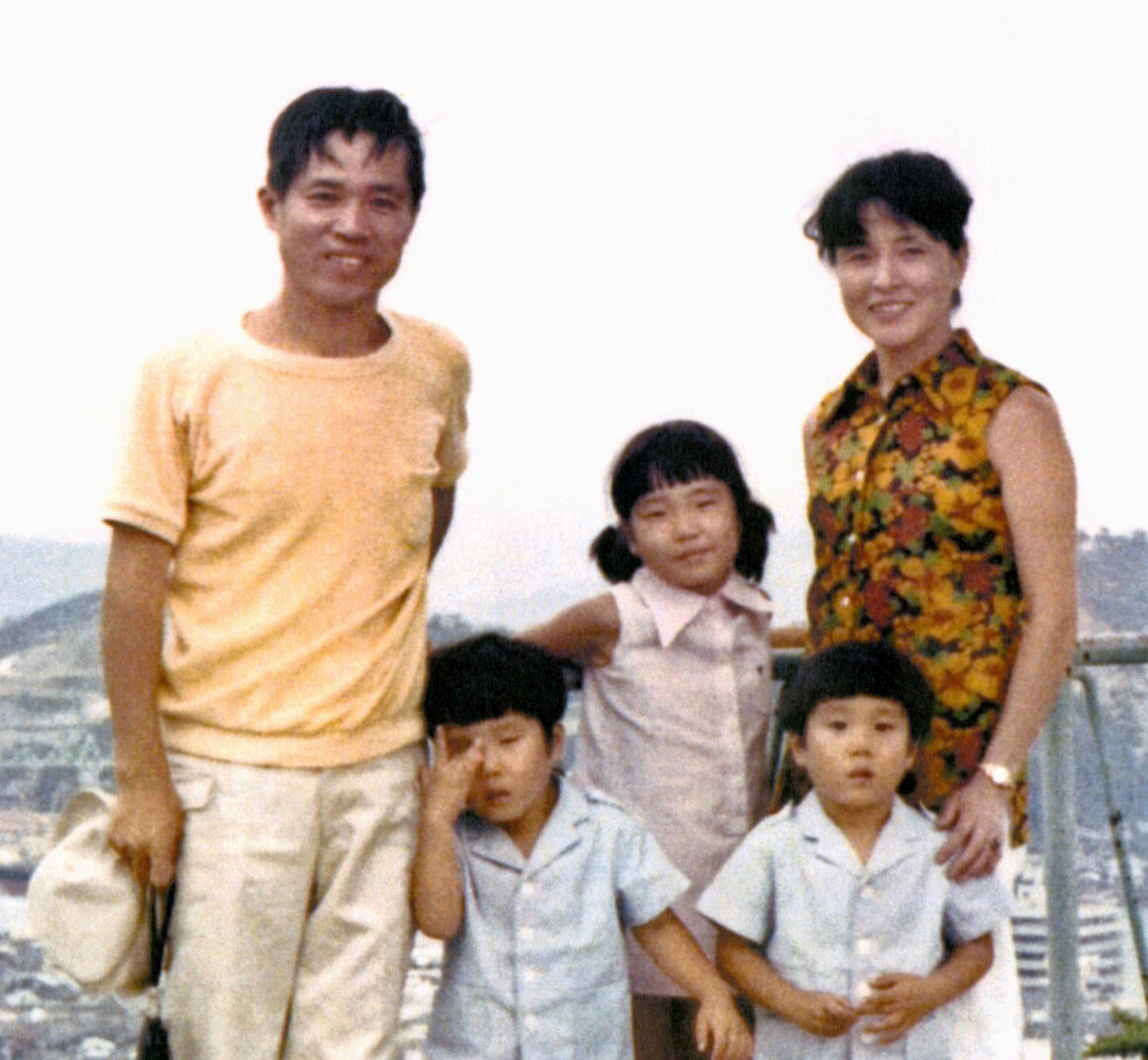 Megumi(center) had happy time travelling to Hiroshima with her parents Shigeru and Sakie Yokota, and her little brothers Takuya and Tetsuya.
Hello, Megumi.
Summer has come in Japan. It is greener and greener by the day. Your favorite flowers are in bloom all over.
Megumi, we remember you with such fondness! Where are you now? Can you take in the fresh air outside and feel the natural wind? It has been 40 years of days passing by without seeing you. The Korean peninsula remains in an unstable state. We think of nothing but you and are always wondering how you are getting along.
There is the term "family bonds." We have ancestors. We exist. We are connected to our children. A line that leads endlessly is not something that people can easily make. It is a gift from heaven. It is truly a marvellous gift that we are thankful for.
There was Megumi and your brothers Takuya and Tetsuya and mother and father. We were just an ordinary family, like families anywhere in Japan. We now feel acutely just how pleasant and happy those ordinary days were.
Megumi, you were a girl with many friends. There was always someone coming to visit and there was always the sound of lively voices. Then, without any premonition of what was going to happen, we suddenly stopped hearing those voices.
"Mother, I tell you everything about myself." Before you vanished, this was what you said with a smile to your mother. After you disappeared like smoke, every day was literally like being in hell.
"Did we do something wrong as parents?" Your father and mother repeatedly asked themselves this question. Had I been deficient as a mother? Would it have been better for your father to have been a bit stricter?
Because I could not understand the reason for you disappearance, I often cried. I suffered continually. I even thought of death. For 20 years I knew nothing of what had happened to you. Then I learned that you had been abducted by North Korean operatives and that you were in North Korea. This came as a complete surprise.
I never imagined that a number of Japanese young people could be taken away in a criminal act by a government, but I think you can imagine our joy when we at last knew that you were alive. But, 20 years have passed since we thought we were going to soon be able to meet you. Your father and mother are getting old. We do not have much time left. Even if it is only a single word, we want to speak to you.
Once more I would like to make stew for you.
Your mother has one dream she would like to realize. You disappeared on November 15, 1977. On that day, while I was preparing dinner, I was waiting for you to return home after finishing up with your badminton club.
While I was making the white stew and grilling the fish, I was thinking "I need to make one more dish." It was at this point that I became aware that you had gone missing. I went out in the dark night calling over and over again, "Megumi! Megumi!"
It has been 40 years since then.
If I could serve you the stew that you liked so much, I might be able to escape from that moment when you disappeared and go back to when I was still a young mother and you were only 13. I might be able to regain all the time lost. For that reason I really want to cook that meal for you again.
But, your mother is getting on in years. My cooking skills are in decline. I am somewhat worried that I might not be able to make a really tasty meal. Perhaps this time you could do the cooking. The coming of such a day would really be something.
The lives of the abductees are always in danger. As always, I want politicians in Japan to face the abduction issue with all seriousness.
Just recently, a young American returned to his country from North Korea in a dire medical state and died in a matter of days. It is more than I can do to think about the mental state of his family. I am worried that the children abducted from Japan might have the same fate if any mistakes are made. I would like to see the government move on this as soon as possible. That the government is in fact not doing anything is a constant cause of irritation.
We have continued to appeal for and seek the rescue of these children. We would like to see the Diet take up the abduction issue in a major way and focus on finding a solution. But at this important junction we see no indication that the issue is even being discussed. This is really a pathetic state of affairs.
To be sure, there is no shortage of issues to be debated. But the abduction issue has continued for 40 years. We are only seeking help for the innocent citizens and children who were forcibly taken away. The Japanese people are angry. They have raised a loud voice on this issue. We believe that the Diet is the place for resolving this issue and realizing our goal.
Prime Minister Shinzo Abe has told us, "The abductions are the most important issue for Japan." It is only natural that the Association of Families of Victims Kidnapped by North Korea and the Japanese people believe his words.
We have continued to wait for the day when this issue is resolved by intelligent thought and action. There is no reason to extend the grace period on this. We are just praying for the coming of the day when true human goodness is made manifest.
We wish from the bottom of our hearts that the Diet members will put aside party differences and take to heart the victims of abduction, and by so doing the issue will be resolved without fail.
The families of the abductees sought their return within this year, but already more than half a year has passed and nothing has happened. If your mother and father taking your place would secure your return, we would gladly and quickly do this for you.
We want to see you, Megumi, and all the other abductees to have the chance to set foot once again on the soil of their ancestral country. Our resolve only grows stronger with the passage of time.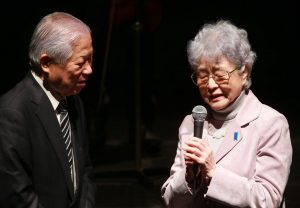 Shigeru and Sakie Yokota
Read the Japanese version of this article here.
Related articles:
Editorial: The Letters to Megumi Should be Read by All
A Letter to Megumi: 'Forty years have gone by without you… Don't ever give up, you are going to come home'
Letter to Megumi: We Long to Have You Back for the Next Children's Day
Read Japan Forward's special coverage of the abduction issue.