Moon Jae-In's Smile Vanishes as Shinzo Abe, Mike Pence Flaunt Bond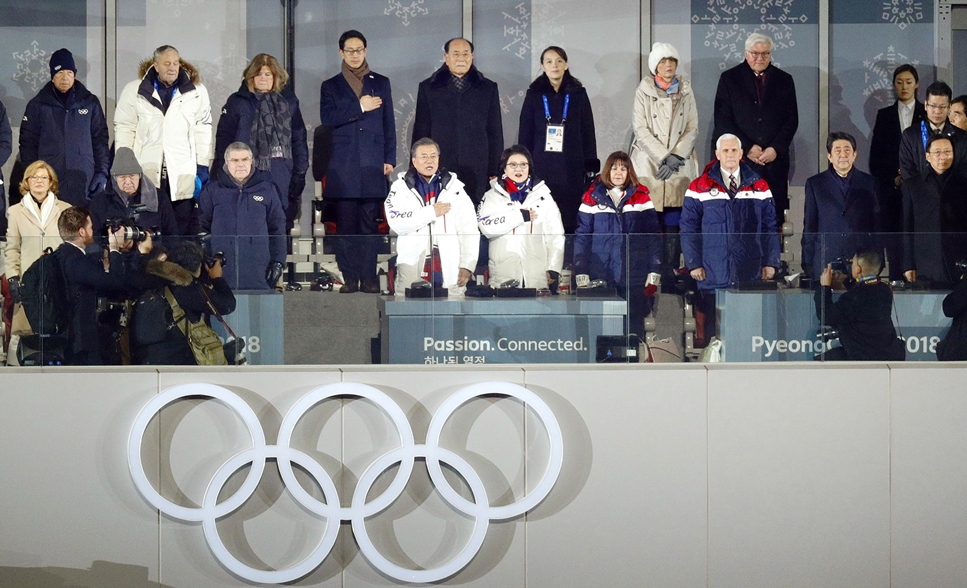 It happened during the evening of February 9, on the ninth floor of the Yongpyong Resort Tower Condominium in PyeongChang, South Korea. Prime Minister Shinzo Abe was relaxing, having just finished a meeting with President Moon Jae-in of South Korea, when he received the request.
"Do you have time to meet?"
It was from Vice President Mike Pence of the United States, who had just finished a TV interview at the same hotel. When he was told that Abe had agreed to meet, he came down from the 10th floor with his chief of staff, Nick Ayers.
"It is important that we not let North Korea usurp the PyeongChang Olympics. Let's work closely together to ensure that South Korea's engagement is appropriate," Abe said.
Pence nodded to Abe's words as they exchanged opinions regarding the moves of North and South Korea. They were on the same wavelength, even though the discussion lasted only 15 minutes. After all, they had discussed the subject for almost four hours in Tokyo, including at a dinner reception, two days before that.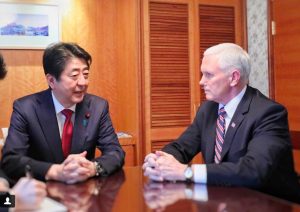 Arriving at the venue in the same car
As its nuclear and missile threats continued to isolate the country, North Korea dispatched Kim Yong-nam, president of the Presidium of the Supreme People's Assembly of North Korea, and even Kim Yo-jong, the sister of Kim Jong-un and vice department director in the WK Central Committee. This sudden attempt to thaw relations might be evidence that the United Nations' economic sanctions are working.
"North Korea will undoubtedly latch onto Moon Jae-in's indecisive and conciliatory administration." Abe was spot-on.
As he prepared to go to Moon's reception, Abe received another request from Pence: "Can we go together on my car? I would like to speak with you again."
Abe traveled in Pence's car, with an interpreter, and they arrived together at the reception site on the resort grounds.
The three-man photo
Moon's address had begun by that time. Abe and Pence, though, were in a different room, waiting for the speech to finish. This was part of their plan—they didn't want to be part of the pre-speech group photo with Kim Yong-nam.
Abe and Pence invited Moon to join them after his speech finished, and there they had their own group photo taken. It was a demonstration of the U.S. desire to mark the three countries' cooperation in some tangible form.
Taking a photo with Moon Jae-in was supposed to display the robustness of the Japan-U.S. and U.S.-South Korea alliances, but the media only highlighted the bond between Japan and the U.S.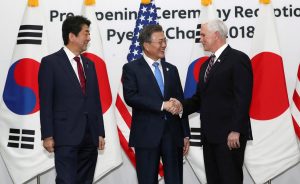 Afterwards, Pence exchanged words with a few others at the reception and then left after about five minutes. A seat had been prepared for Pence at the same table as Kim Yong-nam, but nobody expected him to take it, since it was assumed from the start that he intended to ignore North Korea. He had seen through Moon's blunt attempt to stage talks between North Korea and the U.S.
On the other hand, Abe and Pence spent two hours together before the opening ceremony, vaunting their close relationship before South and North Korea.
The bond that has formed between Abe and Trump, and now between Abe and Pence during the PyeongChang Olympics, has profound significance. It may be the greatest achievement of Abe's visit to Korea amid the risk of backlash back in Japan.
After meeting Abe, Pence reported everything to President Donald Trump. A high official of the Japanese government said, "It was almost like a three-person meeting, as Abe basically spoke to Trump through Pence."
Abe takes a firm stand
No such bond could be felt between leaders at the Japan-South Korea summit on February 9. The discussion lasted for an hour. Abe hardly smiled during the whole process, which started with the photo session. He spoke calmly, but each phrase was fraught with quiet anger.
Moon offered a forced smile and agreeable responses. Although he mentioned the importance of cooperation between Japan, the U.S., and South Korea, his words were vague and ambiguous. A participant at the meeting disclosed that Moon's promise of achieving denuclearization of North Korea made it sound as if he was already midway through the process.
The scenario that Japan and the U.S. have in mind is to stop North Korea's development of nuclear weapons and missiles through the pressure of rigorous sanctions. The North would only be "rewarded" with dialogue once it complies. This is completely the opposite of Moon's plan, but Moon was careful not to mention the discrepancy.
When Abe told him that the U.S.-South Korea joint military exercises should not be postponed, Moon retorted that it was South Korea's business, and not Abe's. The next day, February 10, the South Korean government announced, "The President has said, 'This issue is an internal affair regarding our sovereignty.'" Basically, it was an admission that he was unable to refute any of the other issues of contention.
Even Moon's stance regarding the comfort women issue was vague. At the start of the meeting, Abe said that the new policy, which had been decided one-sidedly by South Korea, could not be accepted. Perhaps due to the force of Abe's rejection, Moon made four declarations: the Japan-South Korea comfort women agreement will not be abandoned, there won't be further negotiations, the Reconciliation and Healing Foundation won't be dissolved, and the billion-yen contribution from Japan won't be returned.
However, when Abe pressed him to fulfill provisions of the agreement, such as removing the comfort women memorial statue in front of the Japanese embassy in South Korea, Moon tried to vindicate himself by saying, "The problem is complicated, so it can't be solved so easily," and suggested it would be resolved naturally, once the emotional wounds of the elderly victims are healed.
But Abe pushed him further: "It is unreasonable for South Korea to accept benefits of the agreement during the Park Geun-hye administration, such as the one billion yen, and then claim the agreement cannot be implemented. There is strong opposition in Japan to the Japan-South Korea agreement. However, we decided to proceed with it because we thought, if we did not agree, Japan-South Korea relationship would not improve. You are highly popular with your citizens and now you, too, must make that decision."
The smile vanished from Moon Jae-in's face. In the end, the two didn't reach a meeting of the minds, but Moon probably felt the weightiness of an agreement made between two different countries.
Surround Kim Yong-nam
Abe had another purpose in going to South Korea. It was to press Kim Yong-nam to resolve the abduction issue.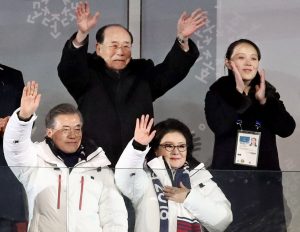 The opportunity came in the evening of February 9, during the reception hosted by Moon. When the guests started to leave their seats, Abe took his chance and Kim was surrounded at once by other Japanese government officials. One of his secretaries pulled over a chair so that Abe could sit next to Kim.
"We want you to resolve the abduction problem and return all the abductees, including Ms. Megumi Yokota," Abe urged.
The meeting was over in less than 10 minutes. Kim's response has not been disclosed, but a high Japanese government official expressed some hope: "Abe expressed his strong determination to resolve the abduction issue, and that may have reached Kim."
Makiko Takita and Rui Abiru have contributed to this article.
(Click here to read the original article in Japanese.)