NBA Star Stephen Curry Back in Tokyo for the 'Underrated Tour'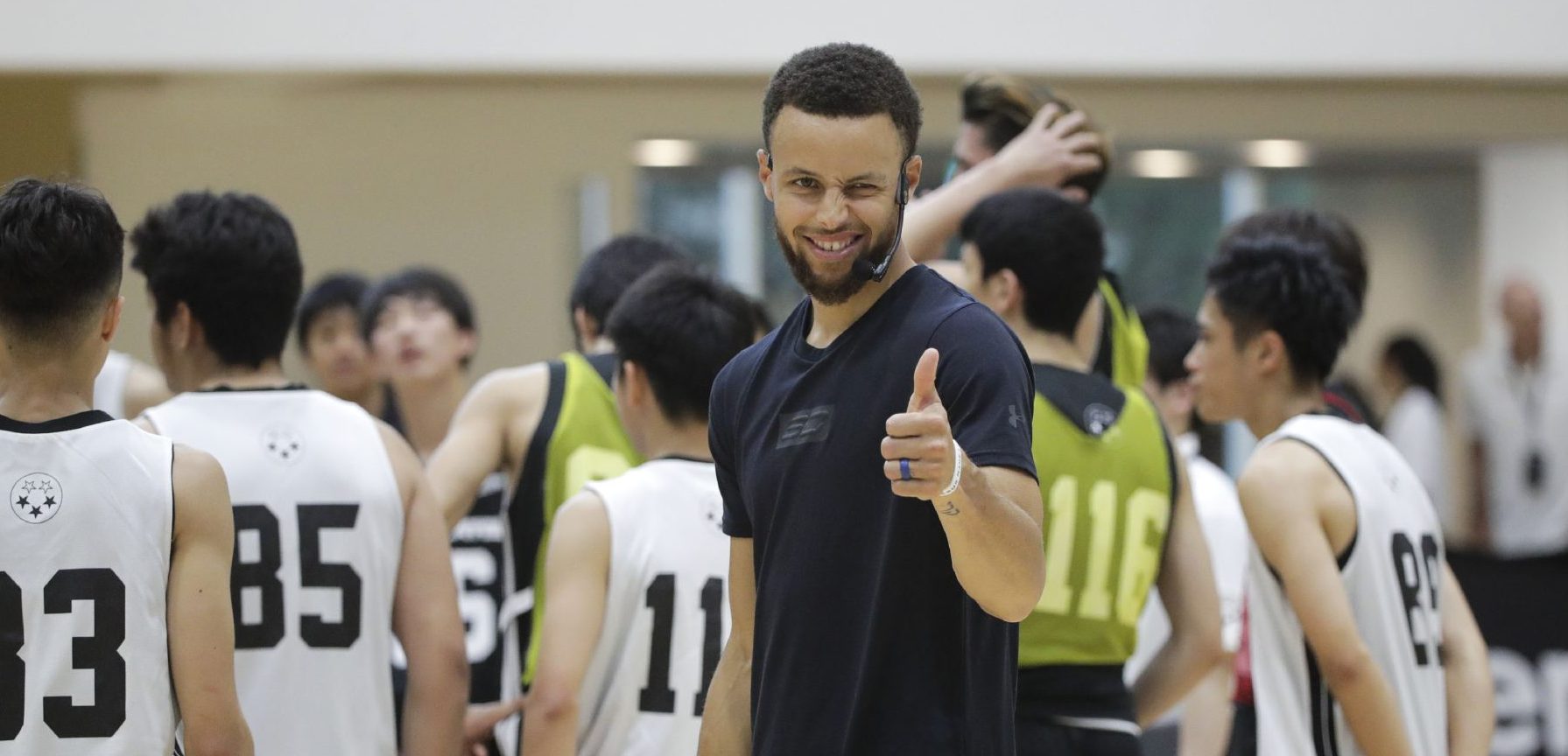 What high school basketball player wouldn't want personal advice and a chance to train with one of the NBA's biggest stars? Stephen Curry of the Golden State Warriors, joined by Rakuten and Under Armor distributor, Dome Corporation, offered that chance by powering up the "Underrated Tour" in Tokyo over the weekend of June 22-23.
The tour took place in eight cities. It stopped at seven cities around the United States, and then made its eighth stop in western Tokyo, where selected high school students participated in a weekend training camp at the International Christian University gym.
The program's biggest draw was the chance for participants to be given personal advice from NBA the star. Curry is a three-time NBA world champion, two-time KIA MVP award winner, six-time NBA All-Star, and a future Hall-of-Famer with many shooting records still being rewritten.
The coaching staff who came along with Curry joined him in giving their undivided attention to the students, providing professional advice and training throughout the drills and workouts. The participants learned about court spacing and geography, and gained the confidence to believe in themselves and their skills.
How Did the 'Underrated Tour' Begin?
According to the Underrated Tour website, Stephen Curry graduated from a North Carolina high school in 2005. He didn't receive the Naismith Award as the country's top high school player. He didn't make the McDonald's All-American team. He wasn't named Mr. Basketball for North Carolina. He wasn't a five-star draft prospect, or even a four-star prospect for that matter. He was a three-star prospect, undersized, underappreciated, and underrated. But also undeterred.
The Underrated Tour logo has five stars. However, only three are filled in. The tour was brought to life by Rakuten, and during the media session Curry said the tour is all about "the idea of finding the next me." He reiterated that he himself was a three-star recruit, a guy who was overlooked by his peers, especially throughout high school.
Even though Curry is the son of famous former NBA player Dell Curry, he said: "I had that underdog mentality. And I was just looking for the opportunity to show what I was capable of."
Curry said he empathized with many of the participants at the training camp and wanted to give back to them. "That's the mission — here in Tokyo, back in the States, every tour stop — we want to give these kids, these boys and girls, an opportunity to, one, get better; compete, but also just have an opportunity to showcase what their skills are and what they're about."
Curry Praises Japanese Talent
Curry likes to make it known that, at the end of the day, basketball is just about having fun and enjoying yourself. But from a coaching and mentorship perspective, Curry has high praise for Japanese high school students.
"I just love their competitiveness, the focus, the level of intensity, and the appreciation of what this camp is. Every stop, you know you could tell all the athletes want to get better," he said.
He also expressed his own sense of reward as he watched participants evolve with training. "I'm very proud of each and every one that put on the Underrated jersey at every tour stop because I think they got better and I think they learned something about themselves."
When asked about the difference between the Japanese and American students, Curry confirmed that he was impressed by the world-level talent in Japan. "The talent level was high, the competitiveness was high, athleticism as well. Very impressed, and I had a great time watching," he said.
Curry also noted how coachable the participants were, and how important it is for their growth to be able to take advice: "You could give them a bit of knowledge or direction and you could see their eyes light up, and then try it in the next rep or the next drill. That was important to see in terms of being motivated to try to get better."
Commenting on the recent news of Japanese-born Rui Hachimura's selection by the Washington Wizards as the ninth pick in this year's NBA draft, Curry shared his excitement for the future of Japanese basketball. "It's exciting for the NBA to have representation from Japan, and countries all over the world. It speaks to how the game of basketball is growing — everywhere, and especially [Japan]."
Curry continued to praise the historic NBA pick and hoped that it would inspire more people to play and love the sport of basketball, saying, "Hopefully [Hachimura's selection] inspires kids of all ages to pick up a basketball, and learn the game themselves."
With 10 years of NBA experience, Curry pointed out key aspects of young Hachimura's game that could provide a hint to future Japanese basketball stars. "I know he's got a good size, obviously, he seems to have a high basketball IQ, and good touch around the rim," the NBA star said.
Author: Galileo Ferrari