[ODDS and EVENS] Gunma Crane Thunders' Epic Win Streak Accentuates Team Chemistry, Talent
The Gunma Crane Thunders, winners of 26 straight games, are the hottest team among the 36 combined clubs in the B. League's first and second divisions.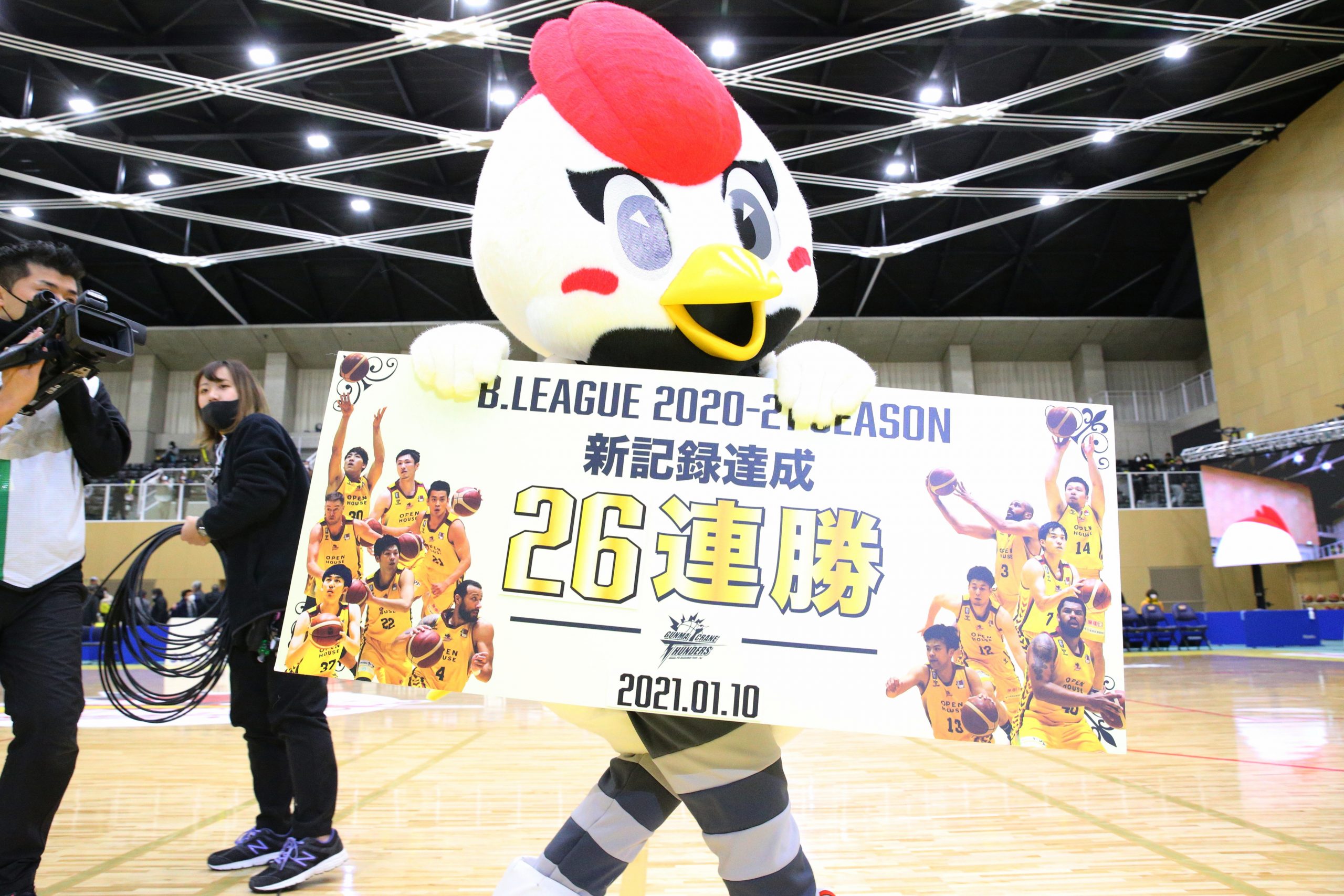 ~~
In the B. League, the lion's share of major media coverage this season is focused on several successful first-division teams, especially the Chiba Jets, Alvark Tokyo, Kawasaki Brave Thunders, Utsunomiya Brex, Akita Northern Happinets, SeaHorses Mikawa and Ryukyu Golden Kings. The San-en NeoPhoenix, buoyed by the arrival of Filipino guard Thirdy Ravena, the Sunrockers Shibuya and the rebuilt Toyama Grouses are also among the headline-grabbing clubs in the 20-team basketball circuit in terms of overall media focus.
But as the 2020-21 campaign reaches the midway point, the Gunma Crane Thunders are the hottest team among the 36 combined clubs in B1 and B2. With a roster built to win now and a fierce competitive spirit driving them to victory after victory, the Crane Thunders 28-2) are on track to earn promotion to the top flight next season.
What's more, coach Fujitaka Hiraoka's club has won a B. League record 26 straight games. Ponder that point for a moment ー 26 straight games!
Try sprinting backwards up a moving escalator while blindfolded 100 times without tripping and a comparable level of difficulty would be replicated.
In case you're wondering, the NBA single-season record for consecutive wins is 33, set by the Los Angeles Lakers, piloted by Naismith Memorial Basketball Hall of Fame coach Bill Sharman, in 1971-72.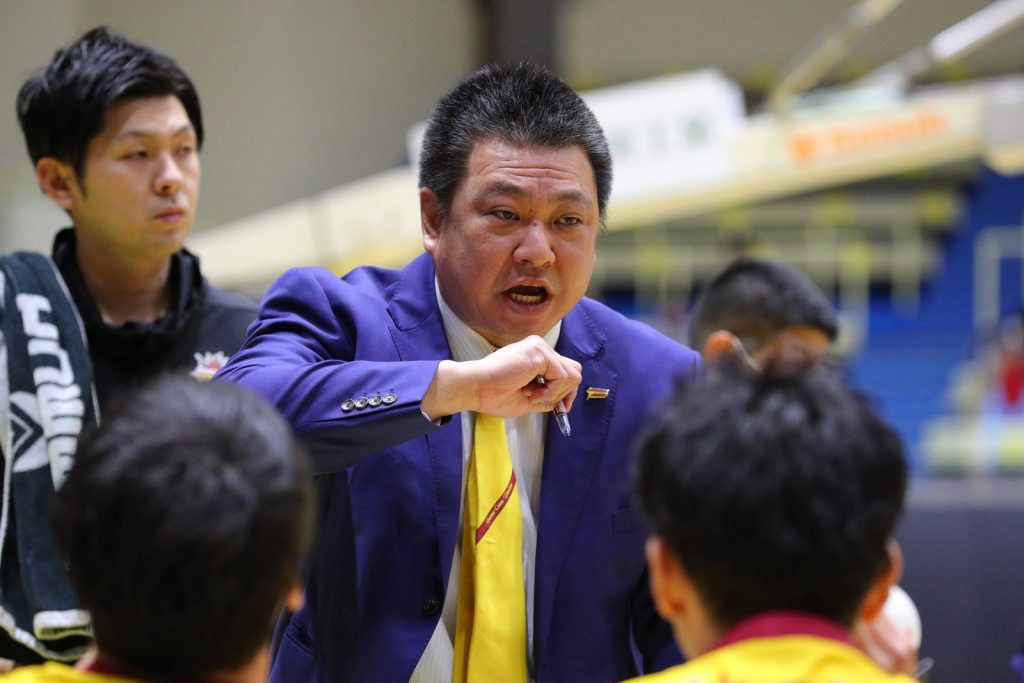 The Crane Thunders' ascension didn't happen overnight. The team has enjoyed steady success under Hiraoka, though nothing as dramatic and sustained as what's taken place this season. In 2019-20, Gunma went 34-13 in the COVID-19-shortened season and 43-17 the season before, his third at the helm.
In his first two seasons in charge, the Crane Thunders were 40-20 and 32-28 in 2016-17 and 2017-18, respectively.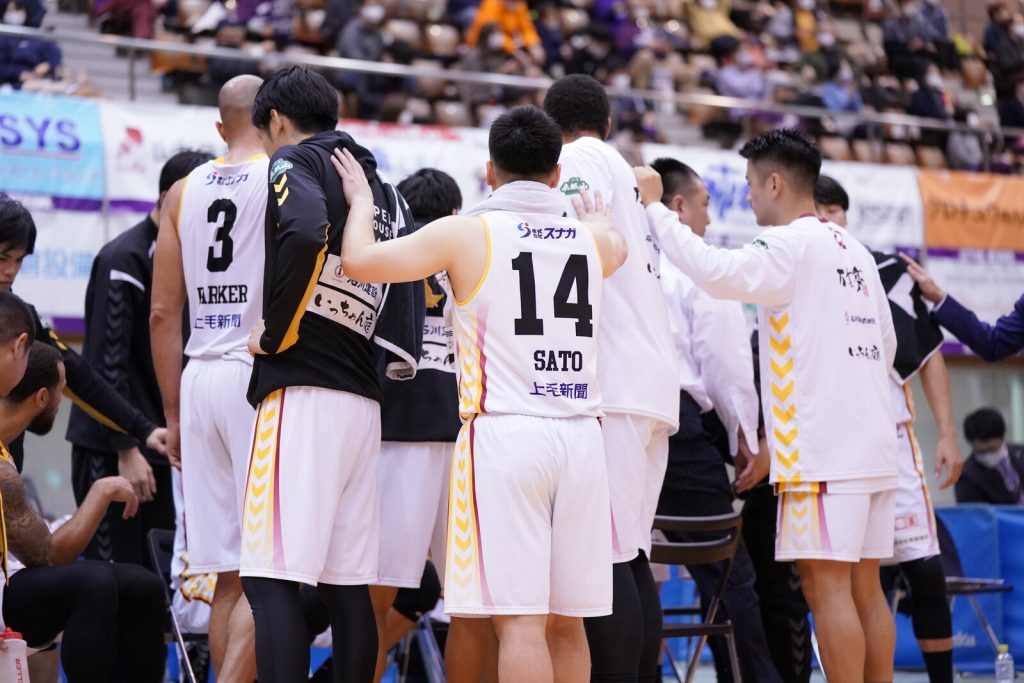 Lofty Goals Set by Hometown Sports Hero
New team president Tsuyoshi Akuzawa, a local sports hero, set a lofty goal last summer: growing the team's fan base was a key priority. "I hope many people come to see the basketball in Gunma and feel happy," Akuzawa was quoted as saying by Nikkan Sports. "It's difficult, but gradually increasing the number of fans is the way to survive."
Akuzawa, who thrilled Gunma's Kiryu High School baseball fans by slugging memorable home runs and helping carry his team to the 1978 Spring Koshien semifinals ー and later served as a longtime baseball coach at his alma mater ー also noted that overall success on the national basketball stage is another priority. At his introductory news conference in July 2020, he said: "We will fight together to become the best club in Japan."
The 46-year-old Hiraoka, who landed his first head coaching job with the Niigata Albirex BB in 2013 after eight years as an assistant there, echoed Akuzawa's words in late November.
"We are aiming for the B2 title and promotion to B1 with unprecedented results," Hiraoka was quoted as saying by DUNK SHOOT magazine after the team's win streak had reached 11 games.
Two months later, the team's mission remains on course.
After its 11th consecutive win, Parker acknowledged that the club's foundation was strong. He also said he felt the Crane Thunders had an opportunity to have a special season.
"I think we have built a strong roster that can compete at any level in Japan," Parker told DUNK SHOOT. "My goal is to help [the] Thunders become one of the most powerful teams in Japan."
It all starts with a high-powered offense (89.5 points per game, No. 1 in the second division and the top passing team (24.5 assists) among B2's 16 squads. And Gunma is winning by big margins, holding foes to 75.3 ppg (No. 3 in B2).
If that's not enough to excite local fans, the Crane Thunders are 17-0 at home.


The Parker Factor
Retired B. League star J.R. Sakuragi, who hung up his shoes after the 2019-20 season, knows all about Parker's vast influence on the game. They clashed in 2013 for the first time ー Parker with the now-defunct Wakayama Trians and Sakuragi in a SeaHorses uniform ー and squared off many times for nearly a decade.
Asked what makes the 39-year-old Parker, a naturalized Japanese citizen, such an impactful player, even at this stage of his career, Sakuragi said it's easy to pinpoint.
"Parker, in one word … ACTIVE," Sakuragi, also a naturalized Japanese citizen, told ODDS and EVENS this week.
I also asked Sakuragi, who now works as a technical adviser for the Women's Japan Basketball League's Aisin AW Wings Anjo, for a scouting report on Parker. He dished out poignant remarks.
"Parker is known for his athleticism but has improved his outside shooting touch considerably since I first played against him at Wakayama," said Sakuragi, who played at UCLA and briefly in the NBA before a remarkably successful run with the SeaHorses from 2001-20.
"Parker is constantly moving and is very good at playing without the ball. He has a keen ability for offensive rebounds as well as reacting to penetration from his teammates. He slips into an open crack in the defense for a two-handed layup which he has mastered.
"You have to talk about his defense as well. Great timing on steals and block shots. He uses his athleticism, length and active hands to get a hand on as many balls as possible. If he doesn't block a shot he changes it, which is equally damaging."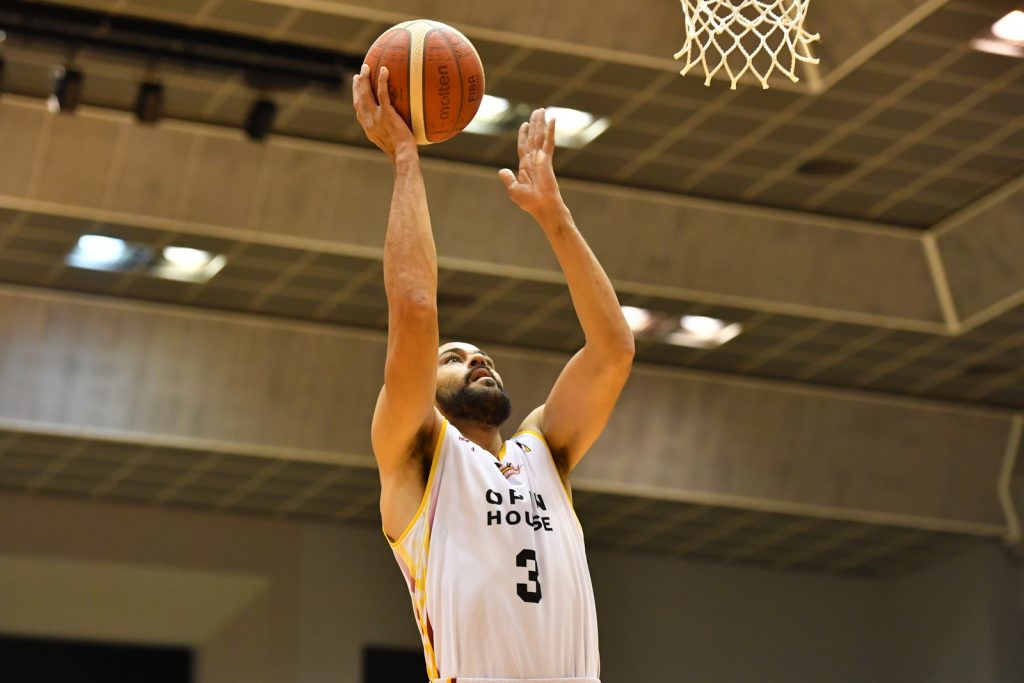 Parker spent the past four seasons playing for the Jets, who were the title runners-up in 2018 and '19. The majority of his pro career, which began in 2003, has been spent in Japan. A prolific scorer, rebounder, theft artist and two-time MVP in the bj-league, the Evergreen State (Washington) product is one of the greatest all-around players in Japan pro basketball history.
The lanky forward didn't matriculate at one of America's premier basketball schools, but in his post-college days he has maximized every opportunity to play the game he loves and excels at. Fans in Japan have witnessed his above-the-rim antics on an annual basis since his debut here in the 2007-08 bj-league season with the expansion Rizing Fukuoka, who were coached by the late Ole Miss legend John Neumann.
Under current B. League rules, teams can play two foreigners on the court at the same time, but if a player becomes naturalized, they can utilize three at the same time. As a result, Gunma capitalizes on Parker's potent skill set every game and exploits mismatches. (See some of Parker's game highlights from late November here. The team's opening game video presentation is accessible here.
A tone-setting force at both ends of the floor, Parker is averaging 13.7 points, 9.2 rebounds, 3.3 assists and 2.0 steals in 30 games. In short, he has been a great acquisition for Gunma.
Just ask Saga Ballooners bench boss Luis Guil, whose team dropped consecutives road games on Jan. 9 and 10, 91-69 and 90-81, to the title-chasing Crane Thunders.
He described Parker as "the nexus" between the team's Japanese and American players. He also noted that Parker's defensive versatility is "the big difference [maker]" for Gunma.
"They are a very consistent team on offense and on defense," Guil told ODDS and EVENS in a phone interview. "They are a very good rebounding team. You don't have many second-chance opportunities [against them]."
Gunma's defensive tenacity fuels its offense, and at the same time the team doesn't let opponents consistently take advantage of its mistakes. Or as Guil noted: "You don't get easy baskets against them."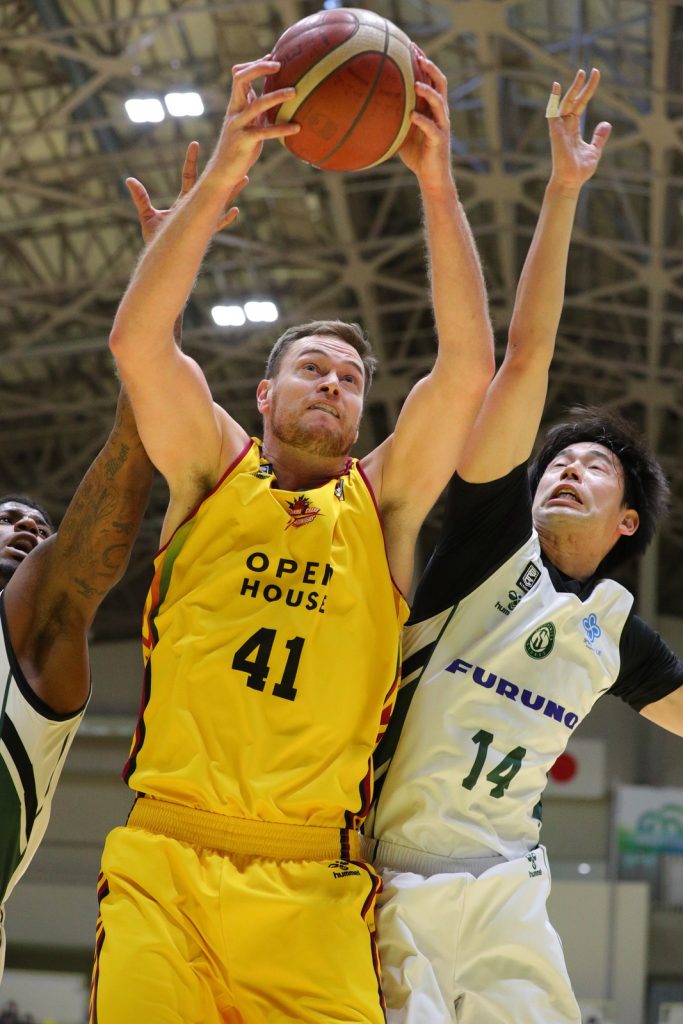 A Roster Built to Win
While Parker is the glue, the Crane Thunders have assembled a roster built to win now. Gunma general manager Shintaro Yoshida and Hiraoka wisely collaborated to figure out which players would complement each other in the team's pursuit of excellence.
So far, so good ー and then some.
Along with Parker, post player Justin Keenan, 31, is averaging 16.6 points, 5.6 rebounds, 1.8 assists and one steal per contest. The NCAA Division II Ferris State (Michigan) alum suited up for Akita last season.
In addition, former Shimane Susanoo Magic center Brian Qvale (15.4 points, 8.1 rebounds, 3.6 assists), a University of Montana product, and ex-Chiba shooting guard Trey McKinney-Jones, who had a brief stint with the Indiana Pacers in 2018 and spent last season in Germany, returned to Japan for this season. The former University of Miami player is enjoying a productive season, contributing 16.6 points and 5.6 assists.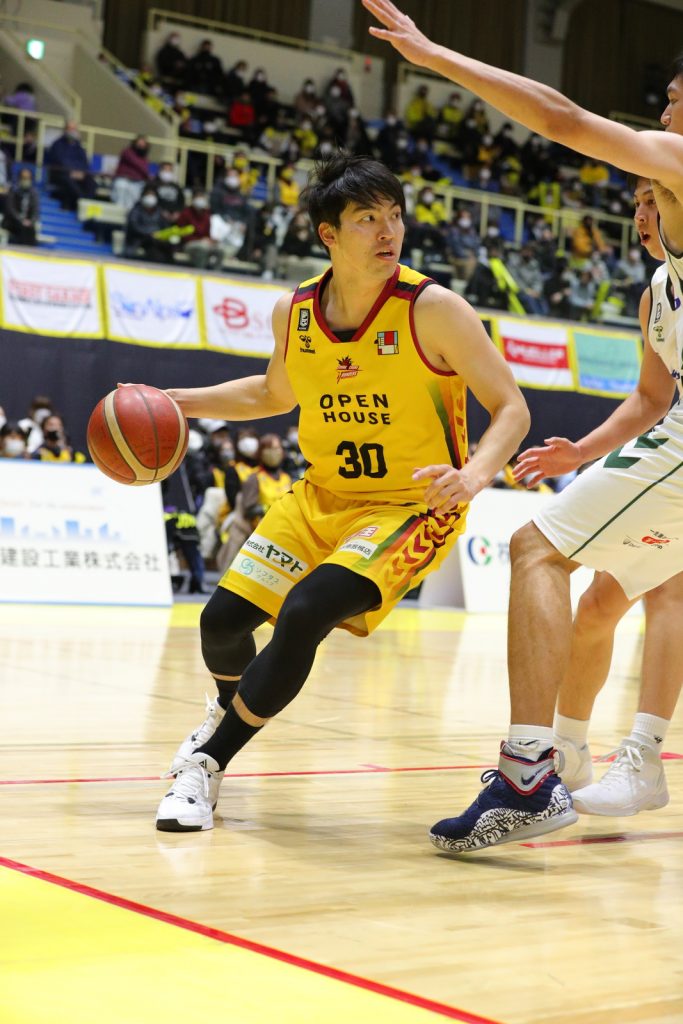 While the American-born quartet have the most dominant statistics, the Crane Thunders also receive steady production from ex-Brex guard Ryo Yamazaki (7.8 ppg and a team-best 55 3-pointers), backcourt mate Reiya Nozaki (6.6 ppg), point guard Kohei Kasai (5.3 ppg) and combo guard Masashi Obuchi (2.5 assists per game) who joined Gunma in 2013, among others. Captain Masaya Komaki has also asserted himself as a leader on and off the court.
In his final analysis, Guil said Gunma doesn't have any real weaknesses. He commended the team for its work ethic, unselfish play and commitment to winning. To do so, he said the Crane Thunders sacrifice individual glory for the sake of team goals.
"They play simple … but they play very well," the Spaniard concluded.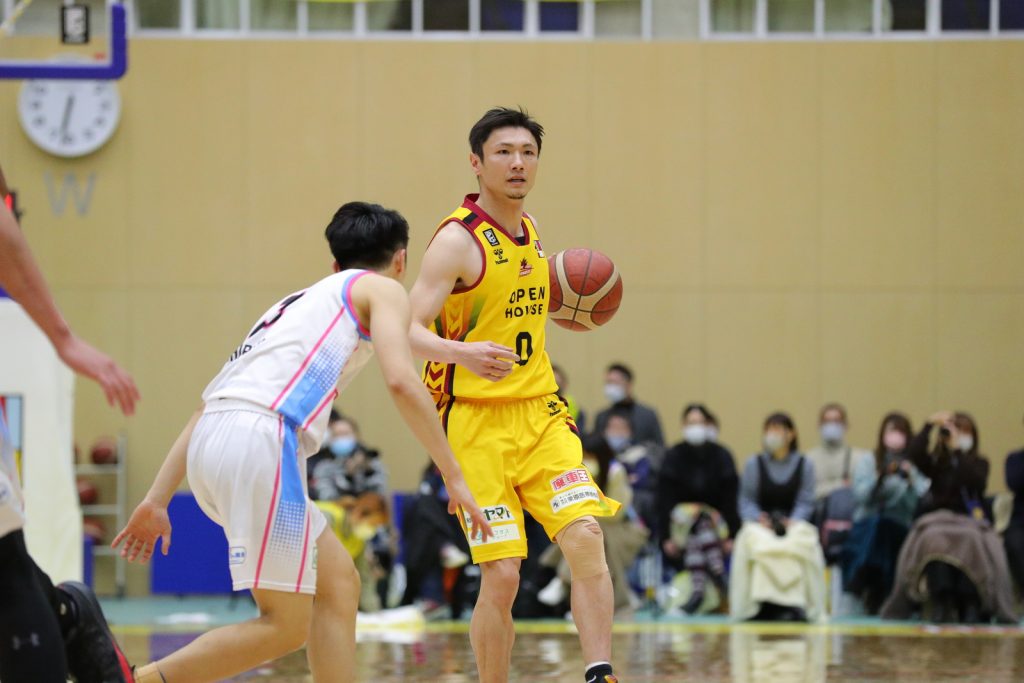 The Crane Thunders travel to face the Rizing Zephyr Fukuoka (17-13) on Saturday, January 23 and Sunday, January 24 in Tagawa, Fukuoka Prefecture.
An epic winning streak is on the line, but a larger goal remains the No. 1 focus.


Author: Ed Odeven

Follow Ed on JAPAN Forward's [Japan Sports Notebook] here on Sundays, in [Odds and Evens] here during the week, and Twitter @itsjapanforward.