[ODDS and EVENS] Wizards' Rui Hachimura Fired Up About NBA Relaunch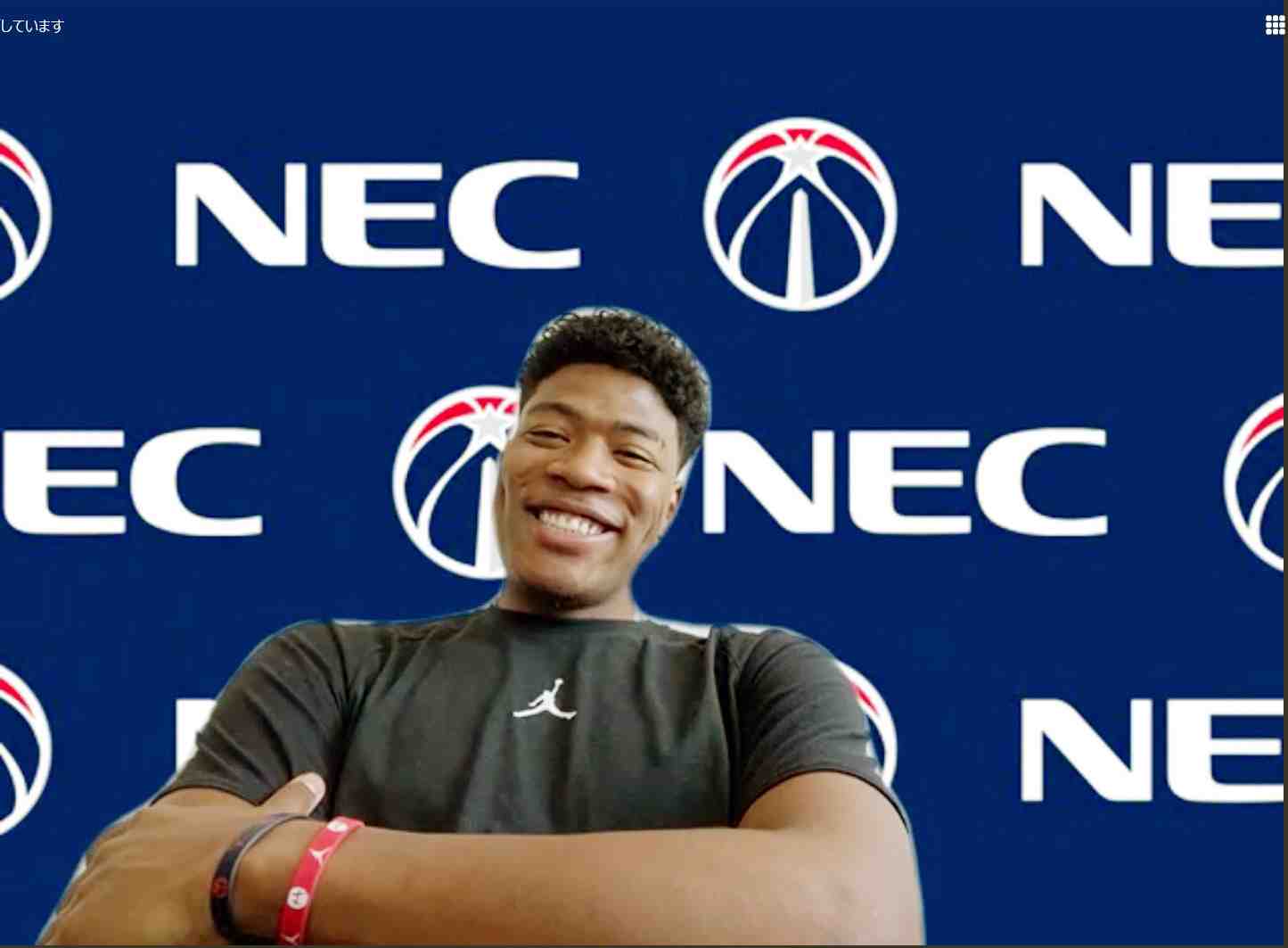 Rookie forward Rui Hachimura is focused on his job, serious about what he needs to do to get better.
Hachimura used his downtime during the NBA hiatus to add bulk to his 6-foot-8 (203-cm) frame.
The Gonzaga University product also participated in a Black Lives Matter march in Washington, D.C., with Washington Wizards teammates and members of the Washington Mystics, the city's WNBA club, on June 19. Each year Juneteenth commemorates slaves being freed in Texas on June 19, 1865.
In these unprecedented times, Hachimura is preparing his body and mind for the present and the future. He's also been studying about taxes.
The Wizards arrived in Orlando, Florida, on July 7 to get ready for the NBA restart. Before resuming workouts and normal NBA activities, Hachimura and the rest of the team were required to self-quarantine for 34 hours.
It wasn't a big deal, the 22-year-old Hachimura insisted.
"I was forewarned, so I was prepared for it," the Toyama native said in an interview posted on the team's website. "Thirty-four hours is really nothing compared to the past 3-4 months that we've had to self-isolate.
"I know some players have had their beef about this and that. But for me and our team, I think this is a great opportunity for us to be here and to compete in the restart."
On July 9, the Wizards held their first practice at the Walt Disney World campus near Orlando, where 22 of 30 NBA teams will complete a truncated regular season. Each team will play eight more games.
But first things first. The Wizards have three scheduled scrimmages: on July 22 against the Denver Nuggets, on July 25 against the Los Angeles Clippers, and on July 27 against the Los Angeles Lakers.
Sixteen teams will qualify for the playoffs. The Wizards (24-40) are in ninth place in the Eastern Conference, 5 1/2 games behind the Orlando Magic in the standings. If the Wizards move within four games of the Magic or whichever team is in eighth place, they will advance to a play-in tournament to determine final playoff spots. The Wizards are set to play in their first of eight remaining regular-season games on July 31 against the Phoenix Suns.
With a spring in his step running through practice drills in recent days, as seen on videos circulating on social media, Hachimura's more muscular body gives him an added boost for his aggressive attack-the-basket approach.
"I feel like I'm holding up better on contact, and I feel like I have more quickness in my movements," said Hachimura, who added 10 pounds (4.5 kg) of muscle since the NBA shutdown.
Wizards coach Scott Brooks, who said a few months ago that he was impressed with Rui's development as a rookie, commended Hachimura for putting in the work to strengthen his body.
"I think it will help him," Brooks said in a video posted on the team's website. "I think every player through hard work will get stronger day by day, and this time off you could tell that he put some time in. He really locked in on the weight and conditioning program that we have in place with our strength coach Blair (O'Donovan)."
And that's an important development, the coach said.
"It's a very physical game, and as the long season takes place year after year, it wears you out," Brooks said. "So, if you have that extra muscle on your body that you can absorb some of the hits that he will take, and he is an aggressive player around the basket, you can see he is stronger around the basket. But it's not going to slow him down or take away his athleticism, which is going to help. We want to get our players stronger, and he has definitely gotten stronger these last four months."
Team Adjustments
John Wall, a five-time All-Star point guard, and shooting guard Bradley Beal aren't with the team at Disney World. Wall has missed the entire season after rupturing his left Achilles tendon last year. Beal, who's been nursing a right shoulder injury, was having a dynamic season, averaging 30.5 points per game (No. 2 in the NBA). He had 40 points in the team's last game on March 11 against the New York Knicks. The NBA suspended the season on the same day after Utah Jazz center Rudy Gobert tested positive for COVID-19.
Without Wall and Beal in Florida, the NBA restart gives Hachimura and other young Wizards players a chance to step up their game. In particular, the team needs a combination of players to fill the void on offense.
"We have a lot of young guys that just want to hoop," Brooks told TNT's Inside the NBA last week. "Everybody is 20, 21, 22 years old and they want to play, and this is going to give us a great challenge, a great opportunity. We need experience and we need to get everybody back to playing…
"I think our guys are just looking forward to getting out there and competing."
Before the hiatus, Hachimura was averaging 13.4 points, 6.0 rebounds and 1.7 assists in 41 games. He missed 23 games in the winter due to a groin injury.
Now, he's raring to go.
"I'm so excited for this opportunity," Hachimura declared during a media availability on July 3 before adding, "We're just appreciative of all the people who work here to make this happen."
Then, on July 11, he responded to questions about the Wizards offense for the rest of the season. In addition to Beal, the team is missing Latvian small forward Davis Bertans, who averaged 15.4 points per game before opting out of the NBA restart.
"The team is much younger," Hachimura said. "It's a young group. Coach has run high-energy practices all three days, so it's been a lot of fun and the atmosphere is good. Everything is going well."
And he embraces the opportunity to be more of a focal point of the team's offensive attack in upcoming exhibition games and regular-season contests.
"Yeah, I'm aware of that and I'm practicing with that in mind," he said. "I want to not only contribute by scoring but with more aggressive playmaking."
Preparing for the Restart
While staying in Los Angeles in recent weeks, Hachimura watched a lot of game film and worked on his 3-point shot and his mid-range jumper. He said the shooting drills helped him increase his confidence and improve his shooting touch.
Away from the daily grind of the long NBA season, Hachimura also followed the news in the aftermath of the killing of George Floyd, an African-American whose death on May 25 sparked nationwide protests in the United States. A white police officer kneeled on Floyd's neck for more than eight minutes before he died.
Hachimura, who has biracial heritage, said he's experienced racism while growing up in Japan. "It's not a good thing. It shouldn't exist," he said of racism. "It's hard to talk about it."
But he believes strongly that the Black Lives Matter marches, including the one that the Wizards participated in, are significant and important. He called it "a great thing to do, I think."
As for the NBA's decision to let players put social justice messages on the back of their jerseys in Orlando instead of their family names, Hachimura fully supports it.
"I think it's a great idea," he said. "The NBA and the players are using this opportunity to shed light on issues. The NBA is a very proactive organization regarding social issues."
Leisure and Learning
While isolated in his room on the Disney campus, Hachimura spent a lot of time playing the popular video game Call of Duty.
Last weekend, while Brooks and other Wizards staff went to play golf, Hachimura joined assistant coaches Corey Gaines and Jarell Christian and reporter Zach Rosen, who writes for the team's website, for a pontoon boat excursion at the Yacht Club.
"Rui was hoping to see some alligators, but we only saw fish and exotic birds," Rosen wrote in a blog entry.
It hasn't been all fun and games, though.
Ugh, taxes.
Hachimura has set aside time to expand his knowledge of taxes, because it's something he needs to know more about.
"I've been taught by financial advisors and I'm studying when I have time," Hachimura told reporters. "Even if I live in the U.S., I still pay taxes to Japan.
"It's a good time to study, I'm thinking."
It's hard to argue with that point.
Or this viewpoint, which was dished out by Brooks on Inside the NBA: "I think Rui's going to continue to have a pretty good year. He's one of the most consistent (NBA) rookies all year long."
Author: Ed Odeven
Follow Ed on JAPAN Forward's [Japan Sports Notebook] here on Sundays, in [Odds and Evens] here during the week, and Twitter @itsjapanforward.