On in Saitama: Chichibu's Floral Beauty and Funky Kimono
Through May 5: Golden Week in Chichibu offers floral color, festive activities and fresh air for family outings in sun or light rain.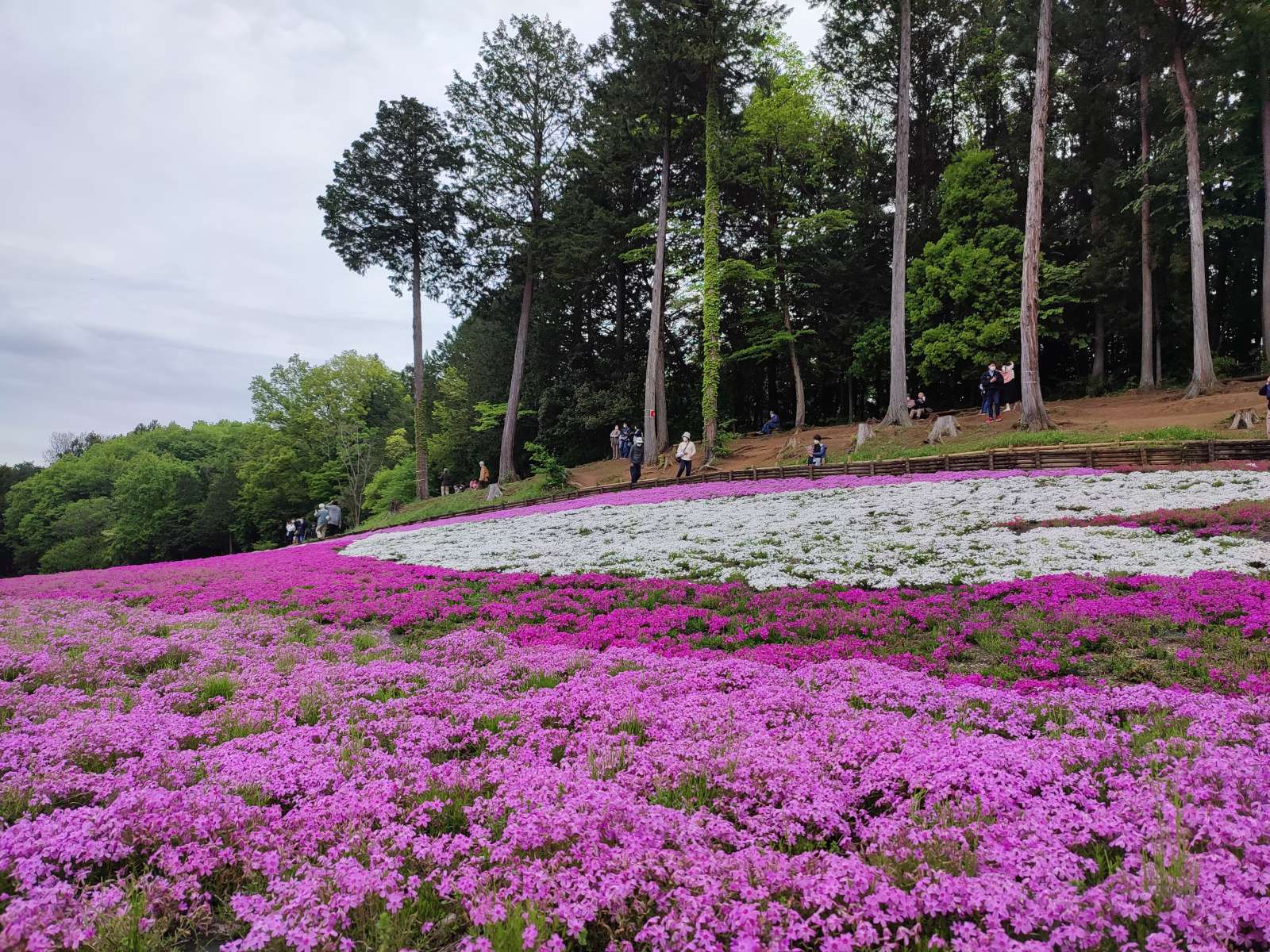 Shibazakura (moss phlox) color a hillside in the Hitsujiyama Park to the east of Chichibu in a noted display that my wife and I made a trip to see on April 28. We also stopped by the Chichibu Jinja (shrine), one of a number of noted shrines and temples in the city.
Along the way from the park to the shrine, we happened upon the Chichibu Meiseikan that is dedicated to preserving a local kimono weaving and dyeing technique that was popular in the 1920s and 1930s.


Hitsujiyama Park
This is a municipal park that sprawls over hillsides east of Chichibu. It has the facilities one expects in peripheral municipal parks in Japan, including tennis courts and playgrounds for children.
Year round admission is free ー except when an estimated 400,000 shibazakura come into bloom on a hillside on the south edge of the park. Three hundred JPY admission (about $2.30 USD) to this area is charged during the bloom period to cover the provision of extra visitor facilities and the numerous guides who direct vehicles to the parking lots and visitors to the hillside.
When we visited, some of the many separate flower beds had passed their peak but others were still in full bloom.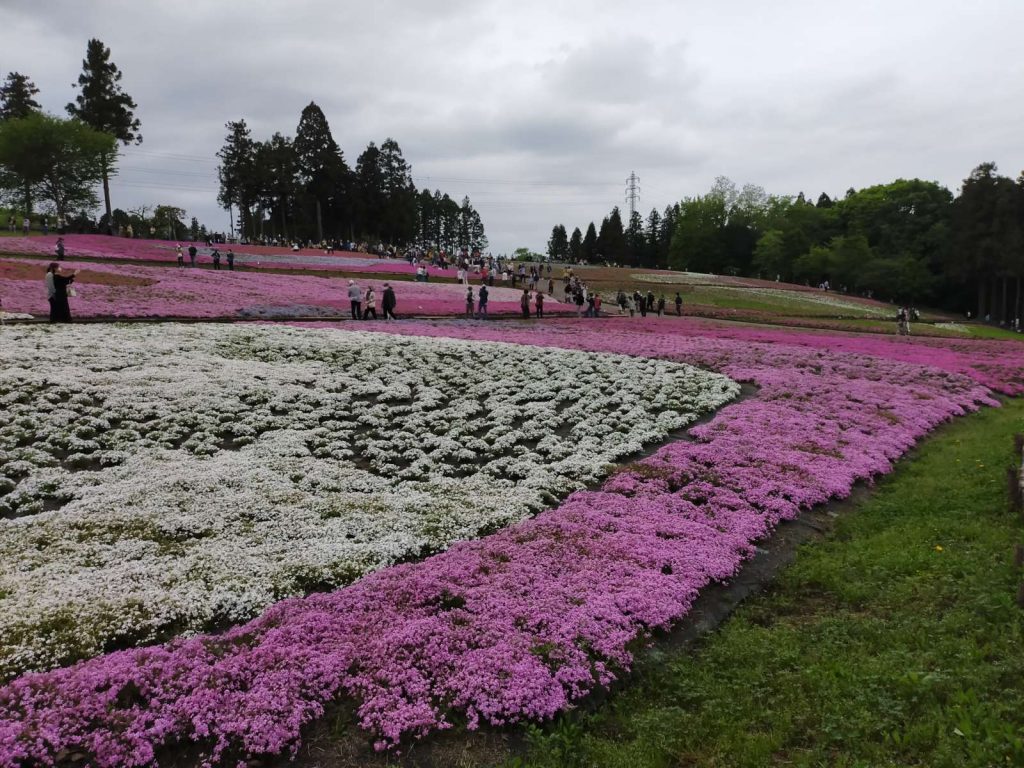 The park website is updated daily with photos showing the current state of the flowers.
Gently sloping paths that can be navigated with baby strollers and wheelchairs allow viewing the many distinct varieties of shibazakura. Helpfully, they are identified by small signs.
A number of log benches on a knoll that overlooks the hillside covered with shibazakura provide a space to relax and take in a panoramic view.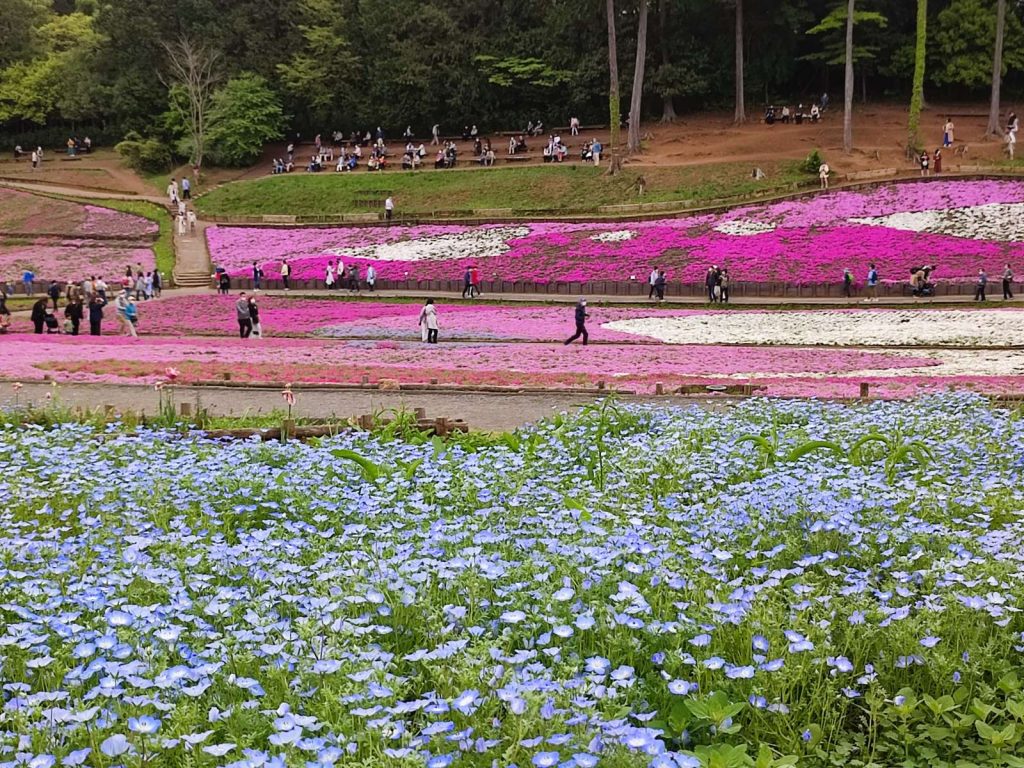 The bench area is also a good place for a picnic lunch or a snack.


Street Food
A nature park on a mountain hillside might not be the most obvious place to find Japanese street food. But at the west exit from the floral area, there is a large market area with individual vendors offering food items typical of Japanese festivals, such as yakisoba. There are also more pricey items such as wagyu (Japanese marbled beef), and items particular to the Chichibu area.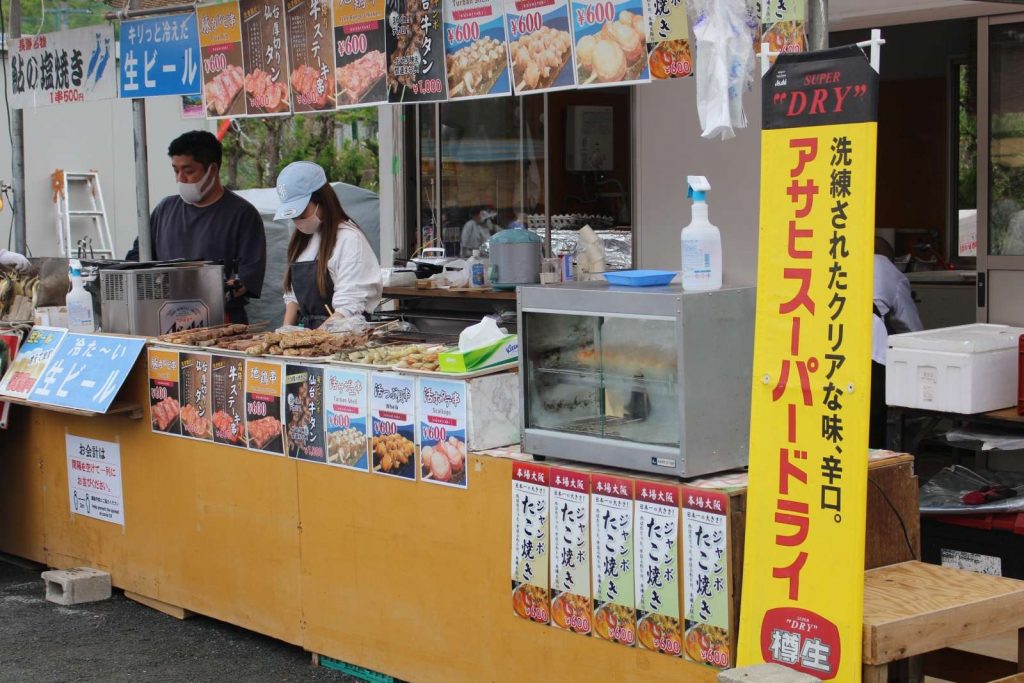 We had a heaping plate of sansai tempura (mountain bracken tempura) as a snack.
Beverages ranging from ramune to draft beer are available. Food can be taken elsewhere in the park or eaten at stand up tables in the market area.
Ramune is possibly the oldest soft drink in Japan, dating from 1884. It was the creation of a British pharmacist who served the foreign community in Kobe.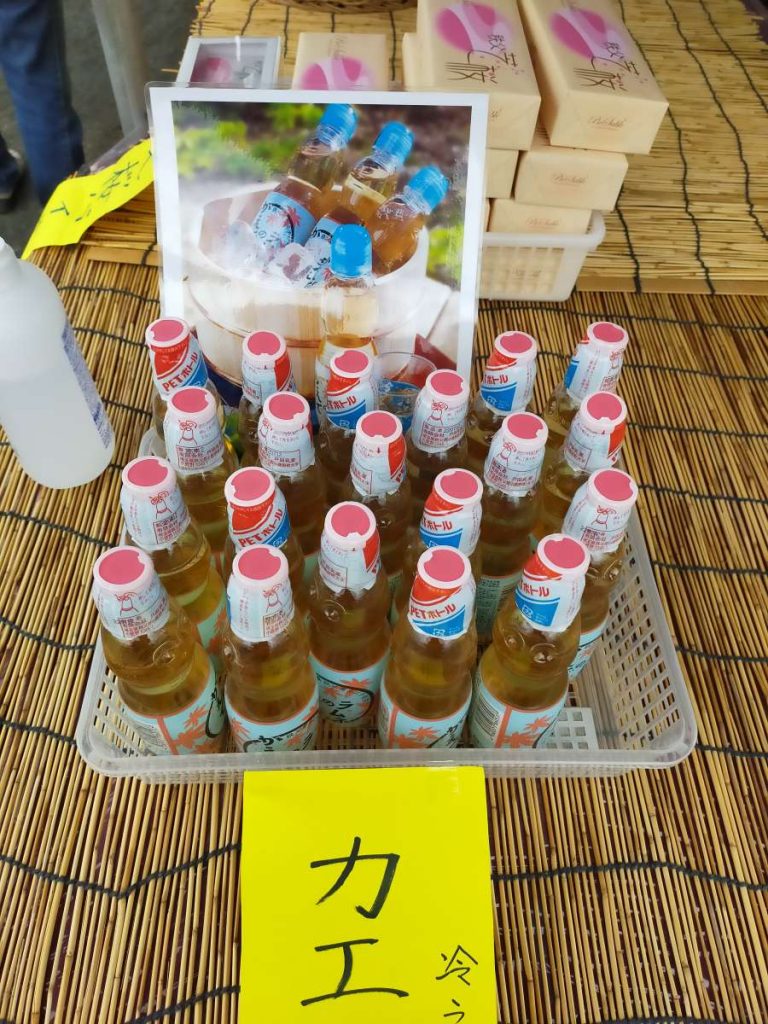 The market area and its stalls operate only during the festival period, April 15 to May 5 this year.


Souvenirs
The valley running from Hanno to Chichibu is a commercial forestry area. Sawmills can be seen from the train. One stall in the market area was selling artisanal wooden utensils.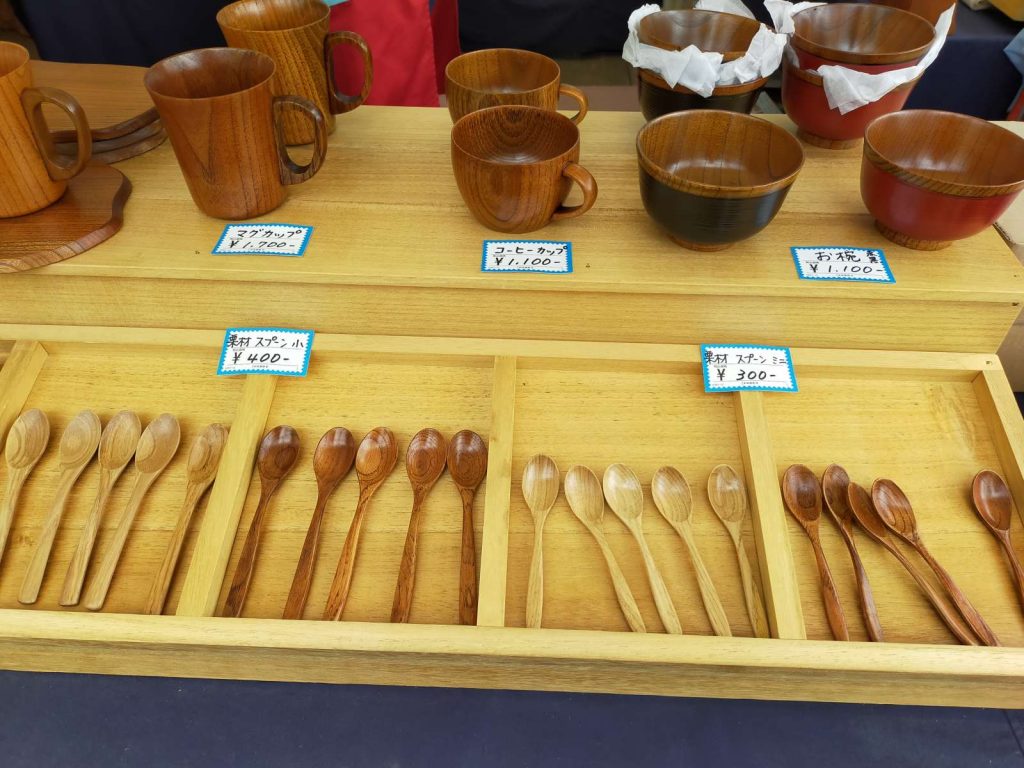 The forest areas in the Chichibu Mountains are also noted for nest building insects, including the "murder hornets" that attracted foreign press attention in 2020.
One shop was selling nests and medicinal concoctions containing these insects.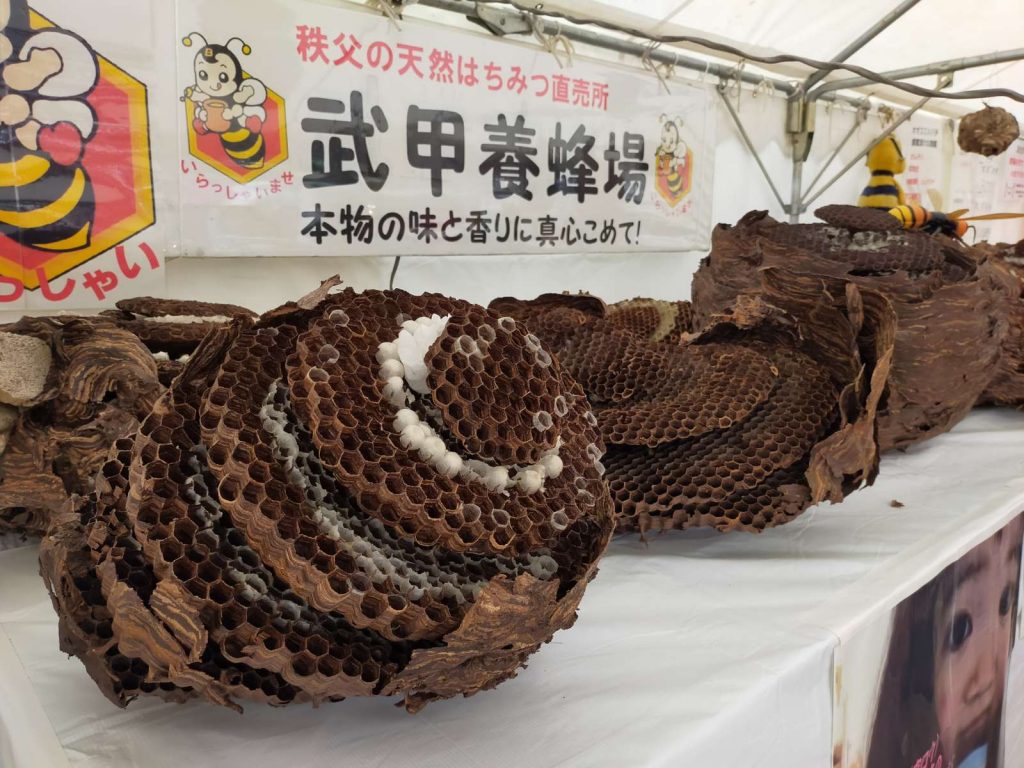 Less exotic items available include preserved bracken and sweets made with local ingredients.


Cement
From the market area, one can also see artifacts of the product most associated with Chichibu: cement. Bukosan 武甲山 to the southeast from the park has been a source of limestone for more than a century. The scars from mining are clearly visible, even on a cloudy and misty day.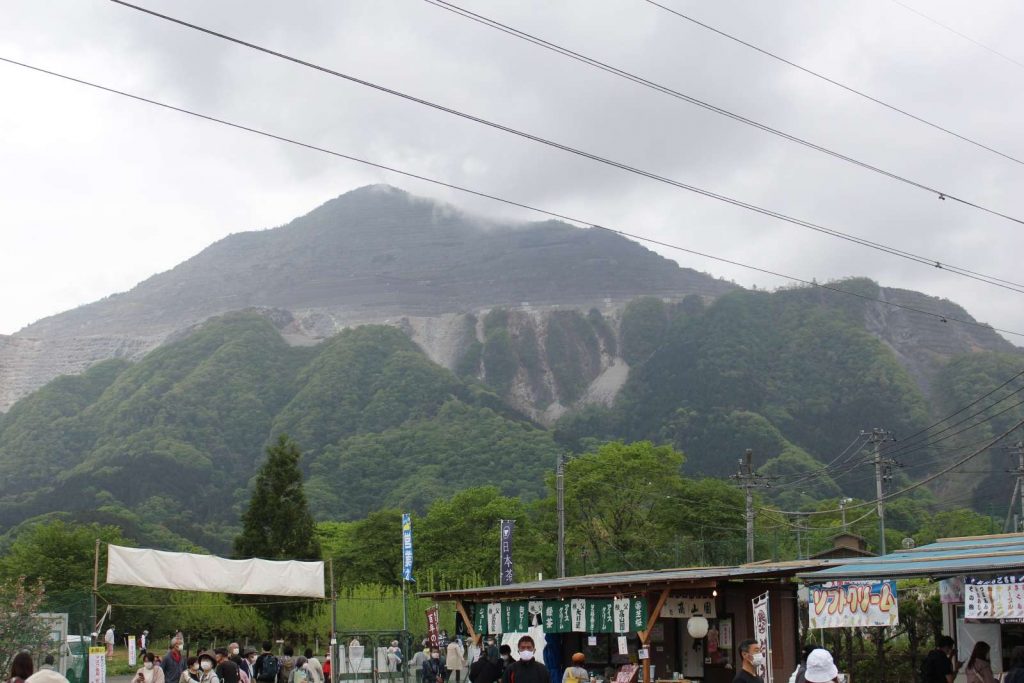 The Seibu Chichibu Line opened in 1969, and until 1989 it had freight trains hauling cement for further transport on JR lines. The Chichibu Railroad that connects Kiryu, Kumagaya, and Chibu is celebrating its 123rd anniversary. It too was constructed to haul cement, and its largest stockholder is Taiheiyo Cement.
The Chichibu Railroad operates steam excursion trains as described in my May, 2019 JAPAN Forward article. Current information can be found here.


Chichibu Silk
After walking through the more generic section of Hitsujiyama Park, we headed for Chichibu Jinja. On the way I noticed signs for a silk museum. We decided to visit since it was on our direct path to the shrine.
I did not expect much. But it turned out to be very informative, while providing an opportunity to see people dying and weaving silk cloth.
The Chichibu Meisen Center is dedicated to preserving a type of silk textile that was popular in the 1920s and 1930s. In contrast to the very expensive and elaborate materials, kimono, and accessories that are associated with Kyoto and its Nishijin weavers, the Chichibu genre is decidedly plebeian.
It was developed to make use of lower quality, even off-color yarn, to produce simple, brightly colored kimono for casual wear.
The production process involves silkscreen dyeing of only the vertical threads (weft) with the horizontal threads (warp) in a complimentary color added later.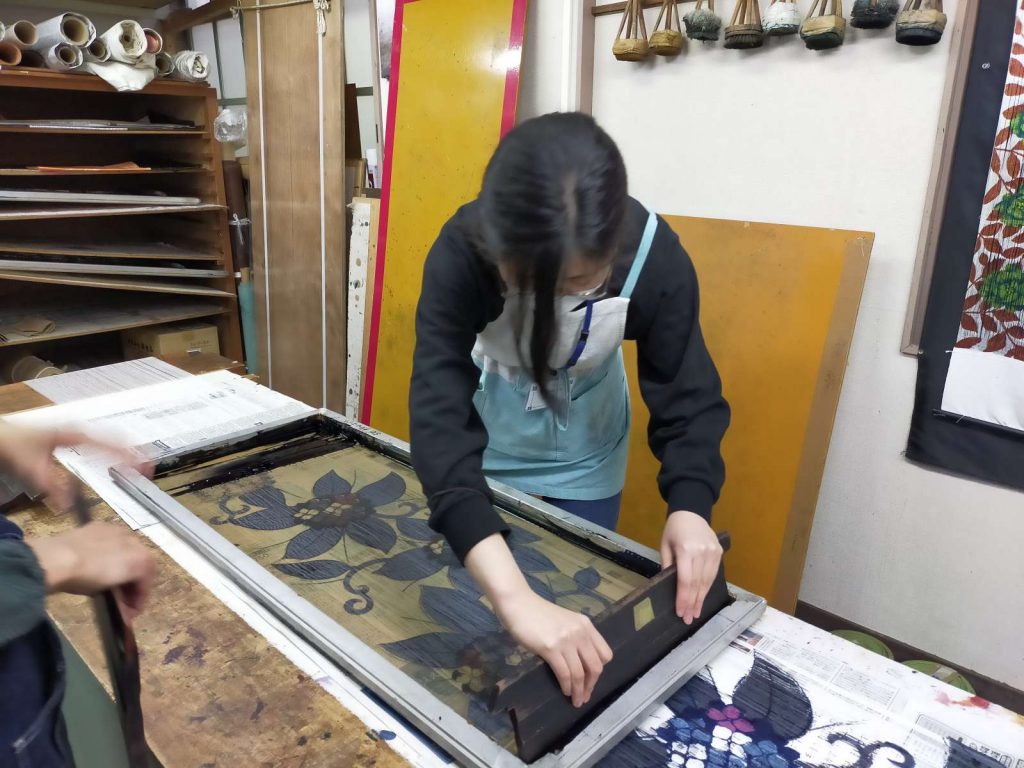 The result is a textile with bright, bold colors, a distinct sheen, and a somewhat rough texture.
Few kimono are made using this type of textile today. But it lends itself to mats used for place settings, handbags, and other such items. These are available in the museum shop.
One of the display rooms has a collection of kimono made with this fabric. Visitors are encouraged to take selfies wearing the haori, traditional Japanese hip- or thigh-length jacket worn over a kimono, of their choice.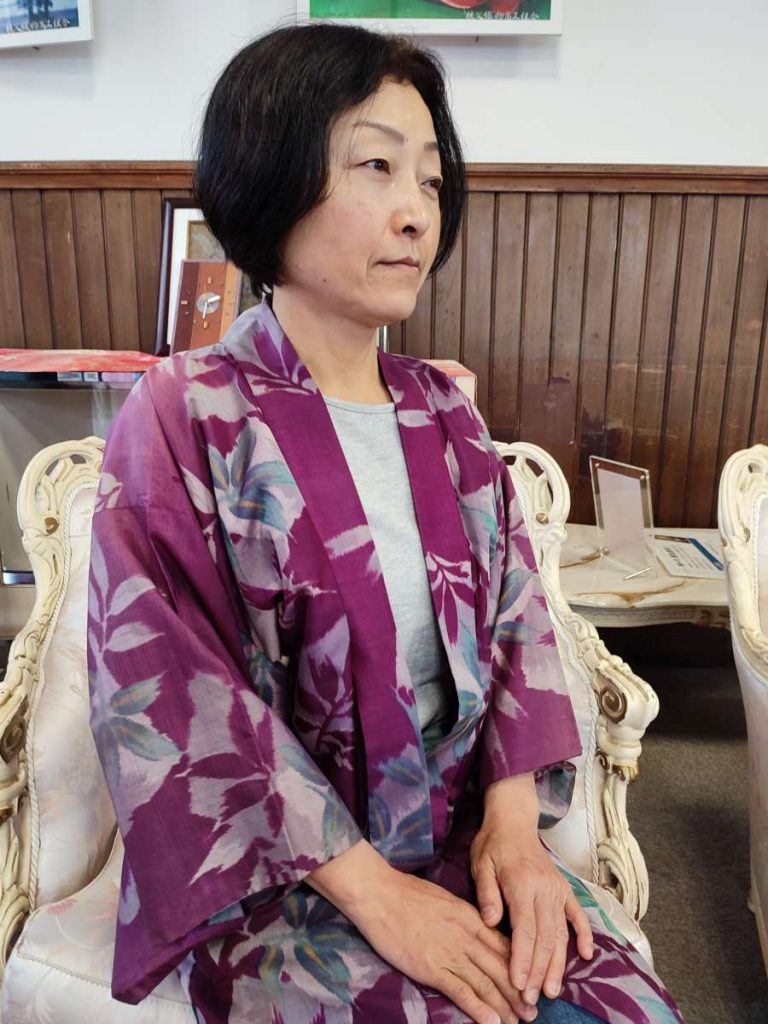 The center is a five minute walk from the Seibu Chichibu Station. Admission is ¥100 JPY for children, ¥200 JPY for adults ($ 0.75 to $1.50 USD, respectively.) Hands-on dyeing and weaving opportunities are available with charges starting at ¥1000 JPY (about $7.50 USD) for simple items.


Wisteria
Fuji (wisteria) are just now coming into bloom in Tokyo. Notable viewing spots such as Koishikawa Korakuen had no flowers last week. In contrast, there were numerous wisteria in full bloom in Chichibu, including those at the Meiseikan.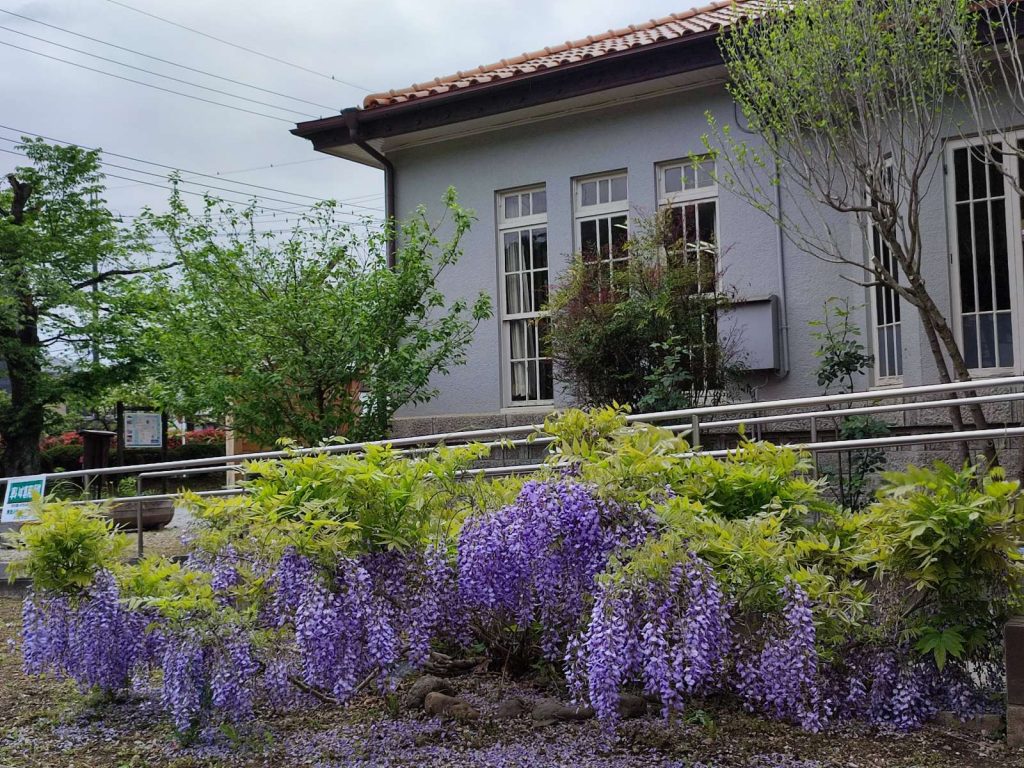 Chichibu Jinja
This is one of 34 shrines and temples that are part of a pilgrimage circuit in Chichibu. The main shrine building has gilded wood carvings similar to those in the Toshogu at Nikko.
Unfortunately, scaffolding that is part of a five-year restoration project obscures the carvings on the front of the main shrine building. Lesser panels on the side of the building do, however, give a sense of the artistry embodied in these carvings.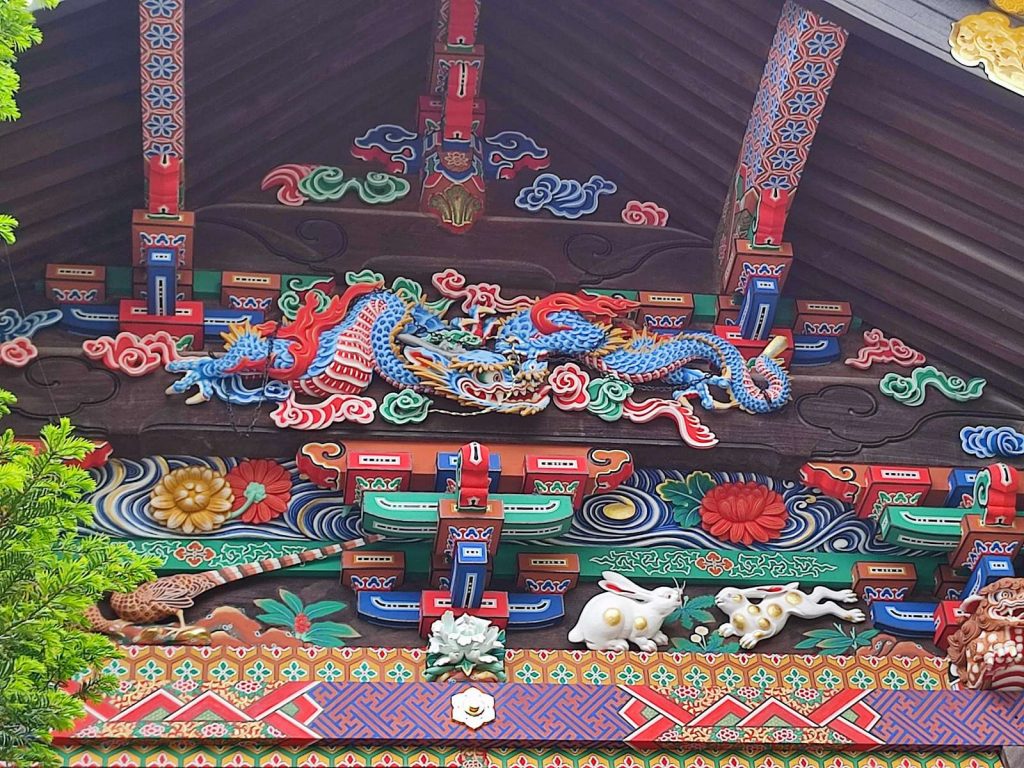 The Shrine is the main locus of the Chichibu Night Festival, an annual event in early December that attracts enormous crowds. This festival is registered with UNESCO.
The main street leading to the Shrine entrance has a sprinkling of shops both in late Edo style and in what might be called Taisho roman, a blending of Japanese and European features.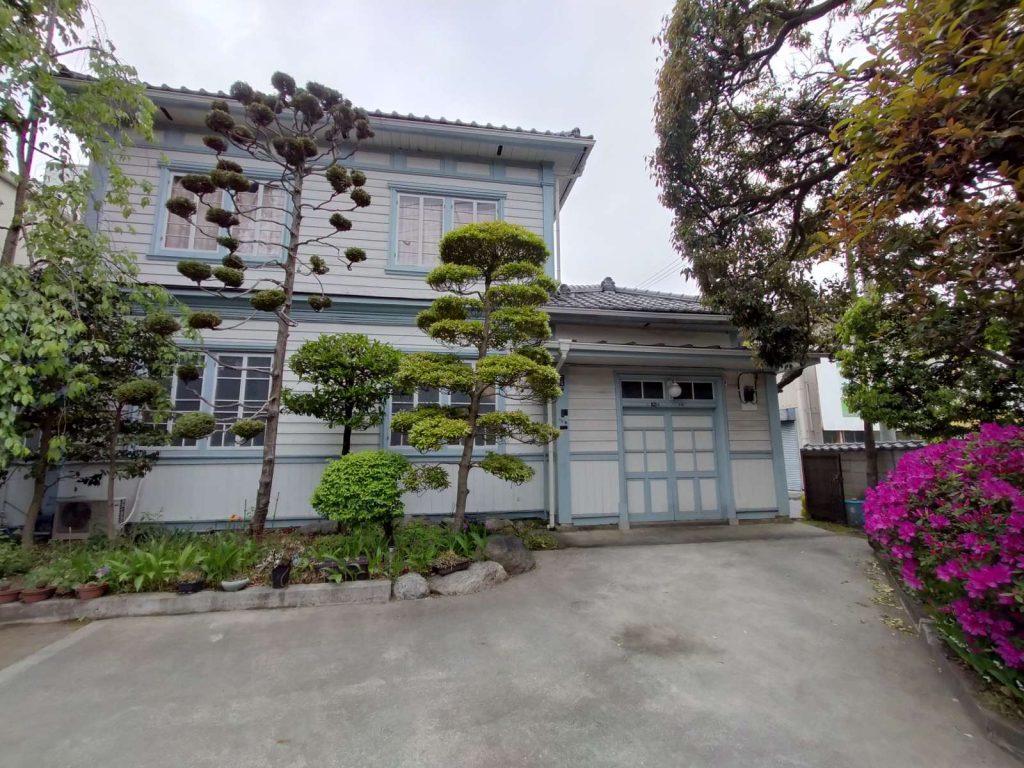 Chichibu in general and the Shrine in particular figure in a popular television anime. Posters featuring characters from the anime were conspicuous near the Shrine.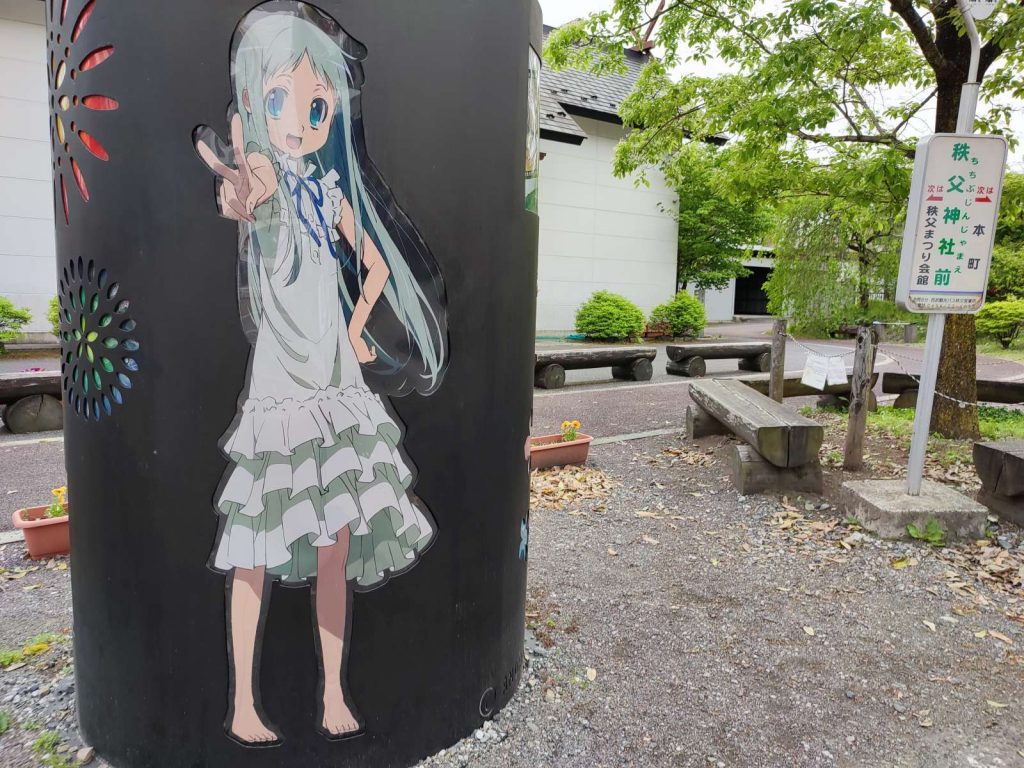 A Train Ride Worth Taking
There is frequent train service on the Seibu Ikebukuro Line. Some trains go directly to Chichibu after reversing direction at Hanno. Others are timed to meet a connecting service from Hanno to Chichibu. The basic fare is ¥760 JPY ($5.85 USD) for adults to Yokoze, or ¥790 JPY ($6.08 USD)for adults to Seibu Chichibu.
We used the Laview Express that stops only at Tokorozawa, Iruma, Hanno, Yokoze, and Seibu Chichibu. The express ticket is ¥710 JPY ($5.40 USD) if bought in advance. There is a ¥200 JPY($1.55 USD surcharge if tickets are bought on the train.
The Laview Express was designed by Kazuyo Sejima, a celebrated woman architect, and features spacious seats that recline and windows that extend from near the floor to near the luggage racks.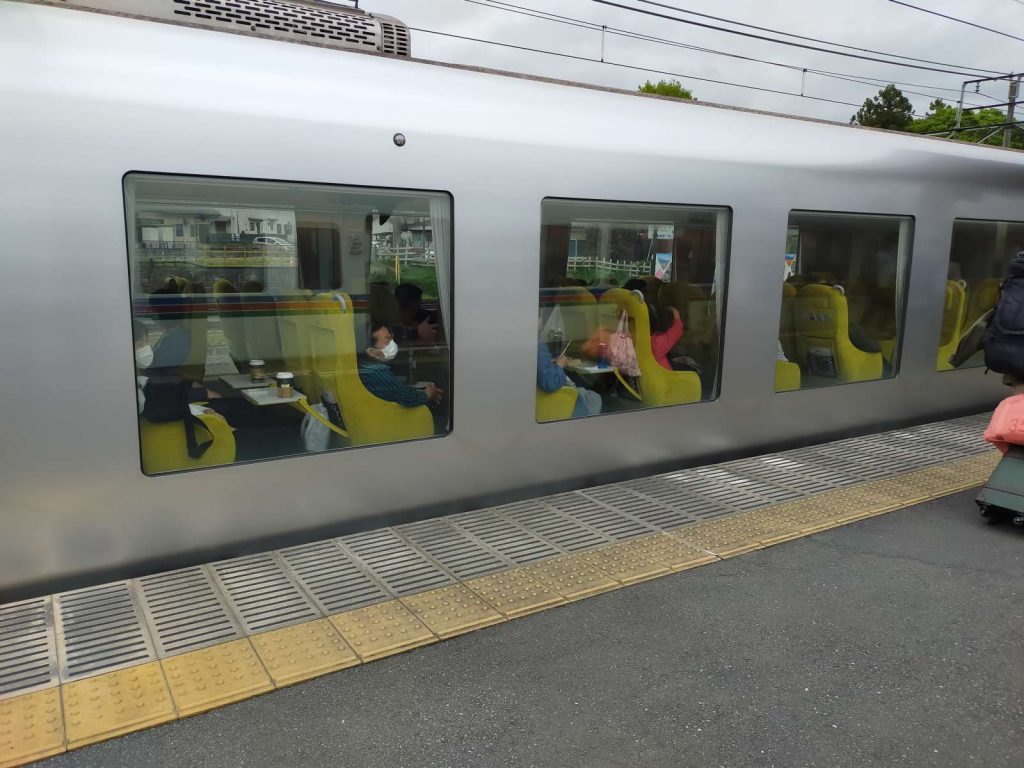 The bold design of this train has been featured in numerous articles in foreign English language media.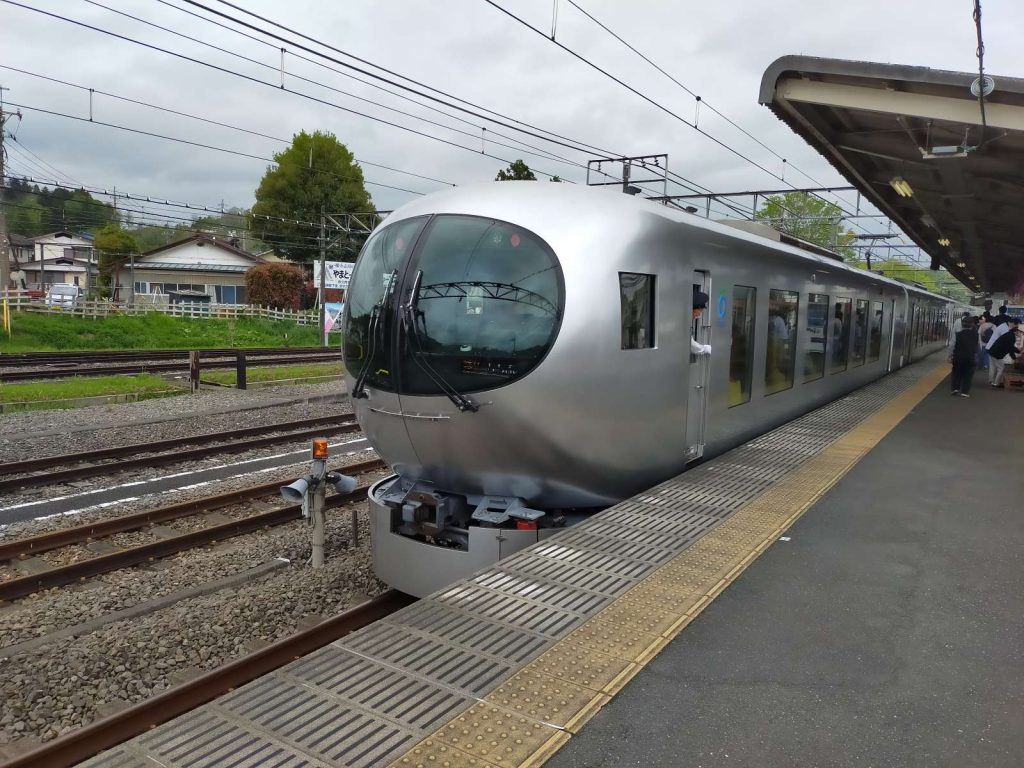 Unfortunately, there is only generic Tokyo suburbia to see until the train enters the Hanno to Chichibu segment. Seating on the right side going and the left side returning gives the best view of the scenic river valley that the line follows.
If you are prone to motion sickness as I am, ask for tickets mid-carriage. There is considerable movement near the passages between carriages when the train is moving at full speed.
Most guides recommend walking from Chichibu Station to the park. This involves a steep hill climb. Walking from Yokoze Station is better: gently uphill and quite picturesque.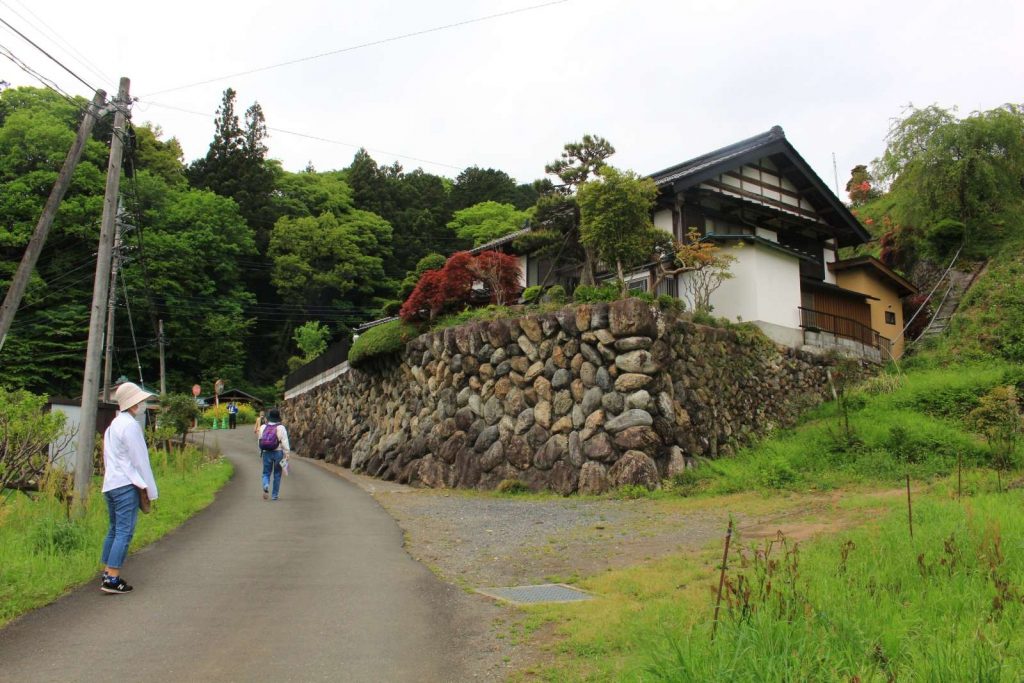 The route was very well signed with guides at junctions.
There were wheelchair uses in the floral and shops area, but those coming by train should probably use a taxi to reach the park itself.


Conclusion
Predicted weather for the remainder of Golden Week indicates a mix of dry and light rain days. Floral displays such as the one at Hitsujiyama often look better during or after a light rain.
Overcast skies make photography easier. There is no blinding sun coming from the wrong direction and no harsh shadows that can result in photos with under or over exposed parts.
The park and Chichibu have much to offer. Now is an excellent time to escape urban Tokyo with a low cost outing to one of the mountainous areas to the west.


RELATED: Kanto Region Waiting to Be Rediscovered As Center of Kimono Production


Author: Earl H Kinmonth
Photographs by EH Kinmonth. Find other stories about Tokyo and nearby areas by Dr. Kinmonth at this link.