Osaka University Team Does World's First Successful iPS Cell-Derived Corneal Transplant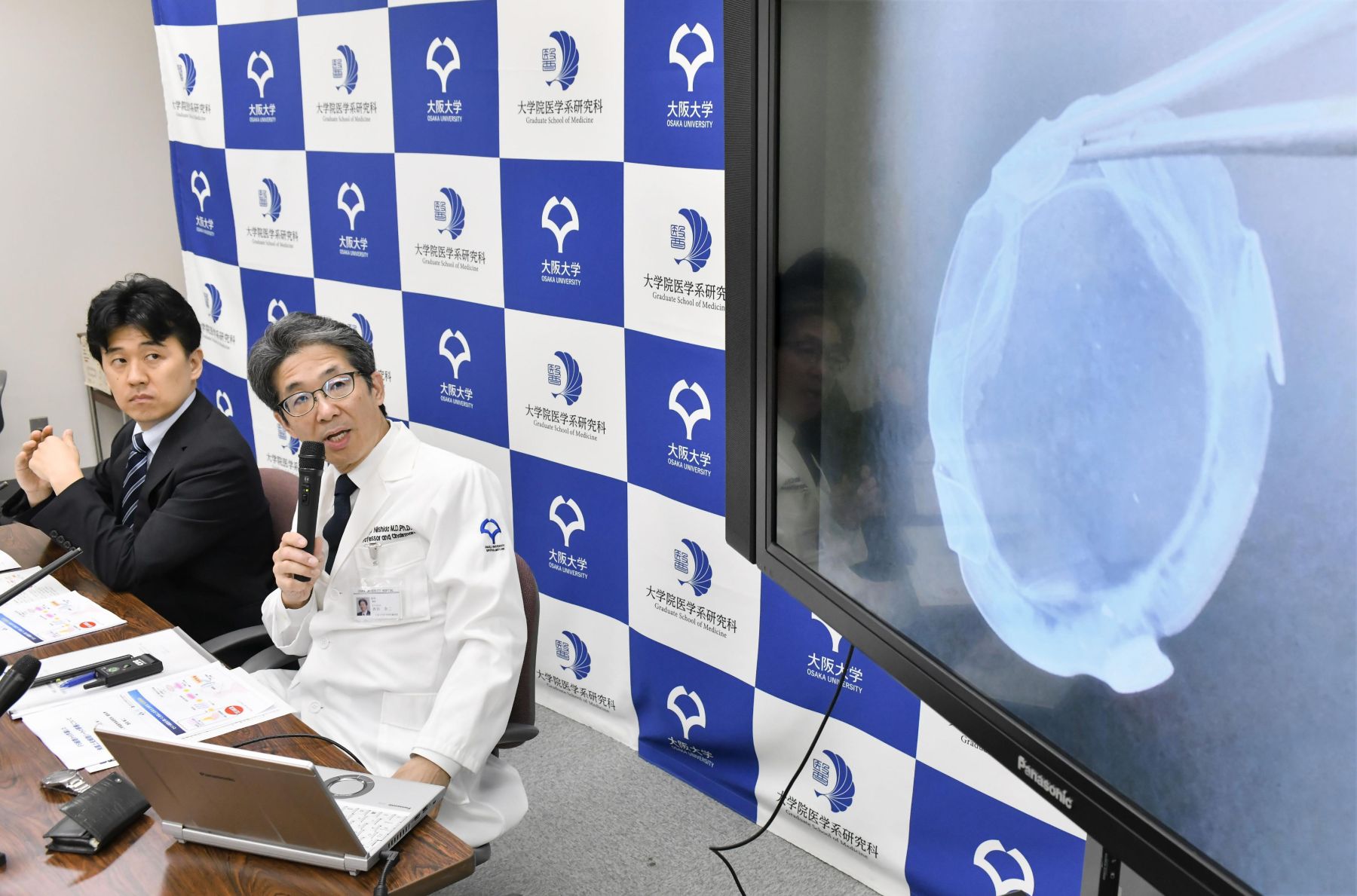 A team of researchers led by Osaka University Professor Koji Nishida has successfully treated an eye disease patient by transplanting artificially-cultured corneal cells derived from induced pluripotent stem cells, or iPS cells, the research team announced on August 29.
The corneal transplant operation using iPS cells is the first of its kind in the world, the researchers say. Given the dearth of corneal donations, the success is viewed as a step toward regenerative medicine for corneal disease.
The patient who underwent the transplant surgery is a woman in her 40s who had almost no vision because of what is technically called "corneal epithelial stem cell deficiency (CESCD)." It is a disease that causes corneal opacity due to an impediment posed to the epithelium, which is on the outermost part of the cornea.
The surgery was performed at the Osaka University Hospital on July 25. The patient was discharged from the hospital on August 23.
Follow-up Checks to Determine Long-term Success
Professor Nishida said in a news conference: "The operation was finished without incident and there occurred no rejection responses at all. The patient would say she was nearly blind before the transplant, but after the operation, she seemed very happy, saying she now could see things well. From now on, we will continue monitoring to confirm whether her current condition can be maintained."
There are an estimated 1,000 CESCD patients in Japan. The cornea is a transparent membrane about 11 millimeters across and .5 millimeters in thickness at the center of the eye. Its role is that of a lens for seeing things. When it gets walleyed, one has his or her visual strength lowered, bringing a risk of blindness.
Up to now, corneal transplantation has been the only available remedial procedure for CESCD. Transplant therapy, however, has been plagued by such intractable problems as chronic shortages of cornea donors and many cases of rejection reactions after corneal grafting.
Many rejection reactions tend to occur within one year after a cornea or another organ is transplanted from one individual to another. The iPS cell-derived cells used by Professor Nishida and his team, in contrast, can be produced with stable quality and they have considerably lesser risks of rejection responses compared to cornea transplantation, according to the researchers.
The group of Osaka University researchers plan to verify the safety and efficacy of the iPS corneal transplant procedure by close monitoring of the patient over the coming year, followed by one more year of followup checks.
Looking Toward Practical Use in 5 to 6 Years
The Osaka University team made corneal cells using iPS cells that Kyoto University's Center for iPS Cell Research and Application had created and stockpiled by using blood collected from robust donors with the type of blood that has a history of low immunorejection, meaning there is a low possibility of the foreign matter producing a rejection reaction in the patient.
The corneal cells were cultivated and then processed into a thin circular sheet measuring .05 millimeters in thickness before being transplanted. The researchers say there is a possibility of the iPS-derived treatment method being put into practical use in five to six years, if things proceed smoothly.
Professor Nishida noted, "There are many things not known yet about medical treatment using iPS cells, and we have only conducted the first operation."
He quickly added a note of optimism, saying, "If the safety and effectiveness of the iPS cell-derived transplant is substantiated, prospects of applying our method to patients to whom cornea transplantation is considered unsuitable will be increased, while at the same time eliminating the problem of a dearth of [corneal] donors."
Cells made for transplant purposes from iPS cells are accompanied by risks of becoming cancerous, but Professor Nishida's team, through experiments on animals, has shown that their iPS-derived cells do not cause malignant alterations. In recognition of the test results, the Health, Labor and Welfare Ministry gave the go-ahead to the research team's clinical studies in March 2019.
The breakthrough accomplished by the Osaka University team is the third successful example of regenerative medicine operations in Japan based on iPS-derived cell technology. Earlier operations were conducted by the government-backed Riken institute, which transplanted retina cells into a patient with age-related macular degeneration, and by Kyoto University, which used iPS-cell transplants in the treatment of a Parkinson's disease patient.
(Click here and here to read the related articles in their original Japanese.)
Author: The Sankei Shimbun