Panasonic Ventures Into India with Automation and Cutting-Edge Technology
India is booming as the world's most populous country and has an economic growth rate of 7.2%, surpassing China's, in the fiscal year ending March 2023.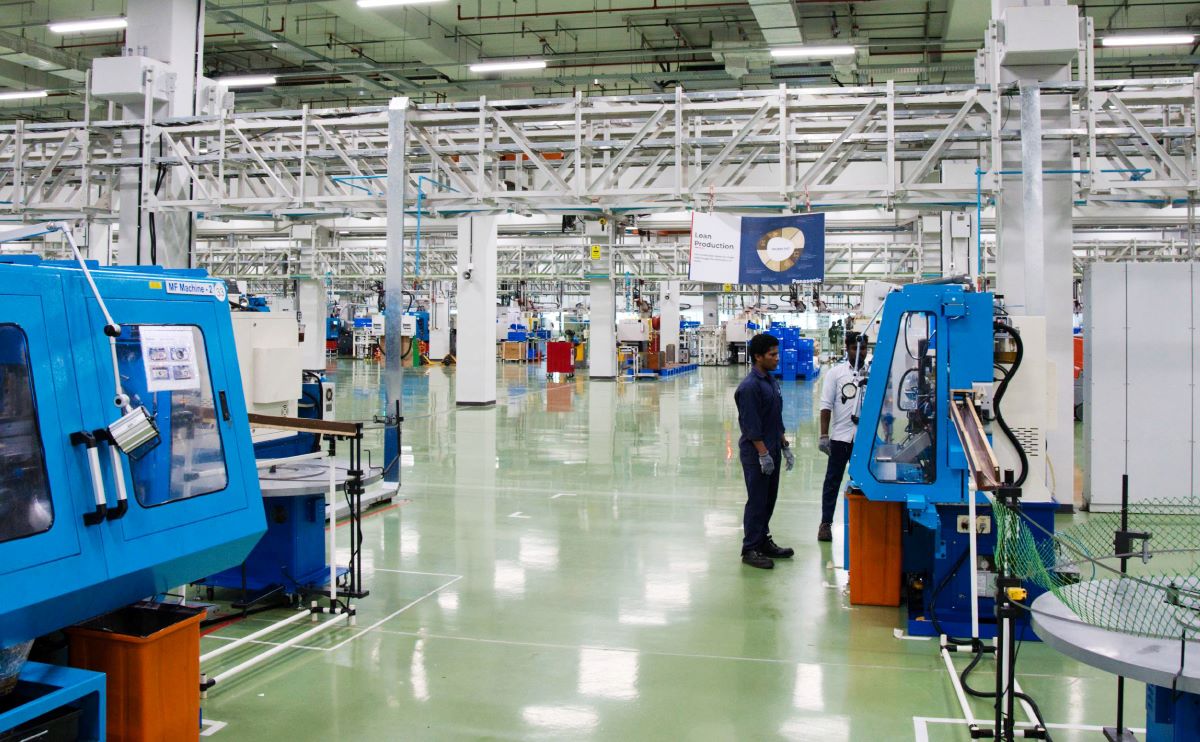 Japanese manufacturing companies are making successive strides into India, just as the country is experiencing significant economic growth and population increase. As geopolitical risks escalate in China, the demand for alternative production bases also rises. This is adding further to the value of tapping into India's growth.
This two-part series will delve into the essentials of capitalizing on India's development opportunities.
First of two parts
An array of industrial machines is meticulously lined up, busily molding parts and depositing them into blue cases. Once a certain quantity gathers, automated delivery robots collect them, leaving the vast floor with minimal human presence. This scene takes place at the Panasonic Holdings (HD) factory within the Sri City Industrial Park in Andhra Pradesh, southern India.
The factory, specializing in the production of wiring equipment, commenced operations in April 2022. Installing state-of-the-art equipment, the facility achieves an impressive automation rate of over 95%.

"To meet the continuously expanding demand in India, productivity improvement through automation is indispensable." These are the words of Yoshiyuki Kato, the head of Panasonic's electrical materials subsidiary in India. His aim is to make Panasonic HD's overseas electrical materials business, with a particular focus on wiring devices, a fundamental pillar of Panasonic HD.

With a technological legacy of around 100 years since the successful introduction of Konosuke Matsushita's two-socket plug, the company's wiring devices, such as electrical outlets and switches, have amassed considerable expertise. Renowned for their high product reliability, these devices still proudly hold top market shares in Japan, India, Vietnam, and various other Asian countries.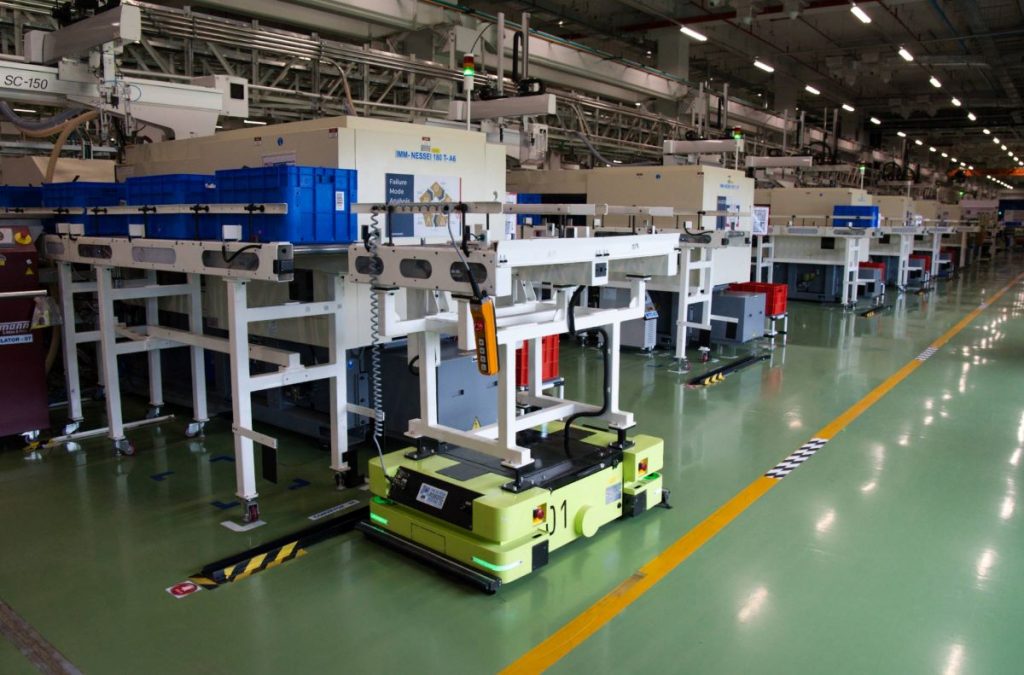 Contributing to Panasonic's Success
India's surging demand for wiring devices is reflected in Panasonic's impressive fiscal year 2022 revenue of 83.6 billion yen (about $594 million USD). And this growth rate is nearly 1.5 times higher than the previous three years. It is driven by population growth and robust economic expansion, resulting in a housing construction rush, among other things.
Notably, the operating profit constitutes approximately 20% of sales, which is twice as high as that in Japan.
At the heart of this revenue momentum lies the Sri City factory. Boasting an impressive annual production of 530,000 units per person, the factory achieves four times greater efficiency than the Haridwar factory in northern India, which has a 30% automation rate.

With ambitious plans, the Sri City factory aims to elevate its overall production from 120 million units per year to a remarkable 300 million units by 2030. Moreover, states Kato, this will be achieved while minimizing workforce increase.
Quality Improvement with AI Cameras
Panasonic HD is not alone in embracing advanced technologies to enhance quality. Kubota, for instance, focuses on improving quality by employing AI cameras at their tractor production factory in Haryana, India. Operations there commenced in 2020.

Typically, when Japanese companies establish overseas factories, experienced personnel from Japan travel to oversee the installation and start-up of production facilities. However, the COVID-19 pandemic prevented Kubota's employees from traveling.
These travel limitations also led the company to remotely supervise the factory setup using web cameras. Surprisingly, this situation gave birth to the idea of establishing a cutting-edge production system.
The system they developed involves capturing employees' actions through cameras. Then they use AI to assess their adherence to the instructions manual. AI is able to visualize unnecessary movements and variations in task completion time. That led the to valuable insights that enhance quality and productivity, explained Seiji Fukuoka, Vice President of Kubota's Indian subsidiary.
Kubota also plans to fully implement this system in the near future. Currently, it is conducting additional verification processes.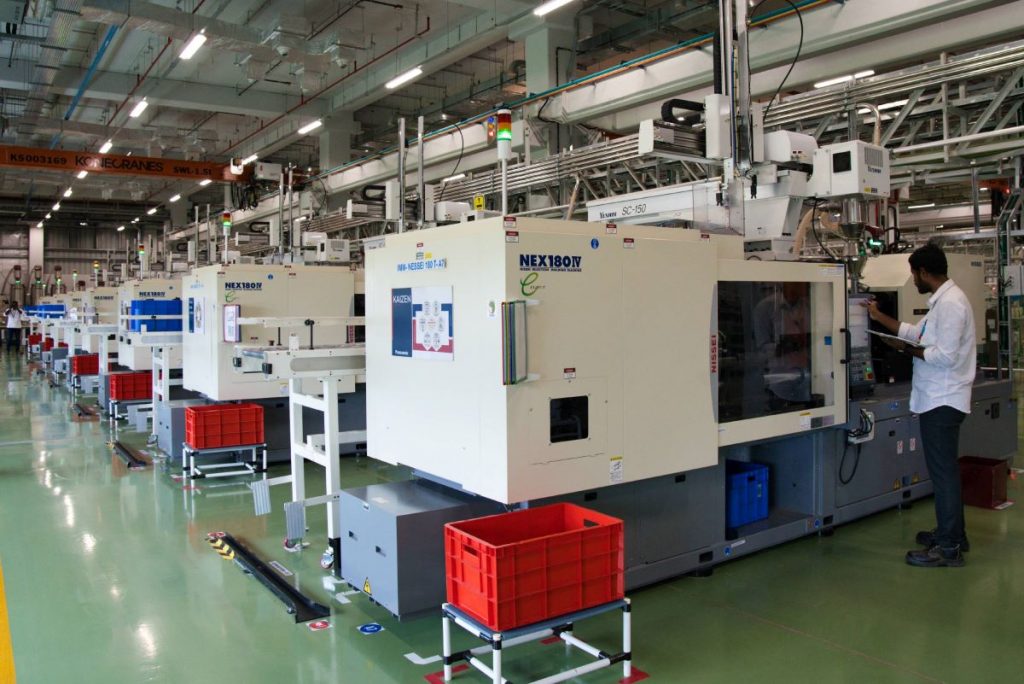 Surpassing China's Growth Rate
The drive behind Japanese companies enhancing their production in India through cutting-edge technologies is highlighted by Taku Hiroki. He is the Head of Research at the Japan External Trade Organization, or JETRO, New Delhi office. There is a significant boost to India's market appeal, he emphasizes, due to the growing income of its people.

According to estimates by the United Nations Population Fund, India's population reached 1.4286 billion in mid-2023. It has surpassed China and become the world's most populous country.
In the fiscal year 2022 (April 2022 to March 2023), India's real gross domestic product (GDP) recorded an impressive growth rate of 7.2% compared to FY 2021. That outpaced China's growth rate of 3.0% in the same period.

In response to the burgeoning domestic demand, Japanese companies are making successive entries into the Indian market. As of 2021, there were approximately 1,439 Japanese-affiliated companies operating in India. Most of these were in the manufacturing sector. This is according to reports by the Embassy of Japan in India.

The increasing "China risk," stemming from issues like the United States-China trade friction, underscores the need to diversify supply chains away from China. As a result, India has become an appealing option as an export hub.
Responding to this trend, Panasonic HD has also strategically chosen India as an export base for its electrical component trade to East Africa. Meanwhile, Kubota is actively exploring the possibility of exporting tractors from India to Europe and other Western countries.
Continues in Panasonic Ventures Into India, part two.
RELATED:
(Read the report in Japanese.)
Author: Hiroto Kuwajima