'Pleased and Thrilled' Princess Ayako, Fiancé Moriya Take Questions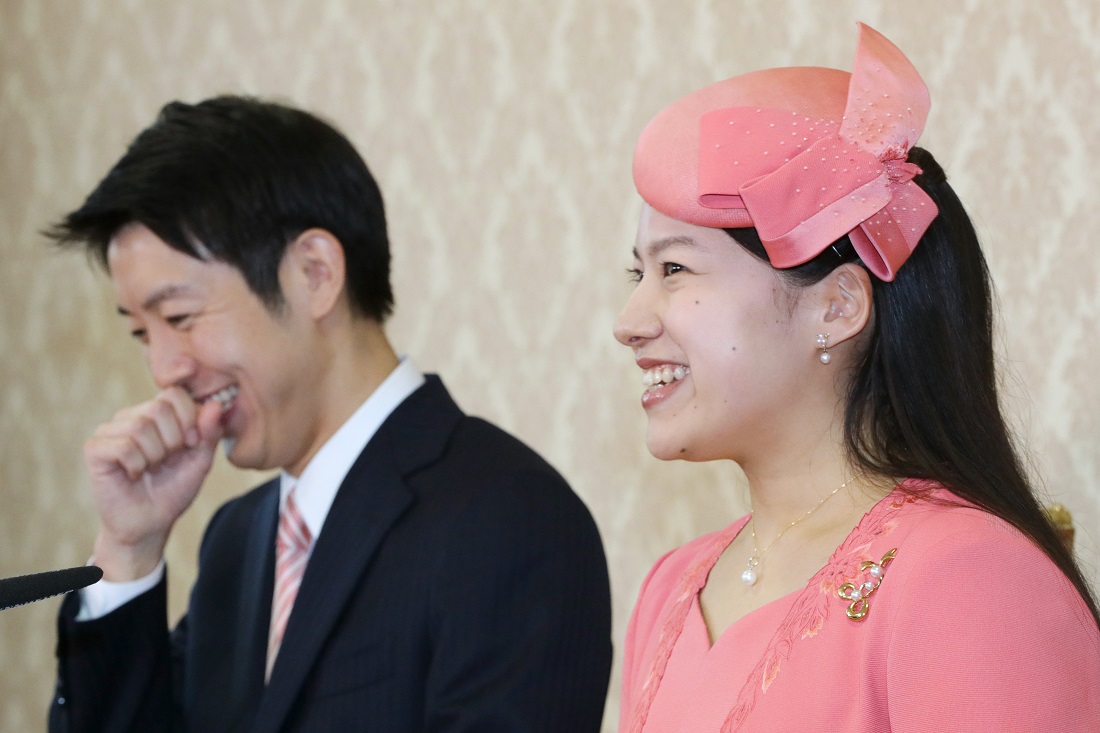 Princess Ayako of Takamado and Nippon Yusen employee Kei Moriya of Tokyo, 32, who recently announced their engagement, granted a press conference on July 2, in the main building of the Imperial Household Agency.
The Princess told the press, "I am both pleased and thrilled today to be able to announce my intention to marry."
The full text of the press conference is as follows.
Please tell us about your feelings upon your engagement to be married. In particular, please tell us how the Emperor and Empress reacted when you informed them of your intentions, and how you have received their feelings.
Princess Ayako: Before I answer this question, I would first like to offer my prayer of condolence for those who passed away in the northern Osaka earthquake on June 18. It is my heartfelt desire that those whose lives were disrupted by this earthquake will be able to return to their ordinary lives as quickly as possible. That being said, I will now attend to the question.
I am both pleased and thrilled today to be able to announce my intention to marry. Regarding His Majesty the Emperor, I can report that he has not been in good condition this morning, but I encountered Her Majesty the Empress earlier this morning and I received heartfelt words from both of Their Imperial Majesties by way of Her Majesty the Empress. I will keep the contents of our conversation private in my heart.
Kei Moriya: I am very pleased that this day has finally come.
You have agreed to marry within half a year of your first meeting. Could you tell us a little about what brought you together? Please let us know the details of how your relationship developed from first meeting to engagement, including the day of the proposal and what was said then. 
Princess Ayako: My first meeting with Mr. Moriya, as has been reported, was by way of introduction from my mother. My mother met Mr. Moriya for the first time in almost a decade at the 20th anniversary reception for the non-profit organization Children Without Borders, which Mr. Moriya's mother put her efforts into when she was alive.
My first meeting with Mr. Moriya was around December of last year, and I recall immediately engaging in conversation with such warmth that one would not think it was our first meeting, and losing track of time as I enjoyed my time with him. As we met again and again, I often felt Mr. Moriya's gentle, stylish, and decisive character, and we began the formal dating process.
Earlier this year, after dinner at a restaurant, he proposed to me. It was so sudden, I told him I would need to think about it. After meeting with mutual friends and family, I thought this must be the one, so in April I responded, "It would be my pleasure."
I don't know if my mother had this in mind when she introduced me to Mr. Moriya, but as the two of us went to various places together, and shared time and memories, we naturally became charmed by each other, so I believe it was the wonderful connection between our mothers that brought us to this day.
Moriya: The first impression I took in of Princess Ayako was of a bright, forward-facing person. Afterwards, as we spent time together, I felt very drawn to the part of her that showed warmth and kindness towards everyone, and gradually the feeling arose in me that I wanted to spend my whole life together with her.
Also, although I'm not sure whether this is the proper place to raise this point, she understands the emotions that I went through when my mother suddenly passed away, and I felt our hearts became closer together through such discussions.
Regarding the exact words I used to propose to her, it touched on this sort of topic, so I would like to keep my words secret for the two of us.
Are the two of you planning to start a family together? Please let us know the names that you use for each other in casual conversation.
Princess Ayako: I cannot give a full reply to that question, but I would like to build a bright household where the smiles never end. With the loss of my father, and Mr. Moriya of his mother, we both have the experience of having an irreplaceable part of the family suddenly go missing, so we have a shared awareness that what we have today will not necessarily be with us tomorrow. Without falling into everyday patterns, both of us feel that we would like to do every little thing together with joy and happiness.
Regarding my name for him, I call him Kei-san.
Moriya: I suppose I should generally be calling her Miya-sama or Ayako-sama, but we decided to avoid using such names in public, so I have been calling her Ayako-san.
As for our ideal household situation, it would certainly be a bright household where the smiles never end, and I would add that a relationship based on mutual respect is more important than anything.
How did you convey your intention to marry to each of your families, and what sort of conversations did you have with them? Princess Ayako, your father is no longer with us, and Mr. Moriya, this is the case with your mother, but what kind of words did you to offer to your parents on this occasion?
Princess Ayako: Yes, as I was introduced to Mr. Moriya by my mother, I was discussing this matter with her at every opportunity, so there was no specific moment when I announced my intention to marry. From the very beginning, we were dating on the presumption that we might marry, so I naturally had him meet our family, and I prayed that my father might watch over us warmly.
Moriya: When I announced my intention to build a household with Princess Ayako, it caused great surprise at first, but afterwards, I was offered congratulations and best wishes for married life. Regarding how I met Princess Ayako, I believe that this is a bond that was born from the connection between our families and everyone who brought us together, so I have thanked them all and told them that I will take good care of our bond.
A question for Princess Ayako. Could we hear a little about your feelings reflecting on your life spent within the Imperial Household? Please tell us your thoughts on the shrinking of the Imperial Household. Could you give us a picture of your plans from now on, including the welfare work that has been your field of study?
Princess Ayako: When I look back on my life spent within the Imperial Household, I am grateful to have encountered many things and have had the chance to learn many things over the course of 27 years. It was my intention to execute the duties incumbent on a member of the Imperial Household of the age of majority, but I do not know whether my efforts were sufficient. Until I leave the Imperial Household upon the occasion of my marriage, I will endeavor even more to carry out my duties.
After my marriage, I would like to take on many things, making full use of all the privileges that have been granted to me up until now. Regarding the shrinking of the Imperial Household, it is true that this is ongoing, but I will refrain from making a statement on it, as it is not my position to offer a comment on this situation or the system that will be used from now on.
I have been studying and researching the field of welfare since my university days. This word "welfare" has the meaning of happiness and affluence, and I think that welfare work is to work on behalf of the happiness of people you connect to. That being the case, I do not know in what way I will be employing my knowledge of child welfare or elderly welfare from now on, but I would like to work hard to bring happiness to the home I am founding with Mr. Moriya.
A question for Mr. Moriya. How do you feel about taking a woman from the Imperial Household to be your wife? We would also like to hear about your personality and personal values, your motto, and the future prospects for your NPO activities that brought you together.
Moriya: Being allowed to take a member of the Imperial Household to become my wife inspires deep awe in me, but I feel extremely grateful and privileged that this is possible.
As for my motto, it would be "steady progress." One step at a time, or even a half step at a time. Always facing forward and accept not only your successes, but also your oversteps and mistakes, and the tough times along with the good. And, finally, be ready to apologize so that you can face forward again—this is the sort of mindset with which I prepare for a challenge.
I would like to approach my job with the same attitude. And, in the NPO work that the questioner mentioned as well, I will participate whole-heartedly from now on to give help to those who need it. That is all.
(Click here to read the original interview article in Japanese.)