PM Kishida, Japanese Officials Mourn Shinzo Abe: 'Incredible Loss of a Great Politician'
Prime Minister Fumio Kishida announced that the Upper House elections will push through on July 10: "We need to protect with all our might the base of democracy, the elections, with the resolve of not giving in to violence."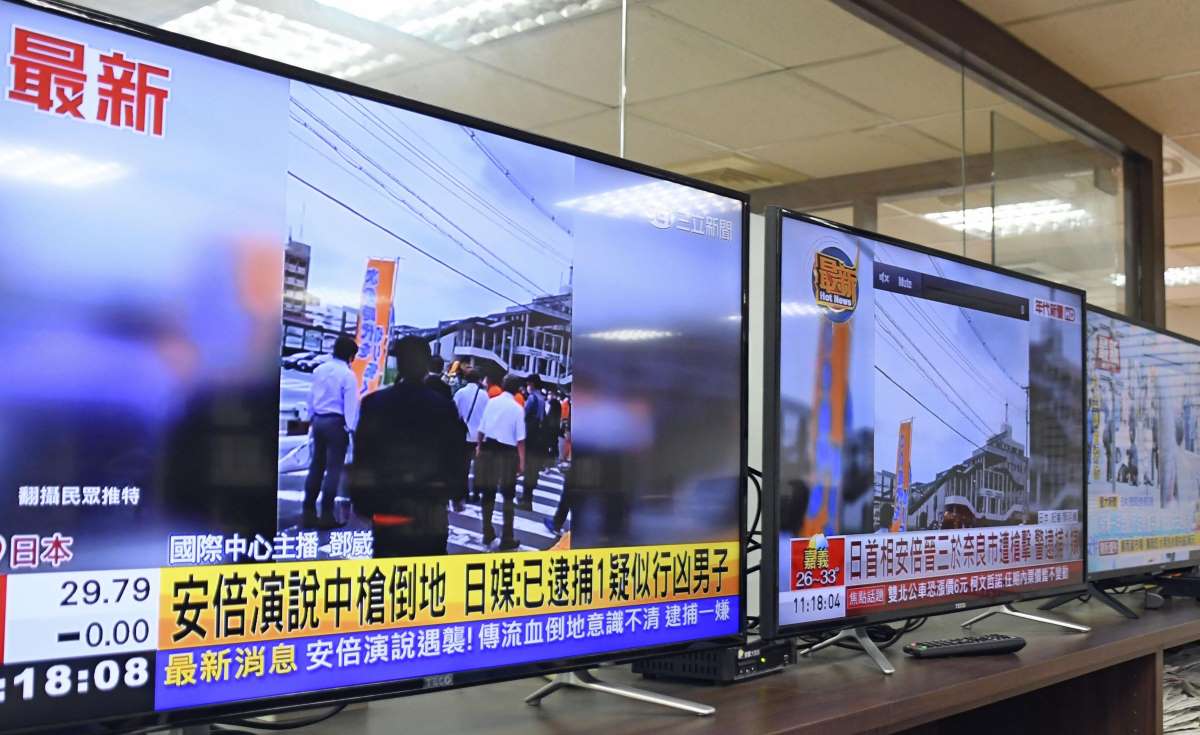 As world leaders commiserated over the death of Shinzo Abe on July 8 at the hands of suspect Tetsuya Yamagami, Prime Minister Fumio Kishida spoke to the people of Japan through the media assembled at the Prime Minister's Office, offering consolation along with the devastating news.
"I prayed that they would be able to save his life, but those prayers were not answered," Kishida said, "and we received this unfortunate news."
He concluded his thought, almost choking down tears, saying, "I am lost for words, it's incredibly regrettable."
Commenting once more on the gunman who shot Abe in a rally on the morning of July 8, Kishida said:
"The event happened during the hallmark of democracy, an election period. A barbaric act took away the life of Shinzo Abe, and I would like to condemn with the strongest possible words what happened."

Kishida's Tribute
Fumio Kishida also reflected on his personal relationship with Shinzo Abe.
"Former Prime Minister Shinzo Abe to me was a friend. We won elections together, I was a fellow National Diet member, and part of his Cabinet, spending a lot of time with him."
"We are seeing the incredible loss of a great politician who leaves a legacy in various fields. I pay tribute to the legacy of Shinzo Abe, and express my heartfelt condolences," concluded Kishida.
Regarding steps forward, Kishida explained the reasoning behind continuing the Upper House elections on July 10. July 9 is the last day of campaigning.
"We need to protect with all our might the base of democracy, the elections, with the resolve of not giving in to violence. That is why tomorrow we will be continuing as planned with the election schedule."
"This is the message that I want to deliver to the [Japanese] people, until the very last second of this election campaign."

LDP Party Mates
Nobuo Kishi, Shinzo Abe's brother, appeared before the press on the afternoon of July 8, expressing his own thoughts on the event:
"This is an affront to democracy, I would like to condemn this, and we cannot allow this episode of violence during the Upper House election to stifle free speech."
Shinzo Abe was shot while showing his support for LDP candidate Kei Sato. Reacting to the incident, Sato told The Sankei Shimbun: "I will not forgive this act of violence."

Fellow LDP member Taro Kono, a former member of Shinzo Abe's cabinet, tweeted as follows:
LDP policy chair Sanae Takaichi, who represents Nara, where the shooting took place, and was politically close to Shinzo Abe, commented: "It's painful, it's an almost inconsolable pain."

National Leaders
Earlier in the day, other major politicians had also expressed their thoughts on Abe's critical condition.
Komeito party leader Natsuo Yamaguchi told reporters in the evening:
"I feel a very strong rage. To lose such a person with such an experience as prime minister is an incredible loss for the world of politics."
"I am really worried for Abe," Izumi Kenta, leader of the opposition Constitutional Democratic Party, had told The Sankei Shimbun earlier in the day. "I hope he [Shinzo Abe] pulls through."

Local Officials
"I am in complete shock," said Tokyo Governor Yuriko Koike as she wiped away tears.
"No matter the reason, this is completely unacceptable barbaric behavior. This is a challenge to democracy, and I would like to say how incredibly angry I am," continued Koike.
Kanagawa Governor Yuji Kuroiwa also shared his view with NHK: "I have just received such an incredible blow that I am speechless."
He continued: "Elections mean wading into the crowd, shaking hands with people, there is no way of checking everything about those around you. The only thing you focus on is reaching the hearts of those present."
"These are elections, and this is democracy. It's unforgivable that a firearm was shot in such a context," Kuroiwa concluded.
RELATED:
Author: Arielle Busetto