Praemium Imperiale Celebrates the Environment with Architecture Laureate Glenn Murcutt
"The practice of architecture requires real dedication that attracts huge responsibility" ーGlenn Murcutt, at the 2021 Architecture award ceremony in Canberra, Australia.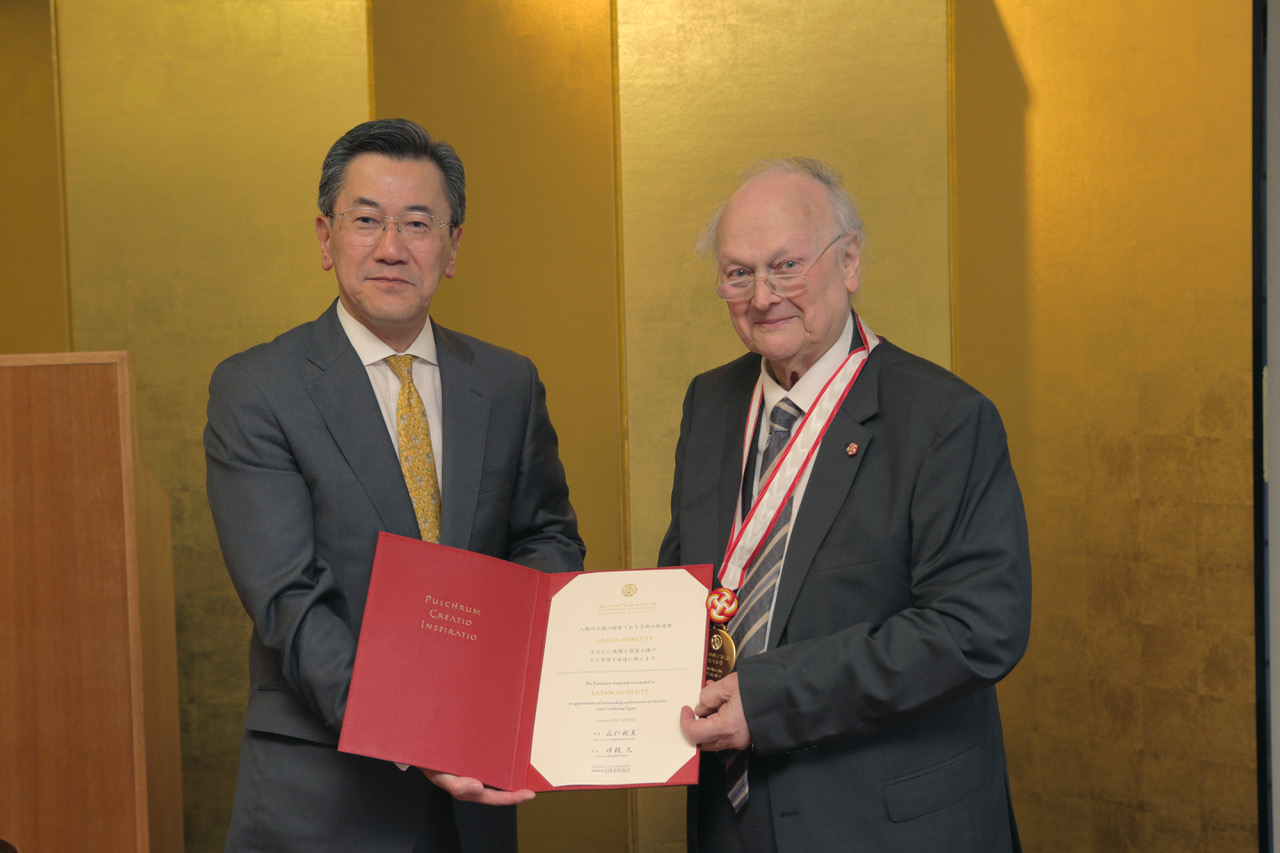 ~~
~
The Japan Art Association celebrated Architecture Laureate Glenn Murcutt in the final award ceremony of the 32nd Praemium Imperiale in Canberra on December 14, 2021. Mr. Murcutt was recognized for his architecture and philosophy of "living with the landscape, not against it."
The 2021 laureate from Australia is a trailblazer in the design of buildings that work with the environment in which they are placed, using natural elements and energy to make them liveable, instead of creating a burden on the land.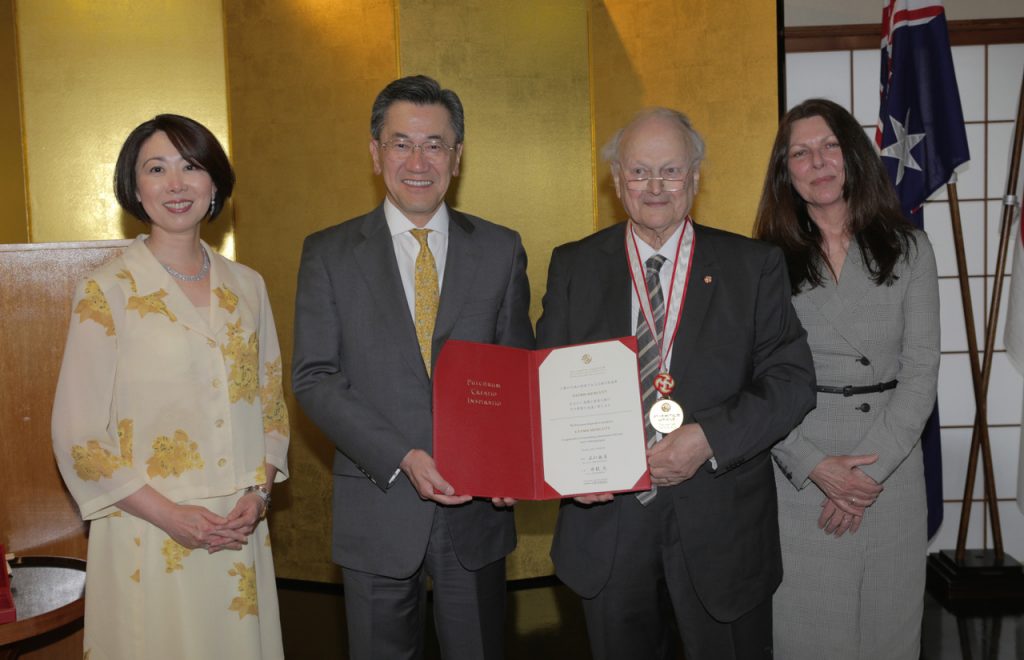 The presentation ceremony for Mr. Glenn Murcutt, laureate for Architecture, was presided over by Japan's Ambassador to Australia HE Mr. Shingo Yamagami at the official residence of the Japanese Ambassador in Canberra on December 14. Ambassador Yamagami conveyed the greeting of HIH Prince Hitachi, Honorary Patron of the Japan Art Association and then handed Mr. Murcutt his medal and testimonial letter.
In his acceptance speech, Mr. Murcutt remarked, "Being a 2021 recipient took me by complete surprise. This award is especially wonderful for the profession of architecture in Australia and of course, it's simply wonderful for me, personally. I'm deeply appreciative of this award - but even more so by joining the other recipients for whom I've the greatest admiration and respect."
Mr. Murcutt also said, "The practice of architecture requires real dedication that attracts huge responsibility. It demands appropriate responses to issues and not the imposition of irrelevancies - and finally, working towards the clarification of the essential."
Interviewed by the Praemium Imperiale after announcement of the award, Mr. Murcutt emphasized the responsibility of architecture to the land and environment. Sharing an Aborigines expression that was given to him, to "touch the land lightly," he went on to explain:
"It's about where the materials come from. It's about how your building operates in that landscape, about minimizing energy consumption, about how you can be without all the artificial factors that make it comfortable because buildings are designed so poorly. "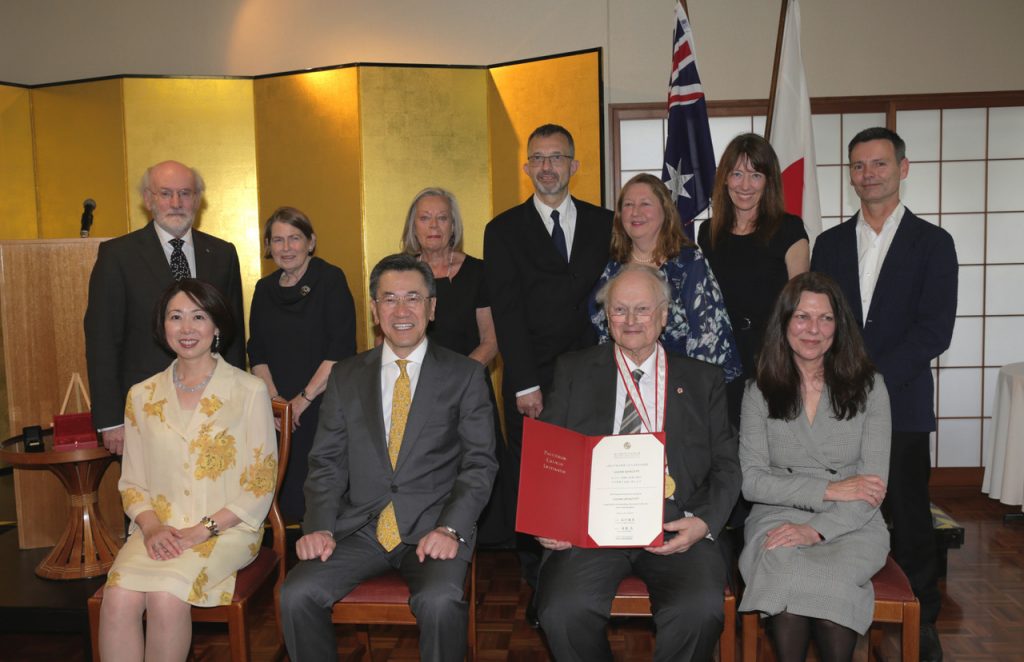 His wife, Ms. Wendy Lewin, also a well-known architect, and a select group of friends including architects were present for his award. The event was recorded by a commemorative photo with all the attendees taken after the ceremony. This was followed by a dinner hosted by Ambassador Yamagami.
The ceremony at the Embassy of Japan in Australia follows similar events in Paris for Painting Laureate Sebastião Salgado on October 18, New York for Sculpture Laureate James Turrell on October 19, and Tokyo for Music Laureate Yo-yo Ma on October 29, 2021.
Each of the 2021 laureates has been recognized for her or his individual achievements in the arts of painting, sculpture, architecture or music, their impact on the arts internationally, and their role in enriching the global community.

RELATED:
Author: JAPAN Forward