Prime Minister Abe Bites the Bullet of Constitutional Reform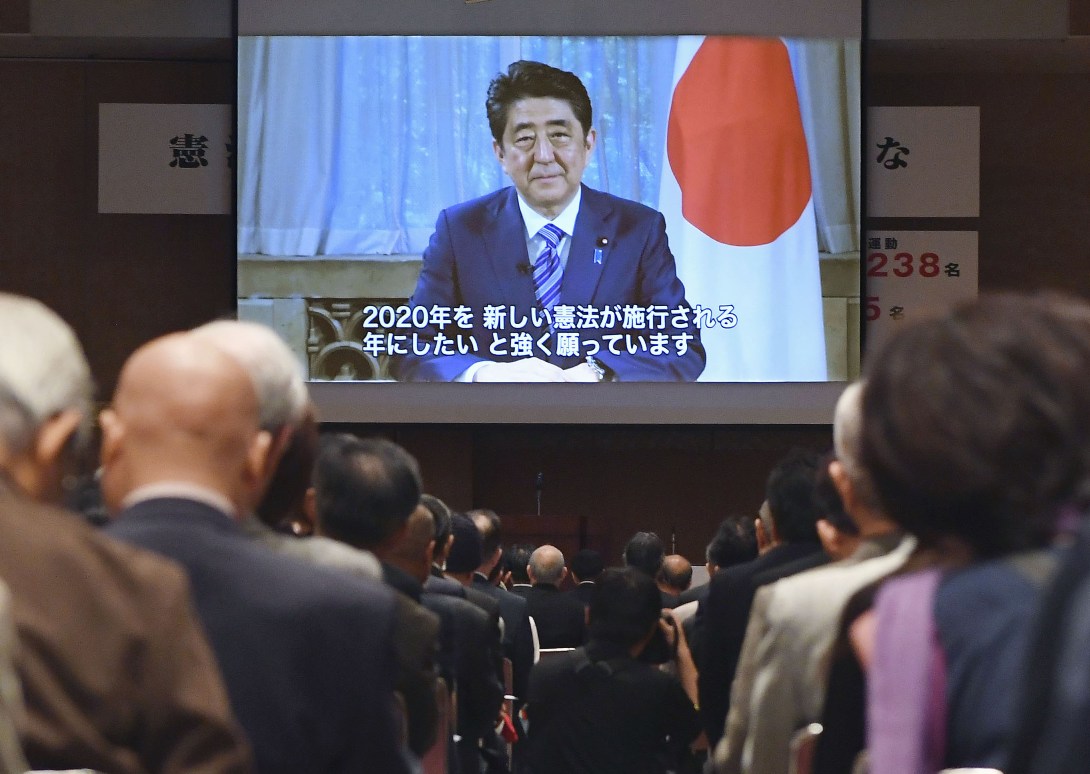 On May 3, as Japan celebrated Constitution Day or Kenpō Kinenbi, Prime Minister Shinzo Abe outlined his plans to revise its post-war pacifist Constitution, which has been in place since 1947. While he had talked about revising the Japanese Constitution in the past, it was the first time that he set a deadline for it—in 2020, the same year when Tokyo will host the Summer Olympics.
In a video-speech delivered at a gathering organized by a group associated with the Nippon Kaigi (an organization which has for long sought to revise the Constitution), Abe remarked that there should be no ambiguity about the status of the country's Self-Defense Forces (SDF).
It is worth mentioning here that the much talked-about Article 9 of Japan's Constitution stipulates that Japan forever renounces "threat or use of force as means of settling international disputes," and that "land, sea, and air forces, as well as other war potential, will never be maintained."
Japan, however, does maintain very well-equipped, modern, and able military forces known as the SDF. And therein lies the ambiguity.
Why now?
Firstly, Prime Minister Abe's government enjoys a two-thirds majority in the House of Representatives (the lower house of the Japanese Parliament) and has popular backing. In addition, in the wake of rising tensions over North Korea's belligerence and growing concerns over its missile programme (in early March this year, three North Korean missiles landed within Japan's Exclusive Economic Zone), public opinion in Japan is much more in favor of a possible constitutional reform than at any other previous time.
Secondly, the Japanese opposition is in disarray and hence this would be a good time for Abe to set the ball rolling, as far as constitutional reforms are concerned.
Thirdly, on the international front, Abe has struck a close rapport with United States President Donald Trump and was one of the first few international leaders to be welcomed in the US by President Trump. Abe seems to have calculated that with the Trump administration on his side, it will be easier for him to push through the changes at the domestic level.
Trump, in his election campaign, had mentioned that he wanted countries like Japan and South Korea to take more responsibility for their defence and to pay more for the security cover which the US was offering them. He had also shocked some observers when he mentioned on the campaign trail that maybe Japan and South Korea could go nuclear.
External and Internal Ramifications
Any possible revision to Japan's Constitution would surely be seen as a retrogressive step by Tokyo's neighbors like China, South Korea, North Korea, and Russia. In addition, it may raise hackles in Moscow, which could be a big setback personally for Abe, as he has invested a lot of time and energy in improving Japan's fraught ties with Moscow.
A Chinese academic who was quoted by the Global Times notes that "if Abe is intent on reviving militarization, the tension in Northeast Asia would only be aggravated." The new South Korean President Moon Jae-in has telephoned the Japanese Prime Minister—besides talking to Chinese President Xi Jinping and US President Donald Trump—and agreed to closely cooperate on North Korea.
However, PM Abe's bid to revise the Japanese Constitution may inflame domestic opinion in South Korea and make the newly-elected South Korean President's task harder when it comes to improving ties with Japan.
This move could also have major domestic ramifications, as the Japanese public have high regard for the pacifist Constitution. In addition, the government will also have to take into consideration the views of the Komeito, the junior coalition partner of the ruling Liberal Democratic Party (LDP). For the peacetime Constitution to be revised, a two-thirds majority in both the houses of the Japanese Parliament will be required besides majority support in a nationwide referendum.
PM Abe's Catch-22 Situation
For Abe, it could well be his swansong. Although his term as the Prime Minister will be over in September 2018 yet, earlier this year the LDP approved a proposal allowing him to stand for elections as the leader of the party for a third consecutive three-year term. This could technically make him Japan's longest-serving post-World War II leader.
Under Abe, Japan has been trying hard to make itself a normal nation. In September 2015, the Japanese Parliament passed laws which will allow Japanese Self-Defense Forces to fight for the first time on foreign soil after World War II, and to come to the aid of troops from allied countries, even when Japan is not directly under attack.
Recently, the Japanese helicopter-carrier Izumo escorted a US supply ship within Japanese territorial waters. The Izumo is Japan's largest warship, and after this deployment, it sets sail on a three-month voyage to visit Singapore, Indonesia, the Philippines, and Sri Lanka before it participates in the Malabar naval exercises with India and the United States.
What is clear is that Abe has finally decided to bite the bullet as far as constitutional reform is concerned. What is uncertain is how much will it cost him and his government in terms of political capital. It could very well be that Abe will pull it off, thereby ensuring his place in the annals of Japanese history.
Dr. Rupakjyoti Borah is with the Institute of South Asian Studies (ISAS) at the National University of Singapore (NUS). He is the author of The Elephant and the Samurai: Why Japan Can Trust India? The views expressed are personal. He can be reached at rupakj@gmail.com and is available on Twitter @rupakj.