Prime Minister Kishida Promises 'Global Partnership' with Ukraine Amid Surprise Visit
The Japanese leader pledged further support to Ukraine in the form of non-lethal weapons, as well as in the fields of energy, and reconstruction.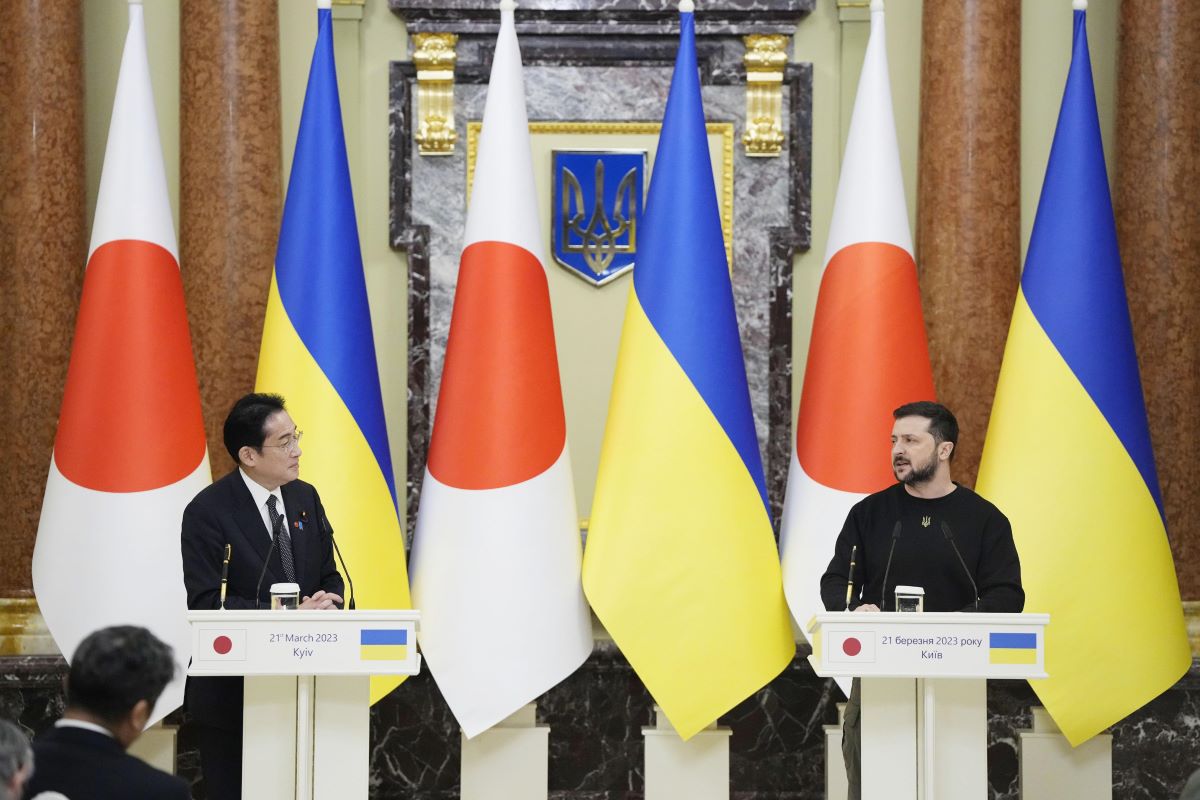 Japanese Prime Minister Fumio Kishida paid a surprise visit to Ukraine on March 21 to meet President Volodymyr Zelenskyy. In doing so he became the first Japanese leader since World War II to visit a country in the midst of war. He was also the last of the Group of Seven (G7) country leaders to make the trip.
Largely kept out of the media until Kishida was already enroute, the visit was a surprise trip, with officials citing security concerns.
In a joint statement from Kyiv, Kishida and Zelenskyy spoke of a "special global partnership." Japan's prime minister further pledged to provide additional aid and promote friendly relations between Japan and Ukraine.
In his comments, Kishida looked towards the G7 Hiroshima Summit, which Japan will chair from May 19-21.
"I firmly hoped to visit Ukraine before the G7 Hiroshima Summit at any cost. I wanted to speak directly with President Zelenskyy, and to convey Japan's unwavering solidarity," said Mr Kishida. At Kishida's invitation, the Ukrainian president has agreed to participate online in the Hiroshima Summit.
Looking towards the summit, Mr Kishida expressed his determination to uphold the international rules-based order with a "message of unity." The summit agenda is expected to include the issue of the continuing global food crisis brought by the Ukraine war.
During his visit, the Japanese prime minister also traveled to the city of Bucha, a location which saw the deaths of many Ukrainian civilians in the early days of the war in 2022.
"Russia's aggression against Ukraine is an outrage that shakes the very foundations of the international order. I have visited Kyiv and Bucha. By seeing the tragedy with my own eyes, I am made keenly aware of this once more," stressed Mr Kishida.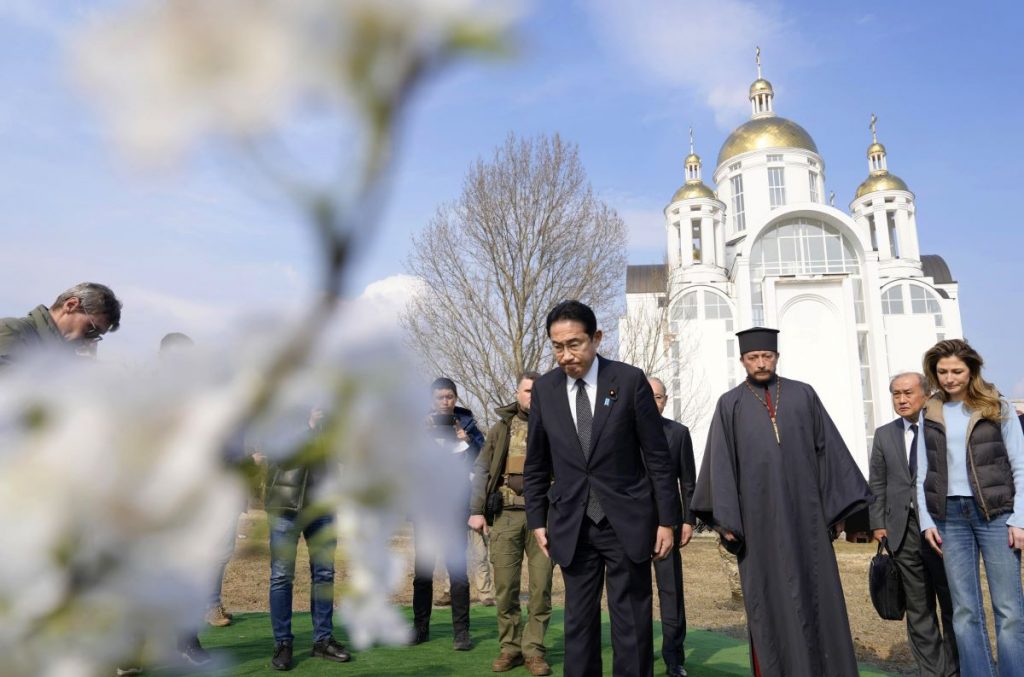 International Media Reaction: Xi and Kishida Parallels Dominate
The timing of the Japanese prime minister's visit could not have been more attention grabbing. It coincided with the timing of Chinese President Xi Jinping's visit to Moscow for meetings with Vladimir Putin.
In many foreign media, the timing was highlighted as symbolic of the different stances of neighboring countries vis-a-vis the Ukrainian war.
The Guardian headline read: "A tale of two visits: Kishida and Xi tread starkly different paths on Ukraine."
CNN framed it in a similar light. "The dual visits by Kishida and Xi underscore deep divisions in northeast Asia toward the war in Ukraine, with Japan pledging substantial aid for Kyiv, while China remains a lone voice supporting an increasingly isolated Putin – now a global pariah and suspected war criminal."
President Xi's visit in fact came only days after the International Criminal Court in the Hague issued an arrest warrant for Vladimir Putin on March 17.

International Media Reaction: Implications for Asia
Some international media analyzed that Japan's posture was sending a message on the potential repercussions of unilateral aggression against Taiwan, and implications for the wider Indo-Pacific region. A BBC article said:
Japan also has its own concerns about the war in Ukraine. There is a deep worry about potential parallels between the Russian invasion and a worst-case scenario of Chinese military aggression against Taiwan - which would no doubt pull Japan in.
Another perspective is raised in an article in The New York Times. That paper highlights how Japan's recent decision to increase its military budget to 2% percent of GDP — in line with NATO countries — comes at a time when the country is fearing military aggression in its backyard. Namely at the hands of China and North Korea:
Russia's invasion of Ukraine has galvanized Japan's foreign and military policy, stoking concerns about the costs of geopolitical instability.
Author: Arielle Busetto
Coming Next: What Japan is Contributing in Aid to Ukraine

RELATED:
Author: Arielle Busetto