Kishida's Surprise Visit to Ukraine is a Show of Solidarity with President Zelenskyy
Prime Minister Kishida praised the courage of Ukraine, just as Xi Jinping pledged "eternal friendship" with Vladimir Putin in Moscow.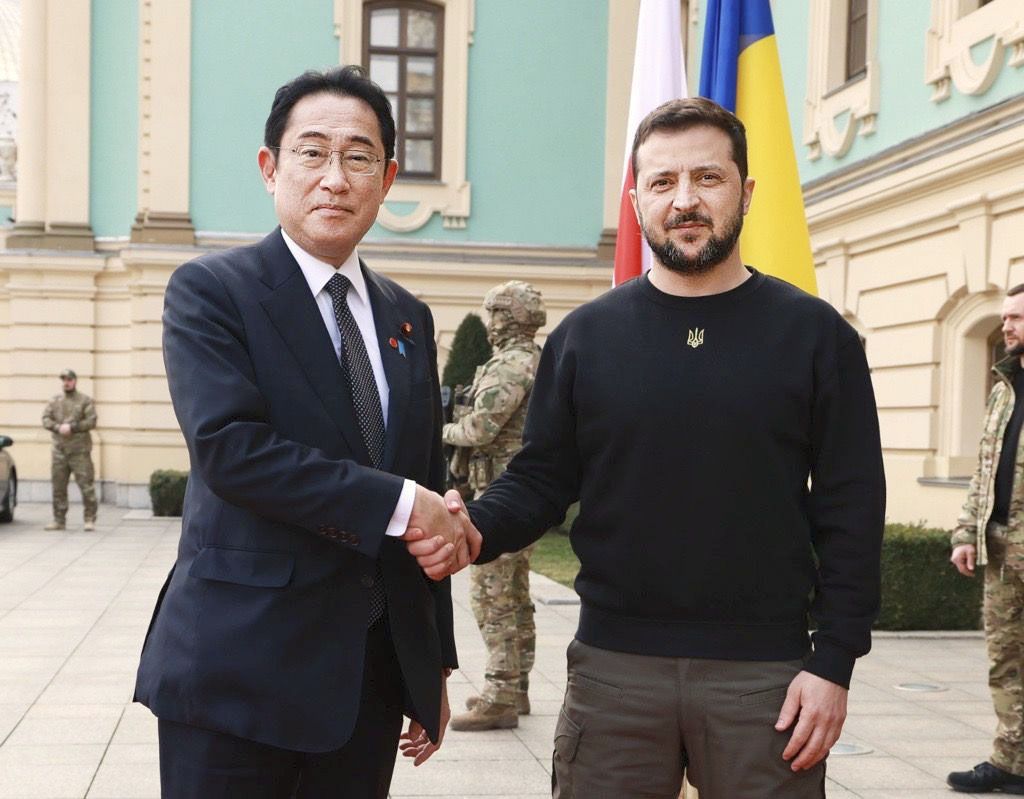 Fumio Kishida's visit to Ukraine took almost everyone in Japan by surprise, but it must have been disclosed in advance to the commanders of the Russian armed forces.
Japanese intelligence services and the CIA will have warned the Russians not to contemplate any attack on the Ukrainian capital while the prime minister was present. Or they would face dire consequences.
A similar warning was in place when President Joe Biden visited Kyiv in February, arriving by train from Poland.
Mr Kishida also took a ten hour rail journey from the border of Poland to the heart of Ukraine. He had flown to Europe from India in a private jet, instead of using an official Japanese Self Defense Force airplane.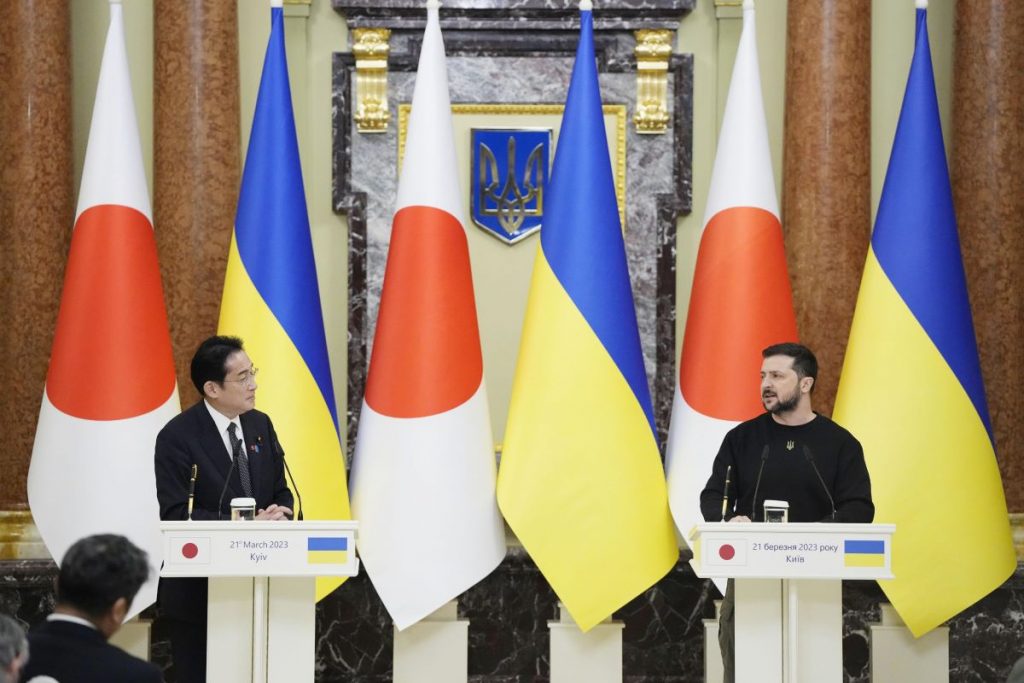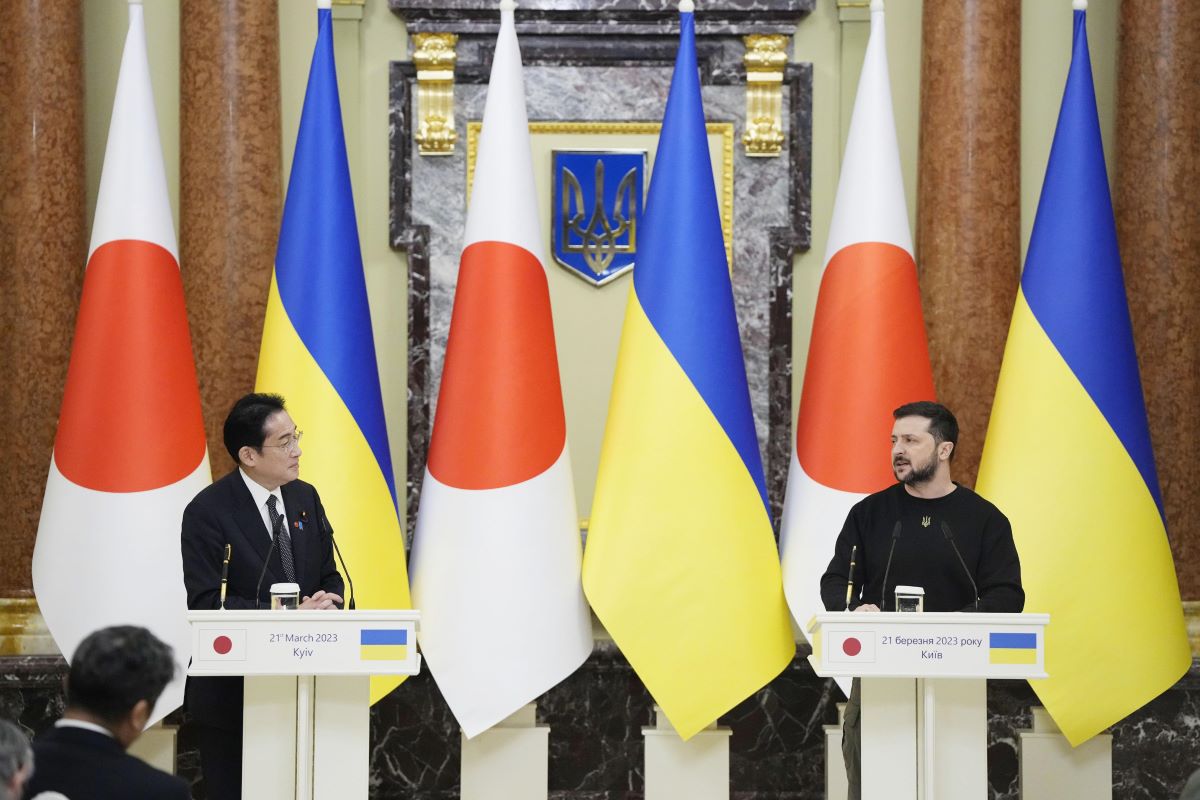 Clear Message
The message he carried with him was not just from Japan but from all the Group of Seven (G7) nations. "We are united in our support," Mr Kishida told President Volodymyr Zelenskyy.
Mr Kishida called the Russian invasion of Ukraine "an outrageous act which violates the international order." He demanded that Russia immediately and unconditionally withdraw all its forces from Ukraine.
The prime minister pledged millions of dollars in aid to help with protection of the energy sector and clearing landmines. And he said Japan would add another $30 million USD in nonlethal aid for Ukraine.
The Ukrainian president called Mr Kishida a strong defender of the international order and thanked Japan for its leadership of the G7.
Bill Emmott, Chairman of the Japan Society of the United Kingdom, notes that Mr Kishida is the last of the G7 leaders to make the trip to Kyiv in person. And believes that it is significant that Mr Zelenskyy has been invited to participate virtually in the forthcoming G7 summit, which Japan will host in Hiroshima in May.
"It fits Mr Kishida's big theme, first presented at the IISS Shangri-La Dialogue in June last year, that 'Ukraine today could be East Asia tomorrow.'
"He is using this message tirelessly both domestically to build public support for the transformational defense build-up he is promoting, and internationally to strengthen diplomatic and defense ties across the Indo-Pacific with a view to strengthening deterrence against a conflict with China," says Mr Emmott.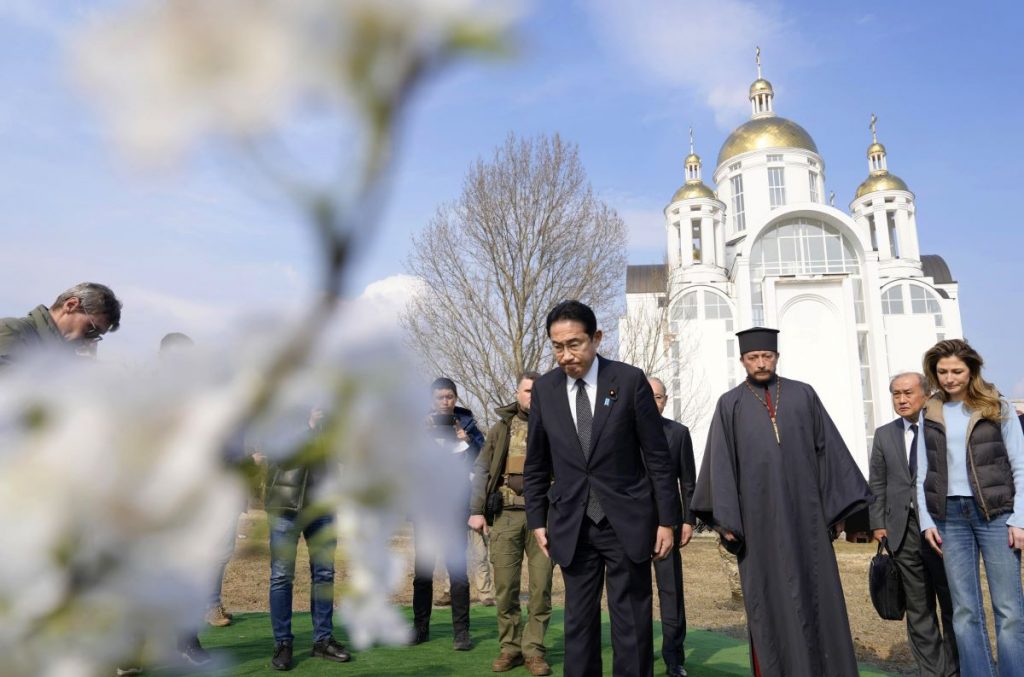 Heavy Casualties
Although Kyiv is a relatively safe part of Ukraine, war rages in the east of the country. On Monday, March 20 - the day before Mr Kishida arrived in Kyiv - nearly a thousand Russian troops were killed and 15 Russian tanks were destroyed, according to a Tweet from Ukraine's armed forces.
Despite heavy losses on the Russian side, Vladimir Putin went to Mariupol at the weekend. It was his first visit to Ukraine since the war began, more than a year ago. The city is under Russian occupation.
While Russian state TV gave the impression Mr Putin was regarded as a welcome friend by local people, Mr Kishida was able to see for himself the impact of the war when he visited Bucha, a city in Ukraine where many civilians were killed by invading Russian troops.
As he paid his respects to the dead at a local church, the prime minister expressed anger at the atrocities which had taken place.
Contrasting Partnerships
Mr Kishida's visit to Kyiv took place at the same time China's leader, Xi Jinping was being given a red carpet welcome by Vladimir Putin in Moscow.
"Today the news tells of two very different European-Pacific partnerships," US ambassador to Japan Rahm Emanuel said in a post on Twitter, referring to the Japan-Ukraine and China-Russia meetings. "Among these two Pacific leaders visiting Europe, Prime Minister Kishida stands with freedom, and Xi stands with a war criminal. Which Pacific leader is the right partner for a brighter future?"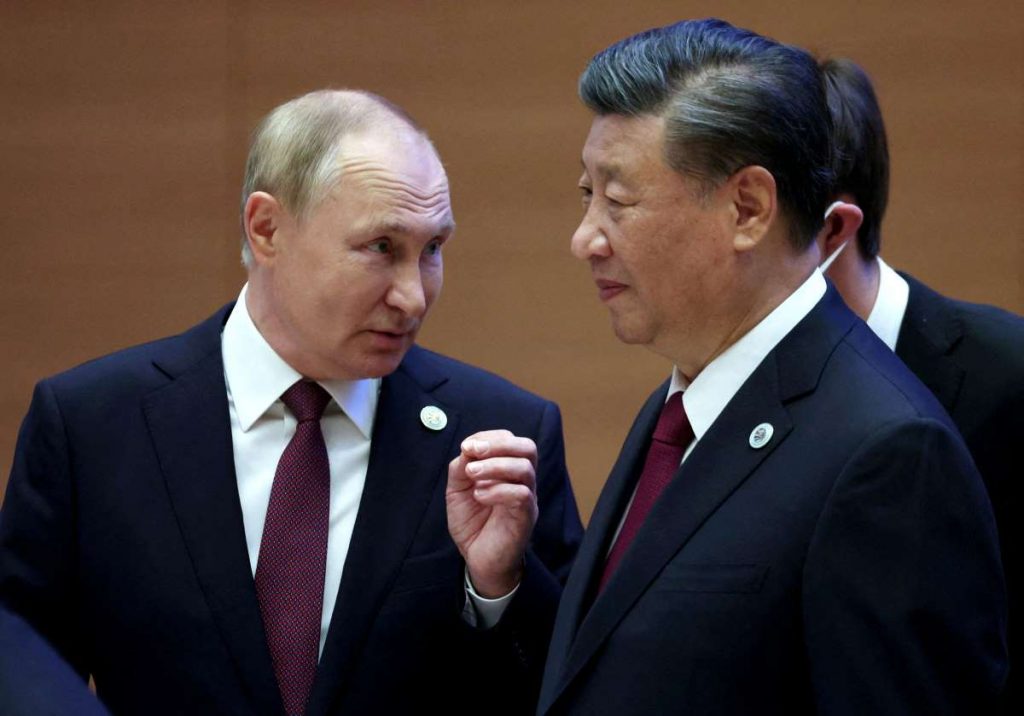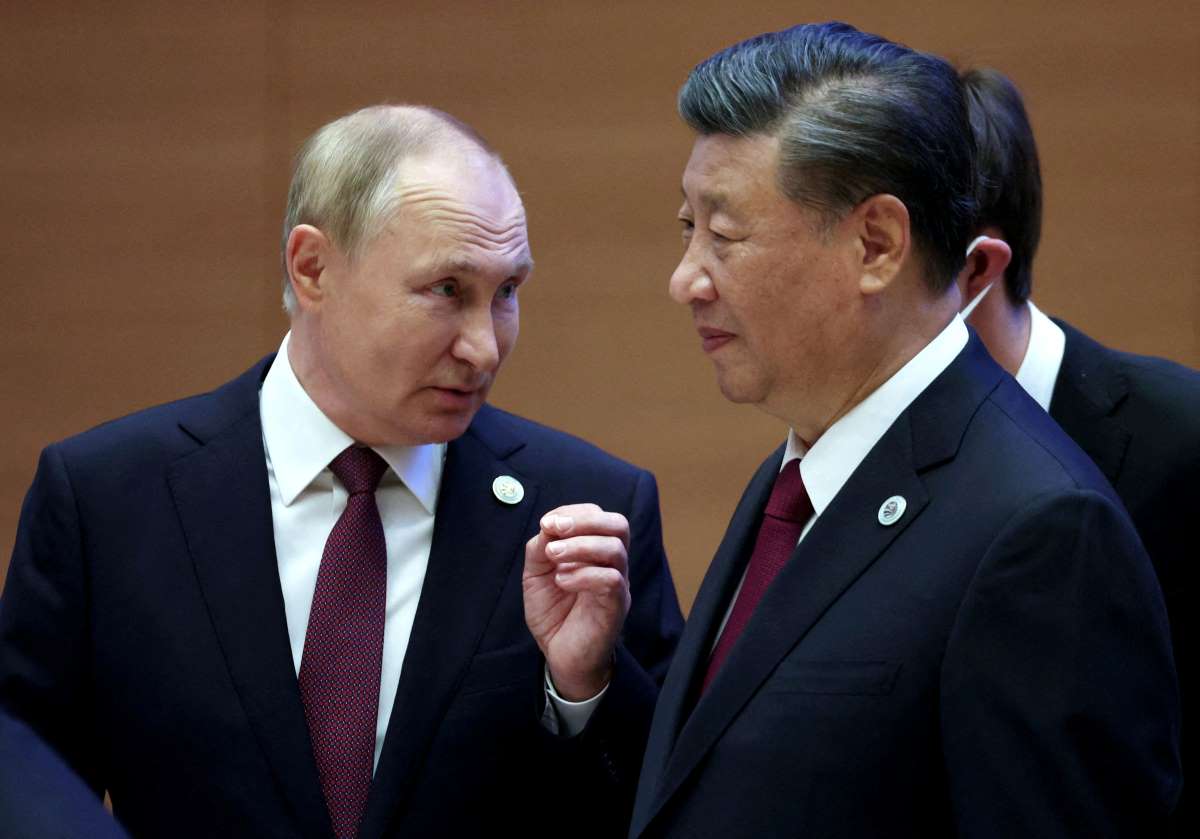 Mr Putin and Mr Xi described each other as "dear friends." In an article for a Kremlin newspaper called Rossiyskaya Gazeta, Xi Jinping stated that "China and Russia adhere to the concept of eternal friendship and mutually beneficial cooperation."
Since the invasion of Ukraine, their economic partnership has deepened.
More than 40 percent of Russia's imports come from China and 50 percent of China's energy is sourced from Russia, according to Gazprom. This has provided a boost to the Russian economy, which has been heavily impacted by international sanctions supported by many democratic countries, including Japan.
Historic Moment
Vladimir Putin hoped that Xi Jinping's visit to Moscow would show that Russia is not isolated and still has influential friends who see the world in a similar way.
Last week, Russia held joint naval exercises with both China and Iran.
"Putin is building his own bloc," the journalist and Nobel Peace Prize Winner Dimitry Muratov told the BBC.
"He doesn't trust the West any more. He's looking for allies and trying to make Russia part of a common fortress with China - as well as with India, Latin America and Africa. Putin is building his own anti-western world," says Muratov.
During his visit to Kyiv, Mr Kishida emphasized that it is not just "the West" that condemns Russia's invasion of Ukraine.
He said that 140 countries voted to censure Russia at the United Nations General Assembly, pointing out that this represents the majority of the international community, including many nations in the so-called "Global South."
RELATED:
Author: Duncan Bartlett
Duncan Bartlett is Diplomatic Correspondent for Japan Forward and a Research Associate at the SOAS China Institute. You can read his other articles and essays here.