Professor Ronald Dore, Major Figure in British Post-war Studies on Japan, 93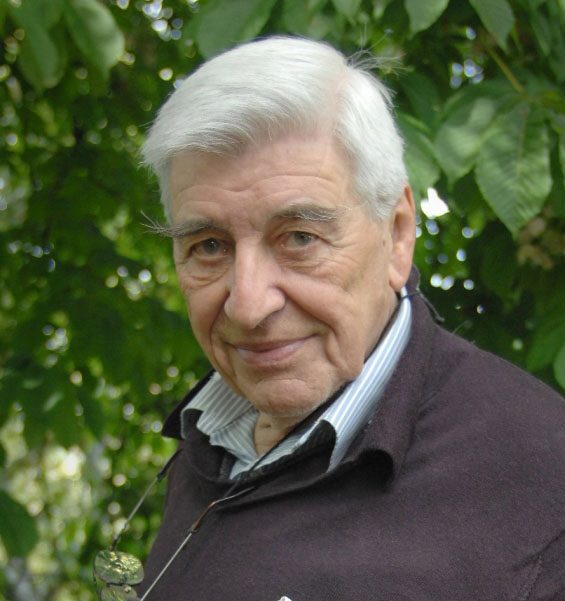 It is with great regret that JAPAN Forward reports the death of yet another of the major figures in post-war British scholarship on Japan.
Professor Ronald Dore passed away in Bologna, Italy, at the age of 93, only weeks after the death of his one-time student and former ambassador to Japan, Sir Hugh Cortazzi.
As was the case with Sir Hugh, Professor Dore's involvement with Japan began early, when he was selected as one of a few young men to be trained in Japanese at the School of Oriental and African Studies (SOAS). Professor Dore had originally wanted to study Turkish or Chinese, but found himself ordered instead to the study of Japanese.
The training was part of the British effort to produce intelligence officers for the war with Japan.
The result of his chance selection by the SOAS was a stream of writing on Japan that includes numerous books and articles in English and Japanese.
Dore had a singular talent for language. For the most part his books and articles in Japanese are not translations but were written in Japanese by Dore himself. It was this skill in Japanese that led him to be appointed a tutor in the SOAS program. His English prose was also elegant and eminently readable.
Dore's breadth of interest and volume of writing is unmatched by any other serious student of Japan.
His first book was City Life in Japan (1958), an ethnographic study of salaryman life in a Japan that was still very poor and where recovery from the devastation brought by war and defeat was only just being completed. This was followed a year later by Land Reform in Japan (originally 1959), a study of the restructuring of land tenure in Japan under the American occupation.
In 1964 he published Education in Tokugawa Japan, one of the first works in English to call attention to the remarkably high level of literacy and publishing in Japan well before the Meiji Restoration.
A large fraction of recent English language writing on Japan is concerned with alleged social problems and pathologies in Japanese society, often including unsolicited and condescending advice on what Japan should do to remedy these issues to the satisfaction of such foreign writers.
Dore went in the opposite direction, taking Japan as a source of models for rectifying social pathologies and economic malaise in Britain.
His British Factory – Japanese Factory (1973) was a detailed comparative study of work and management in British Electric and Hitachi.
He avoided vague generalizations about the oddities of Japanese culture and management coupled to the assumption that both were irrational and bound to be swept away by modernity, the line taken by another author — James Abegglen — in The Japanese Factory (1958)
Instead, Dore presented a highly-detailed comparison of shop floor practices that showed that the Japanese way was not only more economically rational but also more humane.
Aside from his concern with British economic weakness in this period and its highly confrontational labor-management relations characterized by the term "the British disease (英国病)," one can also see Dore himself in this and other writings.
British academia of his era was dominated by people of a "genteel" or solidly bourgeois background, whereas Dore came from an explicitly working class and provincial background. His father had been a cleaner and later a driver for a regional railroad. Only a scholarship somewhat reluctantly accepted by his family allowed him to acquire the secondary education that put him in a situation where his talent for foreign languages would lead to his selection for the SOAS program.
His enthusiasm for Japan as a model for Britain led to a number of subsequent publications, including, Taking Japan Seriously: A Confucian Perspective on Leading Economic Issues (1987), How the Japanese Learn to Work (1989, with Mari Sako), and Stockmarket Capitalism, Welfare Capitalism: Japan and Germany versus the Anglo Saxons (2000).
Examined with historical hindsight, this writing viewed Japan through rose-colored glasses. The Japanese stock market crashed on the last trading day of 1989. The real estate bubble burst in 1992.
What was initially seen as a lost decade became lost decades. Foreign writing, especially American writing on the Japanese economy, shifted from seeing Japanese economic strength as a threat to the world order to seeing Japanese economic weakness as the source of a possible worldwide economic crisis.
His enthusiasm for Japan as a model had led Dore to downplay or ignore structural issues and, in the late 1980s, he started to sour on Japan. This was not because the Japanese economy had become moribund, but because it was moving in a direction antithetical to his distinctly Fabian socialist aspirations. In an autobiographical work published in 2014, The Rise and Fall of Japanology: Recollections of Ronald Dore (In Japanese, title 幻滅Genmetsu (Disillusionment), he wrote that his "favourable feelings toward Japan" had started to cool in the early 1980s, particularly with the advent of Yasuhiro Nakasone as prime minister and his explicit goal of smashing the five public corporation unions.
Junichiro Koizumi and his enthusiasm for unfettered market capitalism was even worse than Nakasone. Dore saw Japan as moving in the direction of Thatcherism, which he loathed, and Japanese business and political leaders increasingly prone to over-confident statements about Japanese capabilities. Aside from elected politicians, he was particularly scathing in his criticism of Heizo Takenaka, point man for Koizumi's post office privatization.
Even when he was wrong — or bending Japanese reality to his own politics — Dore was a lucid and stimulating writer in a way that few of those writing on Japan today can match.
He was very much of an old school British academic. He did not have a PhD because this academic driving license was not required when he acquired his first university post. His sociology was equally history, economics, and anthropology, plus no small element of journalism.
To the extent that he relied on theory, his ideas were largely his own. His writing is mercifully free of the turgid and otiose listings of great names, mostly French and German, and their opaque theories, that is so much a part of contemporary writing in sociology.
Dore was also unusually capable of self-criticism, typically done with a wry humor. He wrote several retrospective critiques of his 1976, The Diploma Disease: Education, Qualification and Development, pointing out where he had got things wrong and where his concepts were too vague to be meaningful. Not many scholars do this in such overt terms.
Having said this, it must be noted that Dore's writings on education have serious lacunae that he appears not to have ever addressed. Issues of race, ethnicity, and education of immigrants are essentially ignored in his writing, even though some of the societies he dealt with had and have major problems in these areas.
Finally, I want to conclude with a posthumous note of thanks to Professor Dore. In several of his essays on Tokugawa-Meiji education he took up the reception of Samuel Smiles and his Self-Help (1859) in Meiji Japan. Even more importantly, he also took up a magazine aimed at ambitious young men in late Meiji Japan called Seiko (Success).
While American and British cultural historians had made such "popular culture" items the stuff of serious intellectual history, there was no precedent for doing so in the case of Japan. That a scholar of Dore's reputation regarded such materials as worthy of study made it much easier for me to get my PhD research proposal taken seriously and accepted, leading eventually to the publication of my Self-Made Man in Meiji Japanese Thought (1981).
Even when I thought he was wrong, I found his ideas stimulating. In person, he was a most congenial sparring partner. There is no one now in the Japanese field with his breadth of knowledge and interest. It is unlikely that there ever will be another Ron Dore.
Here is a partial list of Ronald Dore's book-length publications:
Life in a Tokyo Ward (1958).
British Factory, Japanese Factory (1973).
The Diploma Disease (1976).
Shinohata, a portrait of a Japanese village (1978).
"Goodwill and the spirit of market capitalism". British Journal of Sociology (1983).
Education in Tokugawa Japan (1984).
Flexible Rigidities (1986).
『江戸時代の教育』 松居弘道訳 岩波書店 (1970).
『学歴社会新しい文明病』松居弘道訳、岩波現代選書 (1978) /新版 同時代ライブラリー / 特装版岩波現代選書 / 岩波モダンクラシックス
『貿易摩擦の社会学 イギリスと日本』 田丸延男訳 岩波新書 (1986).
『「こうしよう」と言える日本』朝日新聞社 (1993).
『不思議な国日本』筑摩書房 (1994).
『「公」を「私」すべからず やっぱり不思議な国日本』筑摩書房 (1997).
『日本型資本主義と市場主義の衝突 日・独対アングロサクソン』藤井眞人訳 東洋経済新報社 (2001).
『誰のための会社にするか』岩波新書 (2006).
『金融が乗っ取る世界経済 21世紀の憂鬱』中公新書 (2011).
『日本の転機 ─米中の狭間でどう生き残るか』ちくま新書 (2012).
『幻滅 外国人社会学者が見た戦後日本70年』藤原書店 (2014).