Q&A with Princess Mako and Kei Komuro: A Life and A Future Together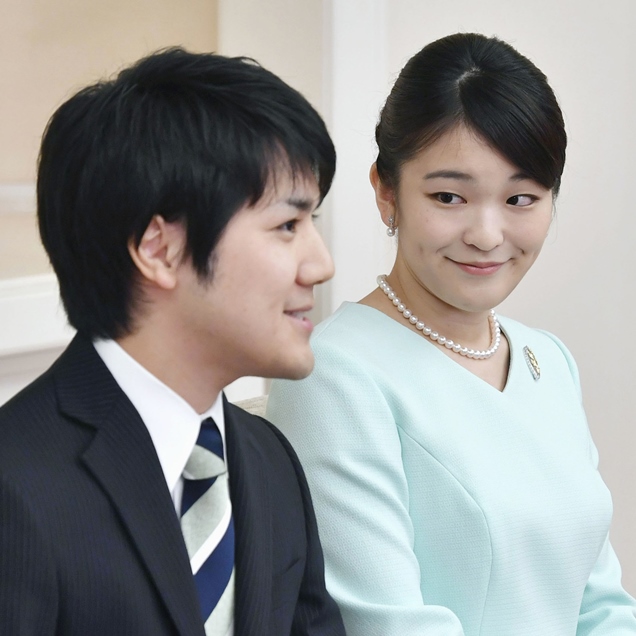 (Last of 2 Parts)
On September 3, Princess Mako, eldest daughter of Prince Akishino, gave a press conference at Akasaka Goyochi in Tokyo with her fiancé Kei Komuro, 25, her former classmate at International Christian University.
In that public appearance together, she famously said his smile was "as bright as the sunlight," while he said the Princess "watches over me as quietly as the moon."
Because Japanese and foreigner alike cannot seem to get enough of the couple's story, JAPAN Forward is publishing in two parts the full transcript of the press conference.
Part 1: Q&A with Princess Mako and Kei Komuro: Dating, Proposal, Emperor's Blessing
***
How do the two of you view each other, what drew you to each other, and how do you address each other?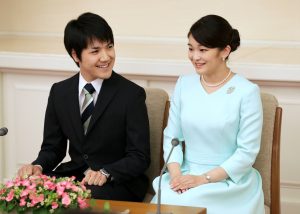 Princess Mako: It is difficult to sum it up in a single word, but Mr. Komuro is someone who always warmly encourages me. What attracted me to him at first was his smile, which is bright like the sun. As I got to know his character, I was drawn to his seriousness, how he makes his efforts while maintaining his own thoughts and strong intentions, and his open-minded response to all things. I ordinarily call him by his name.
Mr. Komuro: After I started seeing the Princess more frequently, one day, when the moon was clearly visible in the night sky, I suddenly decided to make a phone call to the Princess. Since then, whenever I see a moon in the sky, I call the Princess on my phone. The Princess is watching over me quietly, like the moon. She is very affectionate, and I was attracted to her by her attitude of clear confidence. I ordinarily call her by her name.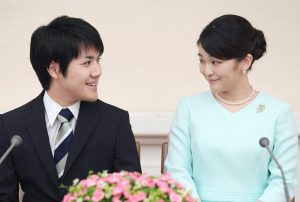 What names in particular?
Princess Mako: I'm afraid I must refrain from demonstrating here, but to be precise, we both call each other by our first names.
Princess Mako, could you tell us what you were told by Prince and Princess Akishino, your sister Princess Kako, and your brother Prince Hisahito when you introduced them to Mr. Komuro? And Mr. Komuro, when you told your family about your relationship, how did they react?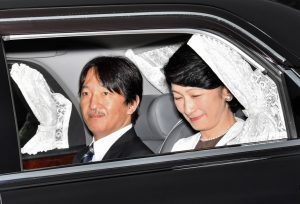 Princess Mako: I understand the question towards me as regarding when I first introduced Mr. Komuro. I introduced him as someone with whom I was thinking about the future. Only my parents were present at that time, and my brother and sister were introduced to him on a separate occasion. At this time I would like to talk about when I introduced him to my parents. Looking back on that time, it was already several years ago, and matters related to marriage had not yet proceeded so far. What remains in my my mind is how my parents introduced themselves: "I am the father of Princess Mako of Akishino." "I am her mother." And Mr. Komuro introduced himself as well. It was a moment of high tension, but, as I recall, we enjoyed a lively and friendly conversation.
Mr. Komuro: When we announced our acquaintance to my family, there were many concerns, but I was told that they respected my decision, and that I should make every effort for the happiness of the Princess.
How does Princess Mako feel about leaving the imperial household behind to build a family, and how does Mr. Komuro feel about making a member of the imperial household his wife? And could you let us know how you imagine your ideal family?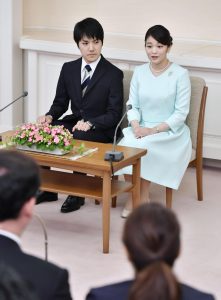 Princess Mako: I have known since childhood that getting married would involve leaving the imperial household behind. To that end, while I endeavored to the best of my ability and with the help of His Majesty the Emperor to work on behalf of the imperial household, I came to value my own life as well. My parents also respected my thoughts and offered advice, and looked after me. I received the help and oversight of many people, and I am very grateful to have spent my time there up until now with many valuable experiences and many meetings. As for the building of a new family, it does not yet fit into the range of images I'm familiar with, but I would be pleased if I could create together with Mr. Komuro a warm, comfortable family overflowing with smiles.
Mr. Komuro: I feel a great sense of responsibility having called upon Her Imperial Highness, and I make this decision with utmost gravity. I take it upon myself that the Princess should not be concerned by these things, and up until today we have proceeded with natural feelings. I will continue to conduct myself to the best of my ability from now on. As for my ideal family, I would like to build a genial family with an open attitude.
A question for Mr. Komuro. Can you tell us about your own personality, what matters most to you, your interests and life motto, and about your dreams and objectives for the future?
Mr. Komuro: As for my personality, to sum it up in a word, I am a simple man. When it comes down to it, I am probably on the dull side. What matters most to me is not losing my everyday pace. I have many hobbies, but among them, drawing pictures and music have been enjoyable to me since my childhood. In my free time, I enjoy listening to jazz piano. I also enjoy working out, and I play sports at all times of year. My life motto is probably "let it be." Currently, I am a full-time employee in the foreign law division of the Okuno Law Offices, and I am attending graduate school at night. I have some ideas for the future, but for the moment, what is most important for me is to work steadfastly at the tasks in front of me. I will make future plans together with the Princess.
(Click here for the original article in Japanese.)
Related articles:
Courtship of Princess Mako and Kei Komuro Follows A Royal Pattern
Joy at Princess Mako's Engagement Eclipsed By Debates on Future of Imperial Line
Deadly Flooding Delays Announcement of Royal Engagement