'Reality of World Security': Shinzo Abe's Nuclear Sharing Talk Sparks Debate
Japan is "committed to the three non-nuclear principles," says the former prime minister. "However, we must not make it a taboo to discuss the reality of world security."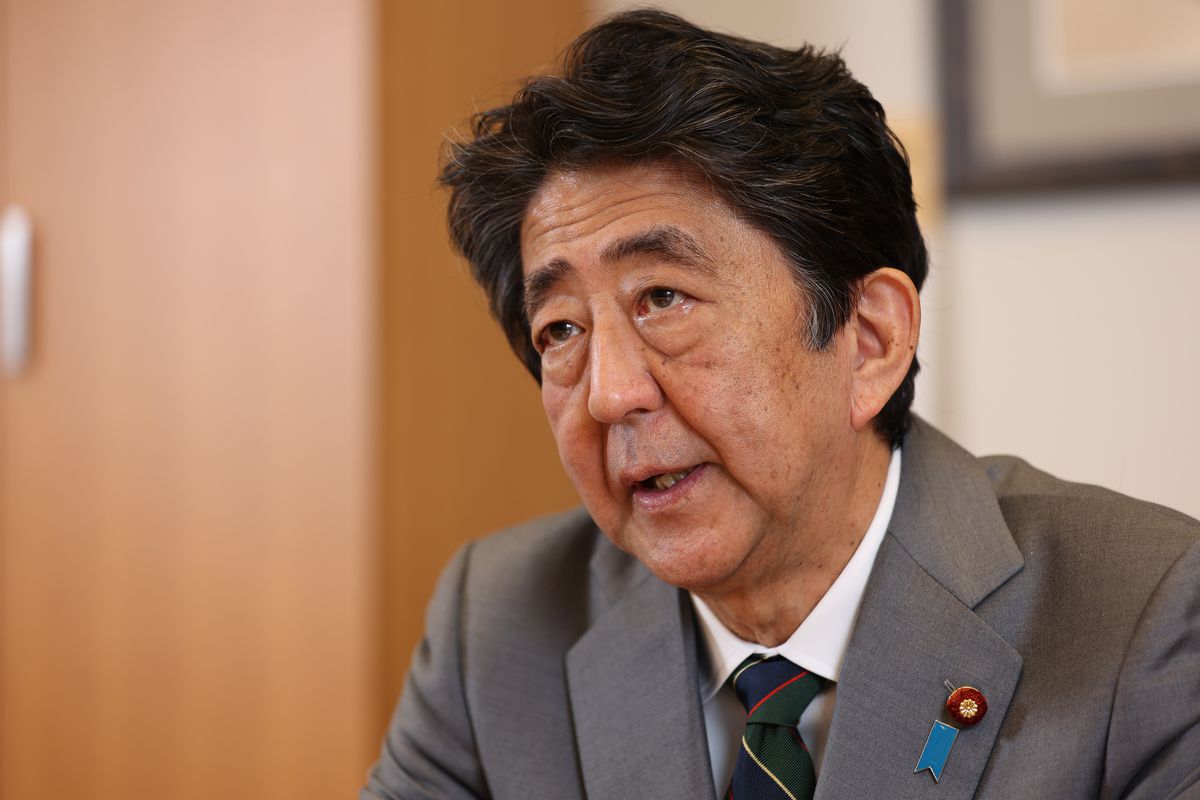 ~~
"It's unacceptable given our country's stance of maintaining the three non-nuclear principles," said Japanese Prime Minister Fumio Kishida in a House of Councilors budget meeting on Monday, February 28.
Kishida was answering questions on the proposal for Japan to consider hosting United States nuclear weapons as a deterrent. It was an idea floated by former Prime Minister Shinzo Abe during a news program on Sunday.
Currently, Japan falls under the United States' nuclear umbrella.
Japan is the only country in the world to have been bombed by nuclear weapons in 1945 — first dropped on the city of Hiroshima on August 6, and then on Nagasaki on August 9, near the end of the World War II. The country has firmly abided by three non-nuclear principles, rejecting the production, possession, and introduction of nuclear arms on Japanese soil.
Aside from heading the government, Kishida is a native of Hiroshima Prefecture.
Discussion on the topic has been a longstanding taboo. Yet, during the first few days of Russia's invasion of Ukraine, a debate was ignited in Japan among politicians and opinion leaders that had seemed virtually at a standstill in historically anti-nuclear Japan. Japan also shares a border with Russia in its islands off the northern tip of Hokkaido.


Debate on 'Nuclear Sharing'
The idea of a broader discussion was floated by former Prime Minister Abe on February 27 on a Fuji Television news program. It came in the wake of Russia's invasion of Ukraine and Vladimir Putin's threat of putting Russia's nuclear weapons on alert that same day.
While repeatedly criticizing Russia's military invasion of Ukraine as a serious challenge to the established international order, Abe suggested that Japan should have an internal debate about "nuclear sharing," an arrangement in which US nuclear weapons are deployed and jointly operated in another country's territory.
Abe, the leader of one of the main factions of the Liberal Democratic Party (LDP), observed that "Japan is a signatory to the Treaty on the Non-Proliferation of Nuclear Weapons (NPT) and is also committed to the three non-nuclear principles."
Then he added: "However, we must not make it a taboo to discuss the reality of world security."
Nuclear sharing is a defense measure that has been adopted by Italy, Belgium, and Germany, which are member states of the North Atlantic Treaty Organization (NATO) along with the United States.
Abe also acknowledged that "as the only nation to suffer atomic bomb attacks, we must affirm the goal of abolishing nuclear weapons, and it is important for us to move toward that goal."
Despite that goal, the list of nations possessing nuclear weapons has grown, including in Japan's immediate neighborhood. As former ambassador Ryozo Kato recently noted, "In addition to the five permanent members of the United Nations Security Council (China, France, Russia, United Kingdom, and the United States), India, Pakistan, and North Korea have armed themselves with nuclear weapons. And now Iran has joined the group."
Regarding North Korea's latest launch of a possible ballistic missile, Abe pointed out that it was predictable that Pyongyang would take advantage of the situation by causing a further disturbance.
He said, "I think that the Ministry of Defense and the Self-Defense Forces were watching the launch with a sense of urgency."
Viewed in the wider context of Japan and its nuclear-armed neighboring countries, Abe's argument was positioned with a call on the US to end the policy of "strategic ambiguity" vis-à-vis Taiwan.


Other Voices Weigh In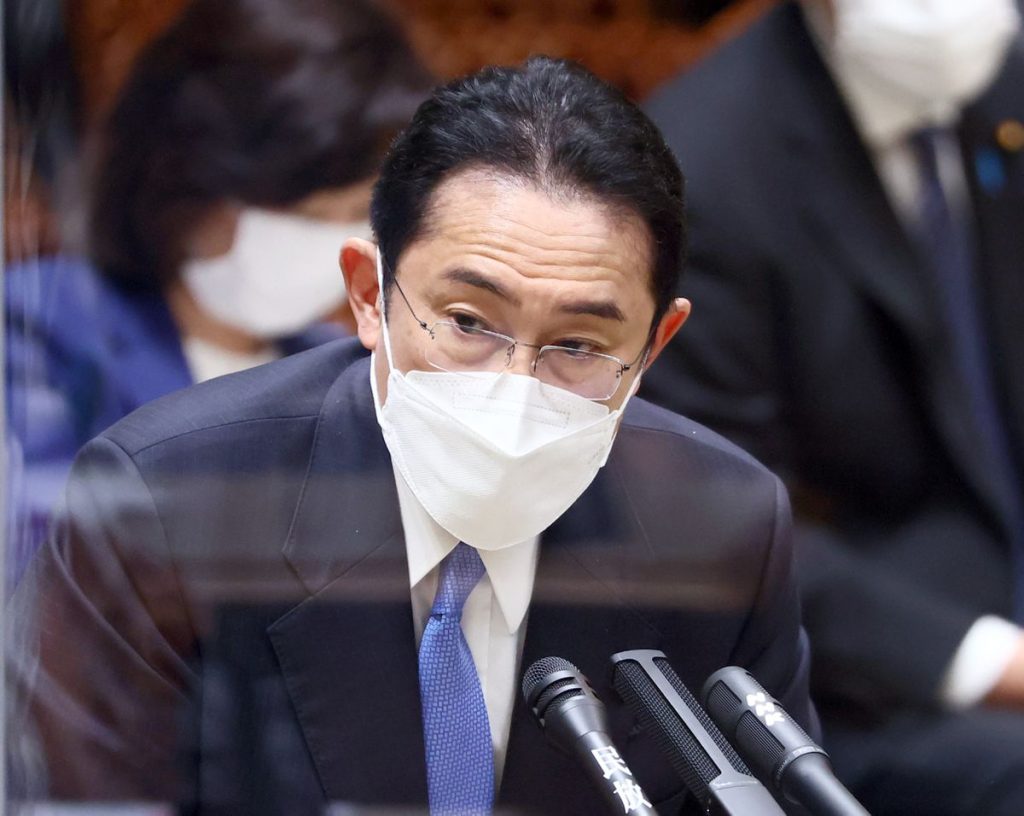 Japan's three non-nuclear principles were first adopted by Eisaku Sato, who was prime minister between 1964 and 1972.
It was also under Sato's administration that Japan signed the Nuclear Non-Proliferation Treaty in 1970, which aims to prevent the spread of nuclear weapons, advance disarmament, and promote peaceful uses of energy.
These concepts weigh heavily even today in the debate on whether to introduce nuclear weapons, creating a security dilemma for Japan.
When pressed on this point on March 1, Minister of Defense Nobuo Kishi told journalists, "Given the three non-nuclear principles…it's not permitted to host US nuclear weapons," echoing the Kishida-line.
Others in the leadership of the LDP have started a debate, however. One is Shigeru Ishiba, who stressed in a blog posting on February 26 that the "importance of maintaining Japan's ability to develop nuclear weapons, and increasing the effectiveness of an expanded nuclear deterrence (nuclear umbrella), has become even more important."
Others outside of government have also backed Abe's suggestion that there should be a productive debate on the issue.
Toru Hashimoto, former mayor of Osaka and member of the Nippon Ishin no Kai (Japan Innovation Party), participated in the same Fuji Television news program on February 27. He argued, "We must not use nuclear weapons for any reason, but it's necessary to discuss nuclear sharing."
On February 28, Osaka Mayor Ichiro Matsui told reporters, "It's necessary to have a debate on having the US hosting nuclear weapons."
He reasoned, "The three non-nuclear principles represent a postwar view, which is about 80 years old." Then he pointed out that now "a country with nuclear weapons is waging war."
Former diplomat Ryozo Kato, the longest-serving ambassador of Japan to the United States (2001-2008), raised the need for a "serious and intelligent debate" on nuclear deterrence in an op-ed in the Sankei Shimbun on February 23.
More widely, Japan is also seeing an increased debate on nuclear energy, which was also seen as a taboo, given the aftermath of the Fukushima tsunami in 2011.
Matsui in the same press conference said that Japan should consider restarting nuclear power plants: "If Japan's cost of energy will go up, and if that happens, life will become impossible."


Critics, China Also Raise Their Voice
Part of debate is engaging your critics. There were of course critics of Abe's initial comments, namely activists from Hiroshima and Nagasaki, where the consciousness against nuclear weapons is understandably strong.
An atomic bomb survivor, Koichi Kawano, 82, was quoted by Asahi Shimbun as saying, "The debate itself is impermissible."
During the weekend of February 26, Nagasaki and Hiroshima were among the handful of cities in Japan, including Tokyo, that saw demonstrations against the Russian invasion of Ukraine.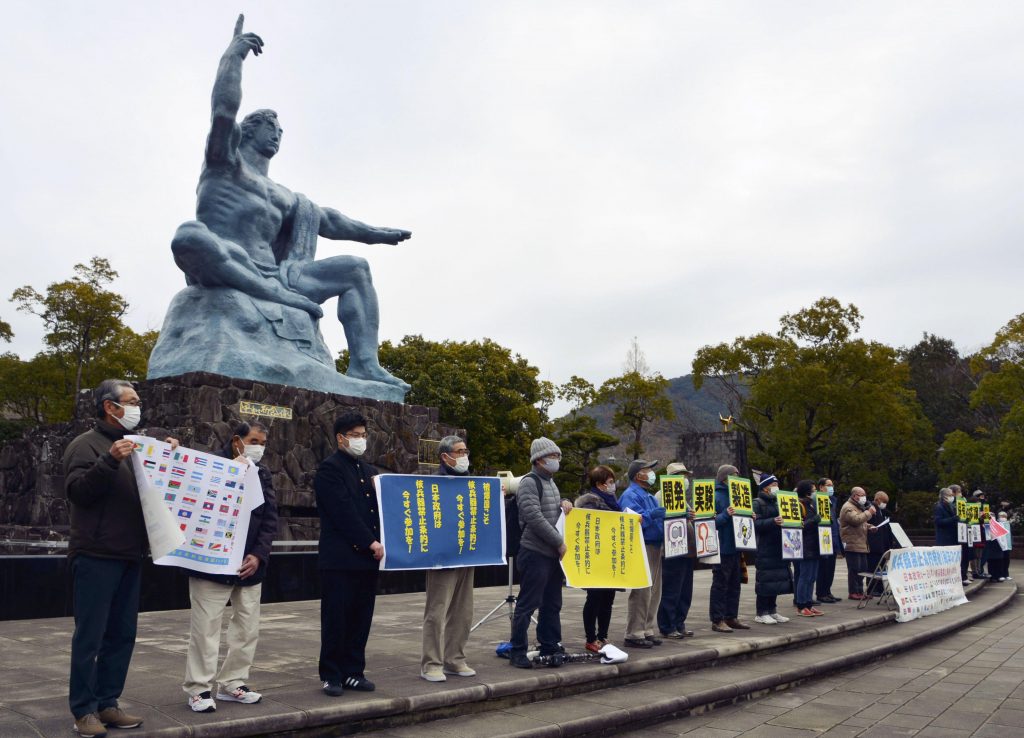 On February 28, China voiced its view of Abe's comments, dismissing concerns that China was going to initiate an aggression towards Taiwan.
China's foreign ministry spokesperson Wang Wenbin told reporters in Beijing: "Japanese politicians have frequently spread fallacies related to Taiwan, and even blatantly made false remarks that violate the nation's three non-nuclear principles."
In a short time there are many voices joining the debate.
But the fact that there is already a discussion shows the broad impact of Russia's war against Ukraine, and suggests the times may be changing for the future of nuclear security in Japan.
RELATED:
Author: Arielle Busetto