Sakura Blossoming in Kawagoe Bring a Colorful Edge to 'Little Edo'
Castles and shrines, sakura blossoms along riverbanks, festival traditions and creative cuisine are all found in the Edo era town of Kawagoe.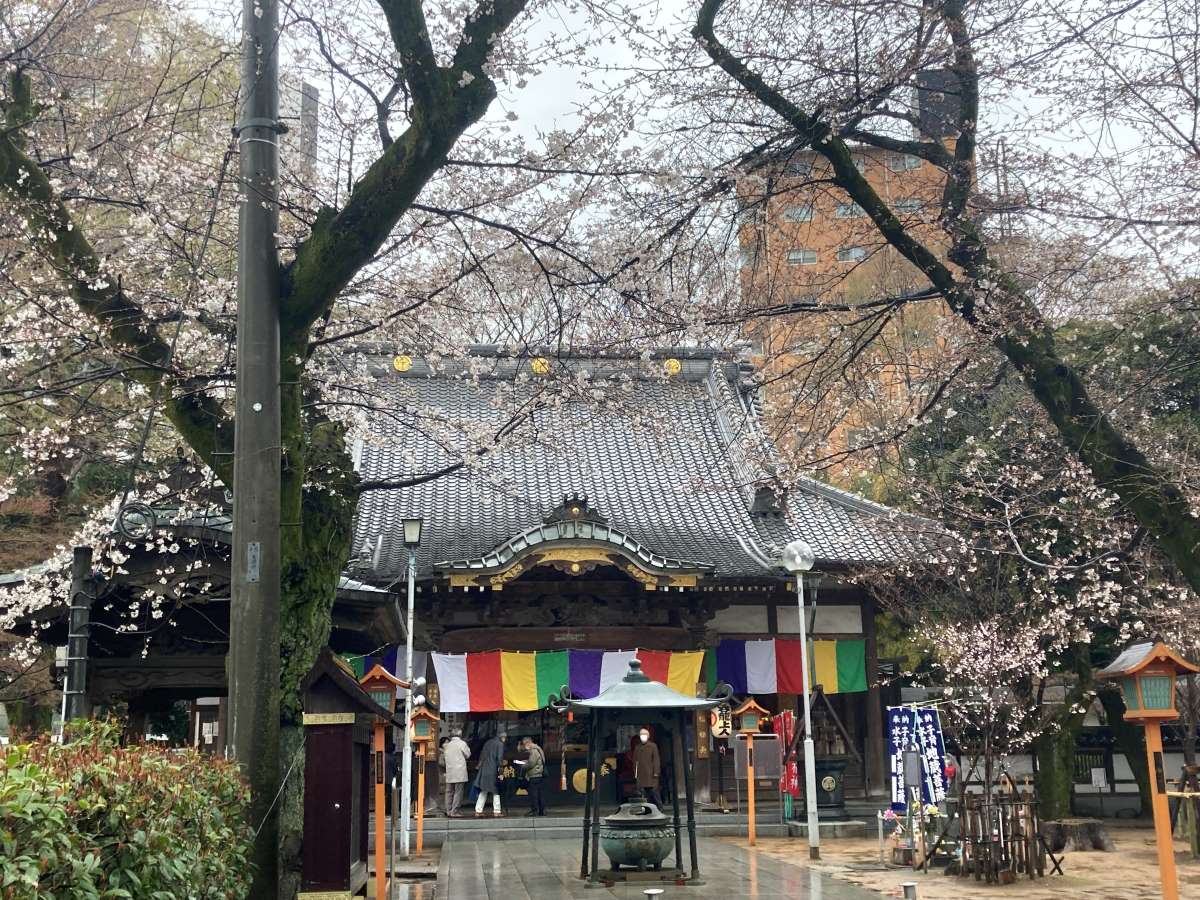 I first started on an introduction to Kawagoe, a city commonly called Little Edo (Koedo, 小江戸) because it has a number of commercial buildings and dwellings that reflect the urban architecture of Edo, the predecessor of Tokyo. It also has lovely vistas of sakura, Japanese cherry blossoms.
Because of the COVID-19 pandemic, I had held off on publication. It seemed better to avoid encouraging travel to a popular and frequently crowded tourist destination, even when the absence of foreign tourists had reduced the number of visitors.
Now COVID-19 has been downgraded and the government advisory on wearing masks was lifted on March 12. Coincidentally it is a good time to visit Kawagoe, and not just for its Edo period ambience and history.
Notably, the sakura viewing season is just starting and Kawagoe has numerous viewing sites.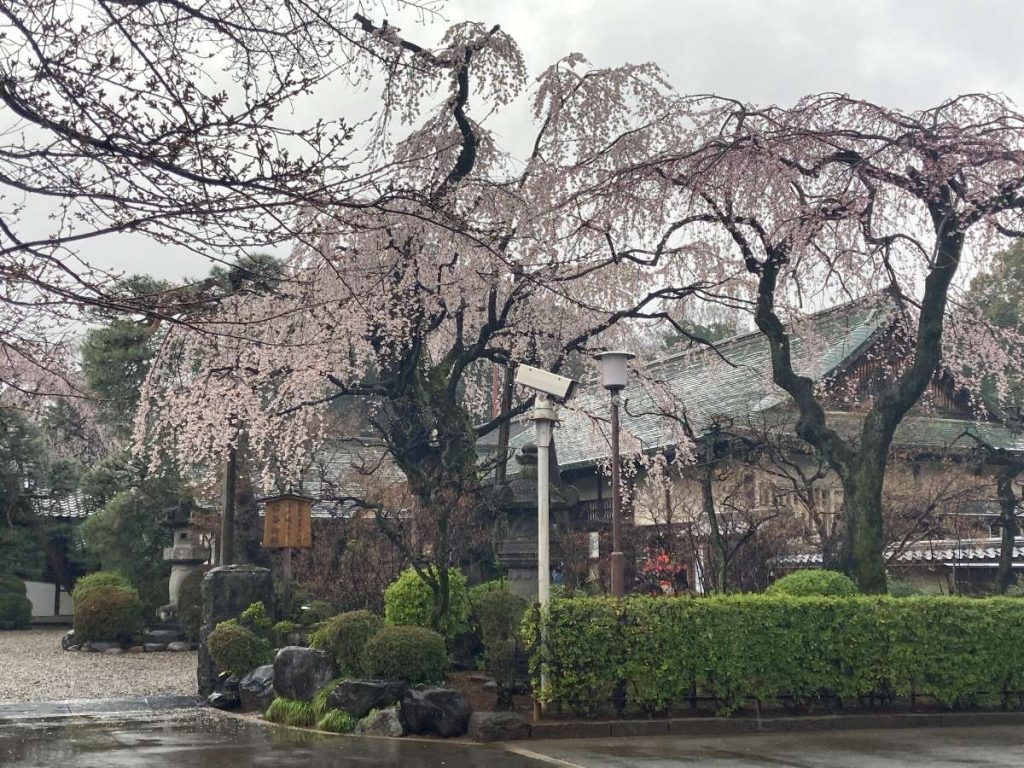 History
During the Edo period (1603-1867), Kawagoe was an important commercial and transhipment center for Edo. In fact, it was sometimes referred to as the "kitchen of Edo" (江戸の台所).
The most famous feature of Kawagoe is Kurazukuri Street (蔵造りの街並み). It features a row of buildings in a style widely used for shops and warehouses in the Edo period.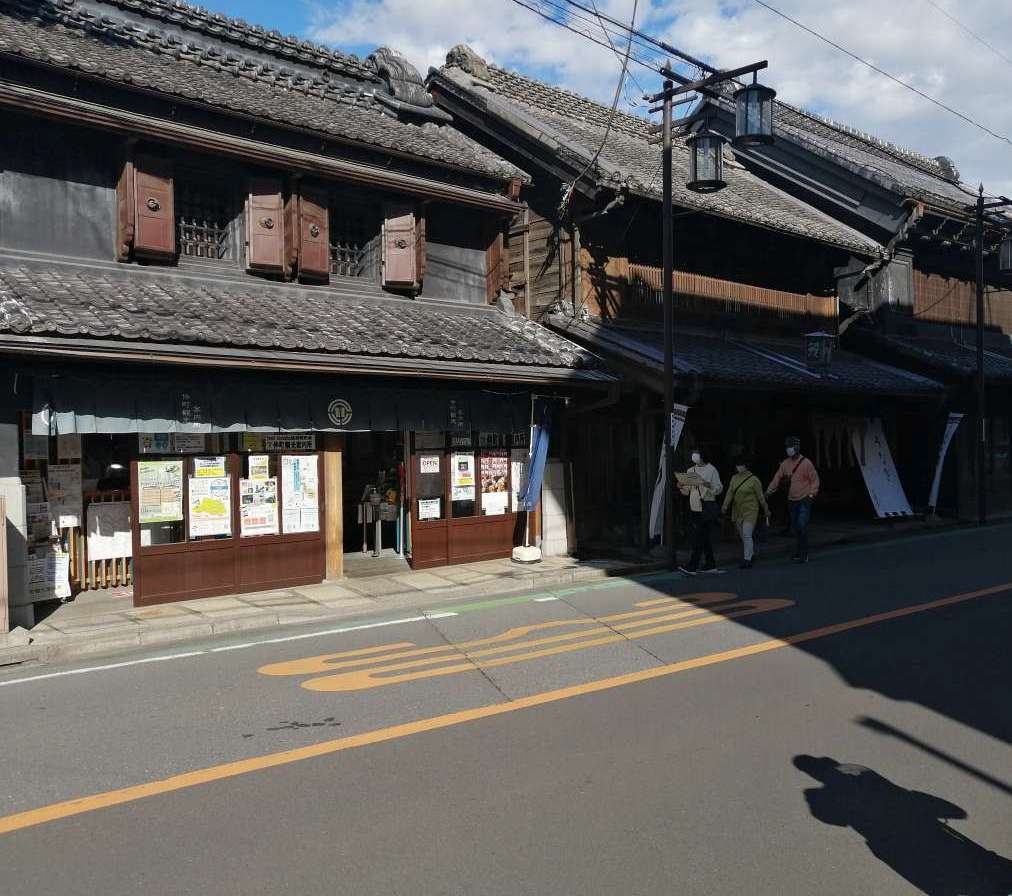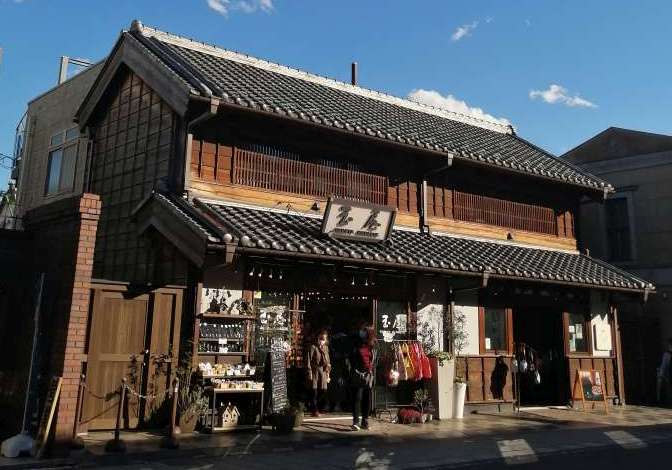 While the style is of the Edo period, the buildings themselves date from the Meiji (1868-1912) period. They were built following a devastating fire in 1893.
The buildings survived into the 1970s when preservation efforts began. Kawagoe had not been the target of one of the infamous firebomb raids conducted by the United States. Those Tokyo firebombing attacks from March, 1944, produced destruction in Tokyo comparable to the better known atomic bomb attacks on Hiroshima and Nagasaki, and a greater number of casualties.
Most of the buildings are still in use as shops although not necessarily in the same line of business as in the 19th century.
Kurazukuri Museum
The Kurazukuri Museum, also known as the Kurazukuri Exhibition Hall, is housed in a shop built by a tobacco wholesaler in 1893. Admission is only ¥100 JPY.
In the Museum one can feel the 19th century ambiance and learn about the construction of the kurazukuri buildings. There are also good explanations of the periodic fires that were the reason for their construction. (The museum is currently temporarily closed for work to strengthen the building against earthquakes.)
Just off the Kurazukuri Street is the Bell Tower (時の鐘) a favorite backdrop for selfies.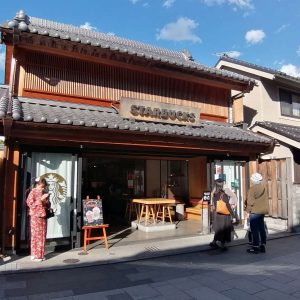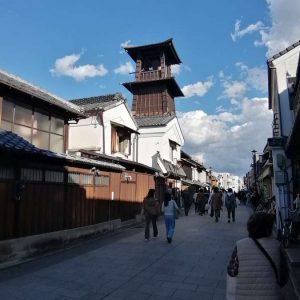 It has a bell similar to those in Buddhist temples (conical in shape hit from the outside by a wooden pole) that sounds four times per day: 0600, 1200, 1500, 1800. Its original structure was constructed in the early 17th century. The current tower dates from 1894, a year after the Great Fire.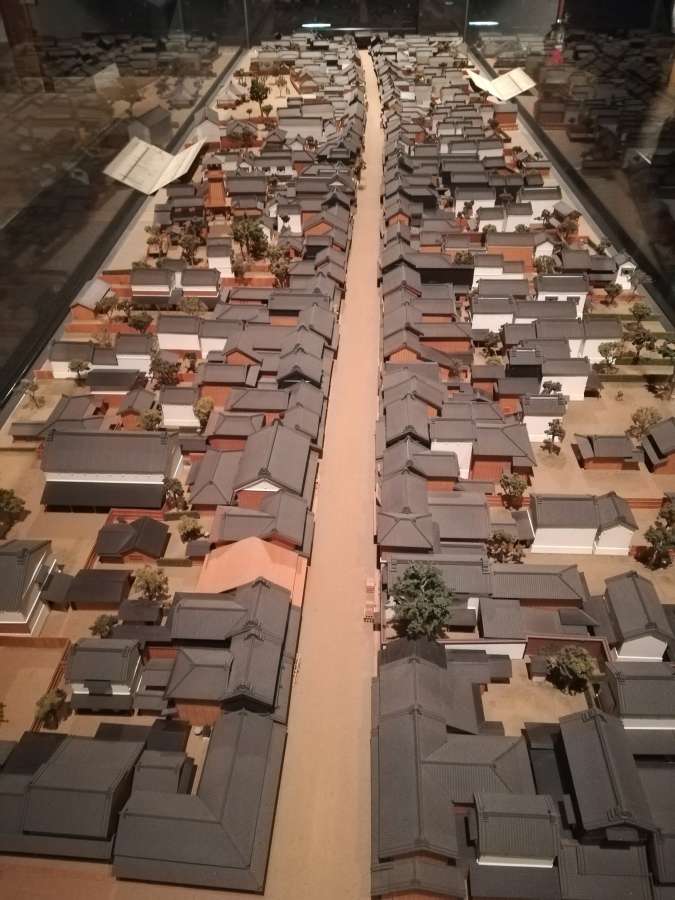 Kawagoe City Museum
This Kawagoe City Museum has large models showing the development of Kawagoe at different periods. It includes a cut-away model showing the internal aspects of the kurashiki construction style. For those interested, it features the tools used, and the ceremonies associated with construction.
This museum is some distance from the kurazukuri shops area. But the walk to it is also pleasant and worth the effort. The regular exhibit deals with the history of the Kawagoe area from the earliest human habitation to the present.
When we last visited in January of 2023, the changing exhibit area was devoted to re-creations of shops and homes in postwar Japan in the 1960s.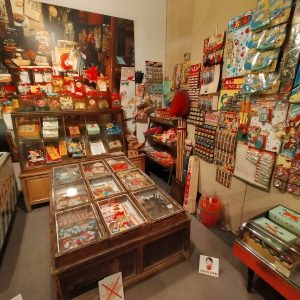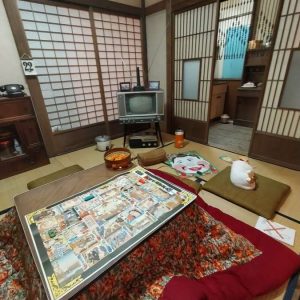 The exhibition was very well done. It was particularly interesting to me as a social historian who first came to Japan in 1971. Adult admission is only ¥200 JPY. Details are here.
Taisho Roman
While known primarily for its Edo-Meiji era architecture, Kawagoe also has fine examples of commercial buildings from the Taisho era (1912-1926). Most are on Taisho Roman Street just to the east of Kurashiki Street.
Roman here means romantic. It refers to a sense that the Taisho period was something special between the hard driving modernization of the Meiji era and the militarism of the Showa era (1926-1989).
Another term applied to this period is Taisho democracy (大正デモクラシー).
In terms of lifestyle, Taisho roman is associated with casual kimono for women, cafes, coffee shops, and eclectic mixing of Japanese and foreign styles.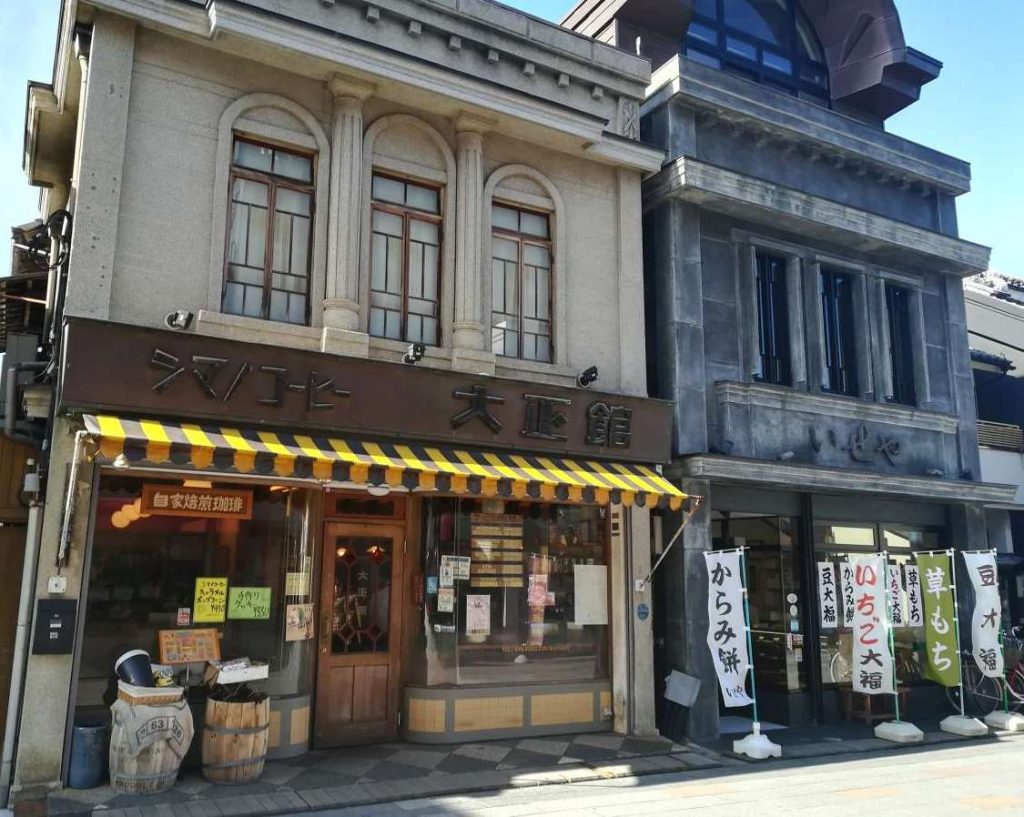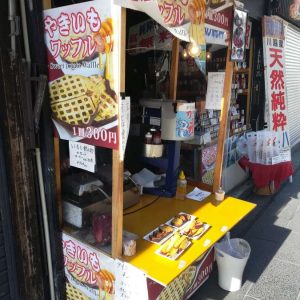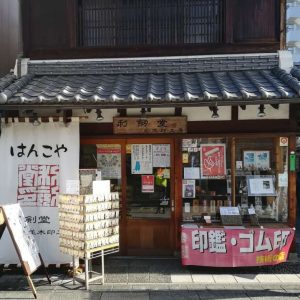 This is still to be seen on Taisho Roman Street. Find it in the form of a wood-fired pizza restaurant housed in a kurazukuri building, boutique coffee shops, and the appearance of the street in guides for vegetarians visiting Japan.
It is also a good place to relax after dealing with the crowds on Kurashiki Street.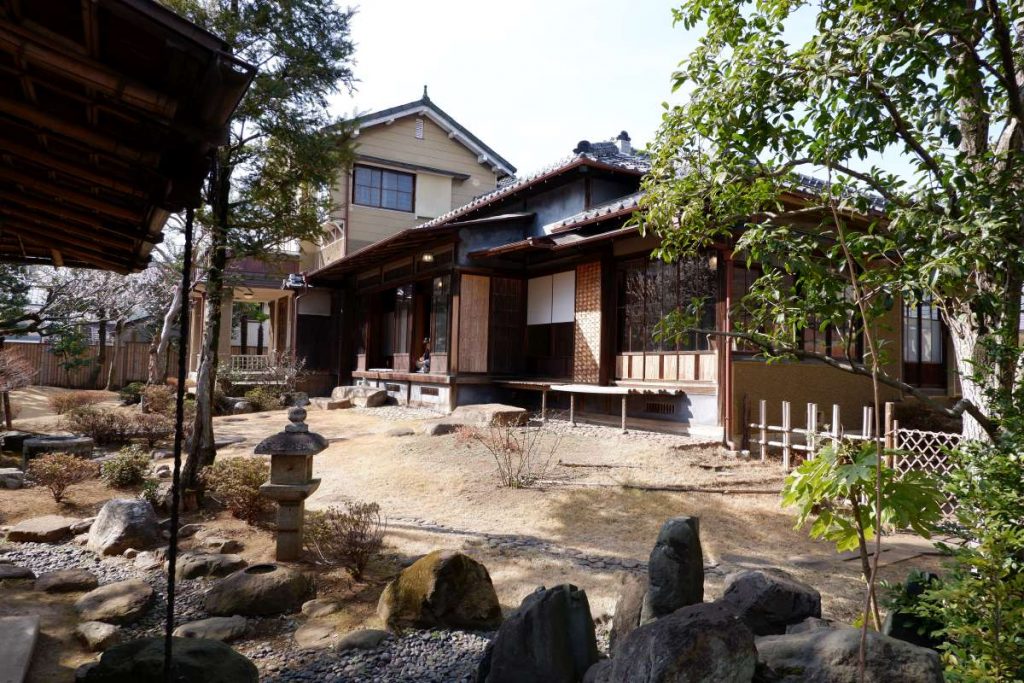 Yamazaki House
Taisho roman is further reflected in the Yamazaki House. This is a villa built in 1918, the seventh year of the Taisho period, for the 5th generation head of Uya (亀屋), a confectionary founded in 1783. His name was Kashichi Yamazaki (山崎嘉七), and he was also instrumental in the founding of the 85th national bank.
The original building survives. It is a registered cultural property and now houses a branch of the Saitama Resona Bank.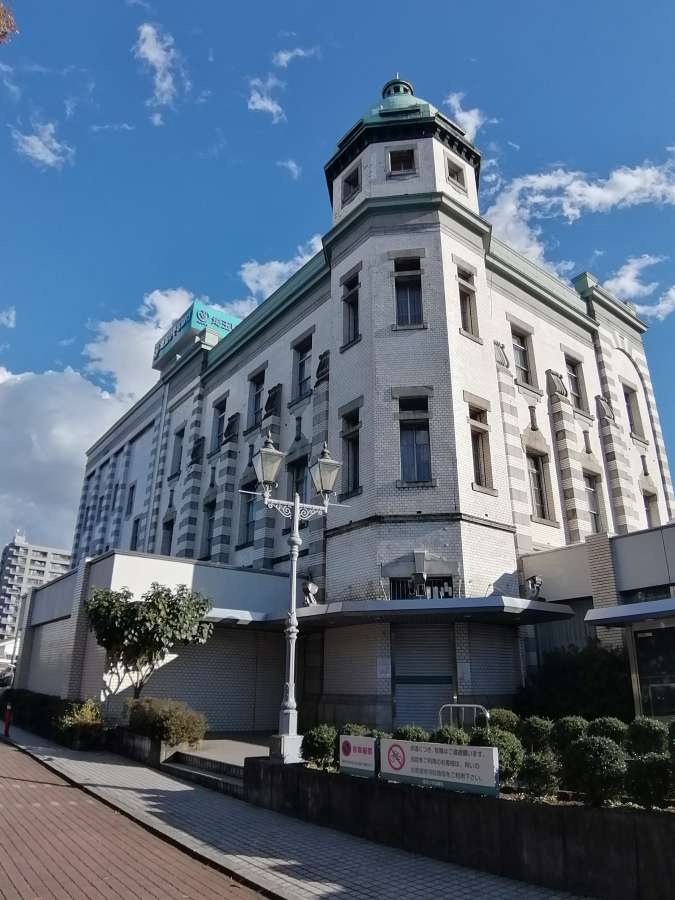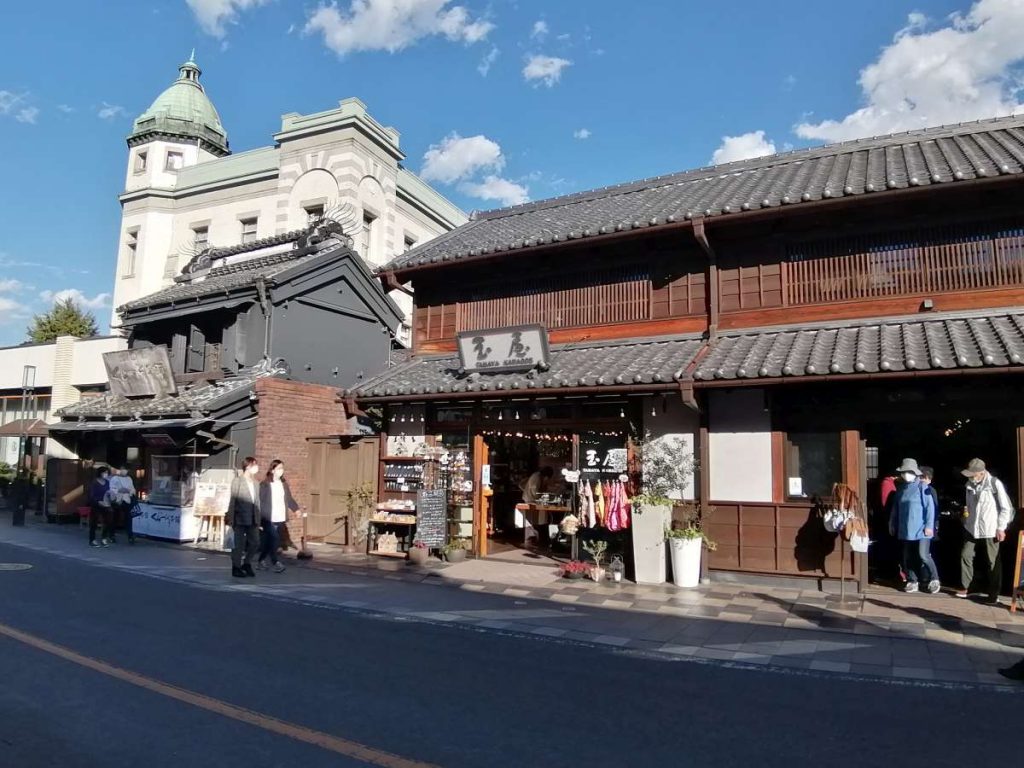 The Yamazaki family also funded an art museum.
Kawagoe's Famous Sweets
Kawagoe is additionally known for its Japanese sweets. They range from the pricey artisanal to very inexpensive "penny sweets" sold at dagashiya, stores catering to young school children.
Shops offering inexpensive and retro sweets are also concentrated along a street known as Confectionary Row (菓子屋横丁). It is often very crowded with school children on an excursion to Kawagoe and families with children.
Early Showa period retro sweet treats such as fukashi (a stick of wheat bran covered in brown sugar) and amezaiku (handcrafted candy in the shape of animals and insects) are among the items on offer.
Shops featuring artisanal confections are on Kurashiki Street. Particularly worth trying are items combining chocolate and matcha.
On one trip to Kawagoe I bought a matcha-chocolate confection that was truly delicious. Everyone in my family liked it.
Because matcha has become well known outside of Japan, some may wish to take a side excursion to Miyanoen. There you can learn about Japanese tea at a working Japanese farm specializing in Sayama tea. It is a variety associated with Kawagoe.
There are restaurants on Kurazukuri Street that offer matcha flavored soba noodles. Also, there are shops offering eclectic items such as matcha flavored sweet potato mousse made from Japanese mochi rice. Or try matcha tiramisu and matcha gelato. A guide can be found here.
Kawagoe is noted for sweet potato (サツマイモ) production. Various sweets with a sweet potato base, including ice cream, are on sale at numerous shops in and around Kurazukuri Street.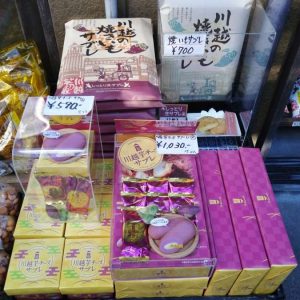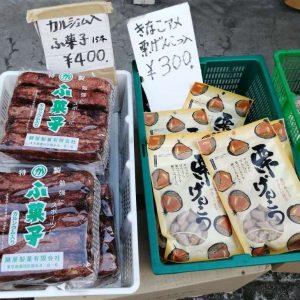 "Soft cream," the Japanese term for soft serve ice cream, made with purple sweet potatoes is a particular favorite of mine.
Restaurants
There are numerous restaurants in and around the Kurazukuri area. However, in preserving the Edo period ambience, few have the window samples so typical of Japan. Usually the menu for the day is on a small chalkboard or a stand with photographs of what is on offer.
Further, restaurants are often located on the sides of narrow allies, on the 2nd floor of shops, or at the rear of a building that has a completely different shop facing the street.
Eating while standing or walking on the street is relatively uncommon in Japan. Nevertheless, the whole Kurazukuri area is rather like one large festival. And it is at festivals where one will see casual eating while walking or standing in Japan.
Although well removed from Tokyo Bay, Kawagoe is also known for fish and eel dishes. Originally these used carp, loach, and eels from the nearby Arakawa and Iruma rivers.
For those with deep pockets, there are ryotei (料亭) offering kaiseki (会席料理) cuisine. Each carefully prepared item is served in a distinctive dish, generally on a reservation only basis.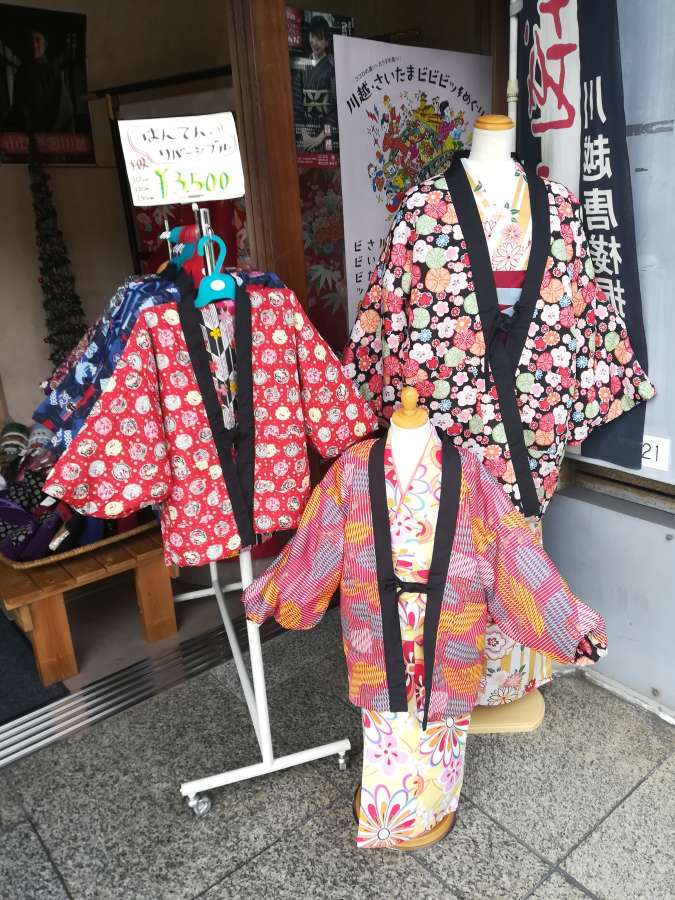 Kimono
From time to time there have been flare ups, mostly in the US, over the issue of "cultural appropriation." This has been especially true for non-Japanese wearing kimono. Few if any Japanese have been involved in such protests, however. The whole issue of cultural appropriation is little known in Japan and, based on experience, almost impossible to explain to Japanese.
As is true of almost any major tourist site in Japan, Kawagoe is well stocked with kimono rental shops. They are happy to provide kimono for both women and men, and to customers of any race, color, age or nationality.
Most patrons are young women, including Japanese. But on my last visit I was gratified to see Chinese-speaking male tourists decked out in hakama (袴), formal wear for men, typically worn on occasions when women wear kimono.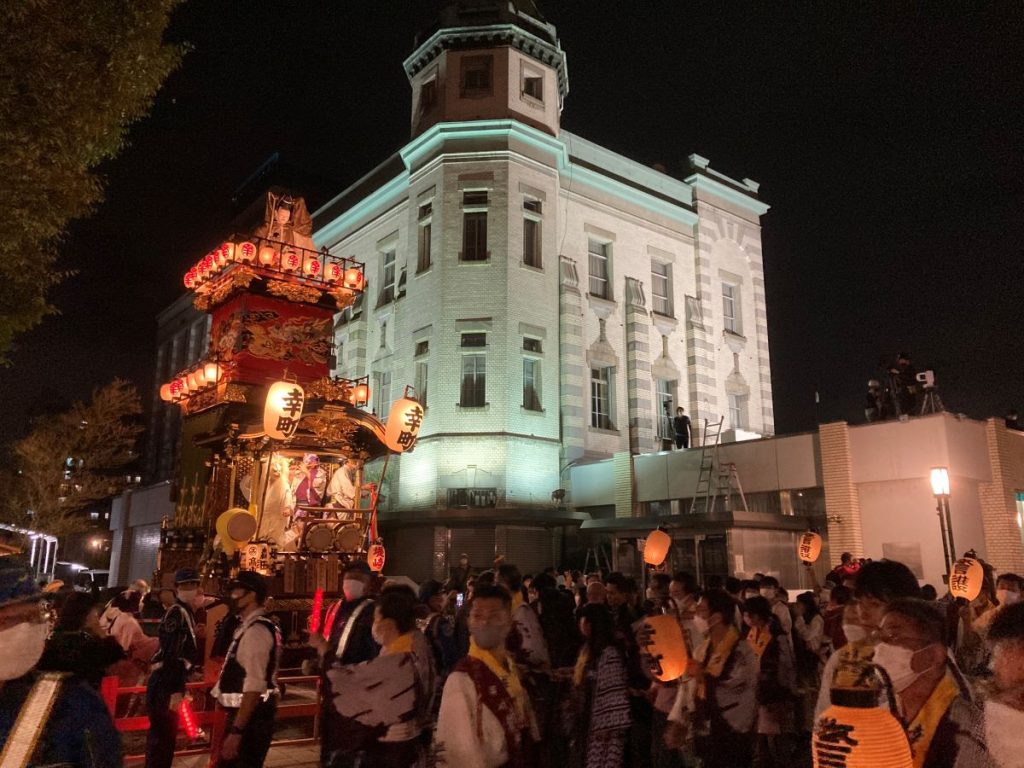 Kawagoe Festivals
Numerous seasonal festivals are held in Kawagoe including one dedicated to digging potatoes. But the most famous festival, which attracts enormous crowds, is the Kawagoe Hikawa Festival. It consists of multi-story floats moving about and finally coming together at an intersection where performers engage in a musical competition. This is done at night by the light of traditional Japanese paper lanterns.
Kawagoe Hikawa Festival is one of the 33 examples of float festivals in Japan that were registered in 2016 as part of the "Representative List of the Intangible Cultural Heritage of Humanity."
If you are interested in Japanese celebrations, you can learn more at the Kawagoe Festival Museum on Kurashiki Street, which is speficially dedicated to this festival.
The next festival is scheduled for Saturday, October 14 to Sunday, October 15, 2023. Also, there is a worthwhile short video showing the 2022 festival. Additionally, a longer and more professional video is also available.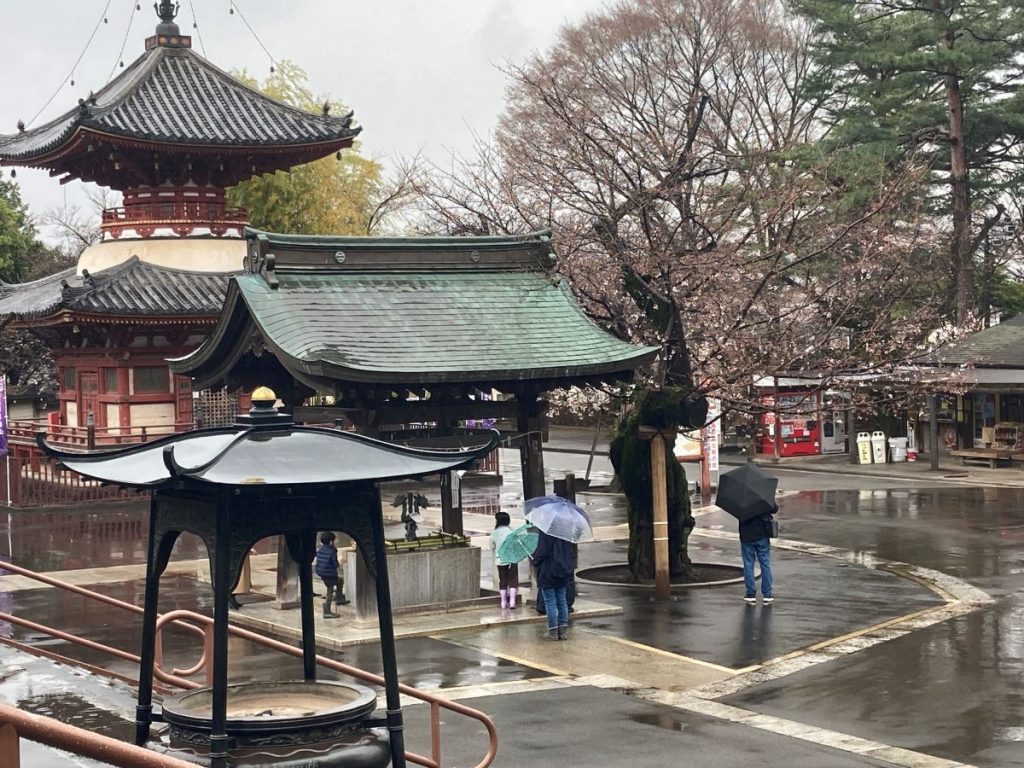 Castles and Temples
Moreover, having developed as a castle town (城下町) and trading center, Kawagoe is well supplied with temples and shrines.
Kitain (喜多院) is the head temple for the Tendai sect (branch) of Buddhism in the Kanto region. It has several notable features other than the temple buildings.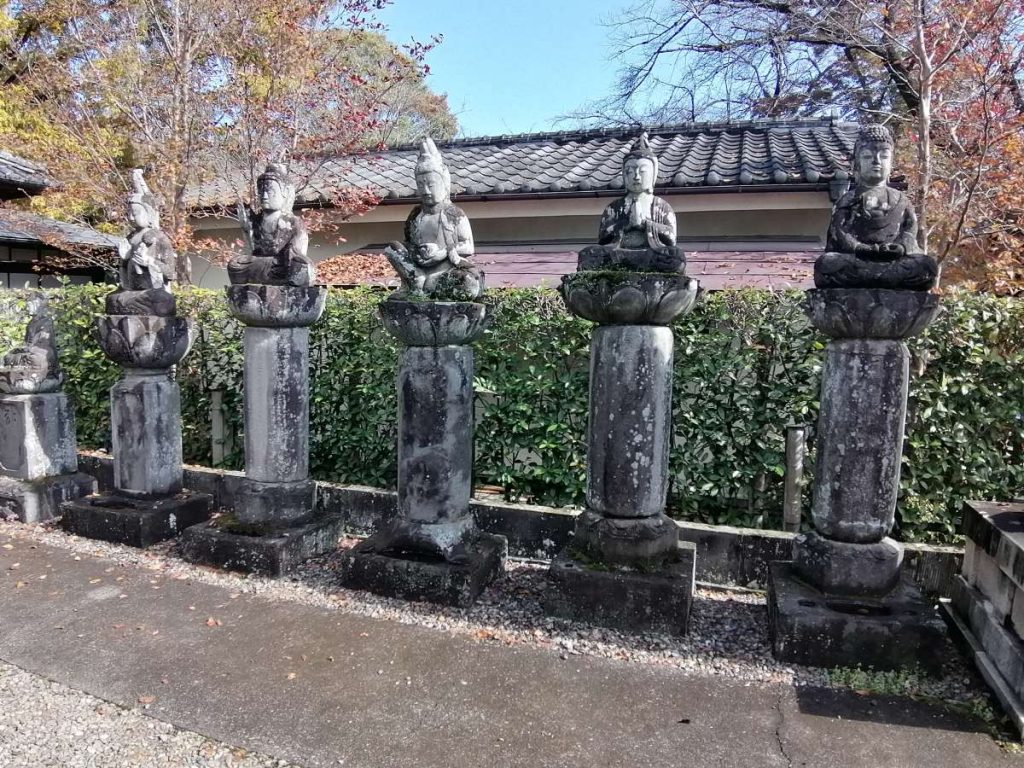 The first is Gohyaku Rakan (五百羅漢), statues of 540 disciples of the historical Buddha, each with a different facial expression. There is however a small charge for viewing the statues.
The second is a set of three buildings that were originally part of Edo Castle, the seat of government for the Tokugawa shogunate that governed Japan (1603-1868).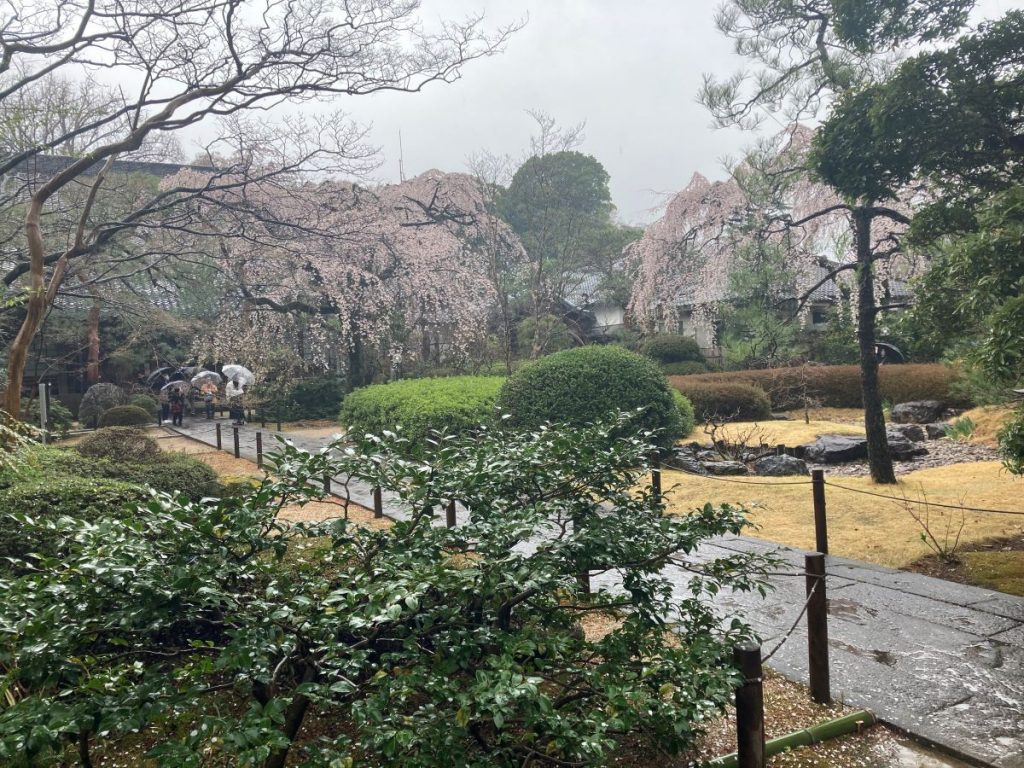 These buildings were moved to Kawagoe by order of the third shogun Tokugawa Iemitsu (1604-1651) after the Kitain was destroyed by fire in 1638. One room is also said to be where Iemitsu himself was born.
Because of damage done by the 1923 Great Kanto Earthquake and US firebomb raids on Tokyo, these buildings at Kitain are the only surviving components of the original Edo Castle complex.
Again, there is a small charge for viewing these buildings and the adjacent garden.
Of similar historical interest is Honmaru Goten built in 1848. Moreover, it is the only remaining portion of the Kawagoe Castle.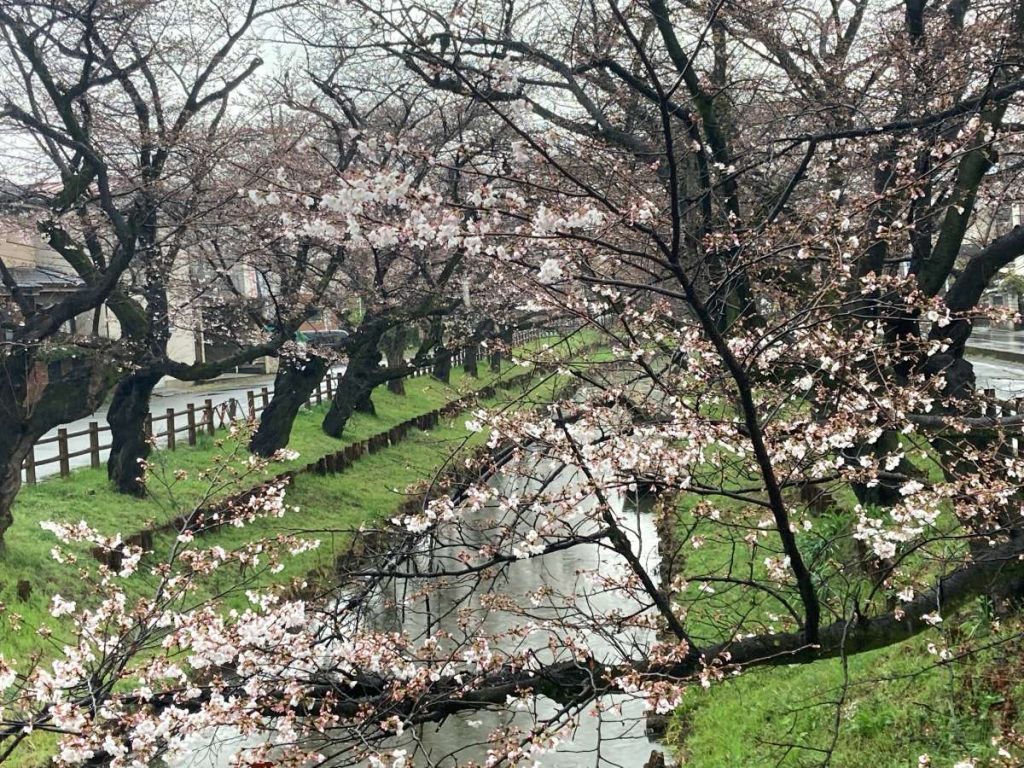 Kawagoe Shrines
There are numerous shrines in Kawagoe, some rather generic, others very distinctive and well known. Of these, the most important is Hikawa Shrine. About a 10 minute walk from Kurazukuri Street, this is the shrine that is the patron of the Kawagoe Hikawa Festival.
It is famous for its "corridor of marriage wind chimes." There are countless hopes for finding true love written on wooden cards hanging from the top and sides of the 10 meter corridor in July and August.
More important in terms of cherry blossom viewing is that if you take the rear exit from the shrine, you are at the Shingaishi River. The scene features two extended ranks of cherry blossoms. This is not only the most attractive of a dozen or so blossom viewing sites in Kawagoe. It is also one of the most pleasant in the whole Kanto area.
When we visited in January, several early blooming sakura were in full flower. But the more common and noted Somei Yoshino variety are, as of this writing, just starting to bloom. You can see what they look like.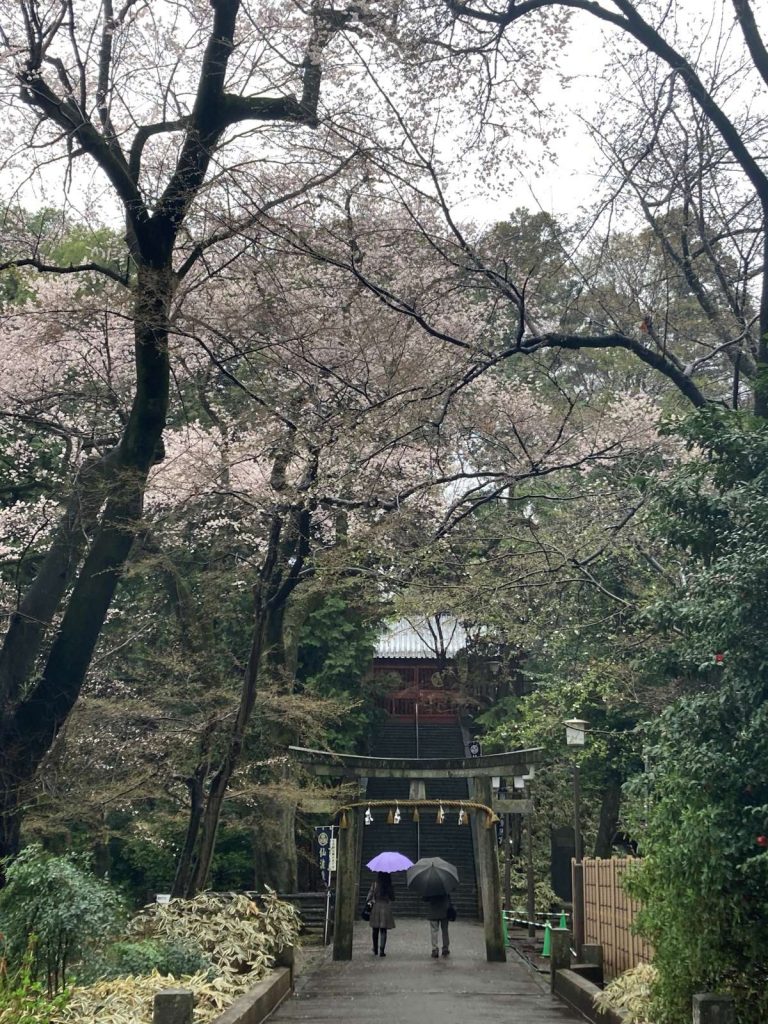 Getting There
Kawagoe is served by three rail lines with frequent service.
JR East Kawagoe Line from Omiya. This is effectively an extension of the Saikyo Line that runs from Osaki (Shinagawa) to Omiya. Travel time from Shinjuku to Kawagoe is one hour and costs ¥770 JPY.
The Tobu Tojo Line from Ikebukuro. Travel time from Ikebukuro is 54 minutes and costs ¥682 JPY.
The Seibu Shinjuku Line from Seibu Shinjuku to Hon-Kawagoe. Travel time is 50 minutes and costs ¥513 JPY.
The Seibu Line station is closer to the historical area than is the combined JR East – Tobu station. However, the area around the Seibu Line station is bland and generic.
The walk from the JR East – Tobu station takes you through an interesting and funky shopping street that has an eclectic mix of high end "brand name" shops and foreign cuisine restaurants. These are interspersed among low end discount shops and budget-priced eateries.
There are several shops and a small mall dedicated to Kawagoe products on this street.
Both Tobu and Seibu offer discount tickets for tourists covering transportation. The Tobu ticket also offers discounts at some shops.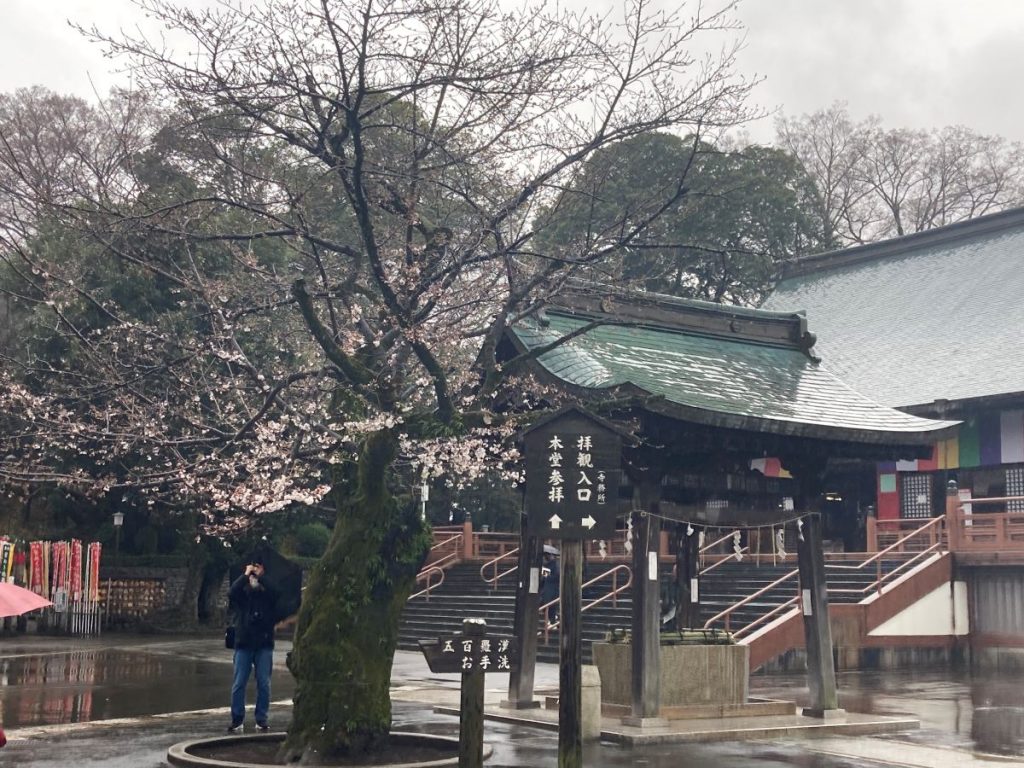 Getting About
City-sponsored free Wi-Fi is available at 15 hotspots. Free software available under the official name Connected Japan Free Wi-Fi simplifies the process of access for the Kawagoe City and other systems.
Wheelchair access is generally good. Kawagoe itself is nearly flat.
The main issue in the historical area is the lack of a distinct sidewalk on what is the main route to the JR East – Tobu station. The narrow walkways along this street can be packed with pedestrians almost to the level of inbound commuter trains during the morning rush hour.
The Accessible Japan site has details.
Jinrikisha rides are available from a base near the Saitama Resona Bank branch on Kurazukuri Street.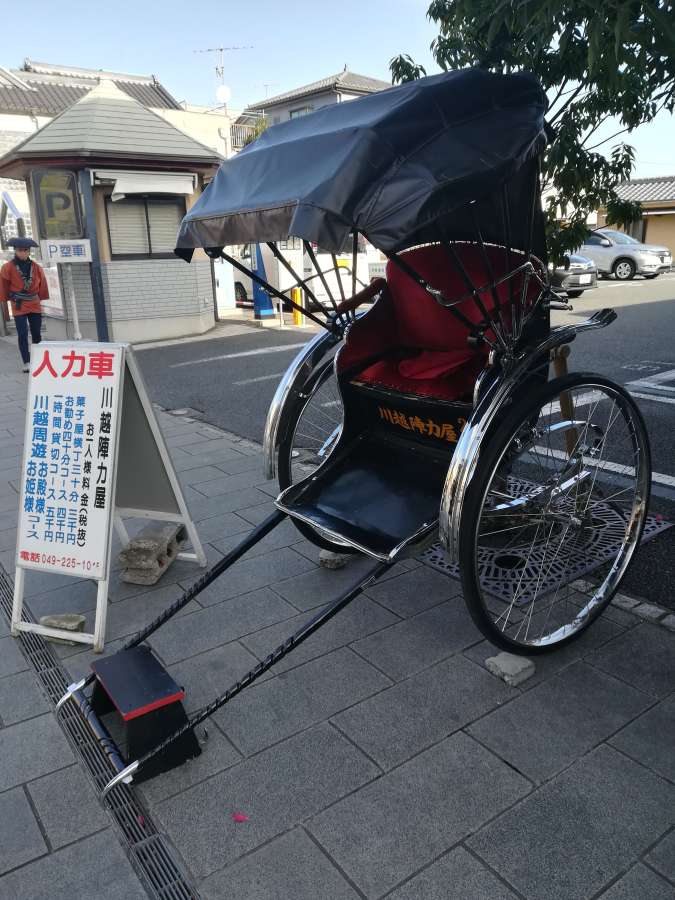 Bicycle rental is also available although I do not recommend it. There is very limited bicycle parking near Kurashiki Street and most other sites are no more than a 10 minute walk away.
Tourist information is available at several sites and on-line. The Japan National Tourist Organization has an informative pamphlet with a walking map that can be printed for easy reference.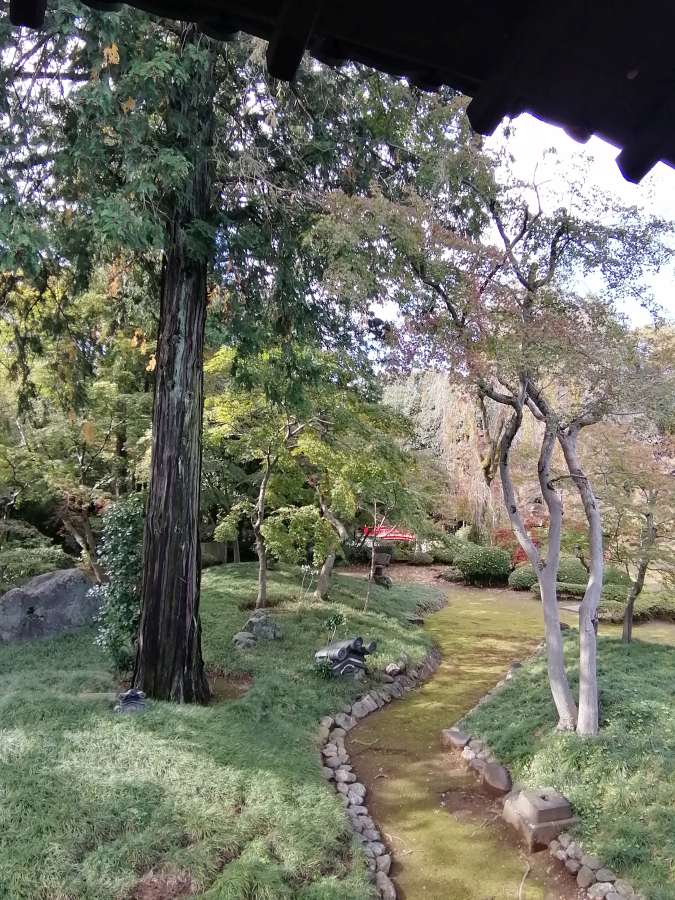 Conclusion
Despite having been to Kawagoe numerous times by train and by cycling along the Arakawa River, each time we go, we discover something new. Kurazukuri Street can be very crowded. Nevertheless, there is much to see and discover on side streets. And going on a non-holiday weekend means fewer visitors.
There is something to see in Kawagoe all year round, but the cherry blossom season is a particularly good time to go, and even well-known viewing sites in the city will not be as crowded as those in Tokyo.
RELATED:
Author: Earl H Kinmonth
Find other stories about Tokyo and nearby areas by Dr Kinmonth on JAPAN Forward.
Photos: By Earl H Kinmonth and Shinichiro Kageyama