Shockwave of Chinese Premier Li Keqiang's Death: End of Old Era, or Beginning of New One?
Li Keqiang's death shocked many and has raised some uncomfortable questions about the consolidation of power and future of China, reports author Jennifer Zeng.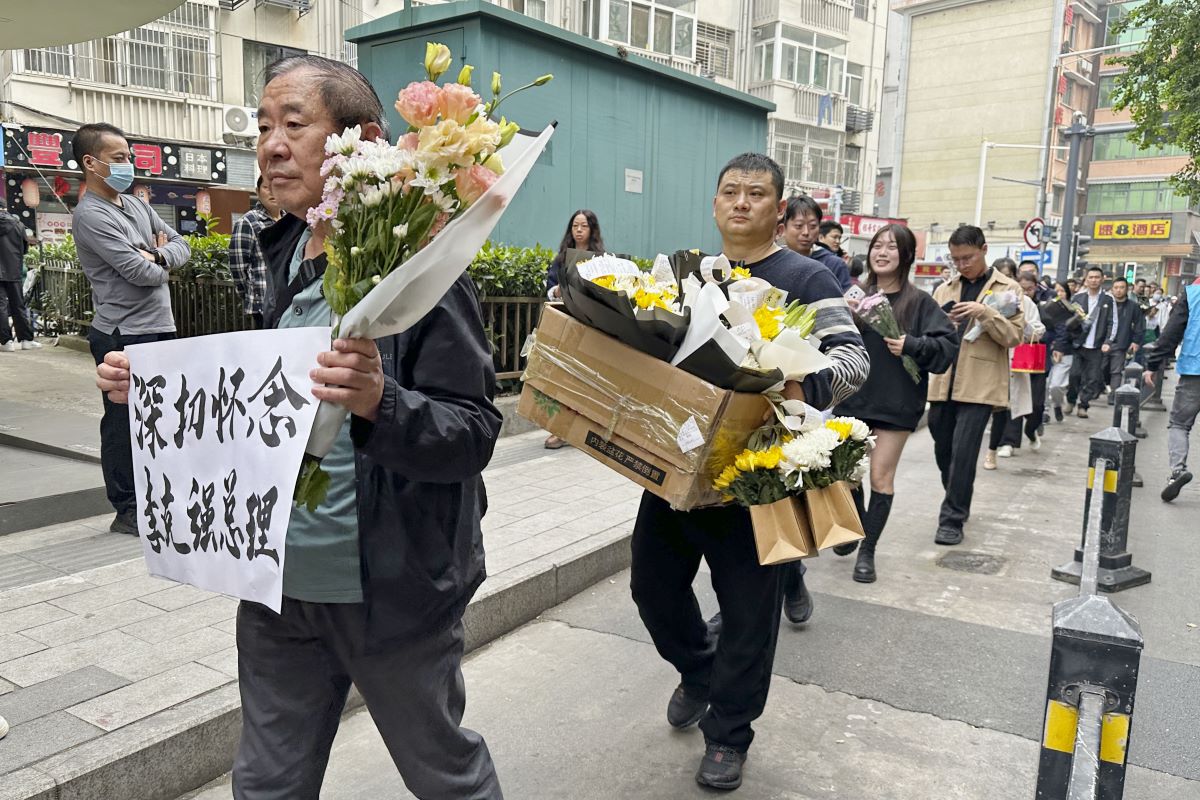 Former Chinese Premier Li Keqiang's death has sent shockwaves through Chinese society. He passed away suddenly after only seven months out of office, drawing massive attention both domestically and abroad.
With the cremation of his body, the Chinese Communist Party (CCP) authorities are forcibly seeking to quell this shockwave. Some lament that Li's passing marks the end of an era. But does it also herald the beginning of another?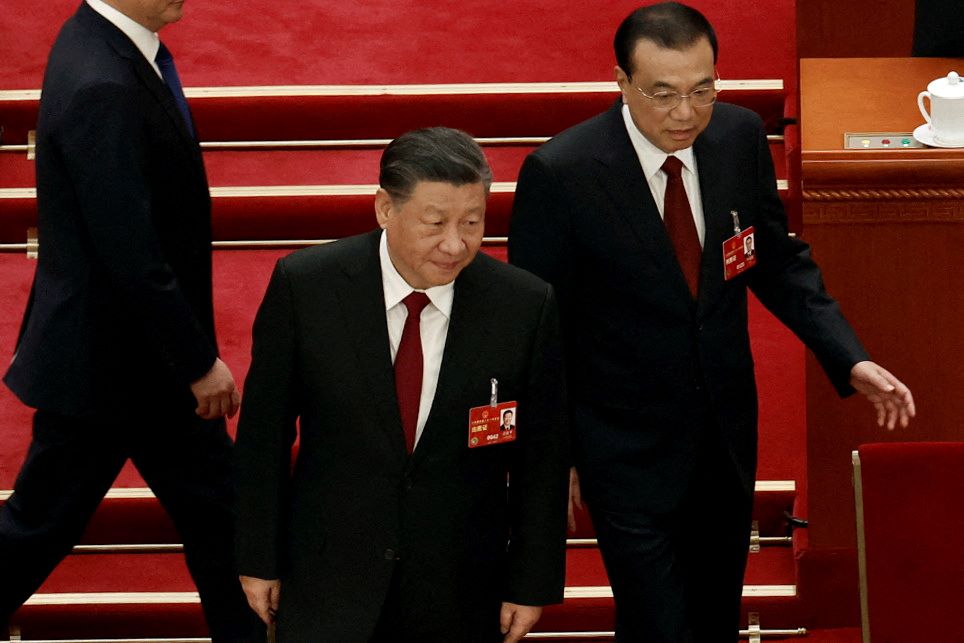 Unexpectedness: The First of Three Anomalies Surrounding Li Keqiang's Death
The first reason for the shock among Chinese citizens at Li Keqiang's sudden demise lies in its unexpectedness. He was seen visiting Dunhuang just two months earlier on August 30. Footage from the scene showed him looking spirited and walking briskly, not at all like someone on the brink of death.
Also, compared to other CCP officials of his standing, he was still too young. For instance, Mao Zedong lived to 83, Deng Xiaoping to 92, and Jiang Zemin to 96.
Looking at previous Chinese premiers, Zhou Enlai reached 78, Hua Guofeng 86, and Li Peng 90. Zhu Rongji is currently 95 and alive, and Wen Jiabao is 81 and also alive.
Even the former Politburo Standing Committee member, Song Ping, is now 106 years old and still living.
According to Li Keqiang himself, there are 600 million people in China with a monthly income of less than 1000 RMB ($137 USD). The average life expectancy for Chinese men is nearly 75 years.
People living in China are aware that national-level leaders have dedicated medical teams to monitor their health around the clock, enjoying the best medical care and even the possibility of organ replacement as needed. The claim that Li Keqiang suddenly died from an acute cardiac incident is unconvincing. Cardiac arrest is treatable and myocardial infarction occurs over time, not suddenly without prior symptoms.
Location: The Second Anomaly
A second cause for incomprehension among the Chinese public lies in the choice of hospital for emergency treatment. According to official statements, Li was "resting" at the Shanghai Dong Jiao State Guest Hotel when he suddenly suffered a heart attack while swimming at 11 AM on October 26. He was taken to the nearby Shuguang Hospital of Traditional Chinese Medicine thereafter. Unfortunately, he was declared dead after efforts to resuscitate him were unsuccessful. He officially passed away on October 27 at 00:10 AM.
It is commonly known that traditional Chinese medicine hospitals generally specialize in treating chronic diseases and adjusting the "balance of yin and yang" within the body. They are not suited for emergency care or surgery.
Why then was he not taken to the nearby Huashan Hospital affiliated with Fudan University, which is better equipped and closer than Shuguang Hospital?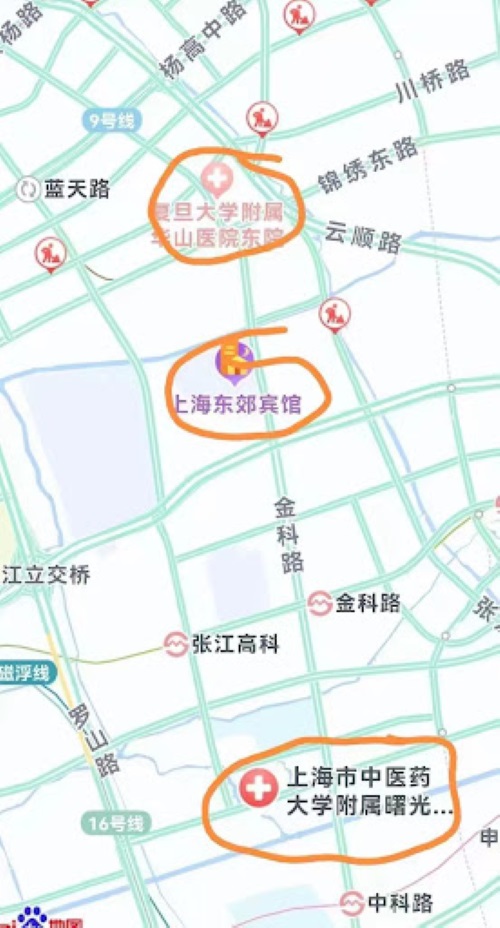 Locations of Shanghai Dong Jiao State Guest Hotel (in the middle orange circle), Shuguang Hospital of Traditional Chinese Medicine (in the bottom orange circle), and Huashan Hospital affiliated with Fudan University (in the top orange circle)
Moreover, there are many other renowned large hospitals in the vicinity of Shuguang Hospital, like Zhongshan Hospital, one of the top three hospitals in China with a 96% rescue success rate.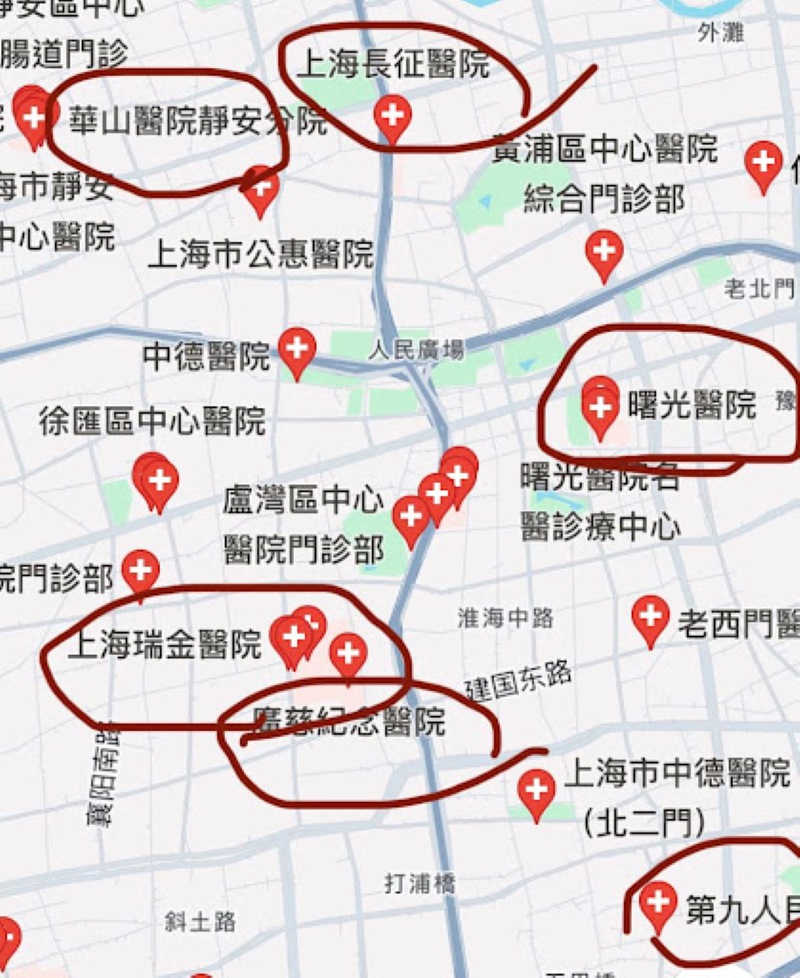 In fact, like the Diaoyutai State Guesthouse in Beijing, the Shanghai Dong Jiao State Guest Hotel is designated for the accommodation of foreign heads of state or Chinese leaders. The in-house medical facilities there are already top-tier. If a cardiac emergency occurs, onsite treatment would be more reliable than transferring to a hospital ill-equipped for such emergencies.
Li's Death Announcement: The Third Anomaly
The third irregularity lies in the official handling of Li's death announcement. According to past practice, when a national-level leader passes away, official websites would typically turn to grayscale to show mourning.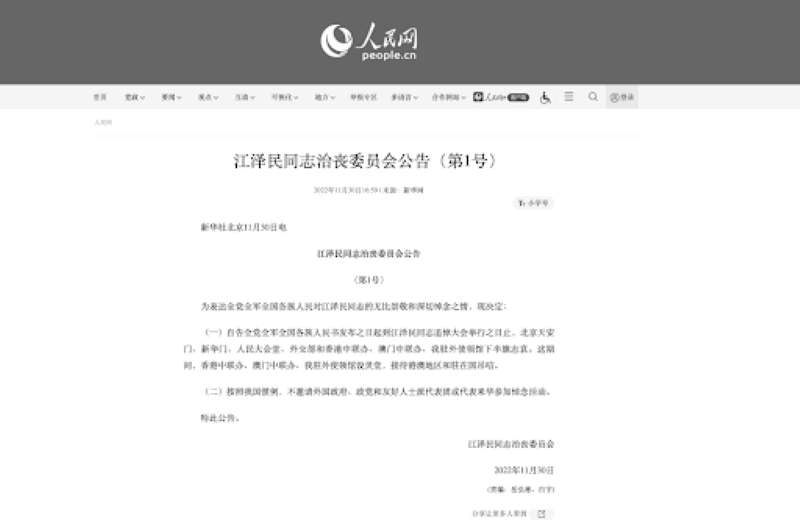 However, in the case of Li Keqiang, not only did the official websites not turn gray, but some even used red to publish his death announcement. Red represents festivity and happiness in Chinese culture. This left many Chinese people feeling puzzled and sensing that the handling was highly irregular.
Was Li Keqiang Murdered by Shanghai Police?
Consequently, various rumors began to circulate immediately suggesting that Li Keqiang was murdered by Xi Jinping.
Zhao Lanjian, a former Chinese journalist who previously accurately disclosed the demotion of China's former Defense Minister Li Shangfu ahead of mainstream media, revealed information that Li Keqiang was murdered. His information was that the executor of this assassination was Chen Yuan, commander of the Shanghai Armed Police Force.
According to Zhao's analysis, the assassination of Li Keqiang might be related to an attempted military coup within the CCP. He believed that there were indeed people in the military attempting a rebellion, which was quelled by Xi Jinping. Li Keqiang was connected with these individuals, possibly as a behind-the-scenes operator or perhaps to be invited to replace Xi Jinping.
The startling discovery of a 'test obituary' for #LiKeqiang, published on February 3, 2023, lends credence to the theory that he was assassinated. This test, published almost nine months prior to his actual passing, came to light when someone conducted a search using the term 'obituary' following his death on October 27.
Does Xi Jinping have a Motivation to Remove Li Keqiang?
I also discussed this perspective in my first and third notes about Li Keqiang's death. I feel that if one were to find a motive for Xi to murder Li Keqiang, this would be the most reasonable one, especially in light of Xi Jinping's recent major purges within the Chinese military and the unexplained demotions of Defense Minister Li Shangfu and Foreign Minister Qin Gang.
Of course, another reason, which I have mentioned before, is related to Xi's superstitions.
According to a reliable source of mine, Xi Jinping believes in ancient Chinese prophecies. In particular, the Tui Bei Tu (推背图) mentions that "A soldier carries a bow" might initiate a palace coup. As a bow is used to launch long-range weapons, it corresponds to the Rocket Force today and this led to Xi's suspicion of the Rocket Force.
In fact, the Chinese character "强" in Li Keqiang's name (李克强) is composed of two parts. The left part is 弓, which is exactly the Chinese character for "bow". So a person who "carries a bow" can also be Li Keqiang.
In the 40th figure of the Tui Bei Tu, there is a line, "If 'mu zi' appears, the frost will thaw," suggesting that the arrival of "mu zi" would bring about a thaw, symbolizing the approach of spring. When the Chinese characters for "mu" (木) and "zi" (子) are combined, they form the surname "Li (李)." This could indicate that a person with the surname Li would bring China towards spring, a line that could have made Xi Jinping even more suspicious of Li Keqiang.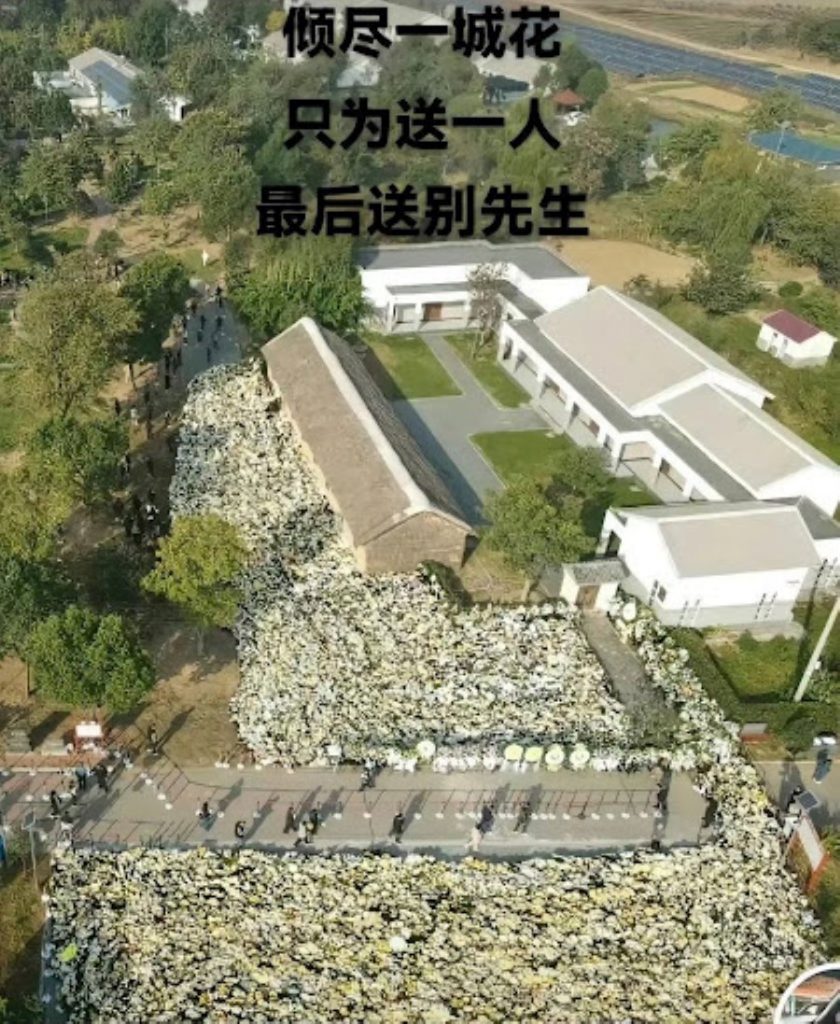 The Largest Mourning Event in Human History
Although up to this point, the suspicions are backed by little concrete evidence, various online polls suggest that over two-thirds of Chinese people believe Li was murdered.
This could explain why, just two days after Li Keqiang's death, it was reported that over 3 million people visited his former residence in Hefei City, Anhui Province, to lay flowers, forming what was described as the largest mourning event in human history.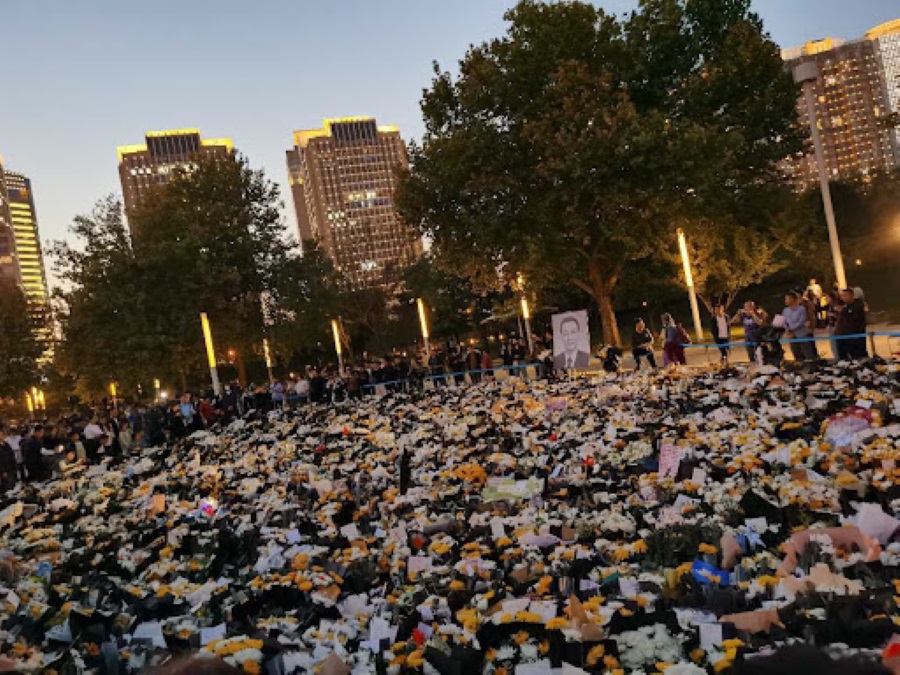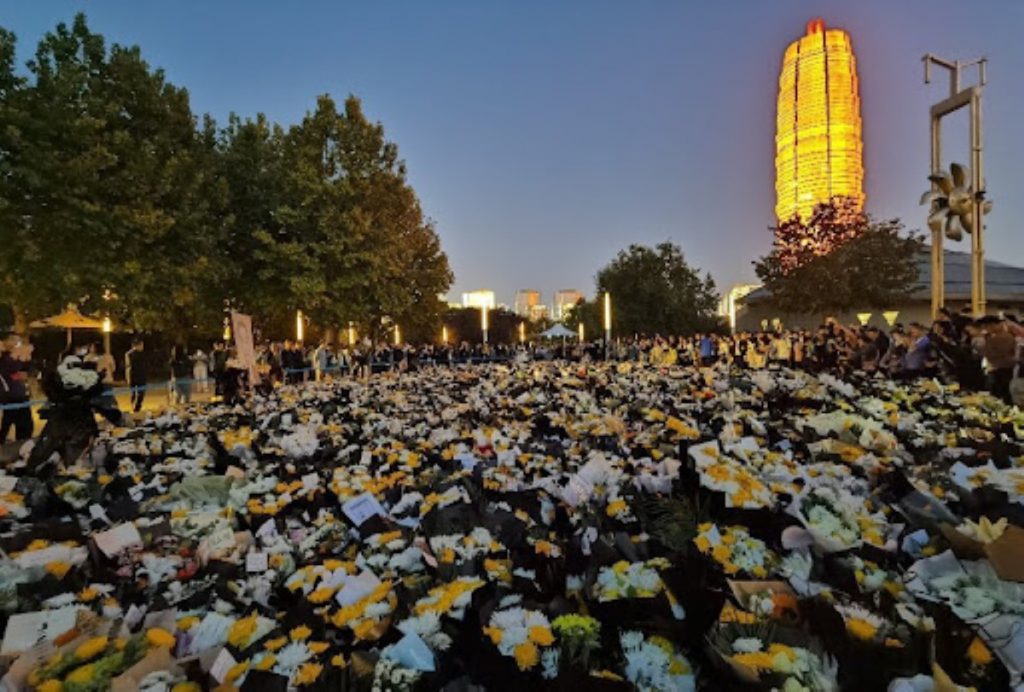 In his hometown of Dingyuan County, Anhui Province, and Zhengzhou, the capital of Henan Province where he once served as governor, large-scale mourning activities also took place.
Volcano Under the Sea of Flowers
Many say that people mourn Li not necessarily out of love for him, but because of their deep hatred and disgust for Xi Jinping. They seek an outlet to vent their grievances, dissatisfaction, and feelings of hopelessness and helplessness about the future.
Some say that beneath the sea of flowers mourning Li Keqiang, a hidden volcano is simmering with the potential to erupt at any moment.
Perhaps it was seeing the anger and injustice accumulating among the people that the CCP, which originally did not intend to hold a body farewell ceremony for Li Keqiang, like the one held for former Premier Li Peng, ended up holding a similar ceremony for Li to quell the public mood.
However, by that time, the CCP and Xi Jinping had completely fallen into what is known as the "Thucydides Trap." Whatever they say or do, no one believes them anymore.
For example, if they did not hold a body farewell ceremony, people would say that Xi Jinping is guilty and fearful. If they did hold a ceremony, people would say Xi Jinping is hypocritically mourning. Some even claimed that the widow who appeared at the farewell ceremony was not Li Keqiang's real wife Cheng Hong, but an actress hired by the CCP… It is odd that Xinhua didn't mention Cheng Hong's name, especially when they mentioned that Xi's wife Peng Liyuan also attended the farewell ceremony.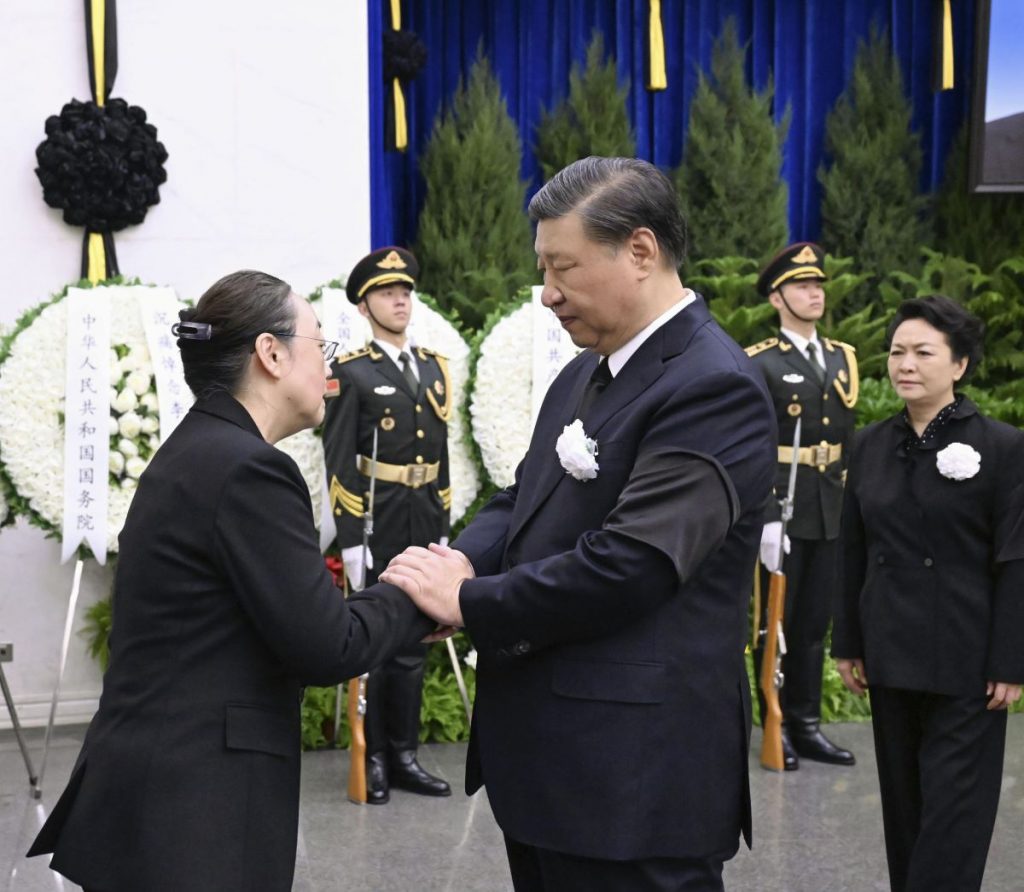 CCP Suppresses Mourning to Prevent Another Tiananmen Square Movement
Meanwhile, the CCP has been trying hard to suppress public mourning. On November 2, immediately after Li Keqiang's body farewell ceremony ended, the CCP promptly cleared away the flowers commemorating him. It sealed off the streets in front of his former residence and no longer allowed people to come to pay their respects with flowers.
On the surface, the mourning that lasted seven days was suppressed. It did not lead to a movement like the 1976 Tiananmen Incident that followed the death of former CCP Premier Zhou Enlai or the world-shocking Tiananmen democracy movement that erupted after the death of former CCP head Hu Yaobang in 1989.
Perhaps the CCP has temporarily survived another terrible crisis, and perhaps in the near future, another sudden incident will once again plunge the CCP into crisis. More and more people realize that the tipping point for a comprehensive collapse of Chinese society, or a full-scale outbreak of various social crises, is getting closer.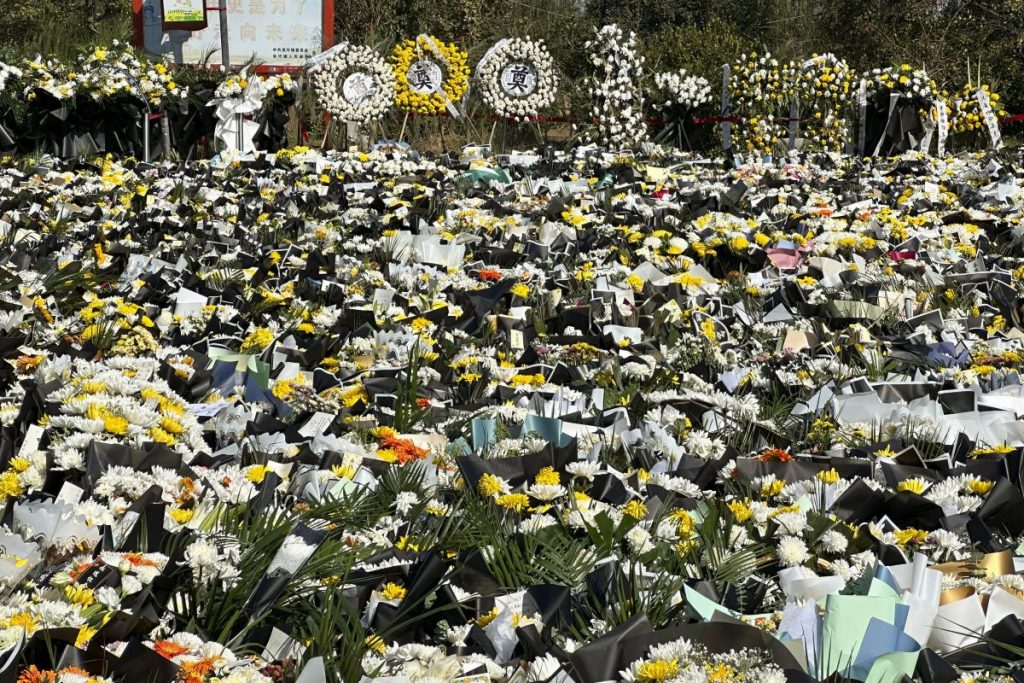 Ending the Old Era and Shattering Chinese People's Collective Dreams
Some say that the departure of Li Keqiang marks the end of an era, the shattering of a generation's collective dreams.
Li Keqiang was part of the first cohort to enter China's top university, Peking University, in 1977. It was the first year of the resumption of college entrance exams after the end of the decade-long Cultural Revolution.
The young men of his generation thought that they were lucky enough to have caught the time when the Cultural Revolution had ended. They were in high and vigorous spirits, believing that China's future was in their own hands.
Then, the 1989 Tiananmen massacre disillusioned many. Some of them fled overseas, while others represented by Li Keqiang thought it might be possible to stay within the system and push for change in China.
Last Beacon of China's Reform and Opening-up Extinguishes
Now his death signifies the complete extinguishment of the last beacon of China's reform and opening-up. Those who lose together with him are all the technocratic bureaucrats, pseudo-middle classes, once-unbeatable white-glove businessmen like Jack Ma, as well as once-trusted or believed-to-be-safe-if-they-remained-silent high-ranking officials within the system such as Wang Qishan, Qin Gang, Li Shangfu, Hu Chunhua, and Wang Yang.
Li Keqiang's death also marks the failure of the Chinese political elite's attempts to improve China's path in the post-Cultural Revolution era, and the disillusionment of China's intellectual elite, who longed for economic development to lead political change.
It is also a sign that the civilian faction of the CCP, represented by Li Keqiang, has lost its battle against the red-blooded faction, represented by Xi Jinping. Once again, China falls at the crossroads of its national destiny.
Some also say that Li Keqiang's death signifies that the historical regression initiated by Xi Jinping has plunged off a cliff. With the loss of military, public, and official support, the CCP regime is like a "dead tiger" that could fall into chaos at any moment.
Will Things Develop in the Opposite Direction After Reaching Extreme?
The Chinese have always believed in an old saying that, "Things will develop in the opposite direction once a limit is reached." Perhaps it is precisely because of the end of an era represented by the death of Li Keqiang that a completely new era can be opened.
However, at a time when the economic and financial crisis is destined to break out in full force, is there any chance for peaceful evolution in Chinese society? Or will there even be a tragic situation of "cannibalism" in which the grassroots are victimized by each other?
Also, how much risk will the CCP's desperate struggle to maintain its rule at all costs, bring to the world?
At a time when the world situation is already full of turbulence, one cannot help but be particularly concerned.
RELATED:
Author: Jennifer Zeng
Find articles by Jennifer Zang on JAPAN Forward. Follow her on X (formerly Twitter) and on her blog page, Jennifer's World.