Shohei Ohtani Recovering from Injury, Won't Pitch in 2019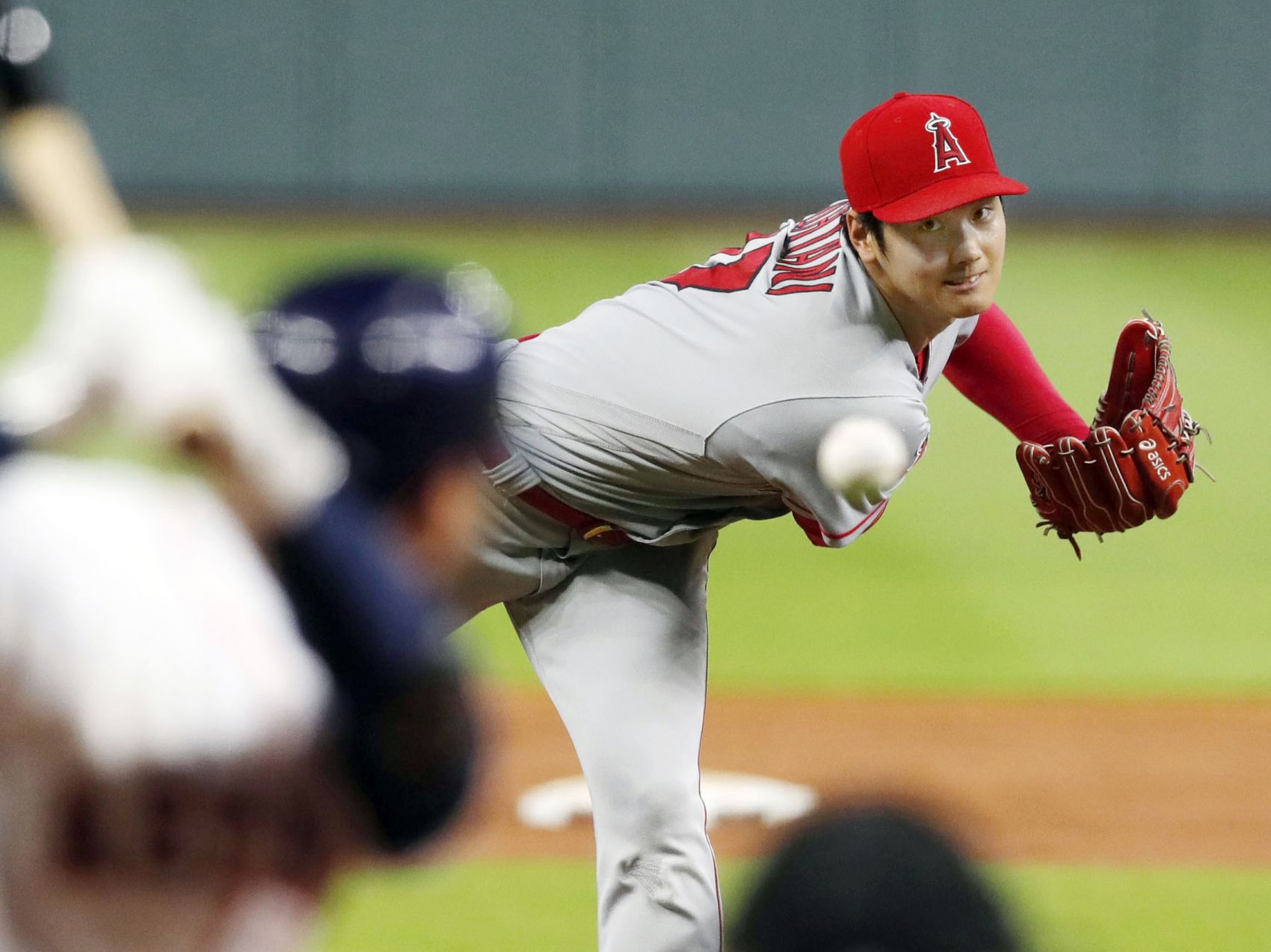 By Robert Whiting
Japan's Shohei Ohtani will not pitch in the 2019 season. The two-way star for the Los Angeles Angels — the first MLB player since Babe Ruth to both pitch and hit on a regular basis — has been diagnosed with a severe tear in his ulnar collateral ligament (UCL).
The injury caused doctors to recommend Ohtani for "Tommy John" (TJ) surgery.
Ohtani, 24, had a 4-1 record on the mound before being sidelined in June with arm trouble. He had played in 90 games as a batter and had an impressive record of 20 home runs and a batting average of .280.
He set a major league record by blasting three home runs as a designated hitter, and registered two wins all in one week last April as a starting pitcher, in a feat that earned him the MLB Player of the Month award.
Pitchers who have TJ surgery — a procedure in which a tendon from a cadaver replaces a torn ligament — typically need 14 months of rehabilitation before they can return to action.
If Ohtani has TJ surgery in October, the earliest he could conceivably be back on the mound is April 2020. This means Ohtani must spend the 2019 season exclusively as a hitter.
Ohtani, the pitcher, throws hard. He has routinely thrown 100 mph fastballs during his brief career. In fact, he threw three of the four fastest pitches of the 2018 season — all three at 101 mph or over. The MLB record of 105 mph was set by Aroldis Chapman in 2010.
Throwing hard is the primary cause of damage to the UCL, which is the only thing that connects the forearm to the upper arm. Consistently throwing the ball over 100 miles per hour is the surest way to injure it. In fact, the emphasis on speed in MLB, which has increased in recent years, is primarily responsible for a rash of arm injuries.
According to fangraphs.com, the average fastball velocity increased from 89.4 mph in 2003 to 92.8 mph in 2018. This is a significant spike in velocity. With this increase has come a corresponding drop in scoring. Also according to mlb.com, runs per game by team have fallen from 4.65 in 2008 to 4.01 this season.
Speed in pitching is what MLB teams want. It results in more strikeouts. The faster the pitch, the harder it is for a batter to hit the ball. Twenty percent of all pitches over 95 mph are swung at and missed. Under 95 mph, the ratio drops to 8%.
Pitchers are throwing faster than ever and from a younger age than ever. Often, in year-round leagues for teen-aged players, their aim is to impress MLB scouts who follow these leagues. But the extra emphasis on speed also results in increased arm injuries.
The human arm was not designed to throw a baseball. It is an unnatural motion. Every throw causes tiny tears in the muscle tissue and it takes three to five days to heal after throwing a nine-inning game. The harder the throw, the higher the speed, the more potential damage to the ligaments and tendons.
There is also a corresponding focus on getting maximum spin on every curve, slider, screwball, split finger, and other type of breaking pitch. This puts even more strain on the arm. Accordingly, the number of pitchers on the disabled list (DL) has risen by more than 20% in the past four years.
The first UCL reconstruction was performed in 1974 on then 31- year-old eponym, LA Dodger star Tommy John, who went on to pitch for 15 more years. Since then, over 350 MLB players have had the operation.
One-third of all present-day MLB pitchers have had TJ surgery. It has become so routine that during the 2000's, an average of 16 pitchers had the surgery every year.
The success rate for TJ surgeries is roughly 80% and the pitchers that return to the mound come back as physically fit as before — and able to throw the fastball just as hard as before.
However, the time commitment and rehabilitation required for these patients is staggering. Moreover, a high proportion return to the DL with arm troubles. Performance statistics show a decline, most notably in ERA, WHIP, opposing batting average, innings pitched, percentage of fastballs thrown, and fastball velocity. This is according to a recent study presented to the American Academy of Orthopedic Surgeons.
Pitchers who underwent a second TJ surgery fared even worse.
There are alternatives to Tommy John surgery, including less invasive procedures, such as injections of platelet-rich plasma. It was a procedure that worked with fellow Japanese star Masahiro Tanaka in 2014.
Tanaka came back at nearly full strength after 10 weeks on the sidelines. However, Ohtani tried the procedure, and it failed. Ohtani made only one aborted pitching start after his return from the DL.
There is also stem cell therapy. However, Angels teammate Garrett Richards tried it, unsuccessfully, and wound up having to undergo Tommy John surgery anyway.
Recently the option of a new procedure, known simply as "primary repair," has become available. Instead of reconstructing the entire UCL in the elbow, it keeps the existing ligament and makes the repair near the bone. The recovery time is less than half of that of Tommy John. However, this surgery is still in the experimental phase.
Orthopedic surgeon George Paletta has performed the new procedure successfully on dozens of high school and college pitchers. Thus far, however, he has only performed the procedure on one MLB player: Cardinals reliver Seth Maness, who had it in August 2016 and was ready for Opening Day 2017.
Maness signed a contract with the Kansas City Royals; however, after an unsuccessful season pitching in only 8 games, the 29-year-old Maness was released.
So, the alternate options do not look all that promising.
Still, there is a bright side in the case of Shohei Ohtani. Assuming he does follow through with the TJ surgery, he will be ready to swing a bat by the time spring training rolls around next year. This means we will get a chance to see what he can do as a hitter throughout a full schedule of 162 games in the 2019 season.
Ohtani pitches with his right hand but bats from the left side. This means that his afflicted elbow is his front elbow as a batter and therefore endures much less stress than the left elbow. In other words, the surgery should not impact his swing.
The problem with the Ohtani schedule of pitching once a week and appearing in only three games is that we have had no way of measuring him against the great pitchers and hitters of the game — a big part of the enjoyment of baseball. Evaluating and comparing ball players' statistics is a fundamental part of being a baseball fan. Myself, I grew up engaged in arguments comparing Mickey Mantle to Babe Ruth and Hank Aaron.
We saw Otani hit six homers in one week this September when he was playing every day. Consider this: if Ohtani played 162 games a year he would probably have 45 homers for the season, with well over 100 RBI's. That is what the numbers would indicate, extrapolating from what he has achieved so far.
But, we would actually need to see him do it — playing day-in and day-out, in extreme heat, on brutal road trips, crisscrossing the United States on bi-coastal flights, and facing the same pitcher multiple times.
It's quite possible he would rise to that challenge and become even better. After all, Ohtani was able to overcome his early season inability to hit left-handed pitchers. Who's to say he would not hit 50 homers a year. Or 60?
In 2019, it appears we will have that chance to see him try.
So, don't cry for Shohei Ohtani. After winning the A.L. Triple Crown next year, he can focus on capturing the Cy Young Award in 2020.
(This article has been published in Japanese at Yukan Fuji on September 25, 2018.)