Social Innovation Japan: A New Generation Builds Its Narrative for the Future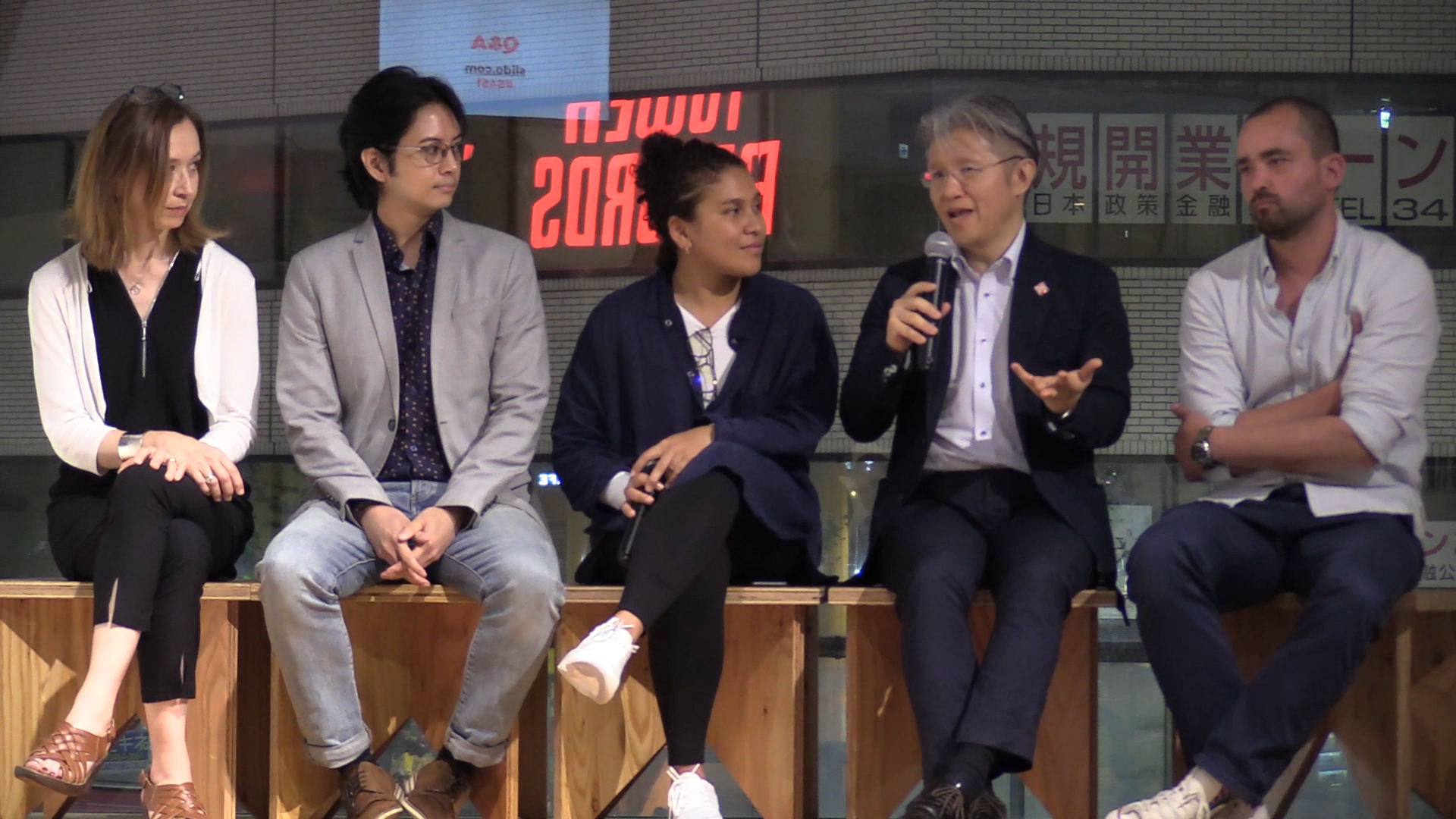 All around the world, in metropolitan cities, suburban areas, and rural regions, there are people with mixed background who identify as bi-racial or bi-cultural, or even both.
Though Japan has often been identified as homogenous, people from over 180 countries or regions now make Tokyo their home — and that's only Tokyo. Furthermore, with a program such as the Japan Training Visa, foreign nationals are now working and developing their skills in Japanese working environments throughout Japan.
"Identity in Modern Japan: Building Narratives for the Future" was an event hosted by the non-profit organization Social Innovation Japan, a social enterprise founded by Keiko Ono, Robin Lewis, and Mariko McTier. It was held at EDGEof in Shibuya on Tuesday, July 16.  It facilitated broadening public discussion on the issue through a panel of four speakers on the subject matter of "identity."
The four speakers at the event were Isaac "Tac" Aquino (Tokyo Interlopers), Motoko Rich (Tokyo Bureau chief, The New York Times), Tetsuro Miyazaki (Hāfu2Hāfu), and JAPAN Forward editor in chief Yasuo Naito. All shared personal stories of discovering themselves through multicultural interactions with people at different stages of their lives.
Hafu, Double, Foreigner, Japanese?
In a previous interview with Tetsuro Miyazaki, 41, he explained that the label hafu had differing connotations, depending on who you ask. In his talk, Miyazaki said society is taught at a young age that "there's only one correct answer." However, from his personal experience, when it comes to identity and the notion of belonging to a country the answer can be very difficult. Possibly there is no single correct answer, but rather multiple possibilities depending on who is "requiring" the answer.
This led to the creation of Miyazaki's photography book, where hafu participants directed the conversation by asking questions surrounding identity. Examples of the questions asked were: "Growing up outside of Japan, do you think you have an accurate image of Japan?" "How do you disconnect expectations people have of you from who you want to be?"
Tac Aquino, 39, has lived almost half his life in Japan, moving from the Philippines at the age of 21. He resigned from his corporate job to start Tokyo Interlopers, a social media movement uncovering the many voices of foreign nationals living in Japan.
Though some are not hafu or double by blood, all have experienced bi-cultural episodes in their daily lives. The participants claim they felt less lonely through the shared stories, finding reassurance that many others sympathize with their story, strengthening the cultural community.
Yasuo Naito, 55, explained his perspective as a deputy editor of The Sankei Shimbun and editor in chief of JAPAN Forward who has spent half of his career abroad in Russia, the United Kingdom, and the United States, among other places. His perspective differed from other speakers in that he focused on how Japanese are seen abroad instead of talking about the narrative of non-Japanese in Japan.
"When I was abroad, the Japan talked about in the international media was a bit different from the Japan that I know," he said.
However, the conversation did relate to identity and what it means to be Japanese, as he himself recounted episodes when he was considered "not Japanese enough."
Naito spent several years in Russia when he was young and attended local Russian schools. When he came back to Japan as a young adult searching for his first job, he was asked by an interviewer at The Sankei Shimbun, "Are you a communist?" The audience was thereby provoked to reflect on what it really means to be Japanese.
Motoko Rich, 50, for her part, spoke about her experience as a reporter of Japanese heritage who grew up mainly in the U.S. and then found herself back in Japan for her profession.
For Rich, the issue of identity spanned from her earliest childhood memories when she felt she was in a strange limbo where she was both called "gaijin" in the streets of Tokyo for her red hair, and "ching chong chang" in the U.S. for her Asian complexion.
Rich explained how this background to some extent has influenced the way she uncovers stories in her work as a reporter. She investigated new rising stars with mixed heritage like Naomi Osaka, Okinawa governor Denny Tamaki, and the Miss Universe Japan winner in 2015 Ariana Miyamoto. Her research culminated in a personal reflection piece called, "Naomi Osaka, A New Governor, and Me," published in October 2018.
Ultimately, when explaining what label she would use for herself, Rich concluded that she identified herself as "double" because "half implies being less than something, whereas we are a lucky privileged to be both."
A Conversation About a Different Japan
The event — including questions — engaged the audience and stimulated reflection on a variety of topics covered by the speakers on what it means to be different in Japan, how Japan will change going forward, and what can be done to change public attitudes.
Comments from the audience also spurred a discussion on the issue of terminology. On the thesis "Language is important," it was suggested that the "the first thing is to stop calling people gaijin (outsiders) and call them gaikokujin (foreigners)." The thought was that this would get rid of a word which has been considered almost a racial slur, and replace it with a non-racially based term that would, for example, include Japanese who now have foreign nationality.
On the other hand, it was pointed out that changing the labels themselves might not make the discrimination go away.
Referring back to the word "hafu," Tetsuro Miyazaki explained a brief spurt in which he had considered using the word "double" instead of "hafu." He said it didn't really ring a bell with his Japanese counterparts, who instead just seemed confused with the finesses of the language.
"I think the real problem is the "just" in front of "hafu," not the word "hafu" itself," he concluded.
The takeaway from the evening was perhaps best summarized by Yasuo Naito, who explained how people with mixed heritage or background "can work as translators for both cultures." 
He said: "I think that Japan will change, and that change is energized by those multicultural people. You are the driving force of the change in Japan."
About Social Innovation Japan (SIJ)
SIJ's mission is building Japan's largest and most diverse platform of change-makers.
SIJ works with entrepreneurs, nonprofits, governments, big business, and academia, breaking down silos and mobilizing people, providing them with the tools, information, and the networks they need to tackle real-world problems.
SIJ's founding team brings together a cross-sector with international experience and a deep commitment to an all-of-society approach to solving the greatest social, economic, and environmental challenges we face.
SIJ represents a rapidly growing community of individuals and organizations who share a common vision, with many dedicating their time and skills to shake things up and make good things happen.
Their slogan is: "Together, we are creating a movement for change from Japan, with the rest of the world." 
Author: Galileo Ferrari and Arielle Busetto