[SOCIAL WIRE] Japan Triumphs Over Spain in the FIFA World Cup, Moves to the Round of 16
Here's a look at what professional soccer players are saying about the Samurai Blue's dramatic come-from-behind victory over Spain in the FIFA World Cup.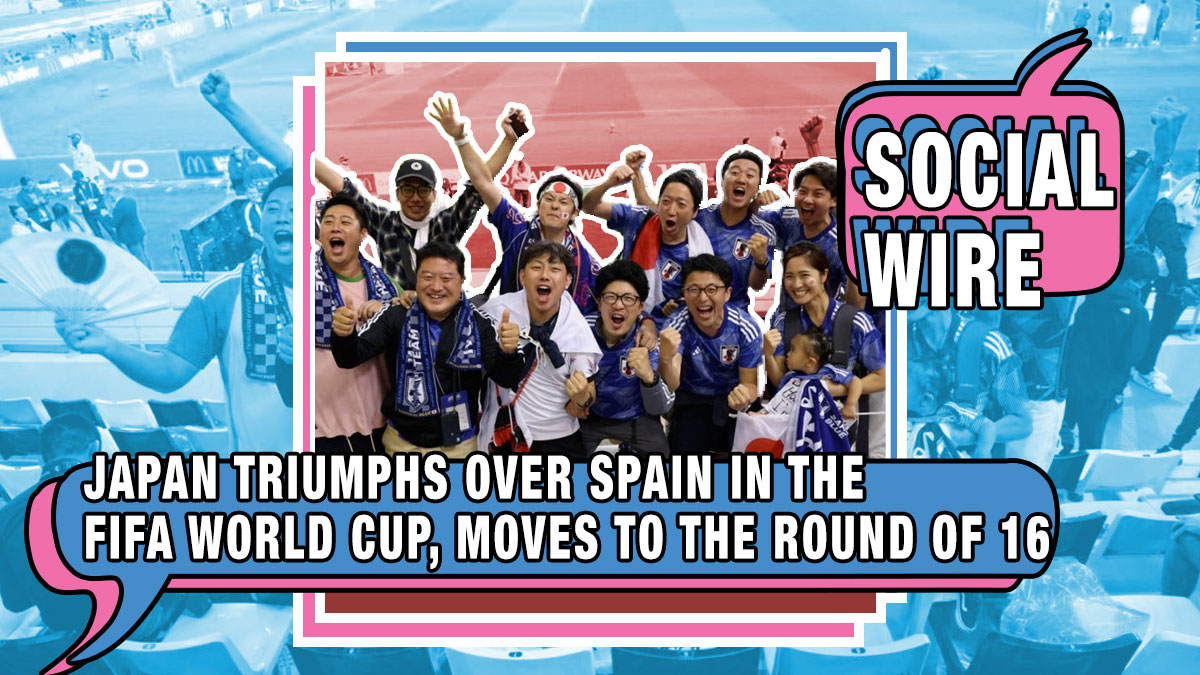 The Samurai Blue pulled off another come-from-behind victory in their last group game against Spain in the FIFA World Cup Qatar 2022.
The Japan national soccer team was in a do-or-die situation. A win would put it through to the knockout rounds, and a loss would end its FIFA World Cup campaign. Securing the win removed any possibility of it still being eliminated, subject to the result of the other Group E match between Costa Rica and Germany.
Super sub Ritsu Doan scored the equalizer in the early minutes of the second half. Reminiscent of his fine play against Germany a week earlier, this turned the momentum in favor of Japan. Moments later, Ao Tanaka found the back of the net again to take the lead and eventually win the game.
Japan's 2-1 win against Spain placed it on top of Group E and punched its ticket to the next round.
In the space of a week, the Samurai Blue have defeated two previous FIFA World Cup Champions in Germany (2014) and Spain (2010). Moreover, Japan is the first country from Asia to do so.
On Twitter, we look at how professional soccer players reacted to the epic come-from-behind victory.
歴史的勝利や✨✨

— 福西崇史 𝐓𝐚𝐤𝐚𝐬𝐡𝐢 𝐅𝐮𝐤𝐮𝐧𝐢𝐬𝐡𝐢 (@fukunishi_t) December 1, 2022
これだけは言わせてくれ。
日本代表凄いぞ‼︎
やってやろうぜ‼︎

— 槙野智章 (@tonji5) December 1, 2022
俺たちの日本代表が
またやってくれた!

みんなで新しい景色を見に行こう!!

— 中山雅史/ゴン中山⚽️🔥 (@gon_masashi) December 1, 2022
素晴らしい勝利‼︎

最高‼︎

— 中村憲剛 (@kengo19801031) December 1, 2022
チーム全員で掴み取った勝利!!
次もみんなで勝とう!!#WorldCup #Qatar2022 pic.twitter.com/fZeQtfGcQE

— 遠藤 航 (Wataru Endo) (@wataru0209) December 2, 2022
Bravo🤜🏻❤️‍🔥🤛🏻🇯🇵⚽️ https://t.co/TbORDpujDe pic.twitter.com/gMa1BbTsnx

— YUIKA SUGASAWA (@GaaaSuuu09) December 1, 2022
Japan 🇯🇵 #FIFAWorldCup

— Rio Ferdinand (@rioferdy5) December 1, 2022
日本おめでとう👏🎉

— Keisuke Honda (@kskgroup2017) December 1, 2022
こういう戦い方も出来るんじゃの。

たいしたもんよ。

— 木村和司 (@_kazushi_10) December 1, 2022
勝ったーーーーー🇯🇵

— 武岡優斗 (@yutotakeoka17) December 1, 2022
Magnificent!!!
🇯🇵🇯🇵🇯🇵🇯🇵🇯🇵
最高のチーム!まだまだここから!!@jfa_samuraiblue @FIFAWorldCup #worldcup #qatar2022

このグループ1位はすごいな… pic.twitter.com/Fpuwgg82K4

— シュミット ダニエル / Daniel Schmidt (@Daniel_MYE) December 2, 2022
付け加えました🎨
ロンドン冨安応援団👩‍👩‍👧笑 pic.twitter.com/WiG7jmGNOR

— Mana Iwabuchi 岩渕真奈 (@buchi_mana) December 1, 2022
勝ったぁぁぁぁぁぁあああ🔥!!!

— Yui Hasegawa/長谷川唯 (@maybe10_) December 1, 2022
激アツ!! https://t.co/eMCNlEIORh

— Takuhiro Nakai "Pipi"/中井卓大 (@pipirm8) December 1, 2022
きたぁ〜‼️
素晴らしい🤩🤩🤩

— Junichi Inamoto / 稲本潤一 (@inamoto17_j) December 1, 2022
興奮し過ぎて冷静に振り返っての話が出来ませんでした🙇

ブラボー🔥🔥🔥🔥🔥🔥

最幸な朝ですね✨ https://t.co/vxrOKxML8O pic.twitter.com/hWjVLjZjST

— 石川直宏 (@sgss18) December 1, 2022
日本ナイス。日本大好き🇯🇵❤ pic.twitter.com/NmnE6tBHJQ

— パトリック🇯🇵patric🇧🇷 (@patricaguiar) December 1, 2022
RELATED:
Author: Galileo Ferrari