[SOCIAL WIRE] Japan wins FIFA World Cup Opener against Germany
Professional soccer players are reacting to Samurai Blue's surprising win over former FIFA World Cup champions Germany. Here's what they have to say.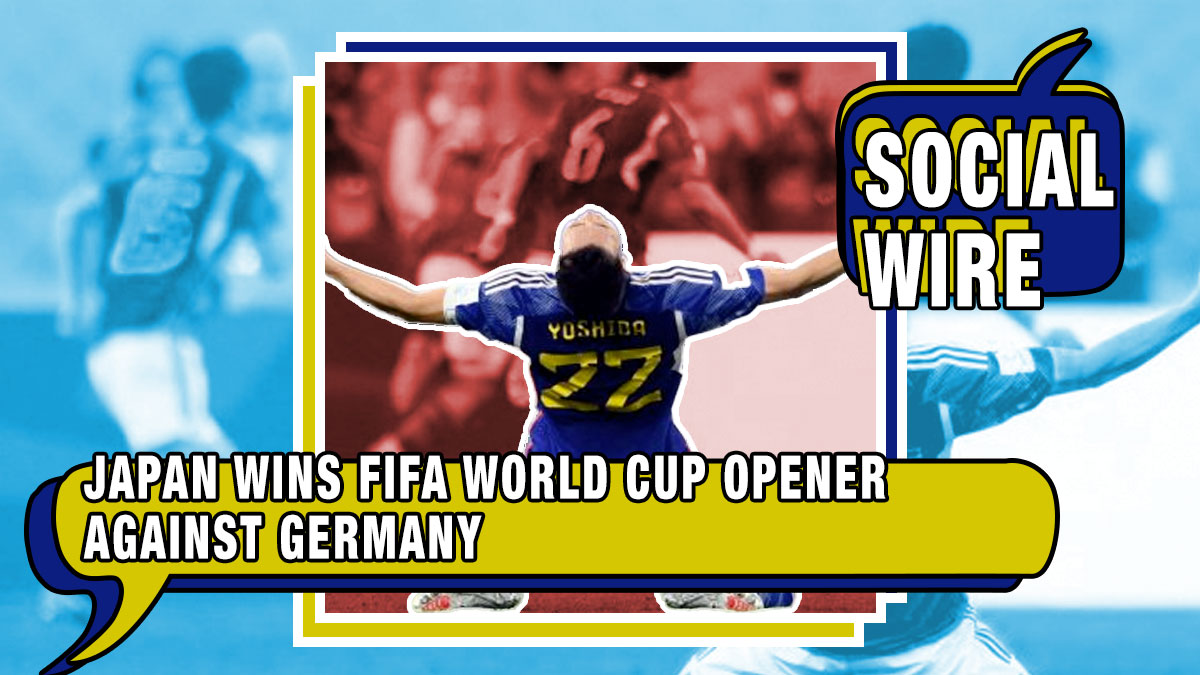 The odds were against them. But the Japanese national soccer team, better known as Samurai Blue, pulled out a magical win against former FIFA World Cup soccer champions, Germany.
After a 0-1 first half, team Japan head coach and mastermind, Hajime Moriyasu, made strategic changes to the lineup and formation in the second half. The result was a thrilling 2-1 win.
On Twitter, we look at how professional soccer players reacted to the historic come-from-behind victory.
あの場所で、俺たちの日本代表がやってくれた‼︎
ポイチ‼︎
おつかれさん!
次に向かおう‼︎— 中山雅史/ゴン中山⚽️🔥 (@gon_masashi) November 23, 2022
日本代表🇯🇵
素晴らしい勝利でした👏👏👏🙌🙌🙌

日本サッカー史に残る逆転劇‼︎

めちゃくちゃ興奮しました‼︎

森保監督、選手、スタッフのみなさんおめでとうございます‼︎

武藤嘉紀選手、豊原アナ、中川アナの4人で勝利お届けしました‼︎

ご視聴ありがとうございました‼︎#これは眠れない pic.twitter.com/VpRvBTVgFd— 中村憲剛 (@kengo19801031) November 23, 2022
BIG BIG WIN 🔥‼️
ドイツ戦応援ありがとうございました‼️
次も勝てるように良い準備していきます💪‼️#Qatar2022 #新しい景色を2022 pic.twitter.com/nC5lXav0Xo— 遠藤 航 (Wataru Endo) (@wataru0209) November 23, 2022
激アツ試合だった👏🏻 https://t.co/M2ybtGcaCd— YUIKA SUGASAWA (@GaaaSuuu09) November 23, 2022
Haiiiii😊😊😊 https://t.co/S8BI4bUfLE— MICHAEL OLUNGA (@OgadaOlunga) November 23, 2022
Japan 😱👏— Rio Ferdinand (@rioferdy5) November 23, 2022
明日からじゃない。今日から切り替えろ。— Keisuke Honda (@kskgroup2017) November 23, 2022
素晴らしい。— 木村和司 (@_kazushi_10) November 23, 2022
イータークーラー😍 https://t.co/sA8cXJjkCz— 武岡優斗 (@yutotakeoka17) November 23, 2022
最高🇯🇵🇯🇵🇯🇵@jfa_samuraiblue

Goose bumps!!!@FIFAWorldCup pic.twitter.com/U8azhWvnTB— シュミット ダニエル / Daniel Schmidt (@Daniel_MYE) November 23, 2022
サッカーさいこう!!! pic.twitter.com/GCZRI31UdH— 金山 基樹|ベガルタ仙台副務 (@kane__63) November 23, 2022
やったぁーーー!!!
ベンチの選手達も最高😆🇯🇵✨— Mana Iwabuchi 岩渕真奈 (@buchi_mana) November 23, 2022
わぁーーー😳😳
ラスト15分で筋トレへ向かいました。
逆転してました😳😱🫶
おっっっきい勝利ー🥹✨— Yui Hasegawa/長谷川唯 (@maybe10_) November 23, 2022
ベンチの選手がこーやって喜ぶ事って凄い大事っていうか、シンプルに凄い。
激アツでした!!! https://t.co/OPItPCmv3Z— Kumi Yokoyama/横山 久美 (@yoko10_official) November 24, 2022
RELATED:
Author: Galileo Ferrari