[SOCIAL WIRE] 'Thank You for All the Laughter': Japan Mourns Comedian Ken Shimura's Death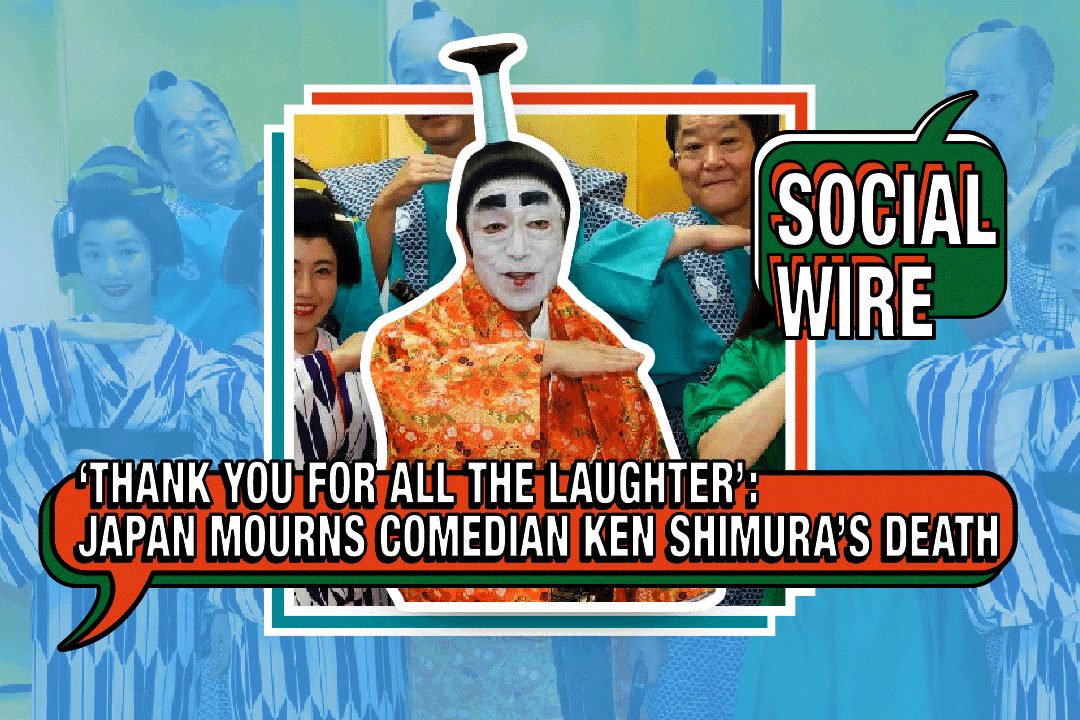 Veteran Japanese comedian Ken Shimura is the most famous person to date to have died from COVID-19, the disease caused by the novel coronavirus. His agency made the official announcement on Monday, March 30, that his death was confirmed on the evening of March 29. Shimura had been battling for his health over the preceding week since being admitted to a Tokyo area hospital.
Known for his various facial expressions and comical sounds drops, Shimura was also an advocate for animal welfare in Japan.
On Twitter, we look at how the nation reacted.
Yuriko Koike (Tokyo Metropolitan Governor)
To Japan's leading entertainer, Ken Shimura-san, I'd like to pay my respects again for your many accomplishments, and congratulate your life. The Tokyo Metropolitan Government should work in cooperation with the nation and not increase the number of deaths, we will give priority to the care of the critically ill and avoid the collapse of medical care, and will endeavor to end it with all our best.
日本を代表するエンターテイナー志村けんさんの多くの功労に改めて敬意を表しますとともに、謹んでお悔やみ申し上げます。

東京都としては国と連携し、死亡者を増加させないこと、重症者へのケアを優先し医療崩壊を招かないことに重点を置き、総力をあげて終息を目指し取り組みます。 https://t.co/FMDuNb8hJP

— 小池百合子 (@ecoyuri) March 30, 2020
Hirofumi Yoshimura (Osaka Prefecture Governor)
Ken Shimura-san, condolences from the bottom of my heart.
志村けんさんのご冥福を心からお祈り申し上げます。 https://t.co/yYjP6pYjy1

— 吉村洋文(大阪府知事) (@hiroyoshimura) March 30, 2020
Tomonori Jinnai (Comedian)
As a child, I laughed and fell in front of the TV. The very first time I learned the interesting and cool things about comedy without a shadow of doubt was your "Drifters". Condolences.
子供の頃TVの前で笑い転げていました。
一番最初にお笑いの面白さカッコ良さを教えてくれたのは
間違いなくドリフターズであり
志村けんさんでした。
御冥福をお祈りします。

— 陣内智則 (@jinnai_tomonori) March 30, 2020
Soso Takei (TV)
A very big sempai in the entertainment industry.
Condolences to Ken Shimura-san. I always wanted to appear in your Tensai! Shimura dobutsuen show. The segment on people living with animals, especially the lions and kids, was a dream of mine. I'm very sad, but one day, it'd be great if I can be in a show like that. I'll do my best to make something just as entertaining as that show.
エンターテイメント業界の大先輩
志村けんさんのご冥福をお祈りします
いつか志村どうぶつ園に出たいと思っていたんです、動物と暮らすコーナーにライオンの子供と暮らすのが夢だったので
残念だけど、いつか自分もあんな番組ができたらいいし、あんな素敵なエンターテイナーになれるよう頑張ろう

— 武井壮 (@sosotakei) March 30, 2020
YOSHIKI (Artist/Musician)
Depressing news from Japan has been reported. Ken Shimura-san, who I was together with on Kakuzuke. Condolences to you.
日本から悲しいニュースが届きました。#志村けん さんとは、以前 #格付け で共演させていただきました。心よりご冥福をお祈りいたします。 #RIP

— Yoshiki (@YoshikiOfficial) March 30, 2020
RENA (MMA fighter)
I was shocked and felt pain after I heard the news of Ken Shimura-san's death. He greeted me with a smile while shooting on set and made me feel relaxed and smile even though I was feeling nervous. Ken Shimura-san has given me a smile on my face ever since I was small. Condolences.
志村けんさんの訃報を聞いて、ただただショックで本当に残念でたまりません。
収録で一緒させていただいた時も優しい笑顔で接してくださって
緊張する私を笑わせてリラックスさせてくれたことを思い出します。
小さい頃からいつも私たちを笑顔にしてくれた志村さん
心からご冥福をお祈りします。 pic.twitter.com/pHBLS3sfcC

— RENA (@SB_RENA) March 30, 2020
Ken Mogi (Scientist)
When I was in the senior level in elementary school and Ken Shimura-san joined the 'zen-in shugo' show, suddenly it became really funny, things like the moustache dance, Higashi Murayama Ondo, Baka-dono, eikawa skits, I loved that kind of comedy that penetrated love for people and music. It's a frightening illness, Shimura-san's music has suddenly stopped. I'm sad. Condolences from the bottom of my heart.
ぼくは全員集合に志村けんさんが加入したとき小学校高学年。いきなりめちゃくちゃに面白くて、髭ダンスや、東村山音頭や、バカ殿、英会話コントなど、そのコメディを貫く人間愛と音楽が好きでした。恐ろしい病気で、志村さんの音楽が突然止まってしまった。悲しいです。心よりご冥福をお祈りします。

— 茂木健一郎 (@kenichiromogi) March 30, 2020
Genki Sudo (Politician, Musician, former MMA fighter)
Ken Shimura-san, this is so unfortunate. All we should do now is stop non-essential going out. Do things like wash hands, and gargle thoroughly. Condolences.
志村けんさん残念です。

今、僕らに出来ることは不要不急の外出をしない。手洗いうがいなどを徹底していくことですね。

ご冥福をお祈りします。

— 須藤元気 (@genki_sudo) March 30, 2020
Rie Tanaka (Former Gymnast)
Ken Shimura-san, I can't find words to describe (this feeling). I've loved you since I was a small girl. Condolences. I'll be okay. There's nothing else. Truly, take care.
志村けんさん…
言葉が見つかりません。
小さい時からずっと大好きだった…

御冥福をお祈り致します。

自分は大丈夫…はもうないですよ。
本当に気をつけましょう。

— 田中理恵 TANAKARIE (@Rie17mamumu) March 30, 2020
KENZO - DA PUMP (Musician/Artist)
Ken Shimura-san, condolences. I'll never forget the impact you made with entertainment. Rest easy.
志村けんさん
ご冥福をお祈りします。

沢山のエンターテインメントを作り影響を与えて頂いたことを忘れません。

ごゆっくりお休みください。

— DA PUMP_KENZO (@DAPUMP_KENZO) March 30, 2020
HIKAKIN (YouTuber)
Ken Shimura-san, My tears haven't stopped since this morning. Since I was small, our family watched your comedy, we recorded it on tape, watched it over and over again, and you're my favorite of all. Your impact on me made me want to make better funny faces. Thank you for all the laughter. Condolences.
志村けんさん。朝から涙が止まりません。小さい頃から家族で見るお笑いはいつも志村けんさんで、ビデオで録画して何度も何度も見る程1番大好きな芸人さんでした。自分が良くやる変顔も志村さんに影響を受けてのものです。沢山の笑いを本当にありがとうございました。ご冥福をお祈りします。 pic.twitter.com/qIszuTPcgE

— HIKAKIN😎ヒカキン 【YouTuber】 (@hikakin) March 30, 2020
Seikin (YouTuber)
Ken Shimura-san, I've watched you since I was little, the god of entertainment. Baka-dono, I always recorded it, and even until the videotape got worn out, I watched it so many times. A true genius. Condolences.
志村けんさん、僕が小さい頃からずっと見てきた笑いの神様でした。バカ殿、毎回録画してビデオテープがボロっちくなるまで同じのを何回も観てました。本当の天才。ご冥福をお祈りします。

— SEIKIN セイキン (@SeikinTV) March 30, 2020
Jero (Musician)
Since I was a boy, I always watched Ken Shimura-san's videos. I laughed all the time with my family. I'm glad we were able to meet and perform together. For that I'm very thankful. Shimura-san, rest in peace.
子供の頃から、アメリカでいつも志村けんさんの映像を拝見していました。家族と一緒にいつも笑わせていただきました。お会いできて、共演させていただけたのもとても感謝しております。志村さん、安らかにお眠りください。

— ジェロ (Jero) (@jeroenka) March 30, 2020
Mariko Shinoda (Former AKB48 member)
Ken Shimura-san, thank you for all the laughter and happiness. Condolences.
志村けんさん沢山の笑いと幸せをありがとうございました。

御冥福をお祈りします

— 篠田麻里子 (@mariko_dayo) March 30, 2020
Hitoshi Matsumoto (Comedian)
What a wonderful uncle (oji-san). Thank you.
素晴らしいおじさん。
ありがとうございました。

— 松本人志 (@matsu_bouzu) March 30, 2020
Related:
Japanese Comedian Ken Shimura Dies of COVID-19 Infection