[Speaking Out] Does Shizuoka's Governor Care about Japan's National Interest?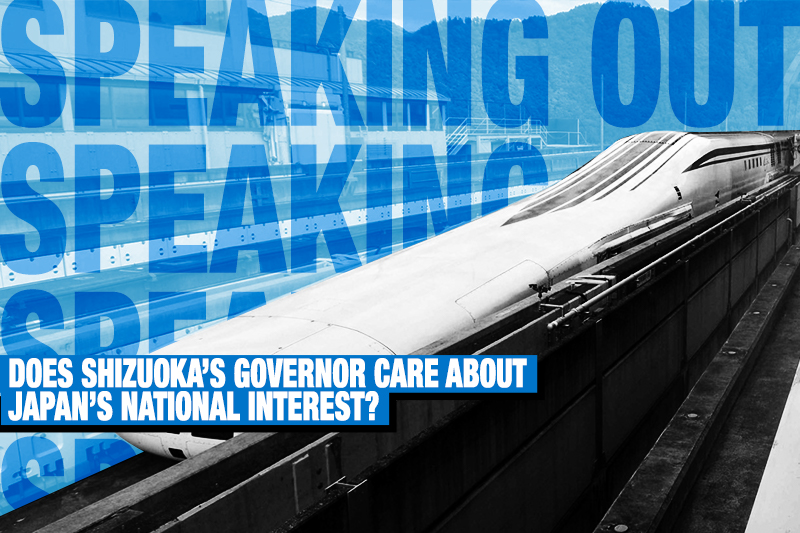 At a meeting with Central Japan Railway Co. president Shin Kaneko on June 26, Shizuoka Governor Heita Kawakatsu refused to approve the company's construction work for its planned Linear Chuo Shinkansen maglev railway line. The reason he gave was that the work could affect water resources in the prefecture.
Kawakatsu's refusal has made it difficult for the railway company to complete the super high-speed magnetically levitated train line between Tokyo and Nagoya on schedule by 2027.
RELATED ARTICLE AND VIDEO: Tokyo to Osaka in an Hour: Future Fastest Bullet Train to Create Mega-Economic Region
In the meantime, China has recruited some 30 Japanese engineers involved in the Linear Chuo Shinkansen project to develop its own maglev line. It plans a maximum speed for the Chinese version of the line at more than 600 kilometers per hour (against the fastest record of 603 kph for Japan's Linear Chuo Shinkansen), according a November 14, 2019, report by the China Daily, an English newspaper affiliated with the Chinese Communist Party.
China has acquired Japanese intellectual property on Japan's current Shinkansen bullet train technology and marketed the technology in the world, claiming that it has developed the technology on its own. If the Linear Chuo Shinkansen's completion is delayed due to the refusal by Governor Kawakatsu, China may commercialize and market Japan's maglev railway technology throughout the world ahead of Japan, cutting Japan's relevant international competitiveness.
Does Governor Kawakatsu recognize the gravity of such a possibility?
Agreement was reached in 2017 so why does Governor Kawakatsu now refuse to allow the project to proceed?
Central Japan Railway president and Shizuoka governor reached agreement in 2017 on high speed maglev Shinkansen
Maglev Technology Can Be Used vs Japan, Allies
A decline in Japan's international competitiveness is not the only problem. Super electromagnetics for the maglev train is a dual-use military-civilian technology. The technology can be applied to such alternative uses as cheap rapid-fire rail guns and electromagnetic catapults for aircraft carriers to launch aircraft.
One of my friends at the United States Central Intelligence Agency has cautioned that China acquired laser technology for next-generation missile defense methods, along with rail guns, through Japan-China academic exchanges.
As the first and second aircraft carriers of the Chinese People's Liberation Army (PLA) Navy use ski-jump ramps for launching aircraft, weapons and fuel aboard carrier-based aircraft are limited. If China uses an electromagnetic catapult adopted for the sophisticated U.S. aircraft carrier Gerald R. Ford, Chinese carrier-based aircraft would be armed more heavily to increase threats to forward deployed U.S. Navy and Air Force units as well as Japanese Self-Defense Forces.
Former Commander Yao Cheng of the PLA Naval Command, who has taken asylum in the United States, testified in 2019 that China stole advanced technologies from developed countries to dramatically improve automobile, aircraft, and other industries. He specified super electromagnetic intellectual property among such stolen technologies.
Related to these concerns, Toyota Motor Corp. has announced its intention to create a joint venture with Chinese companies for the development of fuel cell vehicles. However, we should remember that fuel cell technology transferred to China could also be used in engines for submarines that quietly cruise underwater without surfacing.
Are Environmental Impacts the Governor's Real Concern?
In September 2017, a basic agreement was reached on tunnel construction in Shizuoka prefecture for the Linear Chuo Shinkansen project. The participants included 11 water user organizations along the Oigawa River, Central Japan Railway Co., and Shizuoka prefecture. Their agreement was memorialized into a document.
Governor Kawakatsu had fully endorsed the Linear Chuo Shinkansen project at the time. His reluctance now is therefore viewed as a pitch to seek some returns to Shizuoka prefecture in exchange for its approval of the construction, rather than concern about the potential environmental decline from impacts on the Oigawa River.
The loss to Japan's national interest because of his opposition to the Linear Chuo Shinkansen construction, however, would be enormous.
(A version of this article was first published by the Japan Institute for National Fundamentals, Speaking Out #698 (Special), on July 8, 2020.)
Author: Fumio Ota
Fumio Ota is a senior fellow and a Planning Committee member at the Japan Institute for National Fundamentals. He is a retired vice admiral of Japan's Maritime Self-Defense Force.