Tokyo to Osaka in an Hour: Future Fastest Bullet Train to Create Mega-Economic Region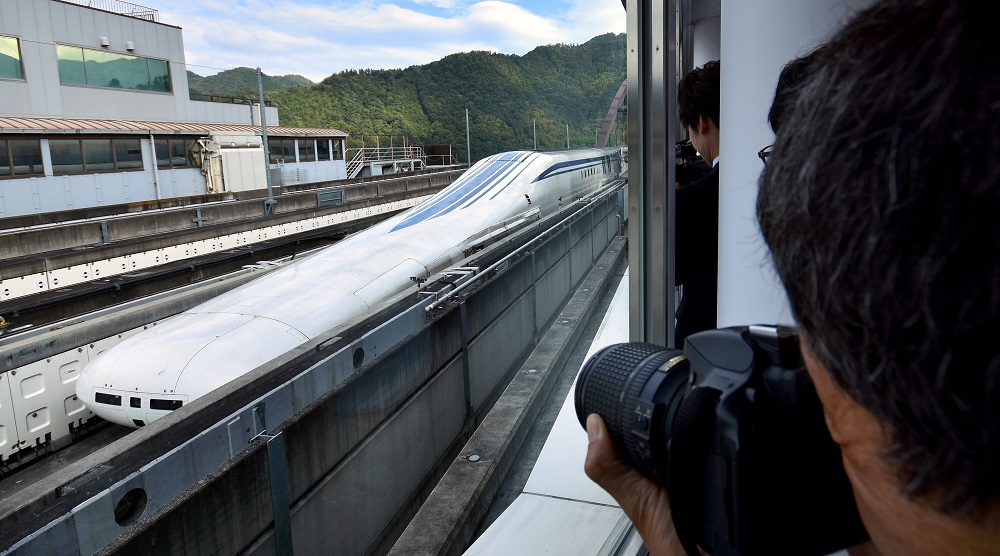 In the future, if you're in a hurry, you will be able to get from Tokyo to Osaka in less than 67 minutes, or stop in Nagoya in even less time.
JR Central featured its future fastest bullet train in a test-ride event on October 3 in Yamanashi Prefecture. Media taking part were able to experience the Superconducting Magnetically Levitated (SCMAGLEV) vehicle for themselves and imagine the future.
JR Central has released a film in English illustrating what daily life might be like in the future with the Linear bullet train. The Linear, as it is currently called, will open up between Shinagawa/Tokyo and Nagoya in 2027. Then it will extend to Osaka, with full operation expected in 2037.
The Japanese government has proposed a Super Megaregion Initiative for Japan's sustainable economic development as the county faces a depopulation problem. The Linear project is expected to help boost the flow of people and contribute to Japan's further economic growth.
At Yamanashi Linear Maglev Center in Tsuru City, Yamanashi Prefecture, the Linear vehicle drove forward, then accelerated to almost 150 kmph (93mph). Its tires were pulled into the bottom of the train as it reached around 150 kmph, and the train magnetically levitated 10 cm above the track. Right after that, the train surpassed over 500 kmph (almost 311 mph).
The project is a window into the future in which trains will levitate above their tracks by using SCMAGLEV technology, achieving a maximum speed of 505 kmph. The Linear construction project expects to realize connections between Tokyo's Shinagawa Station and Nagoya in 40 minutes, and Osaka in 67 minutes.
The full cost of construction connecting Tokyo and Osaka is projected to be around ¥9 trillion JPY ($82.7 million USD). It will take ¥5.5 trillion JPY ($50.5 million USD) to first build the SCMAGLEV infrastructure between Tokyo and Nagoya, according to JR Central.
Connecting the Tokyo, Nagoya, and Osaka regions by travel of merely an hour will give rise to a mega-economic region containing 65 million people, half the population in Japan. It is expected to contribute significantly to Japan's further economic development.
Passengers of Tokaido Shinkansen will also see the benefits of more convenient travel once the Linear's operation begins.
There will be six stations, one in each prefecture between Tokyo and Nagoya, except Shizuoka, which will be bypassed using a deep underground tunnel through the South Japanese Alps. The stations will be at Shinagawa (Tokyo), Kanagawa, Yamanashi, Nagano, Gifu, and Aichi (Nagoya).
Passengers riding on the Nozomi, currently the fastest bullet train of the Tokaido Shinkansen, would be shifted to the Linear. That will allow room to increase service on the Hikari Shinkansen, currently the second fastest bullet train, and the Kodama which stops at all stations. Eventually, Tokaido Shinkansen's passenger would have faster access to every Tokaido Shinkansen station from terminal stations such as Tokyo, Nagoya, and Osaka.
The impact of the Linear will be more than economic growth and new conveniences. It will also provide a buffer to help absorb the risks from disasters and conceivable security risks.
Of the route between Tokyo and Nagoya, 86% will be constructed underground through areas thought to have comparatively small tremors when earthquakes occur. In this, the new train system will help increase the transportation system's resilience against strong earthquakes and similar disasters.
The project plans to dig to a great depth underground, over 40 meters depth at some points in major metropolitan areas and underneath the Tokaido Shinkansen's existing rails, as well as below the Tomei Expressway connecting vehicle traffic between Tokyo and Nagoya.
Furthermore, the Linear tunnel construction has incorporated certain strengths in keeping with security policy. For example, there would be little opportunity for spying by surveillance airplanes or artificial satellites when looking down on the Linear railway, whether it is in use as public transportation or for the transport of police and security units.
Although the Linear comes with many advantages, JR Central and the Shizuoka local government have differing opinions regarding its impact on the environment. As a result, a full-scale construction in Shizuoka Prefecture has not begun.
JR Central, the Shizuoka prefectural government, and the national Ministry of Land, Infrastructure, Transport and Tourism (MLIT) have agreed to meet in an effort to improve understanding and overcome remaining differences.
MLIT Minister Kazuyoshi Akaba, speaking at the regular press conference after the November 22 Cabinet meeting, said that the Linear Shinkansen operation between Tokyo and Nagoya would be completed as scheduled in 2027.
Construction is progressing in all areas, except Shizuoka. A groundbreaking ceremony for one of the Linear stations also on November 22 was held onsite in Sagamihara City, Kanagawa Prefecture. Work on the station is expected until the end of March 2027. Other terminal stations, such as the Shinagawa terminus station, have been under construction since 2016.
Author: Mizuki Okada