What's Causing Unusually Heavy Rain in Japan?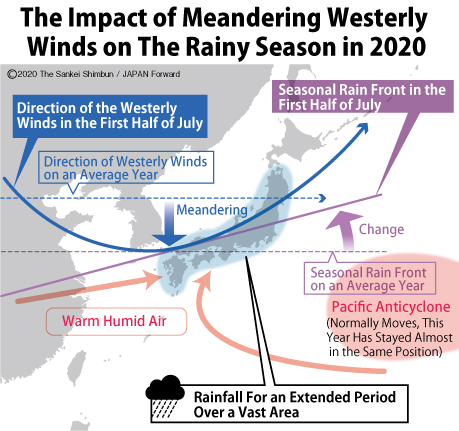 Heavy rain has been falling continuously in Kyushu in Southern Japan, as well as Central Japan, for over a week. Why has this happened?
RELATED STORY: PHOTOS | From a Helicopter, Northern Kyushu Seems Just Like a Sea of Mud
The Japan Meteorological Agency (JMA) stated on July 10 that the record-breaking downpour accompanying the seasonal rain front may have been caused by the southward meandering of "westerly winds" — which typically blow from west to east across Japan. This particular phenomenon is unlikely to change for the time being, and the seasonal rain front stagnation is expected to continue.
The JMA added that the end of the rainy season in Western Japan, which normally occurs in mid- or late-July, could be delayed this year.
How Wind Direction Changes the Rainy Season
According to the JMA, there were areas in Kyushu, Shikoku, and the Kinki regions of Japan where the amount of rainfall over an eight-day period from July 3 to 9 A.M. on July 10 exceeded 1,000 mm. Across the Kyushu, Shikoku, Kinki, Koshin, and Tokai regions, the amount of rainfall in that week alone was two to three times higher than that for the whole of July in an average year.
"It is unusual for rain to keep falling for this length of time across such a wide area," a JMA official said.
According to a JMA information center that specializes in abnormal weather, the main cause of the heavy rain is the meandering westerly winds.
Usually, westerly winds blow from west to east, from the Chinese mainland to Japan. But in early July, those winds meandered southward near the Korean Peninsula. As a result, the seasonal rain front, which is usually shaped in an east-west fashion, changed to a south-north one over the line of the Japanese archipelago.
The seasonal rain front, which typically only crosses part of Japan, covered a much wider area across the Japanese archipelago this year, resulting in rainfall across vast regions of Japan.
The stagnation of the ongoing meandering of the westerly winds is thought to be the reason so much rainfall has accumulated.
The Role of the Pacific Anticyclone
The Pacific anticyclone is also playing a role. There has been continuing cloud activity near tropical zones that drive the Pacific anticyclone, such as the Indian Ocean.
In an average year, the anticyclone gathers strength, thereby pushing the seasonal rain front northward and ending the rainy season. However, this summer, the anticyclone has stayed in virtually the same position.
While experts believe this may be a factor in the stagnation of the Pacific anticyclone, the abnormal weather specialists at the JMA information center have not yet confirmed this.
(Click here to read the original story in Japanese.)
Author: Sankei Shimbun