[Speaking Out] Why Would Kim Jong Un Fire A Key North Korean Workers' Party Official?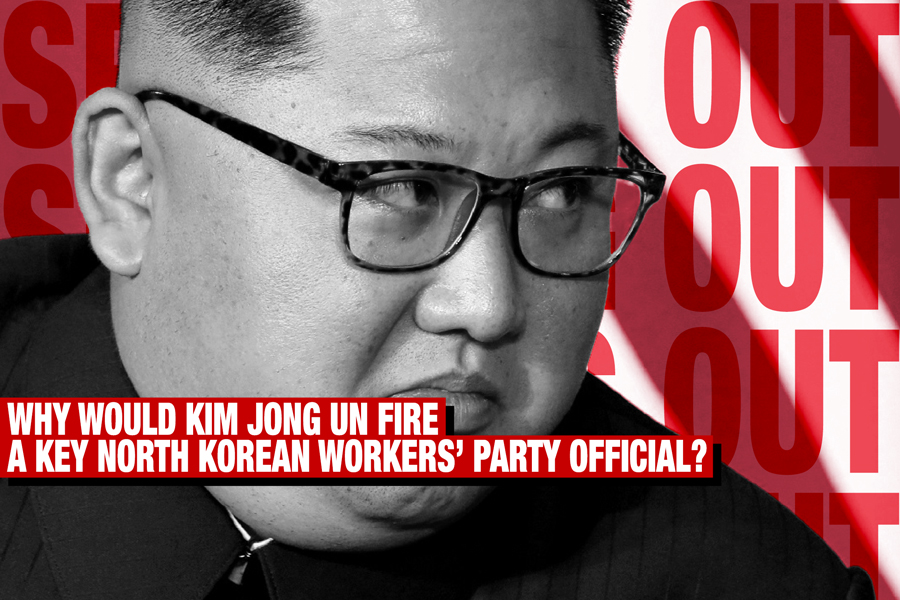 An incident as big as the execution of North Korean leader Kim Jong Un's uncle Jang Song Thaek in December 2013 occurred at the center of power in Pyongyang in February 2020. The powerful director of the Organization and Guidance Department of the Korean Workers' Party (KWP) was fired at an open meeting.
This year, on February 28, North Korean official media uniformly reported the dismissal of Organization and Guidance Department director Ri Man Gon, as well as KWP vice chairman in charge of agriculture Pak Thae Dok. North's Korean Central Television (KCT) showed Ri attending the meeting. The fourth person from left in the front row was desperately taking notes on Korean Worker Party Chairman Kim's remarks. Some North Korean defectors in Seoul said that Ri had been executed.
Rumored Execution of Ri
The KWP Organization and Guidance Department, called the core of the party, has powerful authority over the following five matters:
1. To shuffle senior party, military, security, and government officials of director-general level or above;
2. To guide people's political life through overseeing weekend meetings of the entire public for self-recrimination and mutual recrimination;
3. To conduct thought censorship leading to the purging or dismissal of those with bad thoughts;
4. To check all policy proposals before they are presented to Chairman Kim;
5. To guard Chairman Kim and provide his personal supplies.
The open dismissal of such powerful department heads represents something unusual.
As director of the KWP Military Industry Department, Ri had taken charge of three nuclear weapons tests and 40 ballistic missile tests in 2016 and 2017. Getting credit for these achievements, he was named first deputy director of the Organization and Guidance Department in 2018 and director of the department in April 2019.
According to official media reports, Ri was dismissed for anti-KWP acts, including ascendancy, privileges, bureaucracy, and corruption. All are problems that emerged among KWP Central Committee cadres and activists of the KWP leader training organization.
Although specific details have not been revealed, the party leader training organization is said to be the Kim Il Sung Higher Party School. The party leader training base committee was dissolved for corruption, reports said, indicating that the school had been dissolved. This is an unprecedented event.
Dictator Forced Into A Corner
As the center of power, the Organization and Guidance Department shares a common destiny with Chairman Kim. Therefore, the department consists of only those loyal to the leader.
The department's leadership collects massive bribes over appointments and purges. However, no corruption in the department had been unveiled. This is because the department is positioned to check other KWP divisions without being checked.
At a general meeting of the KWP Central Committee in December 2019, Chairman Kim's younger sister, Kim Yo Jong, was named first deputy director of the Organization and Guidance Department. Insider information suggests that, since around 2017, Kim Yo Jong has been assigning her aides to the Organization and Guidance Department with the aim of effectively taking control of the department.
Factors behind the latest dismissal are unknown as of this moment. Whatever the factors, however, Chairman Kim lost confidence in the director of the Organization and Guidance Department, who had been positioned as his closest aide.
Undoubtedly, the dictator has been forced into a corner due to the depletion of his secret funds under the pressure of international economic sanctions, the new coronavirus epidemic, and other supply shortages and price spikes caused by the closure of the border with China. In addition, his own health is deteriorating.
A version of this article was first published by the Japan Institute for National Fundamentals, Speaking Out #660 (Special), on March 5, 2020.
Author: Tstutomu Nishioka
Tsutomu Nishioka is a senior fellow and a Planning Committee member at the Japan Institute for National Fundamentals and a visiting professor at Reitaku University. He covers South and North Koreas.