International Women's Day: 2020 JAPAN Forward Reading List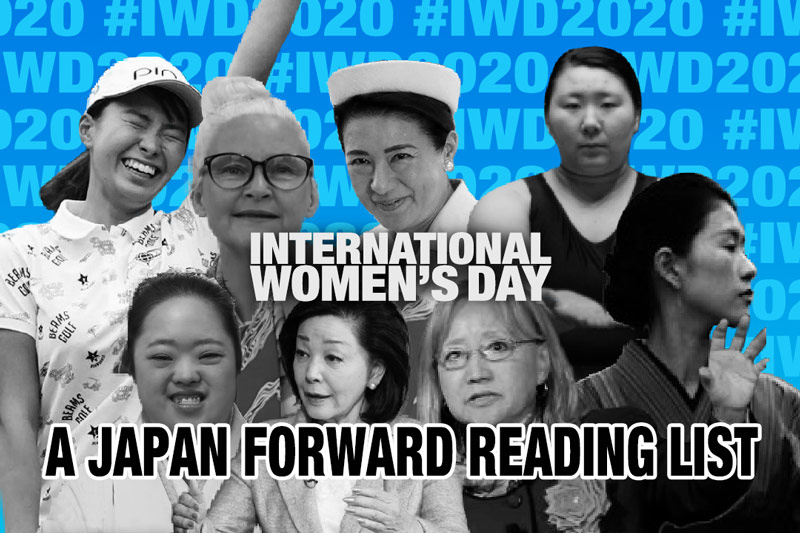 International Women's Day (IWD) recognizes the social, economic, cultural, and political achievements of women. Annually celebrated on March 8, the day also marks a call to action for accelerating gender parity.
According to the IWD website, the theme for 2020 is #EachforEqual: "An equal world is an enabled world. How will you help forge a gender equal world? Celebrate women's achievement. Raise awareness against bias. Take action for equality."
JAPAN Forward would like to reintroduce you to women and girls who are champions in their fields, and who have inspired us with their stories.
EMPRESS MASAKO-SAMA
At a young age, Masako-sama lived in Moscow and New York with her parents, and then moved back to Japan when she was eight. Masako-sama is fluent in English, German, and French, and graduated from Harvard University with a B.A. magna cum laude in economics. After returning to Japan, Masako-sama studied law at the University of Tokyo and was among three women who passed the Japanese Ministry of Foreign Affairs entrance exam. Masako-sama reigns Japan as the Empress, and is the mother of one daughter, Aiko-sama.
Stories Related to Empress Masako-Sama:
SHOKO KANAZAWA, Calligraphy Artist and Philanthropist
Shoko Kanazawa is the most famous calligrapher in Japan, and she may even be the most famous calligrapher in the world. Ironically, she may not even know this achievement. Kanazawa has written three Kanji of the Year with JAPAN Forward, and her second piece for 2019, "Prayer," was donated to Kumamoto University, which suffered earthquakes and landslides in 2016.
Stories Related to Shoko Kanazawa:
YOSHIKO SAKURAI, Journalist and President of the Japan Institute for National Fundamentals
Yoshiko Sakurai is a pillar in Japan regarding progressive action, particularly in governmental affairs. A journalist by profession, Sakurai established the think tank Japan Institute for National Fundamentals in 2007 with the view of re-addressing fundamental issues that Japan faces.
Stories Related to Yoshiko Sakurai:
HIYORI KON, Female Sumo Wrestler
The key protagonist in the Netflix short documentary, Little Miss Sumo, Hiyori Kon is pioneering a movement in sumo wrestling equality in Japan, where she hopes to establish a professional level for female sumo competition. Kon, originally from Aomori, graduates from Ritsumeikan University in the faculty of International Relations in the spring of 2020, and will be entering a company where she will be part of the sumo team. It's the first time a woman will be accepted into the company team.
Stories Related to Hiyori Kon:
SHEILA CLIFFE, Kimono Researcher, Author, Stylist
Sheila Cliffe was born in Plymouth, England, in 1961, and relocated to Japan in 1985. She graduated from Suzunoya Kimono Gakuin and received a special award from Minzoku Ishou Bunka Fukyuu Kyoukai for her work in spreading kimono culture. Cliffe wears kimono regularly, and has earned a PhD in the study of kimono trends. She studied kimono fabric dyeing under Sassa Reiko, and teaches kimono culture and dressing.
Cliffe has spoken in Japan and in many other countries on kimono culture, and has published a book and articles in many journals. She has worked tirelessly in events in Japan and abroad to increase cultural understanding of Japan through spreading knowledge of kimono culture around the world.
Stories Related to Sheila Cliffe:
MICHIKO YUSA, Professor of Japanese Thought and Intercultural Philosophy
Professor Yusa is highly regarded for her extensive, in-depth studies of philosophy and the Buddhist or Zen Buddhist thoughts of Kitaro Nishida (1870-1945) and Daisetz T. Suzuki (1870-1966). Yusa is also recognized for having introduced the two influential Kanazawa-associated figures, their ponderings and accomplishments, to a broad international audience.
Yusa is the winner of the 2nd Kanazawa University International Award in Commemoration of Daisetz T. Suzuki and Kitaro Nishida (KUI), and is recognized internationally for her prominent academic accomplishments in the study of the philosophies of Daisetz T. Suzuki and Kitaro Nishida, two of the most prominent philosophers and thinkers of modern Japan.
Story Related to Michiko Yusa:
HINAKO SHIBUNO, Japanese Professional Golfer, Reigning Women's British Open Champion
Nicknamed the "Smiling Cinderella," Hinako Shibuno won her first international tournament by taking the cup at the Women's British Open at the age of 20. All the more astonishing to golf fans in Japan and overseas was the fact that it had only been a year since Shibuno qualified as a professional. Her infectious smile has also won her fans throughout Japan, and all of the world.
Stories Related to Hinako Shibuno:
SUZUKO HIRANO, Actress, Model, and Hong Kong Supporter
Suzuko Hirano, 25, is a theater actress and kimono model living in Chiba prefecture. She has trained in Japan's traditional arts of urasenke chado (Japanese tea ceremony), ikeno ikebana (Japanese flower arranging), garaku (Japanese imperial court music), and ryuteki (Japanese flute) performance. Hirano claims she was just a regular person, but on June 13, she felt moved to do something about the dire situation in Hong Kong, found herself taking part in a protest for Hong Kong. For several weeks, Hirano led more protests and gave encouraging speeches in Japan. "To everyone in the world: stand up and fight, for freedom, for the next generation."
Story Related to Suzuko Hirano:
Tokiwamatsu Gakuen Dance Team
Inspired by Malala Yousafzai, the youngest recipient of the Nobel Peace Prize in 2014, Tokiwamatsu Gakuen dance team's performance at the 12th All-Japan High School Super Cup Dance Stadium in 2019 got the attention of many in attendance. The dance team began with the words, "We are Malala!" Then they danced with all their heart and soul, depicting Malala's indomitable spirit. Tokiwamatsu's team took on the challenging theme of the importance of independent thought and the freedom to express and communicate, regardless of age or gender.
Story Related to Tokiwamatsu Gakuen Dance Team:
Author: Galileo Ferrari, JAPAN Forward