Swords of Kyoto: A Special Exhibition of Master Craftsmanship from An Elegant Culture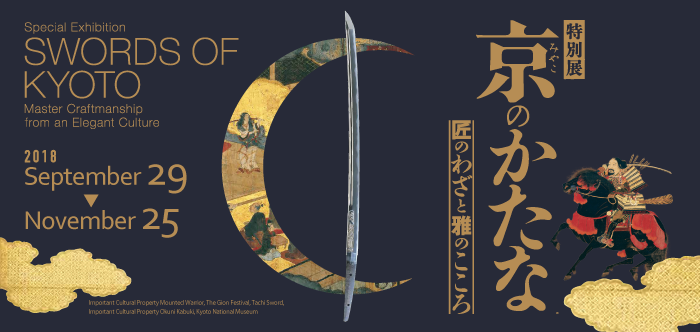 A spectacular new sword exhibition has opened at Kyoto National Museum. The exhibition focuses on the sword culture of Kyoto from its earliest origins of sword making through to the last modern sword maker to work in the Yamashiro (Kyoto) tradition.
The exhibition features 17 National Treasure swords and other swords with cultural designations, such as Important Cultural Object and Important Art Object. There is a changeover of some of the swords at the mid-point of the exhibition in late October.
Kyoto was the seat of the imperial court from the start of the Heian period in 794 through the restoration of power to the Emperor in 1868. It is only natural that such an area would attract the highest level of swordsmiths and develop a rich history of sword making.
The large-scale exhibition and the gorgeous accompanying catalogue is broken into easily digestible sections that explain the historical and cultural influences that Kyoto swords and sword making had on the Japanese sword world.
Exhibition curator Toshihiko Suekane said that he "did not want to delve too deeply into the finer details of the swords themselves, but illustrate the great influence that Kyoto swords had on sword making as whole, and tell the story of the relationship between swords and the people of Kyoto."
The exhibition starts with works of the earliest Kyoto swordsmiths, Sanjo Munechika and his school. It flows along the Kyoto sword making time line, introducing many excellent examples of works by the Awataguchi and Rai schools, as well as satellite schools and smiths.
There are several examples of swords that are said to be made, or at least quenched, by the first Emperor of the Kamakura period, Gotoba. Emperor Gotoba is said to have surrounded himself with the best swordsmiths of the day. The swordsmiths invited to work on the grounds of the imperial palace were known as the Go-bankaji, as they worked in monthly rotation assisting him in making swords. This Kyoto sword story has become a legend fundamental to sword history.
The exhibition includes a section on swords and the townspeople of Kyoto, and how swords and their relationship to shrines and festival played a large part of Kyoto culture. On display are a sword and naginata that were used as part of the floats in the famous Gion Festival that has a history of over 1,000 years.
There is also a painting by Ito Jakuchu that is symbolic of the Fushimi Gimin incident, when swordsmith Monju (Kusuke) Kanemitsu led an peasant uprising against local magistrates and became a martyr when he died in jail.
This is a rare chance to see so many legendary and great works by so many great swordsmiths at one time, with the additional bonus that all have English explanations. The museum store also has some interesting gifts of large-sized prints and drawings of famous masterpiece swords. These too are a rarity for sword enthusiasts.
It will be quite a while before we see another sword exhibition that showcases as many of Japan's finest treasures as this one.
Where:
Kyoto National Museum, Heisei Chishinkan Wing
When: September 29 to November 25, 2018
Hours: 9:30 A.M. to 6:00 P.M. (entrance until 5:30 P.M.); Fridays and Saturdays 9:30 A.M. to 8:00 P.M. (enter by 7:30 P.M.)
Days: Closed Mondays, but open on Monday October 8 and closed on Tuesday October 9.
Entrance fee: Adult JPY1,500 (JPY1,300) University Student JPY1,200 (JPY1,000)
High School Student JPY700 (JPY500)
Admission is free under middle school students. *(Fees in parentheses for groups of 20 or more)
For more information: https://www.kyohaku.go.jp/eng/special/tenrankai/katana_2018.html
Author: Paul Martin