Ten 100 Yen Store Items That Will Make Your Life Easier
April marks a new start in Japan, especially for students and employees. Here are our 100 yen store picks to make life a little easier during this hectic time.
It doesn't take a lot of money to make your life easier, and that's important if you're living on a tight budget. Here are some of our favorite 100 yen store finds.
1. Pasta Cooker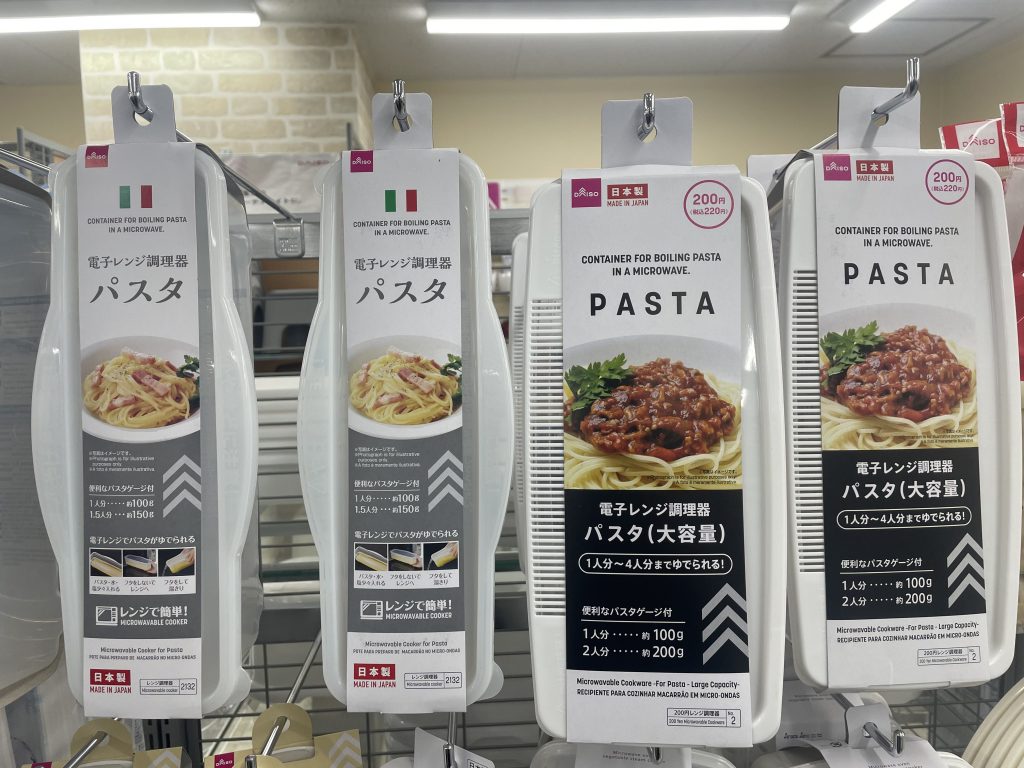 The all-time favorite of 100 yen store lovers. Instead of lugging a heavy pot of water and waiting for it to boil, this Tupperware-like cooker will cook your spaghetti in the microwave while you chill out.
How do you use it?
Add pasta and water to the cooker. Measure using the markings.
Place in the microwave without the lid and heat according to directions.
Remove from the microwave, add the lid, and strain out the water from the slits.
Price (tax included): ¥110 JPY (about $0.8 USD) for 1-1.5 people, ¥330 JPY for 1-4 people.

2. Magnetic Containers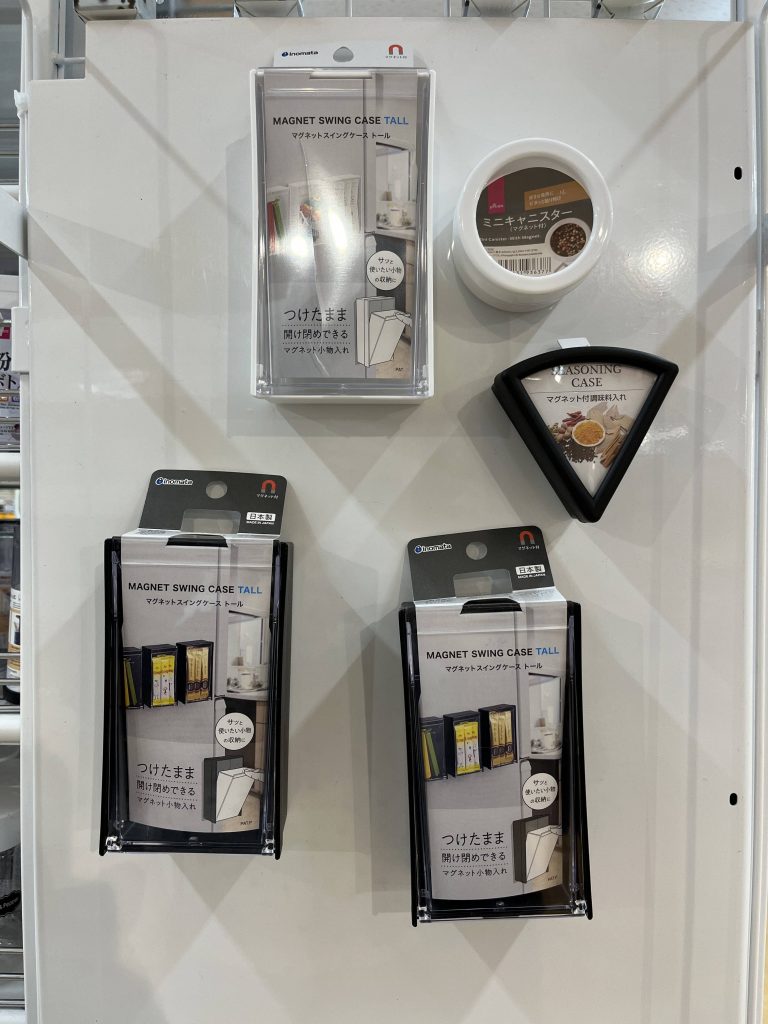 How wisely you can use the space in your apartment can dramatically improve your quality of life. This is especially true if you live in a high-rent urban area like central Tokyo.
100-yen shops offer containers of various shapes and sizes. Some can be used as spice racks, while others can hold creamer packets, bag-sealing clips, or other small kitchen items that tend to get lost in the abyss. Keeping things off your kitchen countertop will also make cleaning easier.
How do you use it?
Make sure you know which way the container opens.
Put in whatever is suitable for the container's shape and size.
Attach to magnetic surfaces, like your fridge.

3. Rotary Vegetable Strainer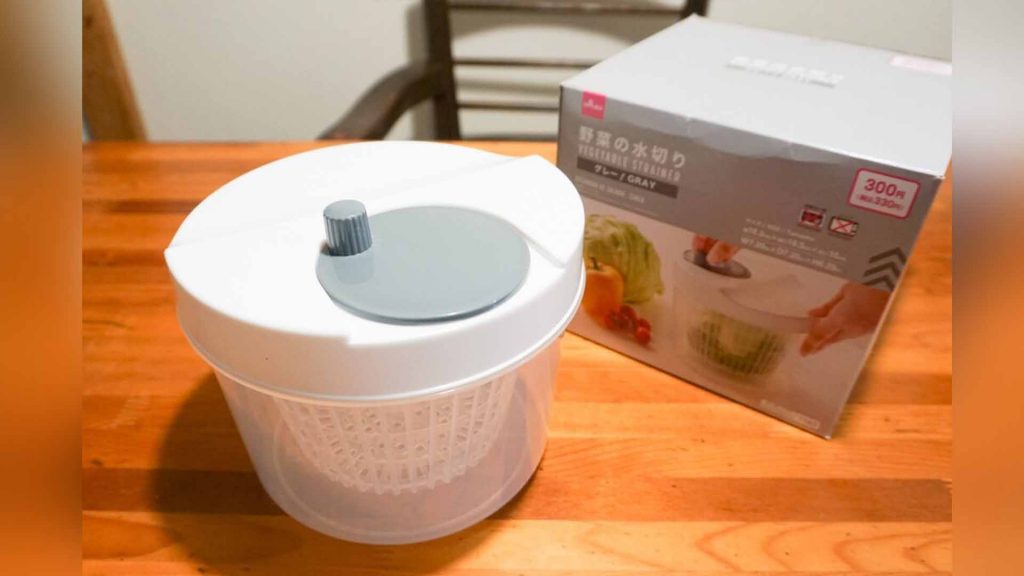 Unlike a traditional strainer, this vegetable strainer rotates, using centrifugal force to remove excess water. It can be used for vegetables like leafy greens to fruits like grapes and strawberries.
How do you use it?
Wash the vegetables or fruits.
Open the lid and place the vegetables or fruits into the strainer, but don't overload it.
Close the lid and turn the handle.
Price (tax included): ¥ 330 JPY

4. Pump Refill Bottle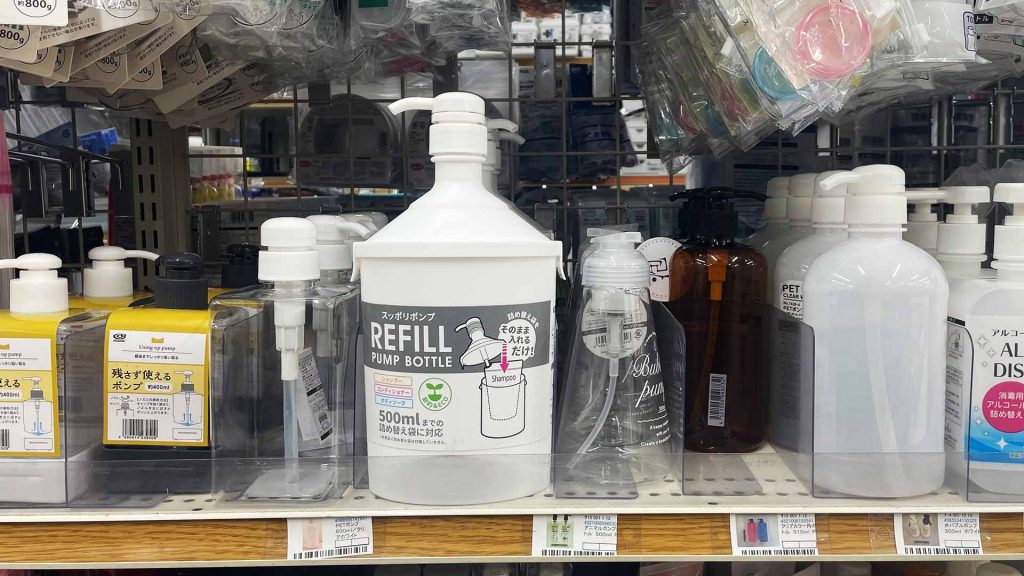 Many household products in Japan come in small, single-refill packaging that quickly accumulates waste. By using larger pump refill bottles, you can reduce waste and save money by getting larger refill packs of products such as shampoo, conditioner, and body wash.
How do you use it?
Unscrew the pump head.
Pour the liquid product into the bottle, leaving some space at the top for the pump to fit back in.
Screw the pump back on.

5. Push Vegetable Cutter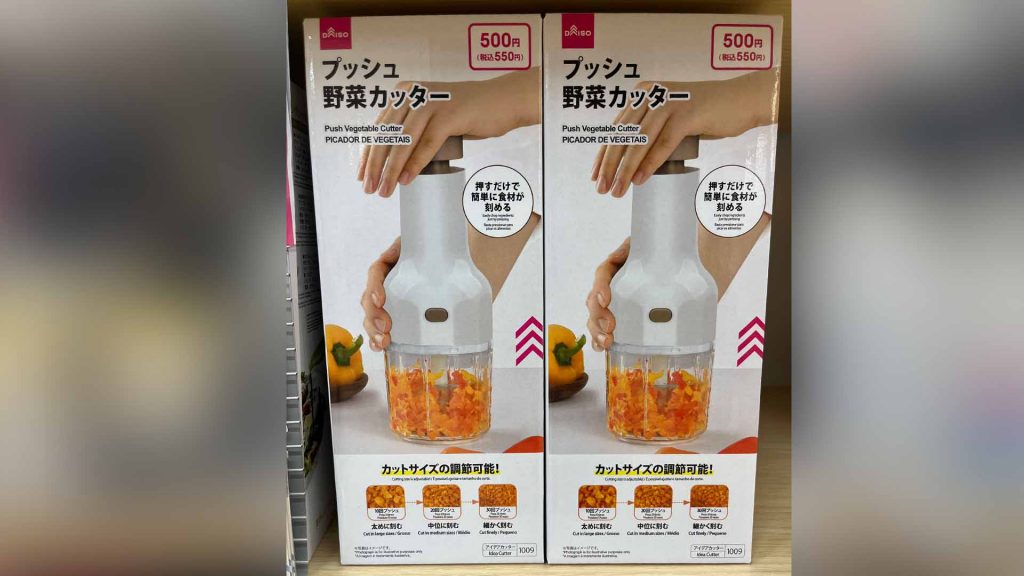 A convenient kitchen gadget for anyone looking to save time and space in the kitchen without compromising on performance. Its simple design and sharp blades make slicing and chopping vegetables easy. It takes up little counter space, so it's perfect for small kitchens.
How do you use it?
Cut the vegetable into a size that will fit into the cutter, usually about 4-5 inches (10-12 cm) long.
Place the vegetable inside the cutter and close the lid.
Make sure the handle is firmly pressed and keep pushing until the vegetables are chopped to your preference.
Price (tax included): ¥550 JPY

6. Spiral Hanger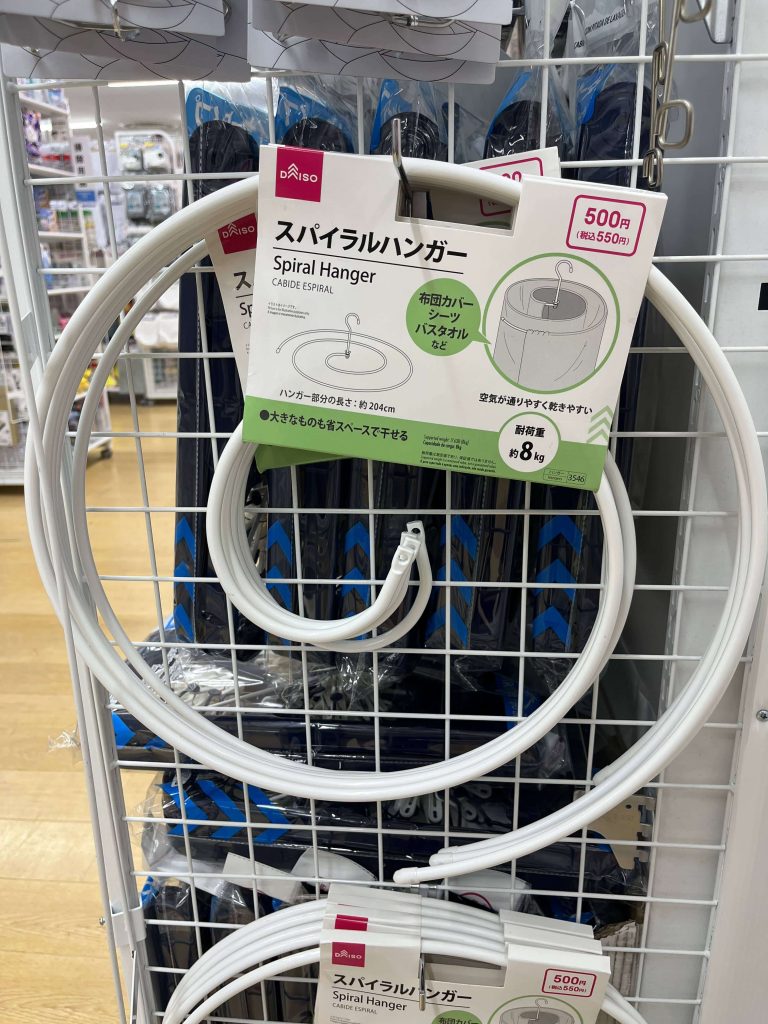 Do you ever find that your standard clothes hangers are too small for large towels and bed sheets? The towels can't be fully stretched out, and the overlapping layers stay damp and start to stink. But the spiral hanger's genius design allows pockets of air to flow around the cloth, allowing it to dry evenly.
How do you use it?
The hanger can hold up to 8kg (18 lbs).
Price (tax included): ¥550 JPY

7. Vegetable Steamer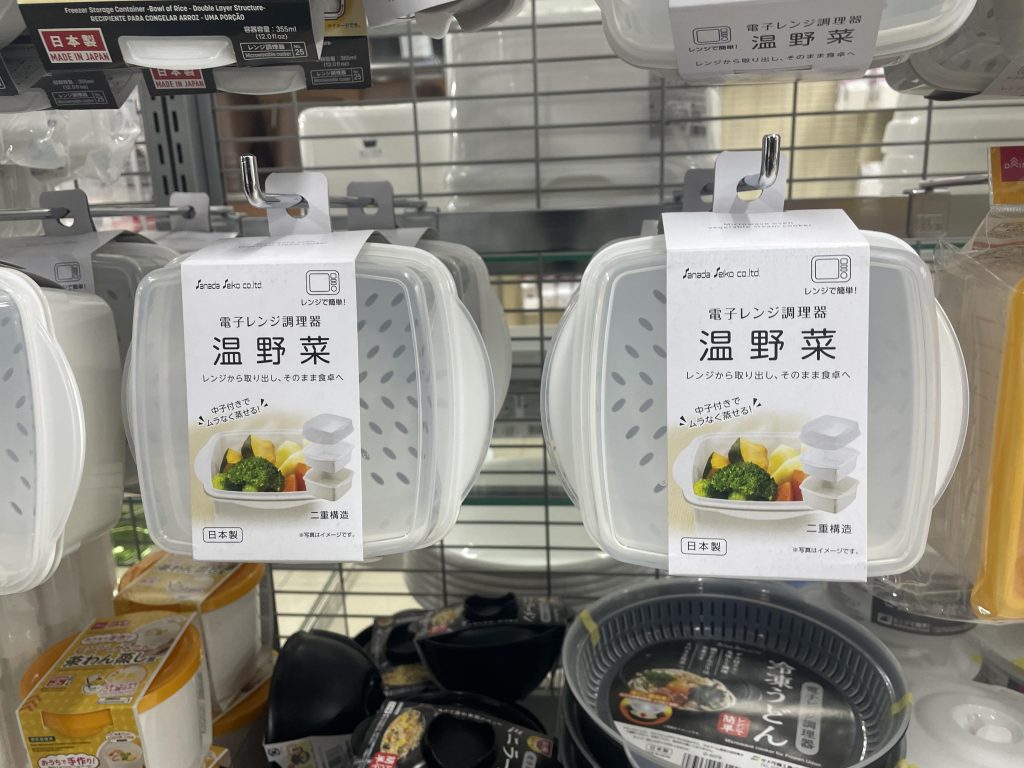 Studies show that some vegetables retain more nutrients when steamed rather than boiled.
This little steamer only requires a microwave and a small amount of water. By eating straight from the steamer, you'll also have fewer dishes to wash.
How do you use it?
Put some water into the steamer
Place cut vegetables on the strainer part of the steamer
Microwave according to package instructions.

8. Mini Cutting Board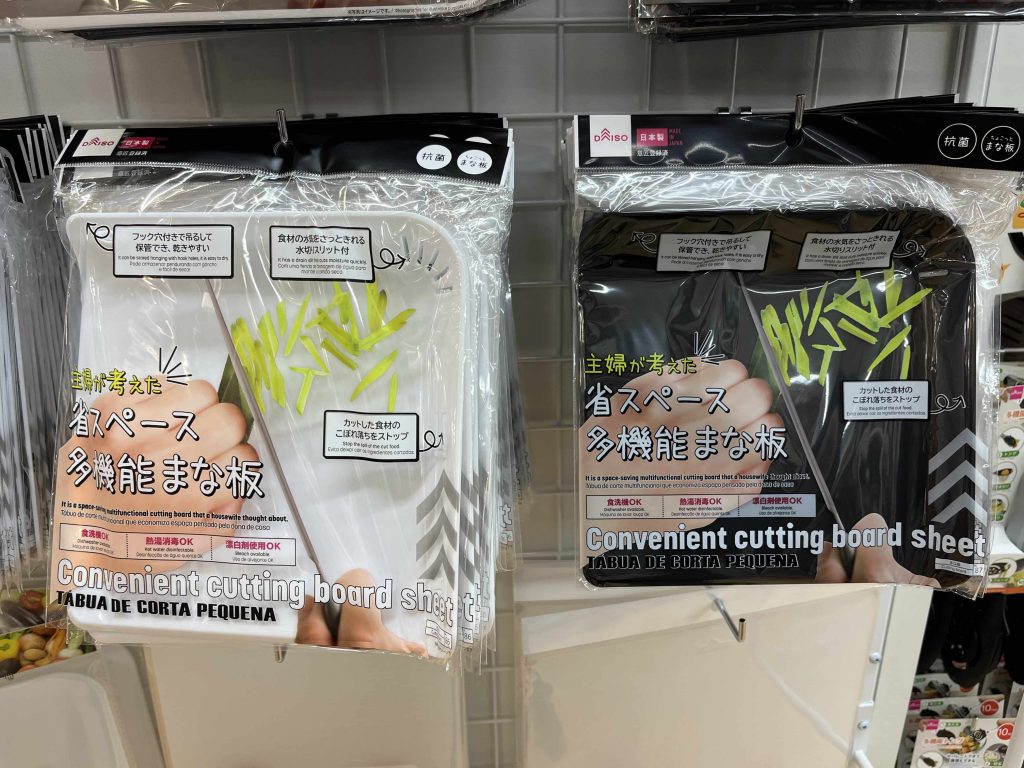 Another space saver! It has ridges to keep chopped-up food from spilling, slits to drain any water or juices, and a hole for hanging dry after washing. It is also dishwasher safe and can be disinfected with boiling water.
How do you use it?
Chop away, but watch out for your fingers!

9. Wall Pockets
An excellent way to add additional storage without taking up valuable floor space. Living spaces in urban Japan can be relatively small, and you need to make the most of every inch. It can help you stay organized by providing a designated spot for your essentials, such as mail, keys, or documents.
How do you use it?
Choose a suitable location on the wall to hang the pockets. Make sure it's a flat, easily accessible surface.
Hang the wall pockets with a thumb tack or hook on the wall's surface, preferably with one that won't leave noticeable marks.
Price (tax included): ¥110 - ¥330 JPY

10. Foldable Basket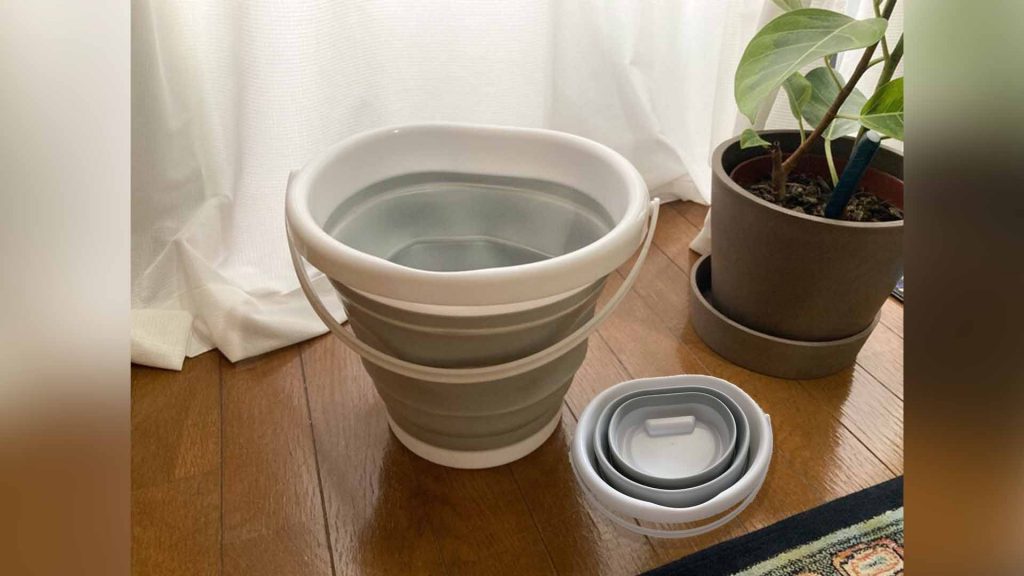 These are extremely useful and can be used to store clothing, toys, books, or even as laundry baskets. They are easy to store when not in use, freeing up valuable space.
How do you use it?
To unfold the basket, hold the handle and gently pull up. The sides of the basket should pop up and form a round shape.
To fold the basket, push the handle down until it becomes flat.

You can find the nearest 100 yen store and test these items yourself.

What do you think of our top picks? Leave a comment below!

RELATED:

Author: JAPAN Forward by Miruka Adachi and Shaun Fernando