Tennis Queen Naomi Osaka Back in Japan, Sets Eyes on Olympic Gold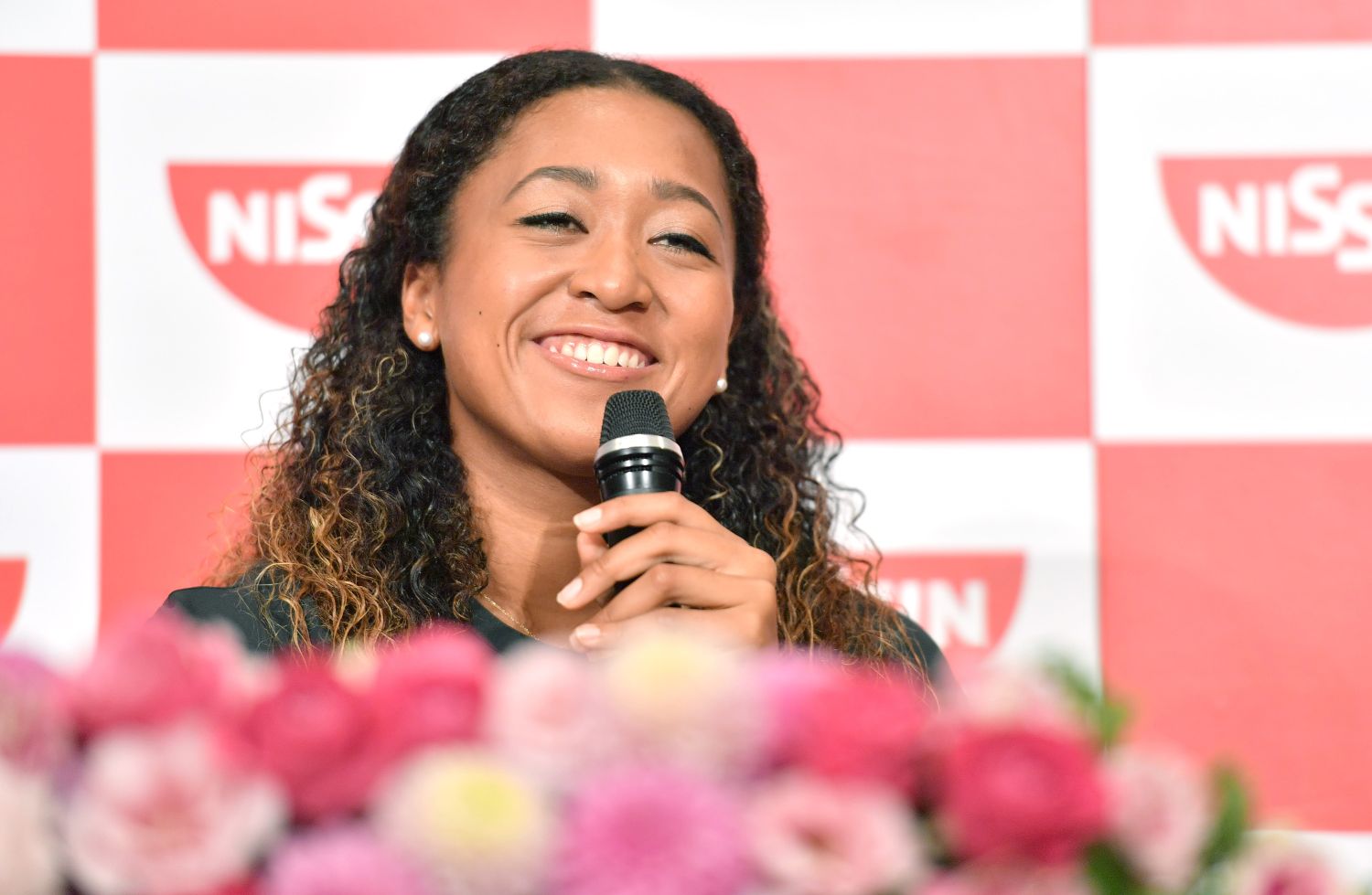 By JAPAN Forward
Naomi Osaka, the new tennis wonder child, flew into Tokyo's Haneda Airport from Los Angeles on Thursday, September 13, expectedly mobbed by journalists eager to hear firsthand her thoughts on the controversy that surrounded the longtime champion whom she defeated in the U.S. Open championship.
But first, Osaka, who is now ranked 7th in the world, express her warm thank to her supporters in Japan, saying, "Itsumo ouen arigatou gozaimasu (Thank you for your constant support)," during a press conference in the morning in Yokohama.
Osaka won the Grand Slam at the U.S. Open Tennis Competition in New York — the first person from Japan to do so — but her victory was overshadowed by American fans booing the umpire for meting out penalties to Serena Williams, and commentators and organizers saying in effect that a victory by other than the American tennis star was something unexpected.
When Osaka was asked whether this controversy had prevented her from enjoying her moment of glory, she calmly replied: "I don't feel sad because I wouldn't even know what I was expected to feel, since it was my first final and my first grand slam victory. Overall I felt really happy."
Asked about her hopes for the 2020 Tokyo Olympics, Osaka modestly stated: "It's every athlete's dream to play in the Olympics. If you play, of course, you want to go for Gold, so that would be my goal too."
Osaka is set to play next in the Toray Pan Pacific Tournament in Tokyo on Monday, September 17.
With many young tennis players now looking up to her, she had a piece of advice that left members of the press smiling. "I would say, just have fun, tennis is always a game, and do your best. But don't look up to me because I don't want that responsibility!" she said, laughing.
Defeating a Childhood Idol
Osaka, sponsored by Nisshin Foods, beat all-time champion Serena Williams, the athlete she had idolized since starting tennis at the age of 3. The 20-year-old player recalled, "I felt like a little kid again" the moment Williams hugged her by the net when she won.
Amid the booes at the awarding, however, Osaka's face remained stony, even when she was embraced by Williams.
In an interview right after, Osaka was asked how she felt about her great achievement, and that was her tears spilled over and her words of grace made a mark: "I'm sorry it had to end like this. I just wanted to say thank you for watching the match. Thank you so much."
Then, she bowed to Serena Williams, telling her, "I'm really grateful I was able to play with you."
Osaka also did not forget to pay respects to her opponent and idol at the award ceremony following the tournament.
Apologies aside, the new champion kept her cool during the game and played spectacularly, earning the victory.
Osaka's serves and strokes were outstanding from the start, breaking her opponent's service game in the third game of the first set. She achieved another break successfully in the fifth game with her impressive serve returns, ending the set with a 6-2 win.
In the fourth game of the second set Osaka let Serena Williams break first. Backed by the audience's massive support, the game began to fall in favor of the all-time champion who had 23 Grand Slam titles.
"I was just trying to focus on my game at the time," explained Osaka. It was immediately after the break back in the fifth game that Williams' irritation reached its peak.
Williams, who had already received a warning for taking coaching from the stands, slammed her racket against the court and received a second warning. After having showered the chair umpire with verbal abuse after the end of the 7th game, she lost the 8th game without having played.
It was Osaka who stayed calm throughout, despite the numerous interruptions, and who then emerged victorious.
Patience is the Key
Osaka demonstrated she had powerful strokes up to last year, defeating some top tennis players but also losing to weaker ones. When Sascha Bajin became her coach at the end of 2017, the two decided to work on Osaka's "patience."
She successfully lost 7 kg through training. Tightening up her body meant her movements became lighter. Her core stabilized, and the number of mistakes she made decreased. This became the foundation of her "patience."
In March 2018, after winning her first World Tour at the BNP Paribas Miami Open, she was defeated in the first round of the Western and Southern Open competition amid heightened expectations — and pressure — surrounding her performance. She cried in the locker room, believing, "I'm not made to play tennis."
It was at this time that she began to recite the lesson of "patience" to herself over and over again, and it was this lesson that encouraged Naomi's growth.
This year's U.S. Open included an unprecedentedly hostile atmosphere created by the booing of fans rising in support of Serena Williams' protestations. During it all, Osaka told herself, "No matter what happens outside of the court, for me, when I step on to the court, it's just about tennis."
She ended up victorious.
A New Generation of Champions
Whenever Osaka leaves the court, she charms those around her with her unaffected manner. Her emotions surrounding her victory fully reminded the public that she is only 20 years old.
When asked at the press conference on Thursday what she was going to do that night, she provoked laughter by responding, "Maybe I'll play video games."
In the tournament she not only showed off her powerful swings, but also demonstrated the growth she and her coach had worked on, effectively deploying strokes and footwork, and of course powerful serves delivered at varying speeds.
These are the skills that secured her two consecutive victories against Serena Williams, beginning with the Miami Open in March.
Serena Williams claimed four Grand Slam titles between the ages of 20 and 21. Osaka, who will turn 21 on October 16, is attempting to follow in her idol's footsteps.
A generational change is fast approaching in women's tennis.
Click here, here and here to read the original articles in Japanese.