'The Next 50 Years of Friendship': Full Text of Crown Prince and Princess Akishino's Impressions of Vietnam Visit
Crown Prince and Princess Akishino reflect on their six-day trip to Vietnam, where they enjoyed a premiere of an opera jointly produced by the two countries.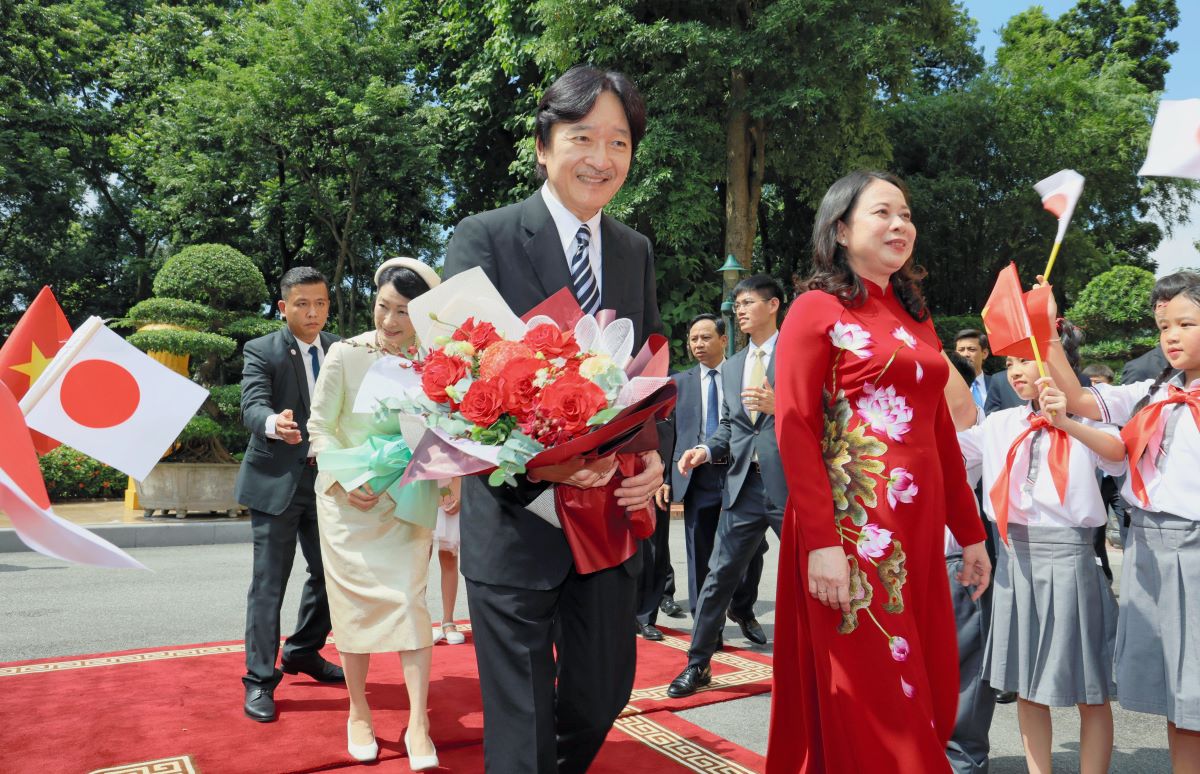 Crown Prince and Princess Akishino recently visited Vietnam, marking the 50th anniversary of diplomatic relations between the countries. On September 29, the Crown Prince and Princess published their impressions of the trip through the Imperial Household Agency. The full text follows in two parts.
Part One
2023 marks the 50th anniversary of the establishment of diplomatic relations between Japan and the Socialist Republic of Vietnam. It was with great pleasure that we accepted the invitation from the state of Vietnam to visit on this joyous occasion. We are deeply grateful for the opportunity.
During our visit, we paid a courtesy call to His Excellency President Vo Van Thuong. We also enjoyed a friendly conversation with both him and his wife at a luncheon they hosted for us. Her Excellency Vo Thi Anh Xuan, the Vice President of the State, was also kind enough to receive us. After a welcoming event and subsequent discussion, she guided us on foot to her home in Ho Chi Minh City, some 200 meters [660 ft] away. Over luncheon, we discussed Japan-Vietnam relations and our respective cultures, just as we had with His Excellency President Thuong.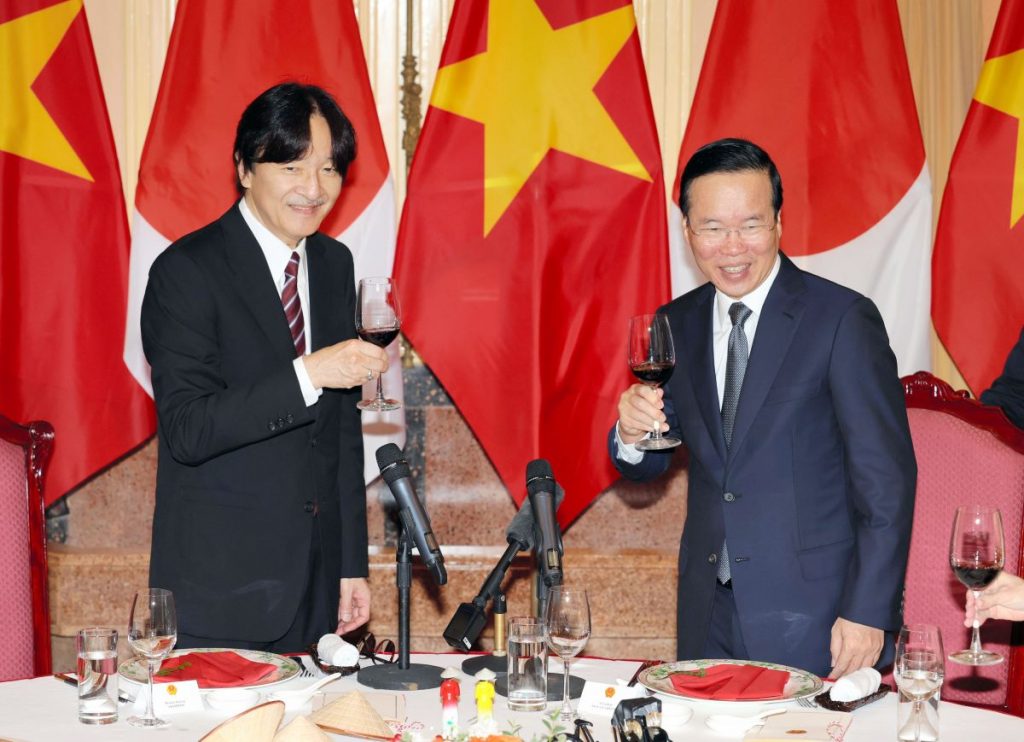 Celebrating Close Ties
On the evening of September 21, a ceremony was held to commemorate the 50th anniversary of diplomatic relations between Japan and Vietnam. Many people attended, and we believe this wonderful evening once again demonstrated the close ties between our two countries.
There were several addresses, among which that of the chairwoman of the Vietnam-Japan Parliamentary Friendship Association, Ms Truong Thi Mai, was particularly charming. In her speech, Ms Mai introduced a poem by His Majesty the Emperor Emeritus.
Collaborative Opera 'Princess Anio'
One of the main commemorative events was the premiere of the opera Princess Anio [Vietnamese name: Princess Ngoc Hoa] in Hanoi. Based on historical events of the 17th century, the opera is a collaborative work between Japan and Vietnam.
Artists and researchers from both countries and the Japanese Embassy in Vietnam worked together to create this opera. Actors alternated between Japanese and Vietnamese depending on the scene. We heard that the music was composed to sound beautiful while retaining the six tones of the Vietnamese language. One can only imagine the extraordinary effort this production must have required. As we enjoyed the opera, we also felt that it provided an insight into an aspect of the history of the time.
Meeting the Next Generation
Today, our two countries are entering into the next 50 years of friendship. With this in mind, we have created opportunities to meet with the next generation. For example, we spoke with the "under 40 generation." These former technical interns, former international students, and students at Japanese and Vietnamese universities told us about their work and the activities they are engaged in.
We also met a younger generation of students and children at the Japanese School of Hanoi who spoke of their experiences in Vietnam. It is our hope that these children living in Vietnam will become a bridge between our two countries in the future.
Descendants of Former Japanese Soldiers
We also had the opportunity to meet the families [children and grandchildren] of former Japanese soldiers who stayed in Vietnam. After the war, an estimated 700 to 800 Japanese soldiers remained in Vietnam and fought alongside the Vietnamese in the First Indochina War. These Japanese soldiers then settled down and started families in Vietnam. However, after Vietnam gained its independence, Japanese soldiers were forced to return to Japan.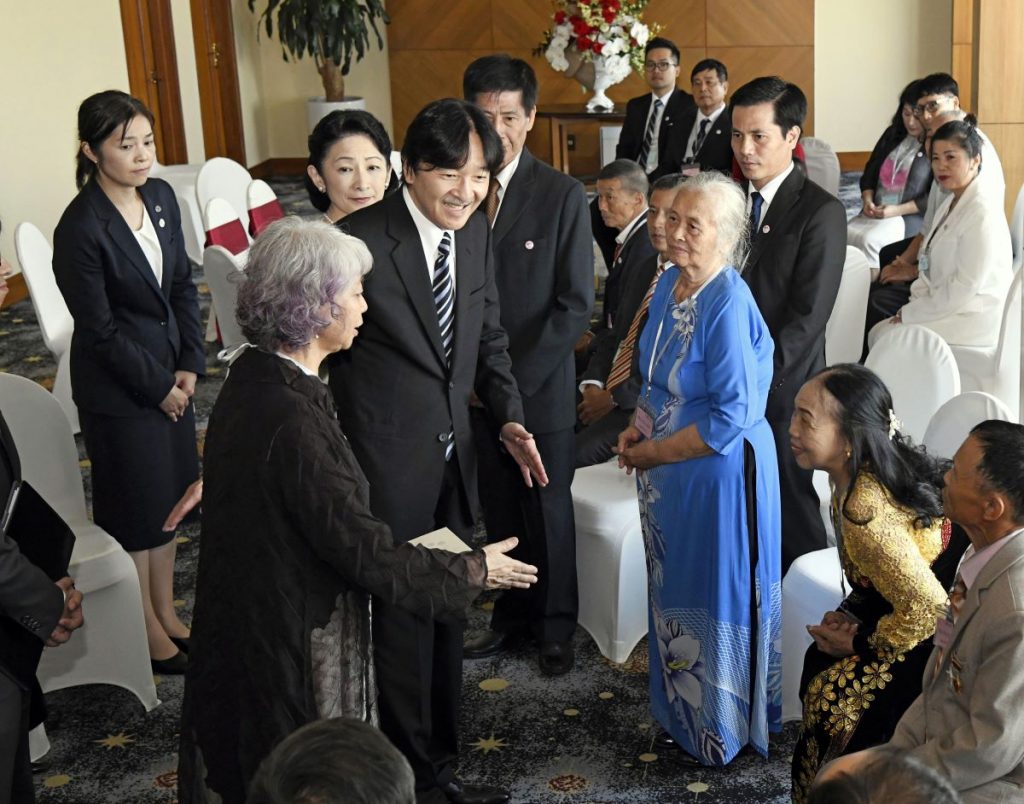 We heard that after much hardship, however, some of these families have reestablished contact. Even some of the new families in both countries have begun correspondence with one another. Their Majesties, the Emperor and Empress, met with these families when they visited Vietnam. And we had read about them before. However, by speaking with them, we were able to get a glimpse of their current state of affairs.
In Hanoi, there were places we both wished to visit and people we hoped to take this opportunity to meet and talk with. The following is a brief account of our time there.
Crown Prince Akishino: Biological Museum of the VNU University of Science
I visited the Biological Museum of the VNU University of Science for the third time. University museums in natural history collect and preserve specimens of the country's various creatures and pass them on to future generations. These institutes are of great importance for research and practical training of students. My interest in the fauna of Vietnam was why I chose to visit again.
Various animals from cyclostomes to primates were displayed, including a paratype specimen of the white goby. His Majesty the Emperor Emeritus gifted this new specimen to the museum when he was Crown Prince in 1976. I was delighted to see that it was carefully stored and displayed here and available for all visitors to admire.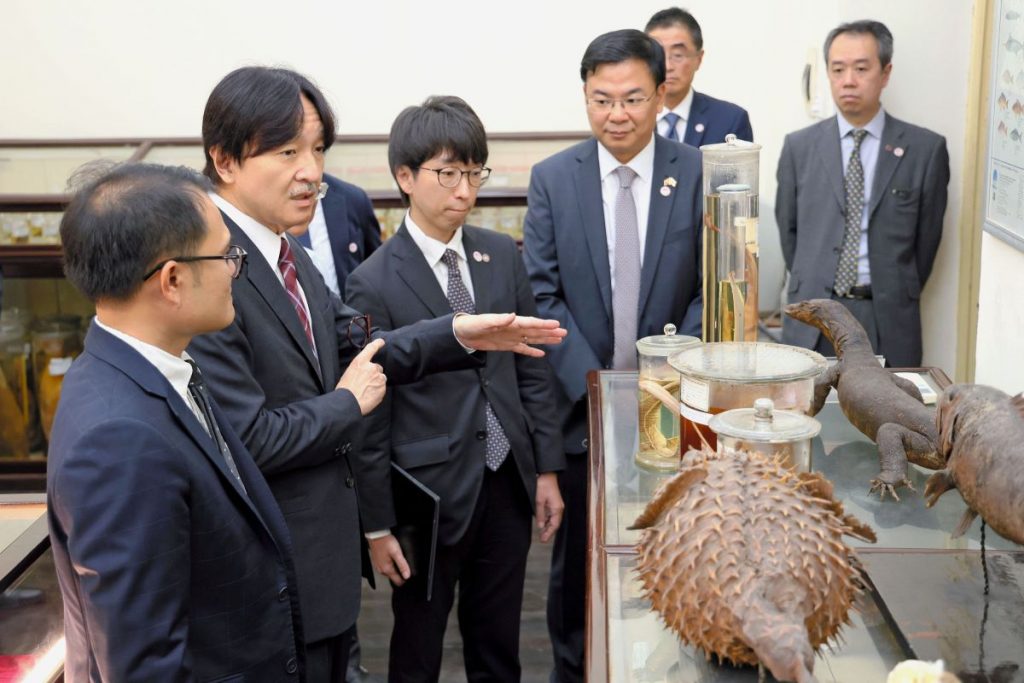 Crown Princess Akishino: Kymviet Space
On the final day of our stay in Hanoi, I visited Kymviet Space, a company where deaf people work. At the workshop, I observed the manufacturing process for intricately designed stuffed animals with beautiful combinations of fabric colors and patterns. At the cafe, I learned Vietnamese sign language over drinks. We had a pleasant time interacting with one another using a combination of Vietnamese and Japanese sign language.
Following this, I had the opportunity to discuss picture books at the dormitory. Here, I spoke with those who had met with Her Majesty the Empress during her visit to Vietnam. They told me about their activities, which include delivering translated and published Japanese picture books to children in Vietnamese hospitals. This year, they started a training program to help children read these books to other children. Their desire to further expand their campaign of bringing the joy of books to children was most informative.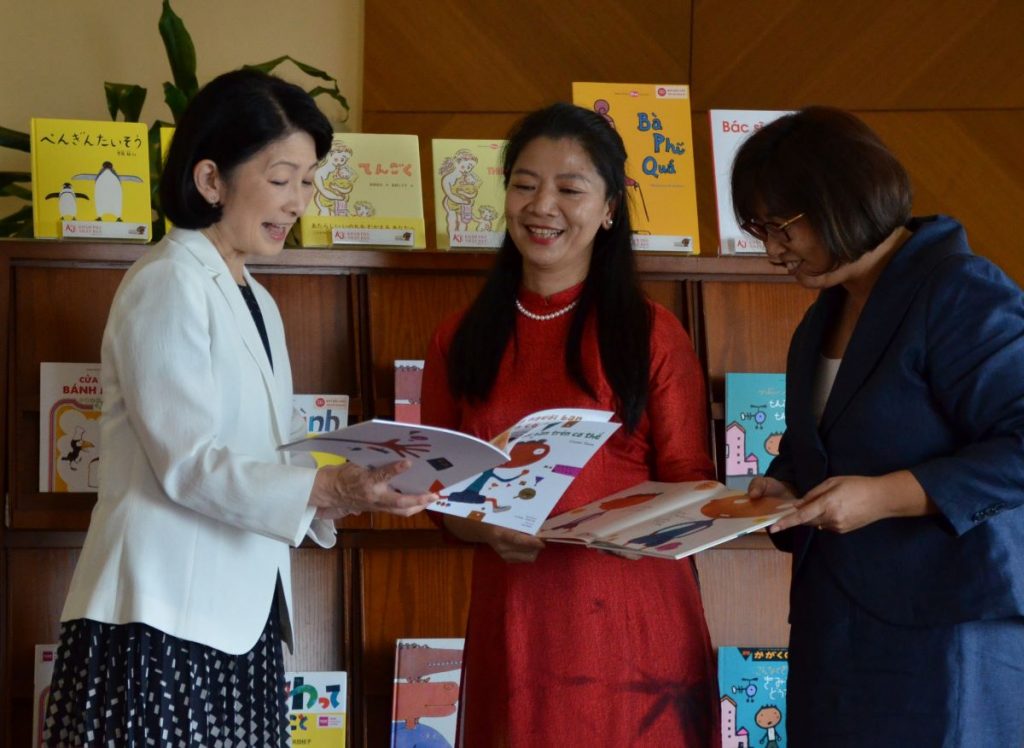 RELATED:
(Read the statement in Japanese.)
Author: The Sankei Shimbun