The Qin Gang Saga: From Viral Speculations to the Internal Struggle Theory
After Qin Gang disappeared, several officials of China's Rocket Force were ousted from their roles. Netizens have also been scouring for clues on social media.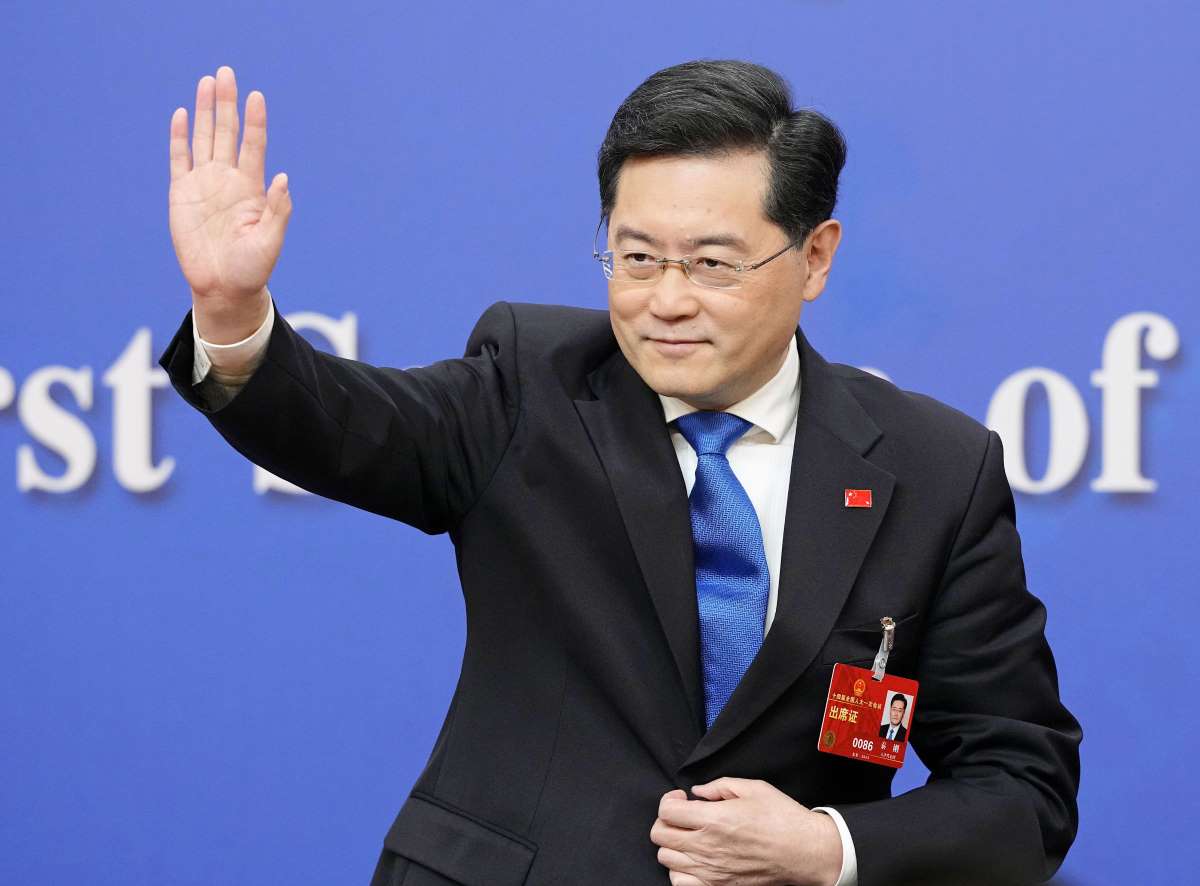 China's Foreign Minister Qin Gang disappeared from public view on June 26, 2023. Since then, the "Search for Qin" saga has intensified. With the re-appointment of former Foreign Secretary Wang Yi to Qin's post, and the refusal by the Chinese government to provide any details, Qin's unexplained dismissal has come to a temporary conclusion.
Meanwhile, high-ranking officials from the Rocket Force, responsible for China's strategic nuclear weapons and the crucial attack on Taiwan, were removed from their positions. In another mysterious event, the former head of the Central Guard Bureau, Wang Shaojun, passed away unexpectedly. He was in charge of Xi Jinping's personal security.
Is there any link between Qin Gang's disappearance, the purge of the top-ranking Rocket Force officials, and the sudden death of the former head of Xi Jinping's security detail? What messages are being conveyed to the outside world? Here are some speculations on the reason for Qin Gang's dismissal.
1. The Extramarital Affair Theory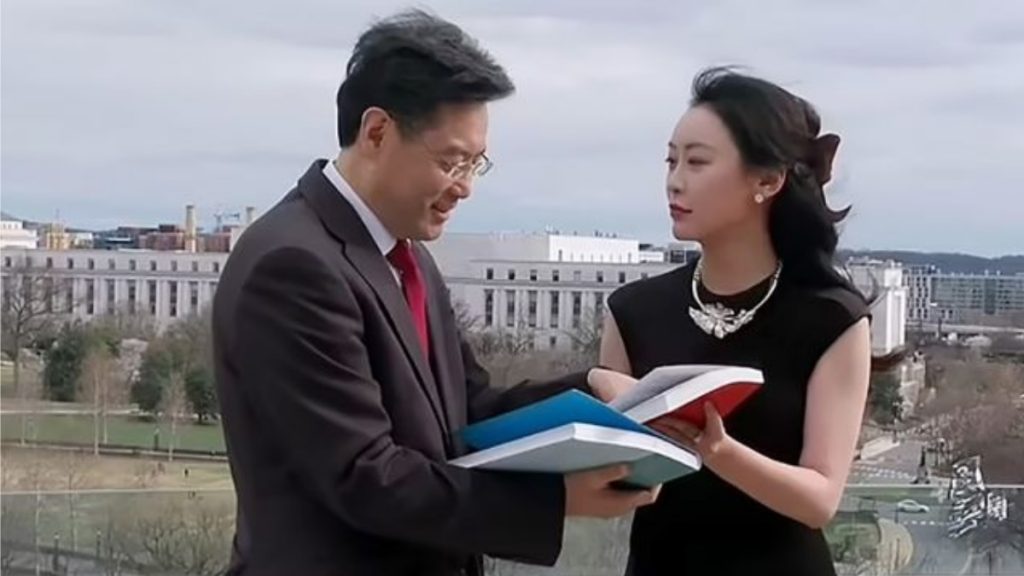 Rumors have been circulating for some time that Qin Gang was having an extramarital affair with former Phoenix TV host Fu Xiaotian. Qin may also have fathered an illegitimate child with Fu. Chinese netizens turned into real-life Sherlocks, uncovering various pieces of evidence supporting the alleged affair.
For instance, on March 13, 2023, during the annual "Two Sessions" of the Chinese Communist Party, Qin Gang was promoted to State Councilor, becoming one of the youngest Party and state leaders.
On the same day, Fu Xiaotian posted a photo of her infant son on the Chinese social media site Weibo. A four-character caption above the child's head read, rather cryptically, "successful closure." The text which Fu posted along with the image reads, "Let's see who of you still says I am a foreign baby." This seems to be an attempt to show that the father of Fu's child is a Chinese man.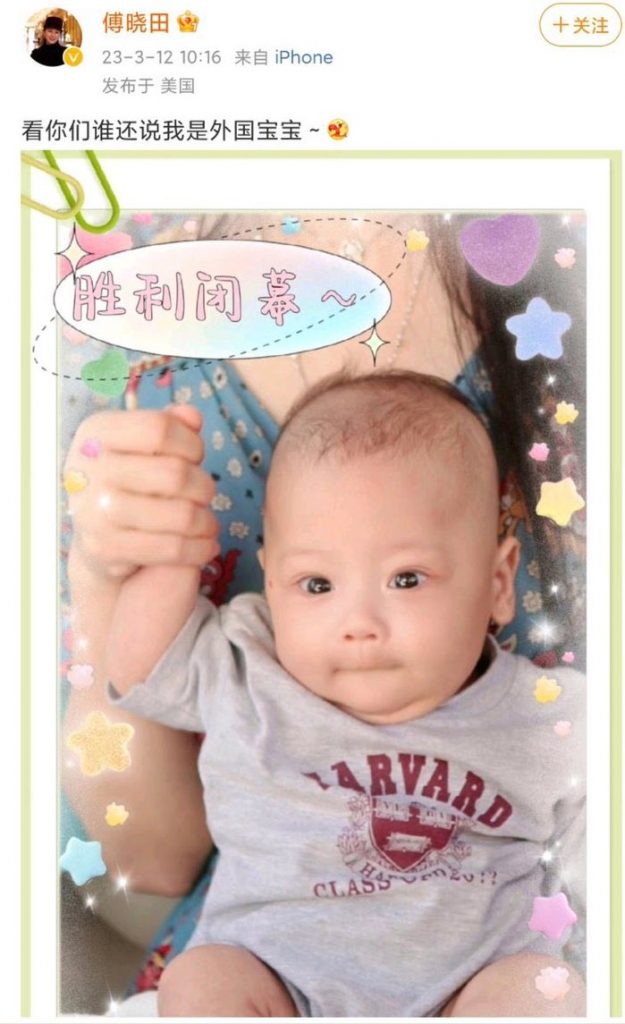 The Qin Gang Connection?
What does the photo of Fu's baby have to do with Qin Gang? A clue might have come on March 19, 2023, Qin Gang's birthday. On that date, Fu Xiaotian used ambiguous language to wish someone a happy birthday, hoping for his "promotion, wealth, and standing alone at the top of a windy mountain."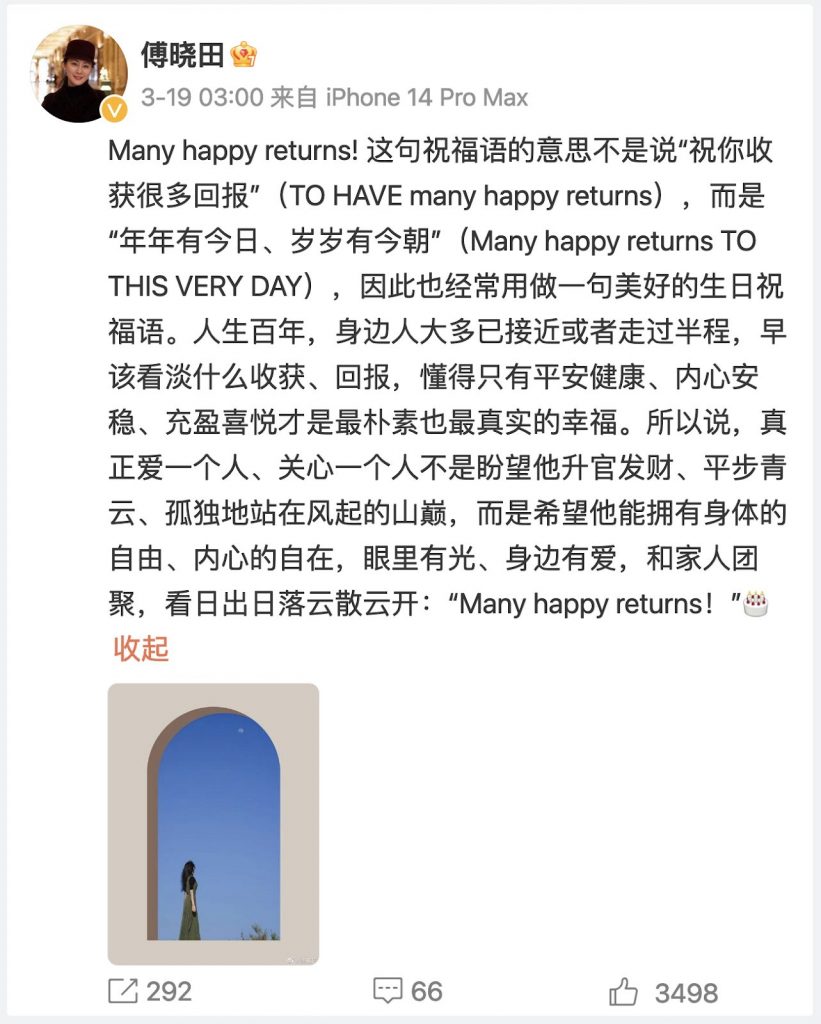 On April 11, 2023, Fu Xiaotian posted a photo on Weibo of herself holding her son while boarding a plane. "This time we are heading to the 'front'," part of the accompanying text read.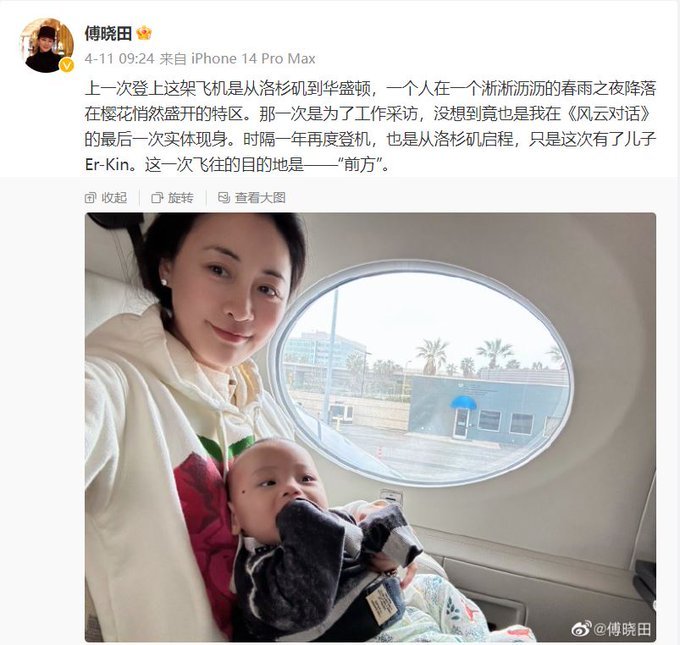 Fu's son is named Er-Kin, which Fu writes in the text in roman letters. However, the pronunciation sounds like the characters 二秦 (Er Qin). The "Qin" here is the same character as Qin Gang's surname.
Following the Chinese naming convention of putting the surname first, it could mean 秦二 (Qin Er): "Second generation Qin," or "Qin, Jr." All of this might be Fu's way of implying that the child's father's surname is Qin.
Qin Gang in the Picture
On the same day that Fu Xiaotian posted the photo of herself and her son, she posted a similar message in English on Twitter. This time, she deliberately attached a photo of a previous interview she had done with Qin Gang. This is not proof of anything, but the implication is strong that Qin Gang is the father of the child.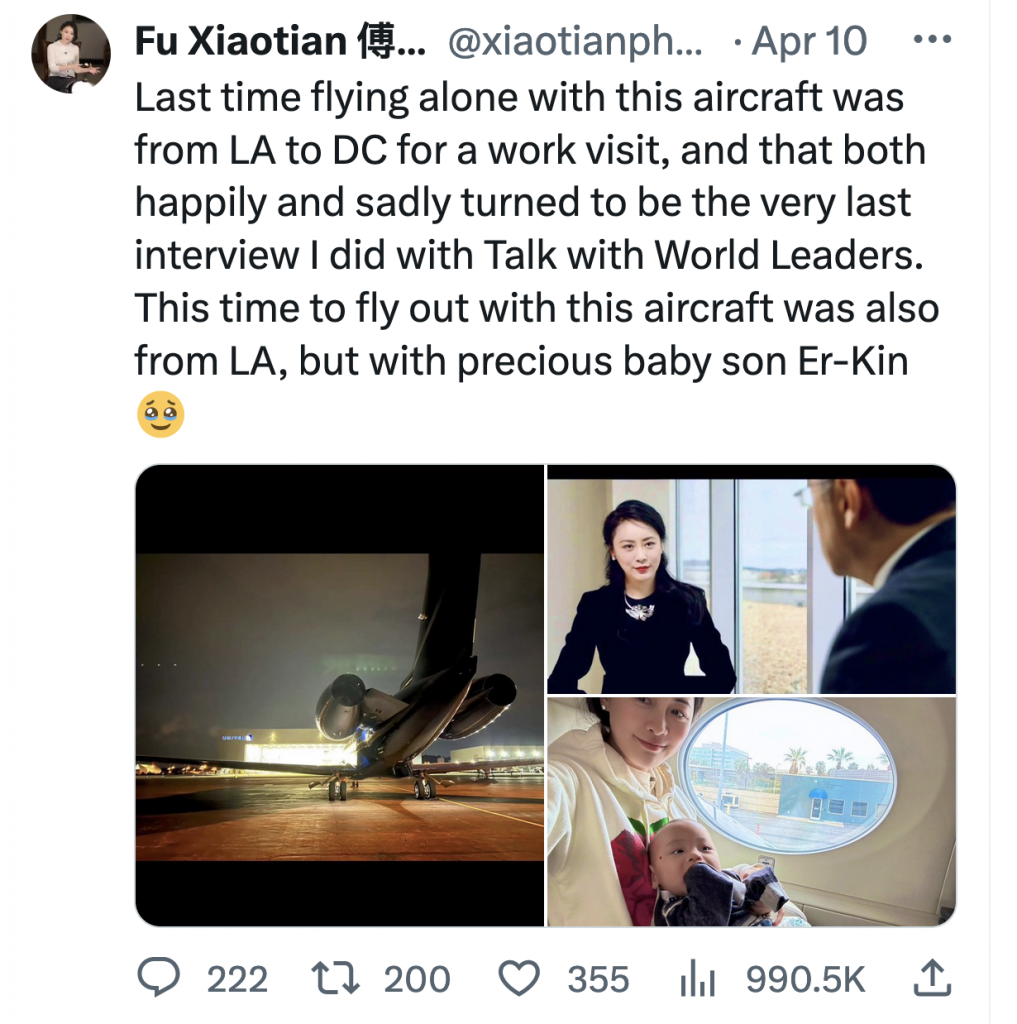 There is more. Based on these photos, a netizen identified the aircraft Fu boarded as a private Gulfstream G650 jet, departing from Los Angeles International Airport (LAX). The plane landed at Beijing Capital International Airport at around 4:16 pm Beijing time on April 11, 2023.
In other words, the "front" that Fu Xiaotian referred to in her post was actually Beijing. After this, Fu disappeared from social media.
When netizens were investigating Fu Xiaotian's relationship with Qin Gang, the news of his dismissal hadn't been announced yet. He was still a high-ranking Chinese official. Intriguingly, the CCP didn't suppress the rumors about Qin and Fu. This is highly unusual because the CCP routinely censors negative rumors about other high-ranking CCP officials.
Were the Qin-Fu Rumors Being Promoted Online From Within the CCP?
This time was different, though. Far from censoring the rumors about Fu and Qin, such messages were allowed to circulate widely on social media. It was as if someone was intentionally pushing the speculatory messages to the fore.
Based on the above facts, I would like to draw a tentative conclusion. Fu Xiaotian and Qin Gang indeed seem to have been having an extramarital relationship. Fu Xiaotian also seems intentionally to have hinted at this illicit relationship to the outside world.
As for whether Qin Gang's downfall is related to this, I will analyze it in more detail later.
2. The Internal Struggle Explanation
Another possible reason given for Qin Gang's removal is internal struggles within the Chinese foreign affairs system. This is nothing new in Chinese politics. There has always been a division within the government in Beijing between pro-Russia and pro-United States factions.
So, which faction did Qin Gang belong to?
Let's look at some facts.
On the opening day of the 2022 Beijing Winter Olympics, Russian President Vladimir Putin made a lightning visit to Beijing. Putin stayed for just nine hours. During that brief visit, Russia and China signed fifteen cooperation agreements.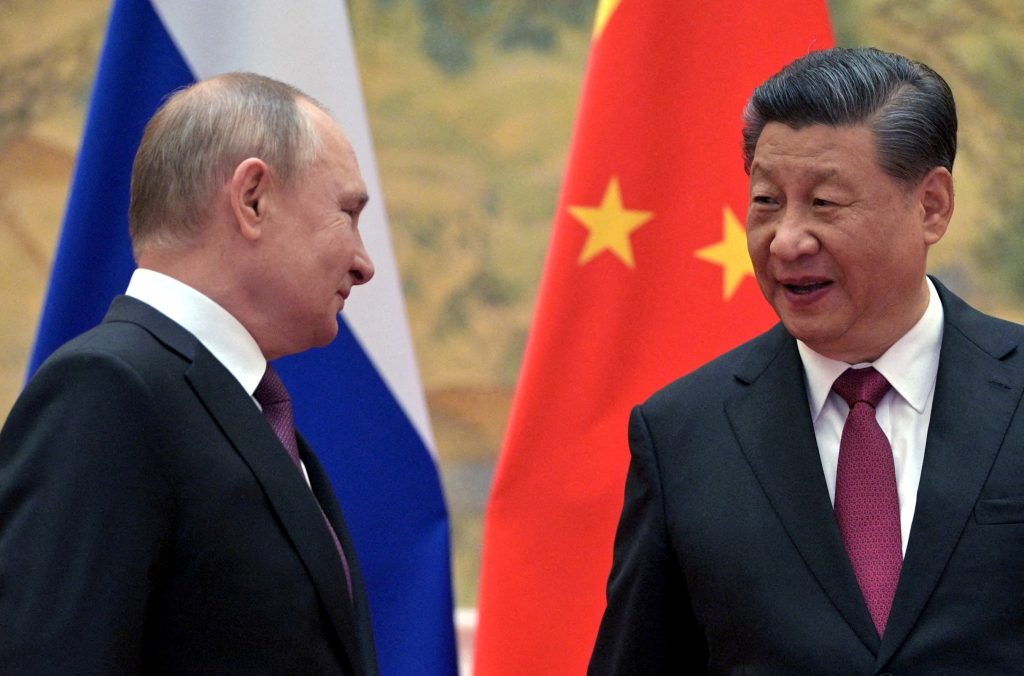 For a time, Chinese media was filled with propaganda about the "no limits partnership between China and Russia."
"China and Russia are not allies," the state media in China said, "but better than allies."
Russia Becomes a Liability
However, after Russia's invasion of Ukraine on February 24, 2022, such propaganda caused great pressure and embarrassment in China's foreign relations.
On March 24, 2022, Fu Xiaotian interviewed Qin Gang. During that interview, Qin Gang said: "We should also be clear that China-Russia cooperation has no limits, but it does have a bottom line."
This was the first time a Chinese foreign affairs official had expressed that there are bottom lines in China-Russia relations. This was obviously different from the previous propaganda.
In addition, Qin Gang became Foreign Minister on December 30, 2022. On January 9, 2023, just ten days into his tenure, Qin removed Zhao Lijian from his post. Zhao had made quite a name for himself as a "wolf warrior" spokesperson.
Qin's move received much praise. Qin of course would have known all about Zhao's antics and how badly Zhao had alienated many around the world. Can Zhao's dismissal be understood as Qin Gang's disapproval of "wolf warrior diplomacy"?
On April 30, 2023, China voted in favor of a United Nations General Assembly resolution that explicitly included the issue of "Russian aggression against Ukraine."
Under Qin, China's foreign policy went from "no limits" support for Russia, to very public hedging about Russia. Qin was in dangerous territory.
Wolf Warriors Return
The point about Russia is especially salient because Qin Gang's predecessor (and successor) is Wang Yi. When Wang was foreign minister, China abstained from voting on three UN General Assembly resolutions condemning Russia's aggression against Ukraine, even though more than 140 countries voted in favor each time. Qin's position, in other words, reversed and countered Wang's.
On June 25, 2023, Qin Gang met with Russian Deputy Foreign Minister Andrey Rudenko in Beijing. Three days later, on June 28, Fu Cong, the head of China's mission to the European Union, stated in an interview with Al Jazeera that China can support Ukraine in reclaiming its complete territory from 1991. This would include the Crimean Peninsula annexed by Russia in 2014. This statement is in complete contrast to previous remarks by China's ambassador to France, Lu Shaye, on the same question.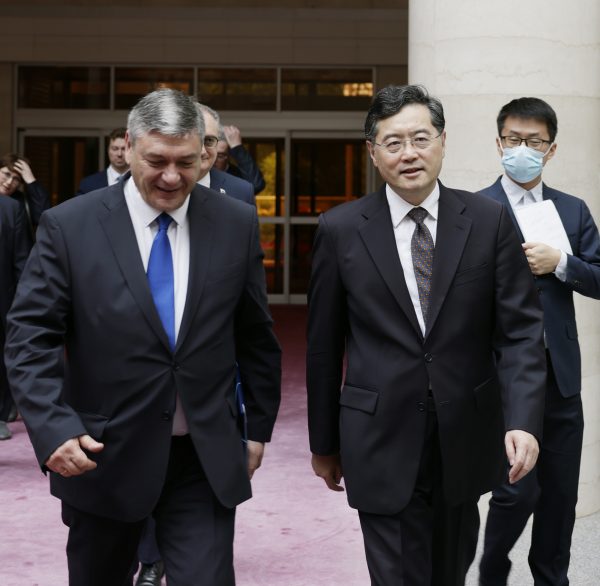 Based on these developments, it seems that Qin Gang, compared to the clearly pro-Russia faction in the Foreign Ministry, belongs to the pro-US faction.
Bureaucratic Protocols Put Aside for Wang Yi
More arcane bureaucratic protocols, and their having been broken, point to the same conclusion. According to common practice, Qin Gang's replacement should have been Deputy Minister Ma Zhaoxu. However, surprisingly, 70-year-old Wang Yi returned to take over the position of Foreign Minister. Protocol was interrupted, seemingly so that Qin's rival could take over once again.
Wang Yi is a well-known "wolf warrior" figure and is also pro-Russia. So, could Qin Gang's removal be the result of the usual "struggle of ideology" within the CCP? Is this an ideological fight between those who support Russia, and those who favor positions more in line with those of the United States?
There is another possible layer to the court intrigue. Qin Gang's rapid rise may have indicated that Xi Jinping once wanted to ease relations with the US. But Qin's downfall suggests that Xi Jinping has abandoned this idea after he saw no results or progress.

Read part two: The Qin Gang Saga: What Happened to the Top Commanders of China's Missile Force?
RELATED:
Author: Jennifer Zeng