China Inserts Itself Into the Ukraine War as Zelenskyy Vows to Keep Fighting the Russian 'Terrorist State'
Politicians and defense experts, including from Japan, gathered in Germany to discuss Ukraine as North Korea fired another missile into the sea near Hokkaido.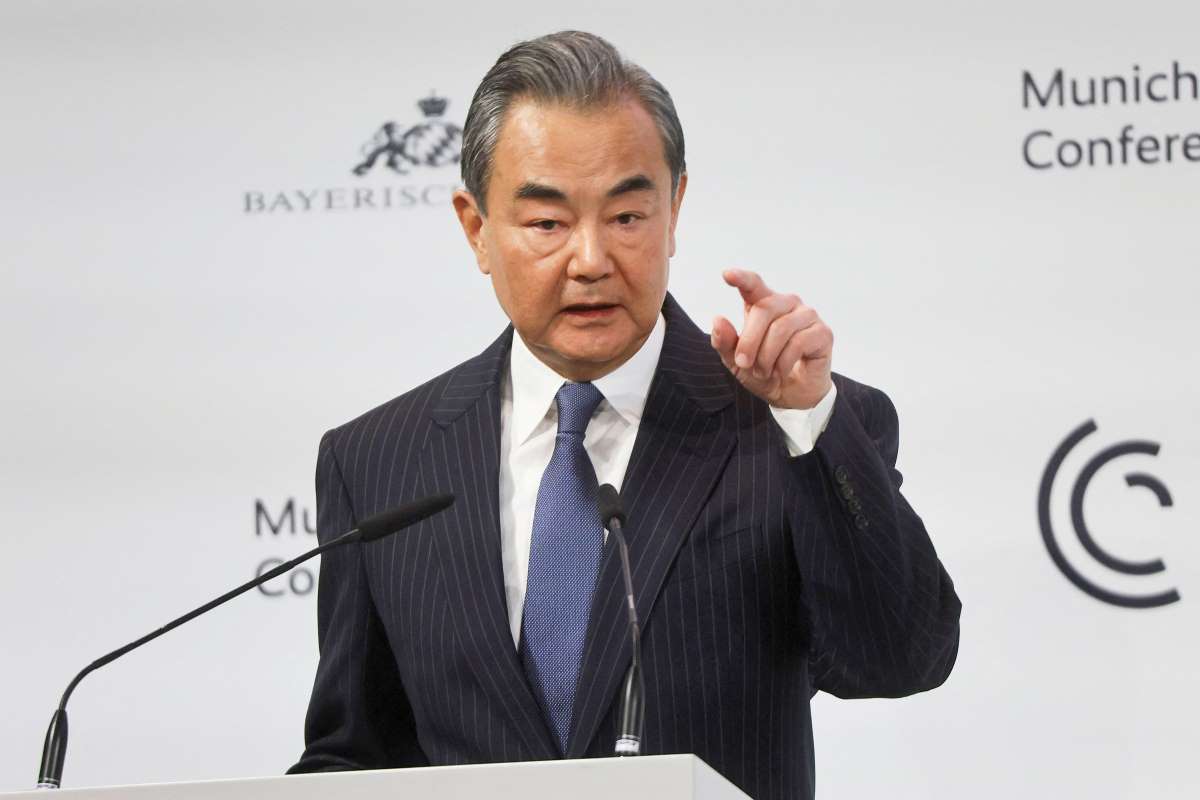 President Volodymyr Zelenskyy has called on democratic countries ー including Japan ー to hasten their support in the face of a spring offensive by Russia in Ukraine, with NATO intelligence suggesting Moscow is planning a major air campaign.
Speaking to the Munich Security Conference via video link, President Zelenskyy said: "We need to hurry up. We need speed ー speed of our agreements, speed of our delivery, speed of decisions to limit Russian potential."
Ukraine's Foreign Minister, Dmytro Kuleba, went to Munich in person. He joined a meeting of foreign ministers from the G7 countries, which was chaired by Japan's representative, Yoshimasa Hayashi.
Japan holds this year's G7 presidency and is offering humanitarian aid and diplomatic support to Ukraine. Other G7 countries have delivered weapons and ammunition and have pledged to increase their assistance as the first anniversary of Russia's invasion approaches on February 24.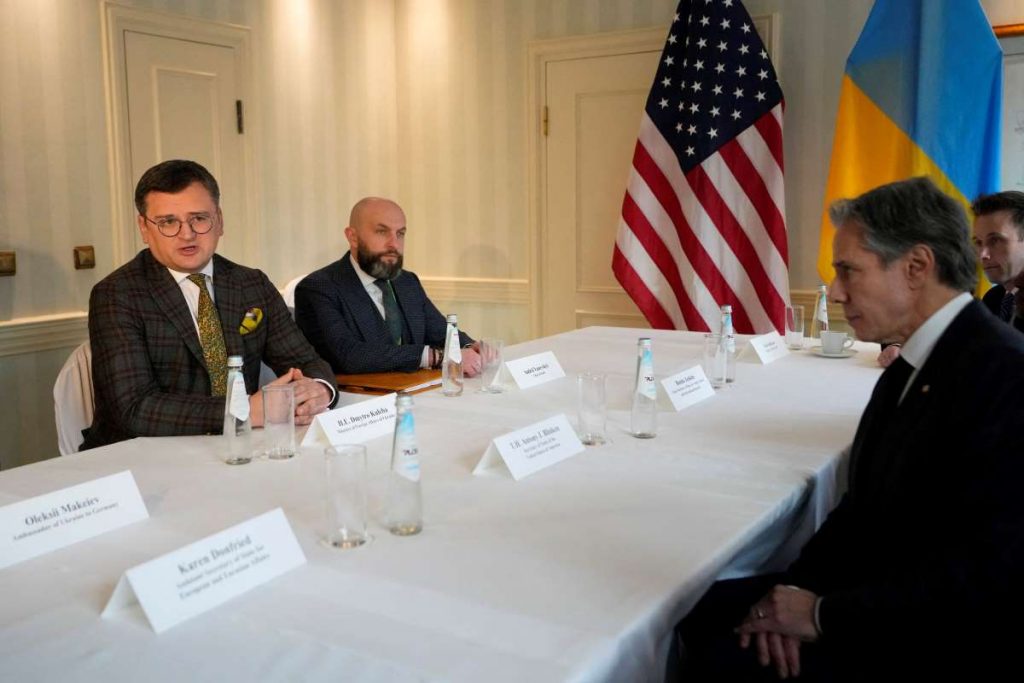 Antony Blinken Clashes with Wang Yi
China has refused to condemn Russia's invasion of Ukraine. According to United States sources, it is also considering supplying weapons to Russia. US Secretary of State Antony Blinken used a meeting in Munich with China's representative Wang Yi to warn against such a move.
Wang Yi, a former foreign minister, now heads the office of the Communist Party's Central Foreign Affairs Commission and is the top foreign affairs aide to Xi Jinping.
Wang Yi told the Munich Security Conference that Xi Jinping is preparing to present a plan to end the war which he described as a "political solution." This met with a skeptical response from Secretary Blinken.
"Who doesn't want guns to stop firing?" he asked, before warning that "we have to be incredibly wary of traps." Mr Blinken said Vladimir Putin might decide that because things are going badly for him, his best bet is to call for an immediate ceasefire and create a frozen conflict. The Financial Times reports that Mr Blinken said Putin "will never negotiate the territory that he's seized and meanwhile he'll use the time to rest, to refit, to rearm and to reattack."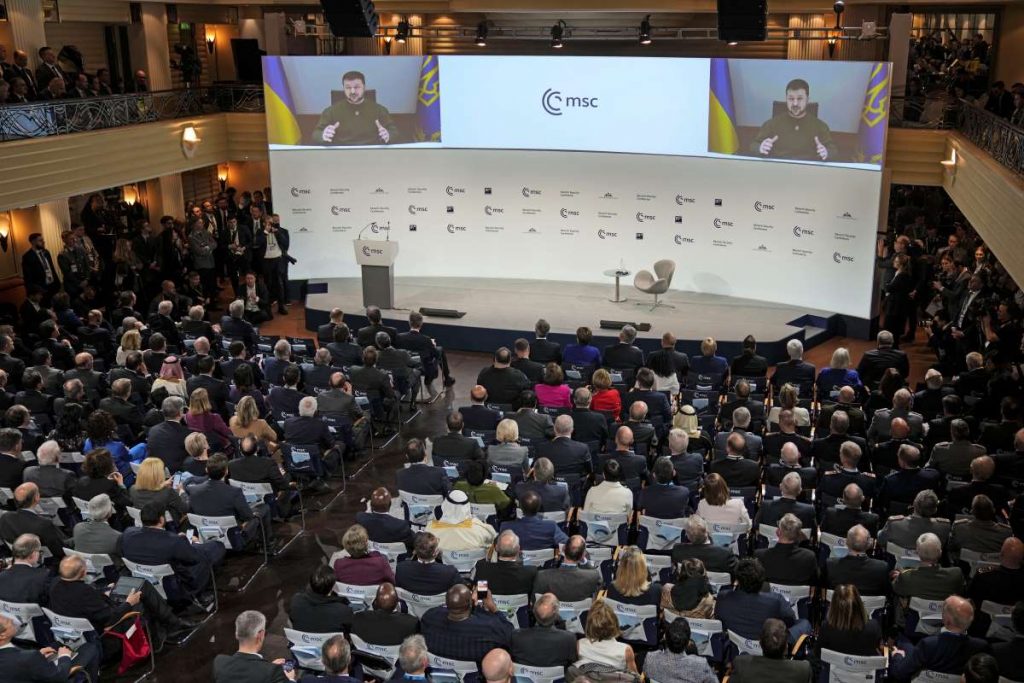 'Fight On' says Zelenskyy
Any proposal on how to end the war prepared by China looks likely to be dismissed by the Ukrainians. In his speech, President Zelenskyy insisted there is "no alternative" except for a Ukrainian victory and no choice but for Kyiv to eventually join both the European Union and NATO.
President Zelensky has also ruled out talks with Putin, saying there is no trust between the parties. In an interview with the BBC last week, he further dismissed the idea of giving up territory to strike a peace deal with Moscow.
In a video address to the Ukrainian nation on Saturday February 18, the president thanked the people he spoke to in Munich for their support. He then said "Russian aggression will have only one final outcome, namely the defeat of the terrorist state. And we must do everything to hasten the Russian defeat.
"The pressure of the world should be such that Russia does not have time to find new forms of terror," he added.
Japan's Prime Minister spoke with President Zelenskyy in January and has said he will visit Kyiv when conditions allow.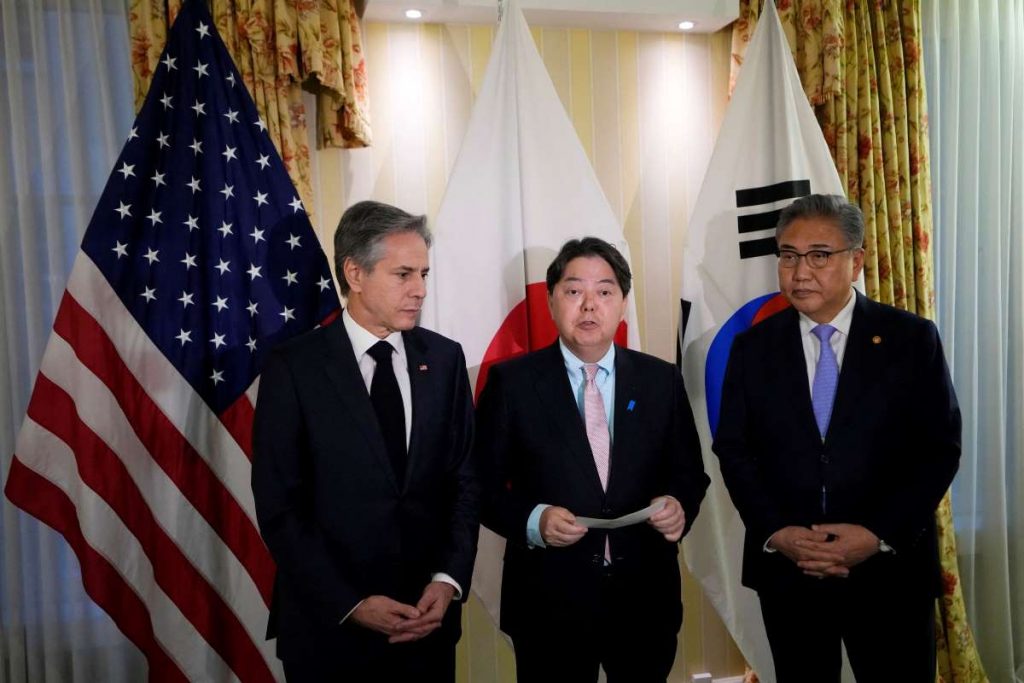 A North Korean Rocket Near Hokkaido
As the Munich conference was taking place on Saturday, North Korea fired a missile which landed in Japan's exclusive economic zone (EEZ) near Hokkaido.
The meeting of G7 foreign ministers, which was chaired by Yoshimasa Hayashi, responded with a statement condemning the act in the strongest terms. They also stated that the launch was a blatant violation of UN Security Council resolutions and "threatens regional and international peace and security."
Antony Blinken, flanked by his counterparts from Japan and South Korea, called the launch a "provocative" act.
"The result of these actions by North Korea is simply to even further solidify the work that we do together, the alliance that we share, and our commitment to the defense of our partners and allies," Mr Blinken said.
Jiji Press reported that the rocket was believed to be an intercontinental ballistic missile-class (ICBM) projectile. Japan's Defense Minister, Yasukazu Hamada told reporters in Tokyo that the missile could have a range of over 14,000 kilometers and would possibly be capable of hitting any point in the United States.
Japan's Prime Minister Fumio Kishida strongly denounced the launch, as did South Korea's presidential National Security Council, which vowed stern measures against any attempt by the North to threaten the South.
Unlawful Acts
The US Indo-Pacific Command also denounced the North's provocation and called on it to refrain from any further "unlawful and destabilizing acts." In 2022, North Korea fired around 70 ballistic missiles, including eight ICBMs - the most it has launched in a single year.
The Pentagon has warned that North Korea may carry out a nuclear test within the next few weeks. Meanwhile, Kim Jong Un has called for an "exponential" increase in its nuclear arsenal.
Japanese Chief Cabinet Secretary Hirokazu Matsuno said at a news conference on Saturday that "there is a possibility of further provocations," adding a stern protest was made by Japan through embassy channels in Beijing. North Korea has no embassy in Tokyo but maintains its diplomatic links with China, which generally turns a blind eye to the missile tests.
However, China disapproves of nuclear tests by North Korea which take place near its border and could cause earthquakes or spread poisonous radiation.
RELATED:
Author: Duncan Bartlett
Duncan Bartlett is the Diplomatic Correspondent for JAPAN Forward and a Research Associate at the SOAS China Institute. You can read his other articles and essays here.