'Touken Joshi': Girls Are Infatuated With Japanese Swords, and It's Good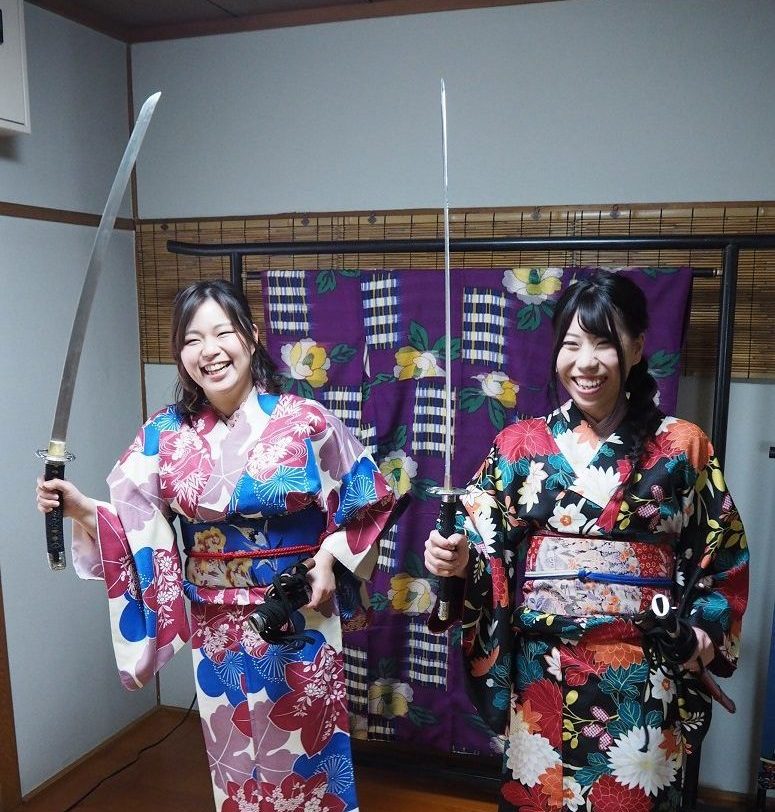 Three years ago, Touken Ranbu, an online game with personified legendary sword characters, kindled the Japanese sword trend, but the craze is even bigger today. The popularity is supported by young women known as touken joshi (sword girls with a passion for swords).
Exhibitions showcasing valuable swords are being curated all over Japan, including at Kasuga Taisha Shrine and Yakushiji Temple in Nara city. Both have been uniformly flooded with female visitors. With the trend, the touken joshi are deepening their knowledge and brushing up their eye for the craft.
So, what is it about Japanese swords that fascinate these women?
On February 24 the Yakushiji Temple premises was enveloped with vibes that were out of the ordinary.
The commotion was caused by some famous Japanese swords, including the Okurikara Hiromitsu, displayed at the special exhibition during the Uwasano Katana Ten III (Exhibition of Whispered Swords III) held at the temple's Shuhoukan (treasure museum) with special cooperation from the Nihontou Hakubutsu Gijyutsu Kenkyu Foundation. The exclusive two-day exhibition was a huge success, with more than 3,500 people flocking to the venue.
Another exhibition took place at the Kasuga Taisha Shrine museum until March 26. Titled Legendary Sword Masterpieces, it commemorated the 1,250th anniversary of the construction of the main shrine. It featured a Ko-hoki style sword, one of the earliest Japanese curved swords made in the late Heian Period, which was displayed for the first time 80 years after its discovery in a treasure house in 1939. Also showcased were a number of other mouth-watering swords which are registered as national treasures or important cultural properties.
Both venues were packed with predominantly female audiences. Mesmerized by the shiny blades on display, some women stood in front of them, captivated and unable to step away.
It Started With A Game
Often applauded as the soul of the samurai, Japanese swords have long been favored by middle-aged men. However, an online game called Touken Ranbu-ONLINE (abbreviation: TouRabu) is credited for accelerating the trend of increasingly young female enthusiasts in recent years.
The game anthropomorphizes legendary swords and depicts them as attractive young male characters called touken danshi (sword men) who battle and defeat evil. The good-looking characters made the game popular with young women, triggering their interest in the art of swords, and eventually leading to the crowding of exhibitions with female fans.
A female office worker, 30, from Kobe who visited the Kasuga Taisha Shrine exhibition said admiringly: "My interest in swords was influenced by an online game, and I started studying books on the appreciation of the craft. The hamon (patterns on a sword blade) are so beautiful."
Rui Kashihara, 27, from Owari-Asahi City of Aichi Prefecture, explained: "There is something pure about the blade of a sword. Even with a new sword, you can get a sense of the unbroken history behind Japanese swords."
Ayaka Oono, 30, from Kyoto, who saw the exclusive show at Yakushiji Temple, said: "I like the stories behind the swords. It's interesting to think about their history and how they ended up where they are today."
A female college student, 19, also from Kyoto, pointed out: "The trend helped to increase opportunities for us to actually to see them in real life. Swords have an extraordinary beauty to them."
Shrines, Temples, Museums Hope for Ripple Effect
Kunihira Kawachi, 76, is a master sword craftsman who works in Higashi Yoshinomura (Nara Prefecture) and teaches at Kansai University (Suita City, Osaka), where he is also an alumnus. He analyzed the current trend, saying: "A sword shines like a mirror. The unusual and mysterious beauty is probably what resonates with the female sensibility. I think the trend might last for a while since so many young people seem interested."
Museums, shrines, and temples hold high expectations for the keen eyes and aesthetic sense of the women behind the firmly-rooted trend.
"It's heartening to see young people interested. Through their fascination with swords, I hope it will give them an opportunity to take a closer look at other traditional arts and crafts as well," said Wakako Matsumura, chief curator at the Kasuga Taisha Shrine.
An employee at Yakushiji Temple said, "If the trend brings more young people to temples, hopefully they can also find interest in Buddhism and the Japanese culture."
Several larger exhibitions are being planned. Until June, the Nara Prefecture Art Museum (Nara City) will host an exhibition of swords associated with the local region.
This coming autumn, the Kyoto National Museum will curate an exclusive exhibition showcasing a line of swords designated as national treasures or important cultural properties. The museum emphasizes that they hope the show will "demonstrate how swords were made in the land of imperial castles."
The Studious 'Touken Joshi'
The trend extends to university campuses. Since 2015, the Nihon Touken Kenkyu Kai (Japanese Sword Research Club) has held a workshop at Kansai University. The workshop, established by Kawachi with the hope that it could become a platform for teaching young people the appeal of Japanese swords, also welcomes extramural students. Some enthusiastic touken joshi are participants.
A female office worker, 33, who became interested in swords when a friend invited her to go see one of the exhibitions, is a workshop participant. "At a glance, the swords all look the same, but they're not. By learning more about them, I thought I would be able to appreciate the swords with a better eye. I got hooked," she said.
The woman went on to passionately explain the allure of Japanese swords. "What's amazing is that even though they rust, their beauty is intact. Along with the blade and fitting, there is a legend behind each sword. Because they have been well-kept throughout history, their existence feels very close to people."
She added that she would like to "study more so that I can somehow contribute to the preservation of the swords and pass down their spirits to future generations."
With the trend firmly set in place, these passionate women are now not only observing the famed swords, but also digging deeper into their beauty and mystique.
Toshikazu Iwaguchi is a staff writer, The Sankei Shimbun Nara Bureau.
(Click here to read the original article in Japanese.)