Trying Out Sanrio Puroland's New English Attraction With Skateboarders Momiji Nishiya and Yumeka Oda
On October 26, two top skateboarders from Japan visited Sanrio Puroland's BUDDYEDDY WONDERFUL CLUB, the theme park's new English attraction.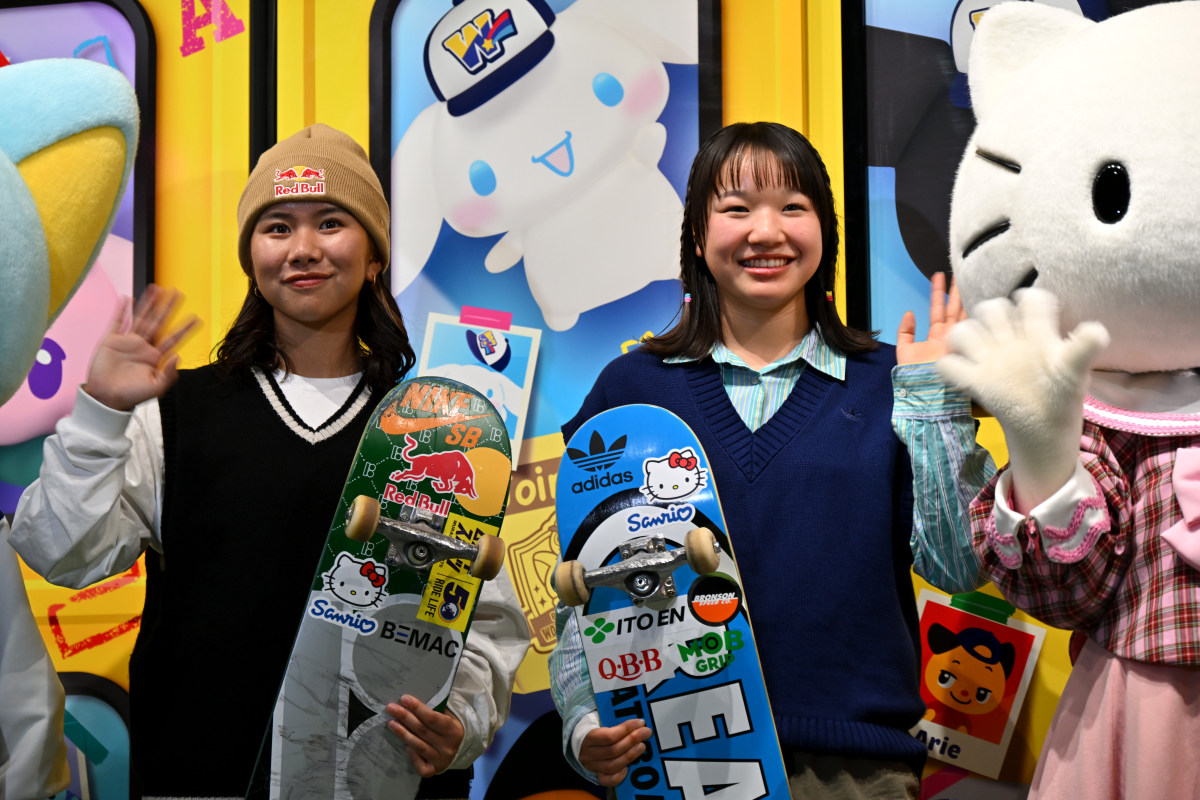 Sanrio Puroland 's gone international. In an exclusive event on October 26, the Tokyo theme park celebrated its new BUDDYEDDY WONDERFUL CLUB attraction with top skateboard athletes Momiji Nishiya and Yumeka Oda.
The amusement park is located in West Tokyo. On October 2, Sanrio unveiled a new section in the park specifically designed for learning English. It was Sanrio's latest fun, family-friendly environment for children and adults seeking to improve their communication skills.
Tokyo 2020 Olympian Nishiya, just 13 at the time, took home a skateboarding gold medal for Japan. She and Oda are both successful international athletes with sponsorship agreements with Sanrio. Both have an incentive to learn English to facilitate interacting with foreign athletes during international skateboarding competitions.
Most recently, Nishiya and Oda came first and second at the September 2023 skateboarding event World Tour Street Lausanne. Winning at the September event was an important step towards qualifying for the 2024 Paris Olympic Games.
Their participation in Sanrio Puroland's first English-learning attraction was fitting, given their incentive to improve their English. Moreover, both wanted to share their impressions with us afterward.
"After the other athletes compete [at an international competition], my English is only good enough to say 'Congratulations,' " Nishiya said. She was talking with the emcee before entering the new attraction.
"I am not confident enough to say anything more," she lamented. Therefore, "I hope to improve my English so that I can express myself better."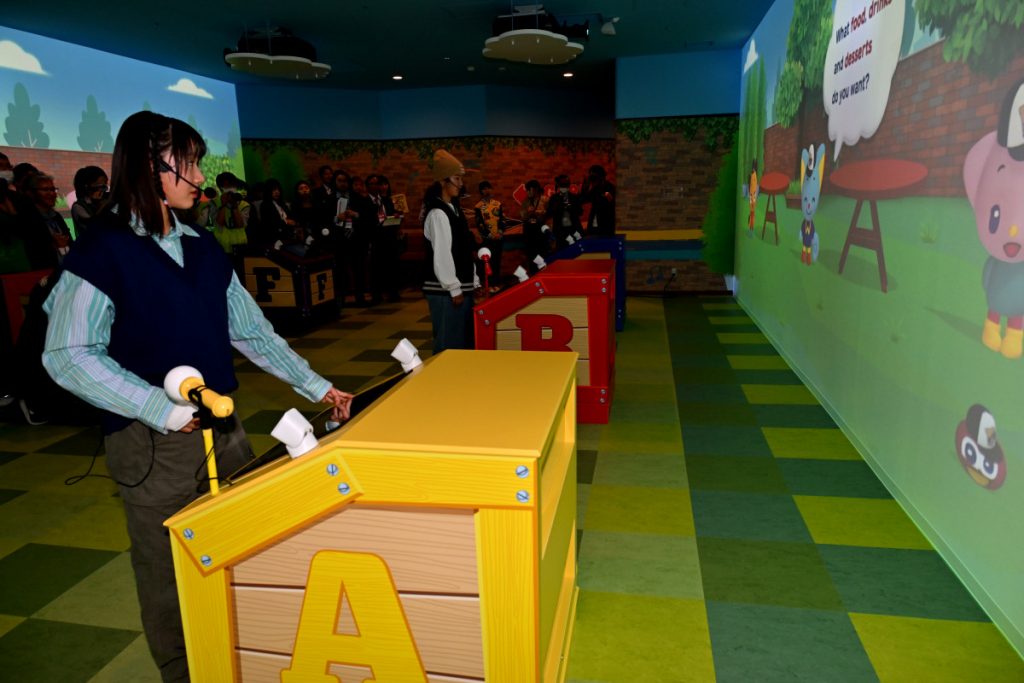 The Sanrio Attraction
Aimed at children, families, and adults alike, the location is designed so that visitors can practice useful English words in a playful setting.
Visitors first enter a room where they are introduced to a scenario. They must say English words out loud to help Sanrio characters organize their party!
Next, the visitors enter another room. There, prompted to speak English vocabulary into a microphone, they practice their pronunciation in a game setting. A timer adds to the challenge and excitement.
The whole experience is as interactive as possible. It includes projection mapping, XR, and AI technology from company 1→10 (read "one to ten").
In the design process, Sanrio consulted experts Kumiko Sato, who ran an English education radio program on NHK for 8 years, and Yasunobu Houtsuki, who heads the educational company Tanq Gakusha.
Choosing from three levels of difficulty, participants can practice using a list of over 260 words. This repertoire includes simple words like banana or more unusual words such as dandelion.
After successfully finishing the game at the most difficult level with an impressive score, Nishiya said appreciatively: "It was really fun to play the game. It reminded me that pronunciation is hard."
The Tokyo 2020 Olympic gold medalist concluded, "I want to practice more conversation with my friends in the future."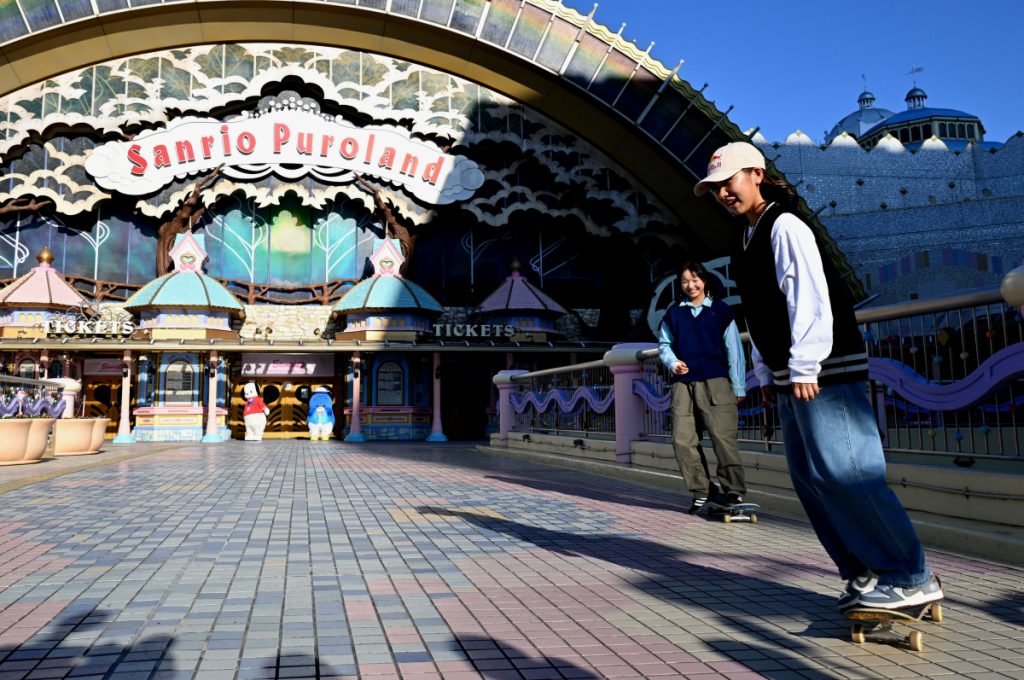 Sanrio's Initiatives in 'Edutainment'
Sanrio Puroland's new attraction is just the latest step in the company's efforts towards educating while entertaining. It's a concept Sanrio calls "edutainment."
For example, the conglomerate started selling "Sanrio English Master" online in March 2023. For this product, Sanrio also specially designed new characters, a duo called BUDDYEDDY composed of Eddy and Pita.
Sanrio English Master is a set of educational entertainment goods geared toward English learners. Aimed at children between the ages of 0 and 8, it includes books, CDs, plush toys, and more.
The material was put together by experts in the field of education, including Sato, who was also consulted for the Sanrio Puroland attraction.
With a final comment on the BUDDYEDDY WONDERFUL CLUB, the 17-year-old Oda said: "It's a fun place where the whole family can learn English together, everyone should try this place."
As Sanrio puts more emphasis on edutainment, we can expect further happy surprises from the entertainment company going forward.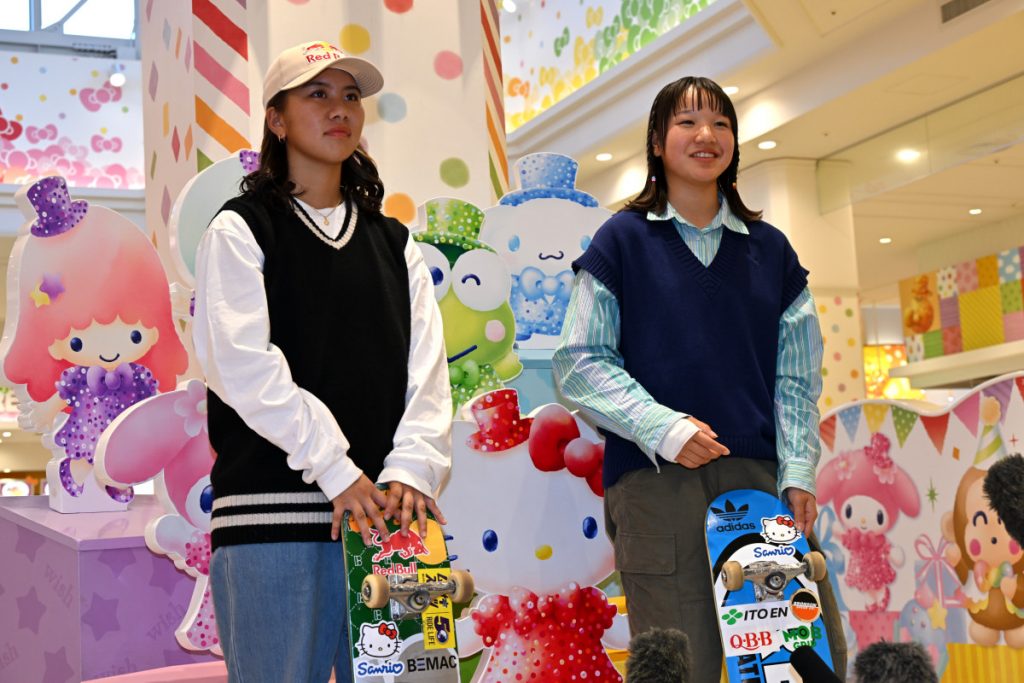 Information on the BUDDYEDDY WONDERFUL CLUB:
Entry fee: ¥500 JPY for all ages until November 27. From December 1, the ticket price is ¥1,000 JPY.
Duration of event: roughly 20 minutes
Further notes:
*Up to four people at one time can enter with one ticket, but only one person per ticket can try the game.
*Participants receive exclusive goods such as an Eddy character sun visor, and random stickers of Sanrio characters appearing in the attraction.
Check the website for additional information on the attraction.
RELATED:
Author: Arielle Busetto