A Visit to the Atelier | Tsukioka Yoshitoshi: An Ukiyo-e Master In His Own Right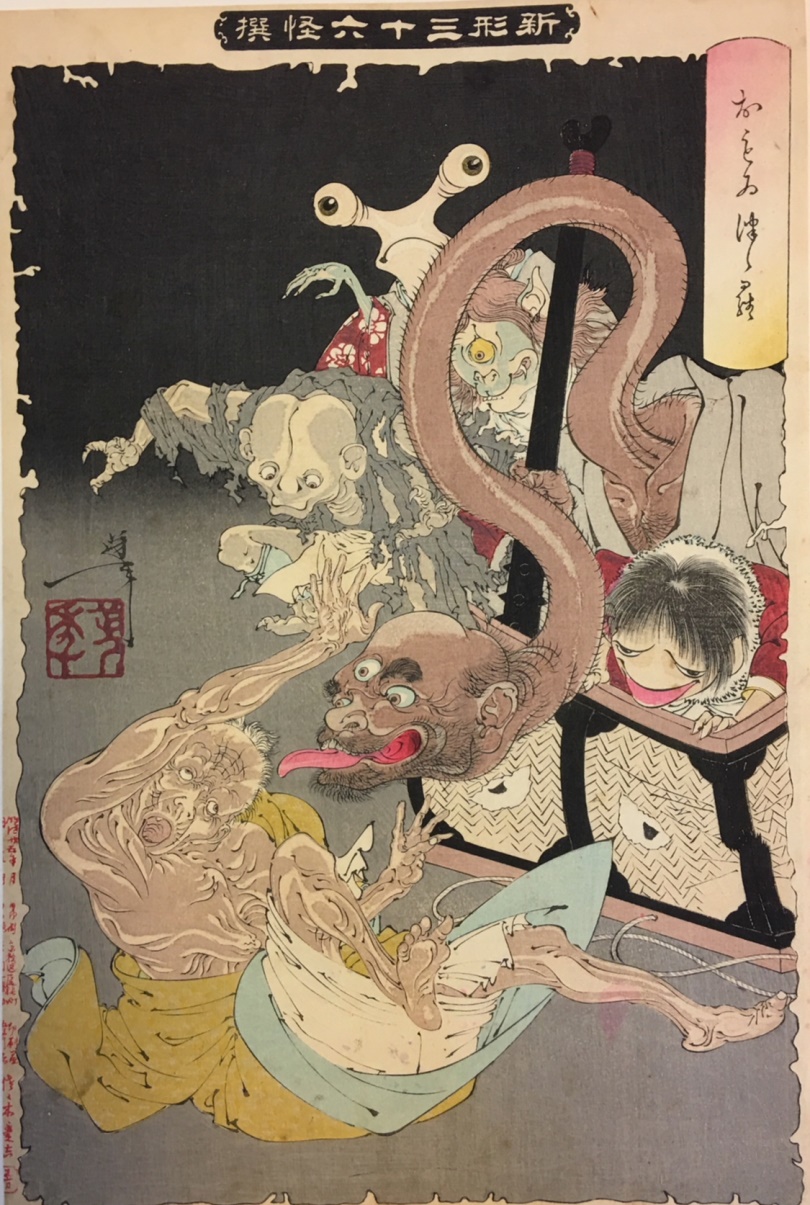 (Part 3 of a Series on the Art of Kuniyoshi)
Related Stories:
A Visit to the Atelier | Utagawa Kuniyoshi: The Ukiyo-e Artist You Should Know
A Visit to the Atelier | Kuniyoshi's Landscapes and Warrior Images, and Why They Are Highly-Valued Today
There are many more excellent prints by Kuniyoshi that I haven't introduced yet. Before doing so, however, it would be good to say something about his position in the world of ukiyo-e.
Kuniyoshi was part of the so-called Utagawa School, to which the artists Kunisada and Hiroshige also belonged. In the late Edo period, better known as the Bakumatsu era, the Utagawa School was extremely dominant. While competitors, such as Hokusai and his followers, specialized in painting and book illustrations rather than prints, and the Torii schools only did theater advertisements, the Utagawa School artists had a good command of all the arts depicting the lives of commoners from the start. They did book illustrations for both sophisticated and popular fiction, as well as advertisements, which is why publishers greatly relied on them for their publications. With the many pupils he employed, Kuniyoshi swiftly managed to meet the publishers' demand.
By the way, among these pupils was Kuniyoshi's successor Tsukioka Yoshitoshi. At a mere 14 years old, he already drew a civil war triptych. While this painting was strongly influenced by Kuniyoshi, it shows early traces of Yoshitoshi's own style.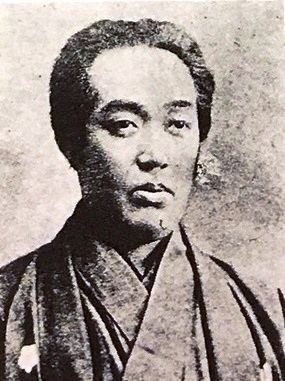 While the master Kuniyoshi passed away in 1861 and did not live to experience the age of civilization and enlightenment, his pupil Yoshitoshi lived through the dramatic changes of the latter half of the century while he was still a young man. Naturally, this influenced his work. Orders for images of the celebrated popular novels and plays about the bloody incidents of those days poured in. In praise of Yoshitoshi's images, he immediately received names such as "painter of blood." Yet Yoshitoshi's prints, which reveal extremely masterful sketching, did not fall into decline regardless of their great popularity. Ensuring their high quality, Yoshitoshi gave birth to many more excellent works of art.
Let's have a look at one of Yoshitoshi's early works called The Old Woman's Sudden Greed from the series One Hundred Ghost Stories of China and Japan. The tale portrayed here, "The Tongue Cut Sparrow," has been a much-loved story since long ago. For helping a bullied sparrow, an old man is asked by the sparrows to choose a reward between a large and small wicker trunk. The old man picks the small wicker trunk and goes home. When he opens the trunk at home, loads of golden coins pile out. Then the old man's greedy wife, who sees everything, decides to visit the sparrows as well. She is similarly shown a large and small trunk, but takes the large one home. When she opens it at home, she is surprised. All sorts of monsters pop out, frightening her to death.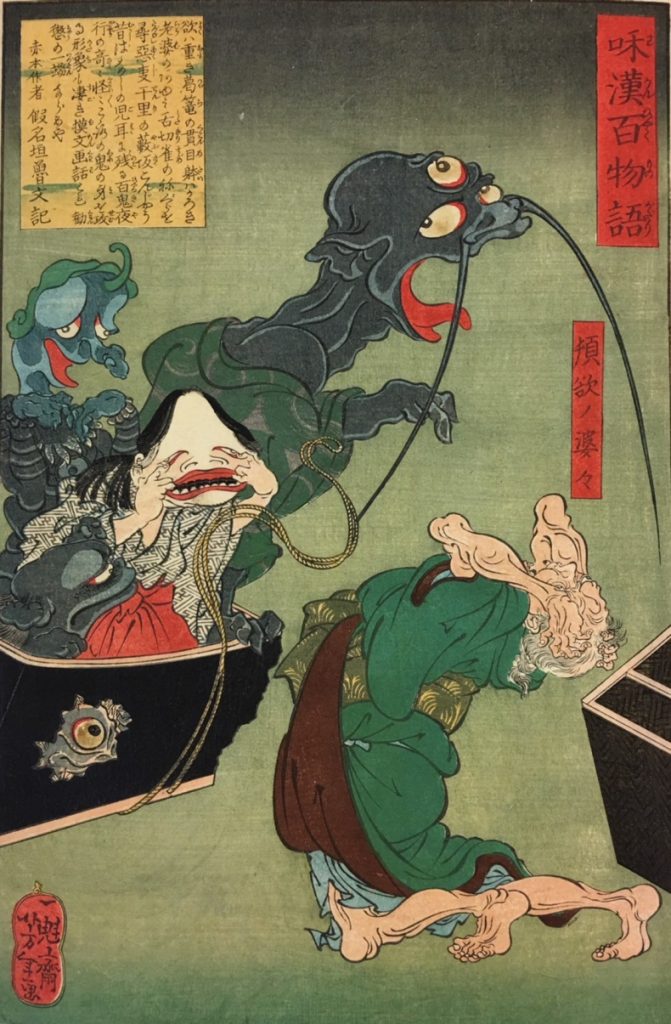 The surprised backward leaning pose of the old woman is interesting, isn't it? Yoshitoshi drew the same theme in a late series called New Forms of Thirty-six Ghosts. When comparing these two works, the early version has thick lines, whereas the late ones has sharp lines, giving it a more modern feel.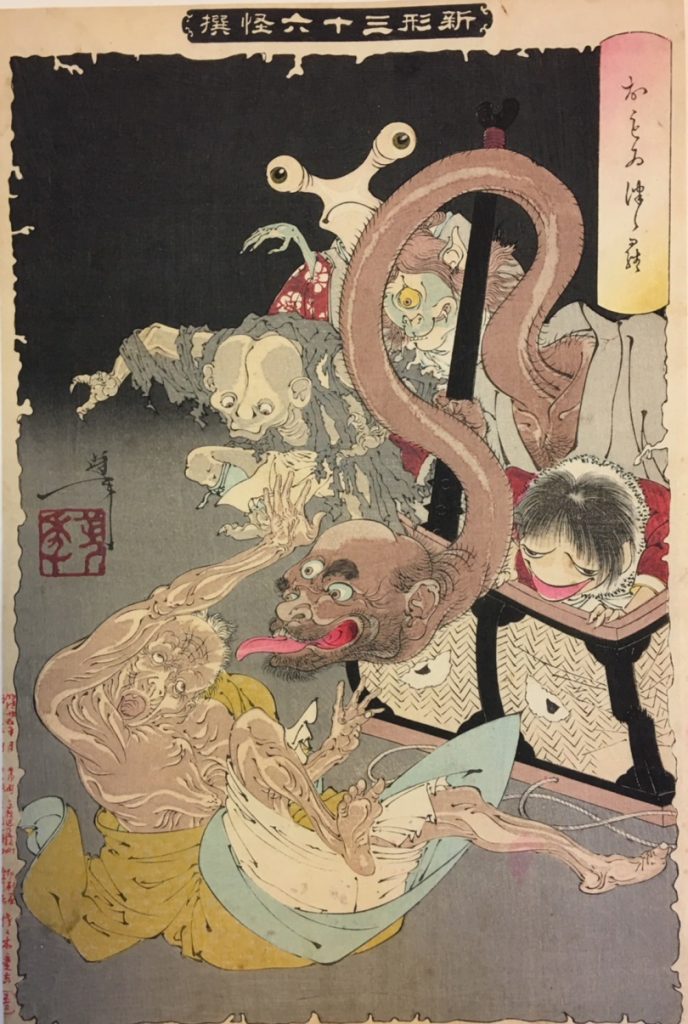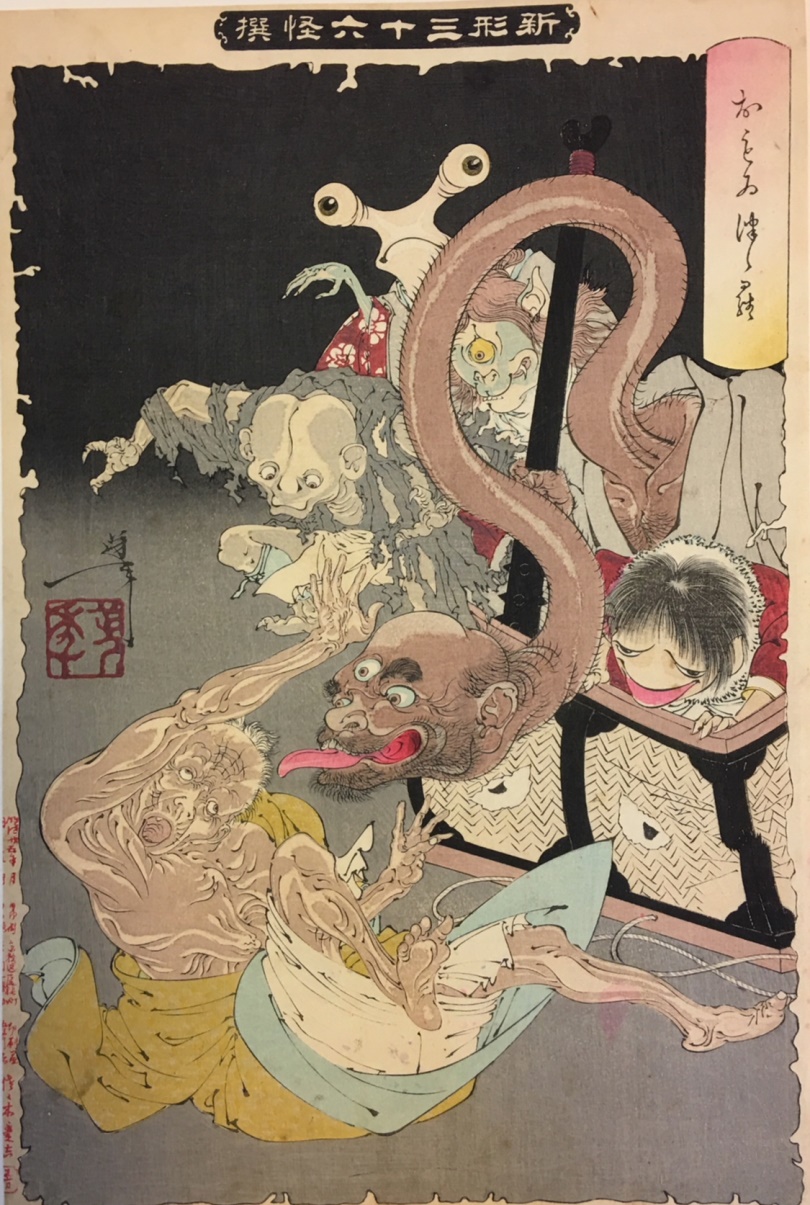 Let me introduce another masterpiece by Yoshitoshi, a double-sheet work named Duel at the Horyukaku. It depicts the famous building named the Horyukaku tower, known from Kyokutei Bakin's "Story of the Eight Dogs of the Satomi Clan." The fight between the two great men Inuzuka Shino and Inukai Genpachi was drawn by various artists, such as Yoshitoshi's master Kuniyoshi. He was probably aware of his master's version, but he responded with a magnificent work that cannot be deemed inferior to Kuniyoshi's masterpiece.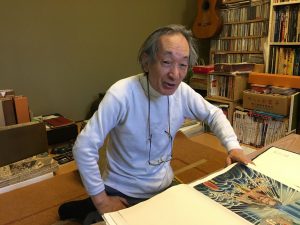 Toshihiko Isao, 82, is a painter and ukiyo-e scholar. Isao's studio is chock full of thousands of old records, CDs, and books lined up along the walls. Isao has a deep and learned appreciation for music as well as art, and is particularly enamored of LPs. Isao can also play the classical guitar. He enjoys performing together with others who share his passion for music, and also likes digging through the stacks at used record shops for finds. In music as in art, Isao is always on the lookout for artists still relatively unknown to the rest of the world!