Walking Tour, or How Else Can You Get Into the Heart of Japan?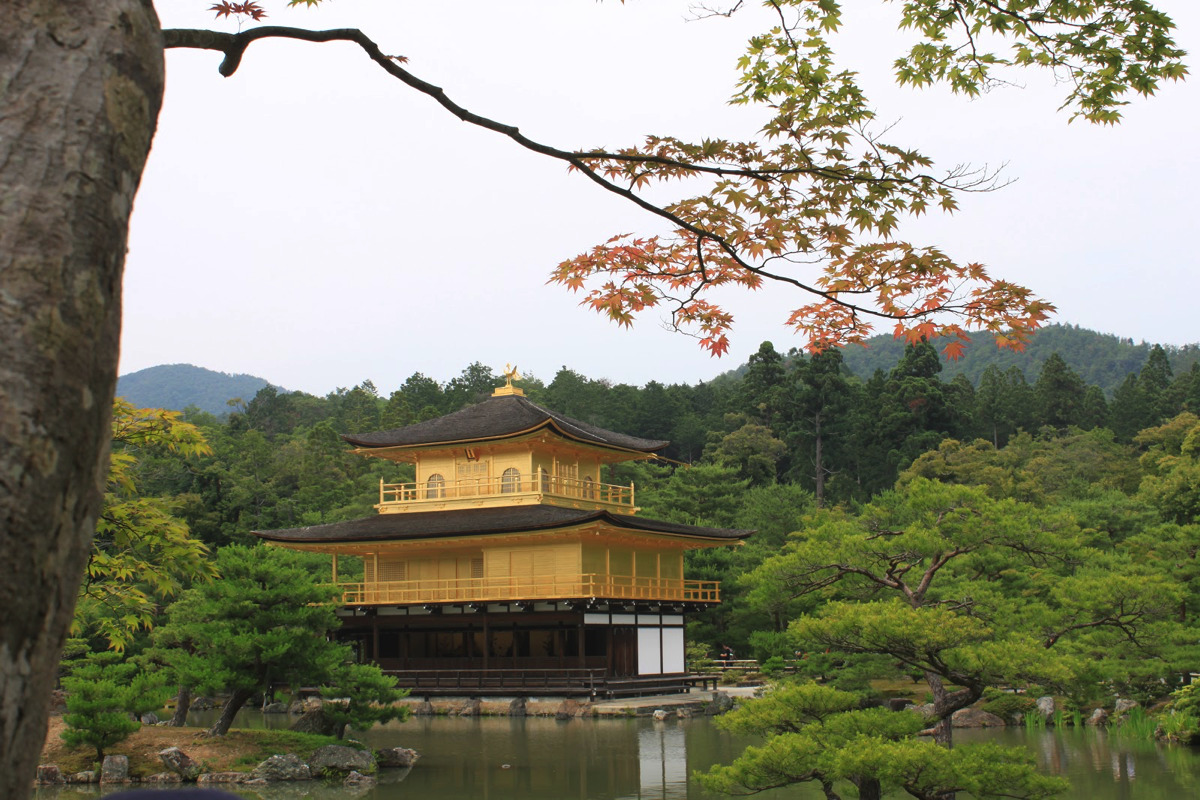 It started in the fall of 2014. Fresh from an exhilarating teacher trip to Cambodia, my friend and colleague Saya and I sat down to contemplate taking about 20 students to Japan during the summer of 2015.
We divided all the chores evenly: I would contact my childhood friend from the Canadian Academy in Kobe, Tom Stanley, who now owned a company called Walk Japan. Saya would handle all the advertising, financial arrangements, communication with the parents of the travelers, and school paperwork. I also magnanimously agreed to help pick our third faculty chaperone.
While there would have been no trip without Saya's efforts, the decision to use Walk Japan led to the trip being a smashing success. Old classmate Tom connected us with our planner/guide Mario Anton, and soon the specific places and events I wanted (Hiroshima, Heian Shrine, tea ceremony), Saya wanted (Harajuku, Tsukiji Fish Market, Ogatsu), and Mario encouraged us to try (Kunisaki, Nakasendo, rice planting) fell into a beautifully organized dive into the culture of Japan, then and now.
Walk Japan is not just a name. We walked over 94 miles on the trip, but how else can you get into the heart of Japan?
Kunisaki
We flew directly to Fukuoka from United States to start our journey. After a crash course in shoes/slippers (when, where, which kinds) and ofuro etiquette, we sat zazen and made our own soba.
But the cultural experience in Kunisaki that stood out for me and many of the kids was our rice planting outing. We were instructed by a local farmer in the traditional method, then took off our shoes, rolled up our pants, and walked down the road to a freshly prepared rice paddy. As the gooey mud squished pleasantly between our toes, we diligently tried to keep the young plants the right distance apart and the rows straight. It took a long time.
After we had done it enough to notice that we were only occasionally successful in lining things up, we noticed the farmer moving an odd-looking machine into place on the other side of the paddy. He was no dummy. Realizing (or perhaps expecting all along) that we were not going to turn his flooded field into a viable commercial rice crop, he started to use a rice planter to perfectly place his shoots.
In five minutes that machine had planted about three times as much rice as what 20 of us had spent more than an hour planting. But we had literally dug our toes into the core commodity of Japan, and we'd had a great time doing it!
Later that evening we enjoyed taiko lessons and a beautiful performance from a local troupe.
Hiroshima
The next day we made the hop to Honshu. We were off to Hiroshima, where we visited the museum and heard a very moving talk from an atomic bomb survivor. Then we visited the children's memorial to drop off the 1,000 cranes we had made and brought from the States for this purpose.
Twenty-five years earlier I had brought another group of students to Japan, and we also had laid 1,000 cranes on the children's memorial. The delivery system is now much more organized and sophisticated, but our emotions were the same, and we thought in 2015 about the experience of these memorialized children, just as we had in 1990.
Miyajima
Afterwards, we caught a ferry to Miyajima. It was a beautiful afternoon, and we had a wonderful time exploring the island and the shrine, which boasts, besides its famous floating torii, a beautiful little Noh theater.
The deer here are much more polite than at Nara; we even noticed one waiting patiently for his favorite shop to open.
I was delighted, right up until the younger adults decided we could catch the next ferry back if we just ran from the shrine to the terminal. I believe that's the closest I've ever come to a heart attack. All the students and the other chaperones, save my daughter Meg, quickly outdistanced me. She kept hanging back to encourage me while occasionally speeding up to keep contact with the rapidly receding group. I made it just as they were closing the gate and spent the ferry ride back to Hiroshima in recovery mode.
Happily, we all were in shape for our okonomiyaki dinner in a very cool underground mall.
Kyoto
Next morning, we were on a train to Kyoto, where we quickly checked into a hotel near the station, split into groups, and headed to a tea ceremony in the tea room of an Urasenke master.
I love tea ceremony, but it has become problematic for my increasingly inflexible body and bad back. Our young students would have their own challenges maintaining the position of a traditional guest. Yet we arrived to find the best of all possible worlds: strict adherence to all the forms of the tea ceremony for the master, and a relaxing of the forms for guests in the direction of comfort.
The event was as mesmerizing as it has always been for me, and the students were blown away. We drank thin tea, tasted thick tea, tried making it ourselves, and learned enough that many students started looking for tea shops to load up on matcha to take home.
After lunch at a floating sushi restaurant, we went to Kinkakuji (the Golden Pavilion). I immediately thought of the Mishima novel — and noticed that the door on one side looked remarkably like the set of this Zen temple in the Paul Schrader film called Mishima: A Life in Four Chapters. The grounds around Kinkakuji are as beautiful as the building, and I marveled at how many private, unobstructed views are possible despite a throng of visitors.
From there we went to contemplate the Zen garden at Ryoanji.
That evening Meg and I left the school group and met up with my Japanese sister (she had lived with my family while a graduate student at UC Berkeley when I was 11 and 12). She, her husband, and her brother took us out for a wonderful meal at a fancy restaurant in the new Kyoto station building. It was the last time I would ever see her, and we both knew that. But that sadness was infused with the enormous sweetness of what we had meant to each other for 55 years. And my daughter's presence cemented the third generation of our families' connection.
The next day in Kyoto was our longest walking day of the trip — 14 miles. We started by going to the Disaster Museum, where we got an interactive education in what to do in every kind of crisis. We got caught in a typhoon, had to crawl our way out of a burning building, and tried to close a door while a flood was pouring through it. Great fun!
From there we walked to the vicinity of the Heian Shrine and ate lunch while watching some local teams play baseball. Some of our students play baseball for our school team, and they had short, mostly non-verbal conversations with the Japanese players.
Then it was on to the Heian Shrine Garden, one of my favorite spots on Earth. That garden is planted so that some flower is in bloom at all times of the year. When I lived as a teenager in Kyoto I would go once a month to the garden and marvel how it would be transformed in some new, beautiful way every time. This month the cherry blossoms were everywhere. That month the water lilies were opening. On this trip in June we hit the full profusion of irises.
When we left the shrine, we walked through Kyoto's Gion district, so we could see the geisha and maiko in their full regalia. Then we made our way to Japan's covered shopping streets. The students fanned out and found their own dinners at the variety of interesting food stalls, and many of them still had enough stamina to look for treasures to take home.
We crawled into bed that night tired but happy. And the next day we would trade walking for hiking!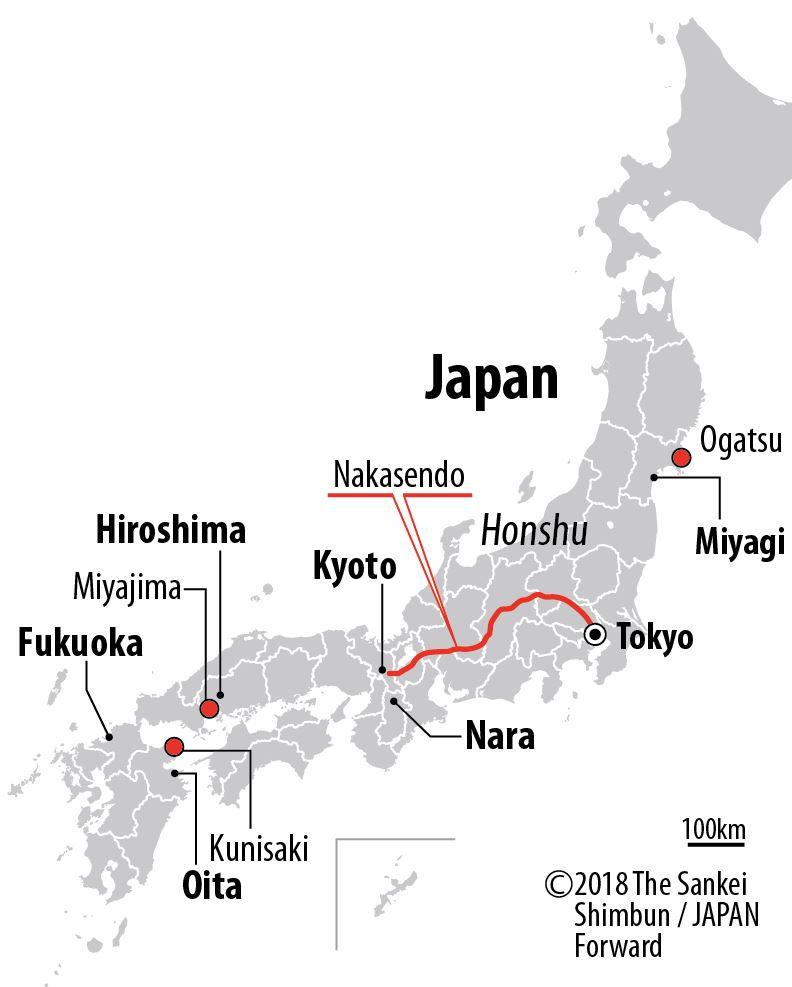 (Next: Nakasendo, Tokyo, Tohoku)
Author: Barry Barankin