Weak Demand for China's High-Speed Trains: A Ticking Time Bomb?
China's High-Speed Railway network is by far the largest in the world, but it is running at an eyewatering loss which may threaten the wider Chinese economy.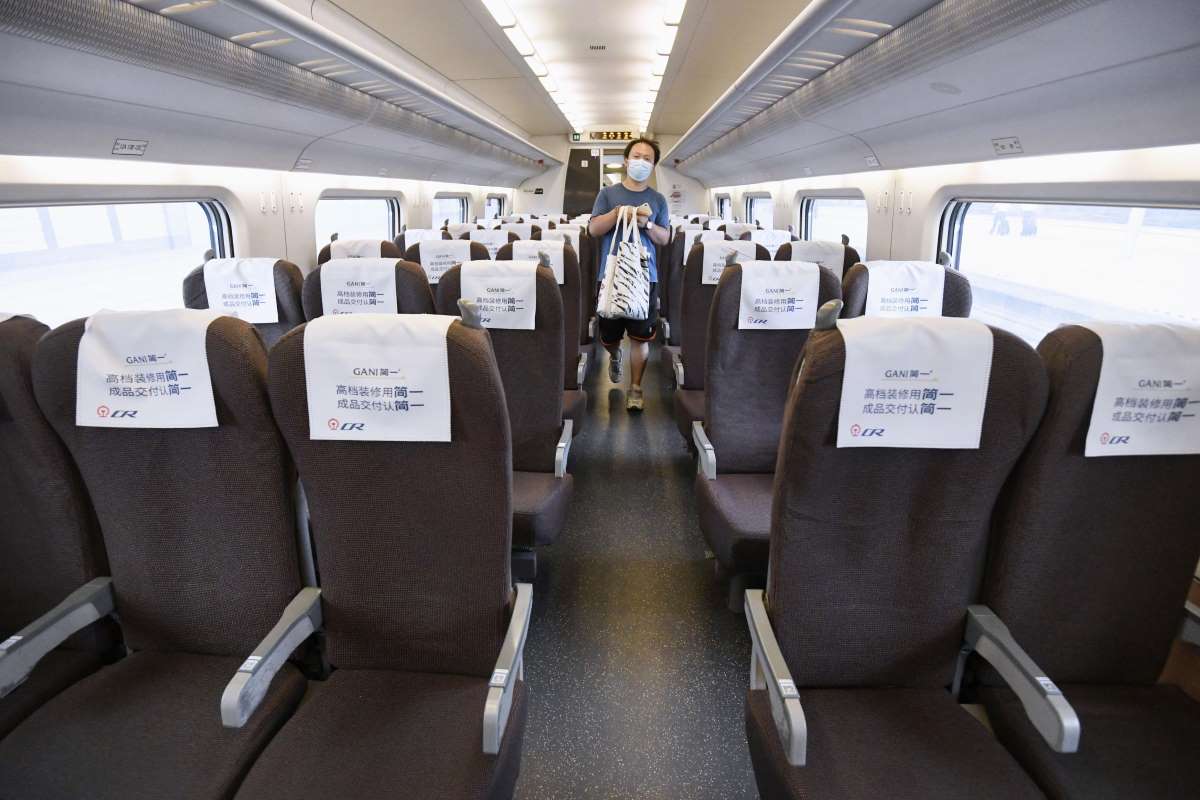 China's answer to the bullet train, the High-Speed Rail (HSR) network, has come to symbolize the country's irrepressible economic growth, but could it become a time bomb that will damage the Chinese economy.
Profitability was disregarded as the network expanded, and now the total debt of the state-controlled China Railway, which runs HSR, stands at approximately ¥120 trillion JPY (around $842 billion USD). This is three times the amount of debt that caused the Chinese real estate giant Evergrande Group's liquidity crisis. Experts are warning that China Railway's enormous debt may pose a severe financial risk.
Before the Beijing Winter Olympics in February 2022, a high-speed rail line was set up to connect the three host venues (Beijing city center, its suburban Yanqing District, and the Chongli District in Zhangjiakou city, Hebei Province). The trains use a driverless system and have a maximum speed of 350 km/h (220 mph), which allows them to cover a distance of approximately 180 km (110 miles) in just 50 minutes. The total cost of this project surpassed ¥58 billion CNY (over ¥1.1 trillion JPY, or $8.3 billion USD).


Lower Demand, Fewer Trains
In mid-July 2022, Kyodo News reported that this trainline was operating just one round trip per day due to lack of demand. However, when The Sankei Shimbun recently checked the HSR reservations website, five round trips per day were found to be scheduled between late July and early August (perhaps owing to an increase in demand during the summer holiday season).
Nevertheless, that figure remains lower than the number of daily trips many Japanese train lines operate, even rurally located ones. Moreover, when ticket availability was checked, plenty of tickets were still available for most departures.
Warning signs about this lack of demand were already present during the Winter Olympics. Around a dozen trips were offered daily during the event, but whenever this reporter took the train, only a few other passengers could be seen in the carriage. Sometimes, there was only one passenger. Nobody could move between carriages owing to COVID-19 restrictions, and both athletes and Olympics staff were kept separate from regular passengers.


World's Longest Rail Network
Spanning 40,000 kilometers, the Chinese high-speed rail network is the longest in the world. Only 23 years have passed since work started on the first line in 1999, which connected the provinces of Hebei and Liaoning. Since then, it has expanded to more than ten times the length of the Japanese Shinkansen network, which totals approximately 3,300 kilometers.
The expansion of HSR accelerated after the 2008 financial crisis as a means of using up excess steel and cement, which could not be exported due to overproduction. Inspired by the so-called "goldmine line" that connects Beijing with Shanghai and Guangzhou, local authorities clamored to lure HSR to their areas.
Mindful of their own legacies, many bureaucrats dreamed HSR would create jobs, revitalize local economies and boost real estate development. In the process, they overlooked the need to be profitable.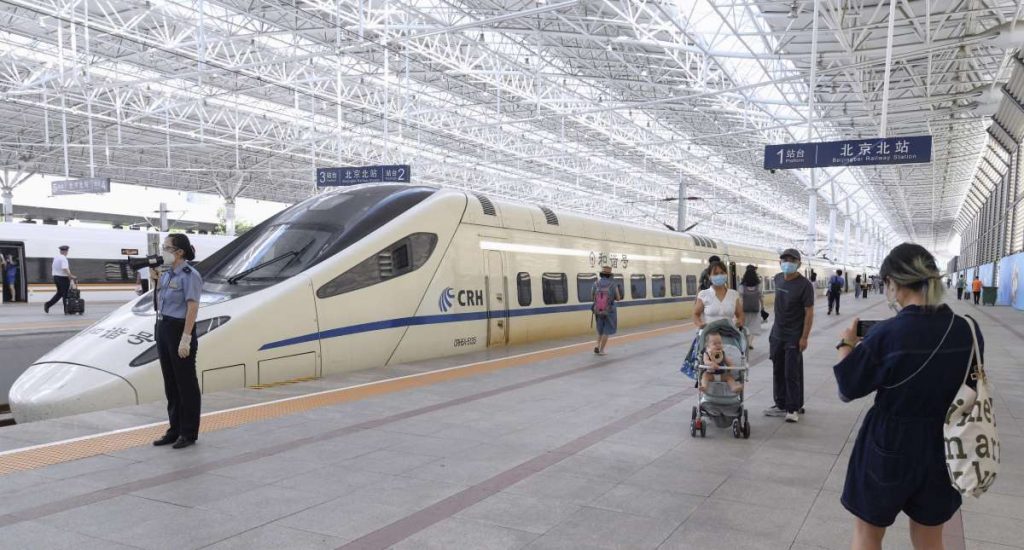 Unprecedented Size and Speed, but at what Cost?
In 2019, Professor Zhao Jian of Beijing Jiaotong University published a critique of the HSR entitled "Beware of the High-Speed Rail's Gray Rhino" on the Chinese news website Caixin. He argued that while people were tending to focus solely on HSR's unrivaled size and speed, it should not be forgotten that "its debt and deficit are also number one in the world."
The term "gray rhino" is used to refer to a latent risk that tends to be neglected, despite a high probability that it will cause significant problems down the line. The expression springs from the fact that although rhinos are large animals which are usually calm, if they go on a rampage they possess major destructive power and can't easily be restrained.
Professor Zhao points out that, except for a few high-earning lines, vast swathes of HSR's transportation capabilities are idle and yielding severe losses. For instance, the line connecting the Xinjiang Uygur Autonomous Region's capital Urumqi with Lanzhou, the capital of Gansu Province, has the capacity to operate 160 round trips per day, yet it runs only four. "The ticket income is not even enough to cover the cost of the power needed to run the trains."
To make matters worse, Professor Zhao calculates that the HSR's total ticket revenues are not even enough to pay the interest on China Railway's debt. By the time it began borrowing money to refinance its debt in 2019, it seems likely that the company has been barely managing to stay afloat.


Wider Risks to the Chinese Economy
Moreover, since COVID-19 started spreading in Wuhan, Hubei Province, even the most profitable lines have slumped. In 2020, China Railway's final profit and loss statement recorded losses of ¥55 billion CNY (approx. ¥1.1 trillion JPY/ $7.9 billion USD), while in 2021, it was in the red by ¥49.8 billion CNY (approx. ¥1 trillion JPY/ $7.2 billion USD). According to the Chinese media, by the end of September 2021 its total losses amounted to ¥5.8 trillion CNY (over ¥119 trillion JPY/ $837 billion USD).
Unlike Evergrande, a private company, it is unlikely that the state-backed China Railway is at risk of default. In its previous incarnation, China Railway was the former Ministry of Railways. Many therefore believe that the government will eventually do something to tackle its enormous debt.
However, the local governments that have invested in the construction of high-speed railways have already suffered heavy losses. Professor Zhao believes that eventually, HSR's liabilities "might trigger financial risks at the countrywide level," such as inflation.
HSR's rampant expansion may also damage the entirety of the Chinese transportation network. HSR cannot be used to carry cargo, meaning freight capabilities are negatively affected by this expansion, which favors passenger railways.
Moreover, China Railway has raised its cargo fares in an attempt to recoup some of the losses caused by HSR. The increasing cost of railway shipping is leading more and more companies to opt for road transportation, which, in turn, worsens air pollution and raises the cost of logistics as a whole.


Despite All, Expansion Continues
The Chinese authorities nevertheless seem set on continuing with their HSR expansion policy. In August 2020, China Railway announced a plan that envisions expanding the HSR network to approximately 70,000 kilometers by 2035.
The Chinese government also plans on making infrastructure investments, including railway construction, to support an economy stagnating because of the pandemic. At the end of May 2022, the State Council approved a resolution to issue bonds worth ¥300 billion CNY (over ¥6.1 trillion JPY/ $43.3 billion USD) to finance China Railway's rail construction. It did this despite having passed a directive a little over a year earlier, in March 2021, imposing stricter requirements for the construction of new lines owing to the company's spiraling debt.
There is a clear contradiction here. The present stance of the Chinese government seems to be one that prioritizes economic stimulus over debt reduction.
China's burgeoning high-speed rail network used to be a visible symbol of the country's rapid economic growth. Japan, with its severe lack of speed in infrastructure building, has much to learn from it. However, the "gray rhino" which the Chinese government is neglecting may end up wreaking greater havoc on its economy than some might foresee.


RELATED:
(Read the article in Japanese at this link.)


Author: Yoshiaki Nishimi