PHOTOS: 119 Dead, 81 Missing, More Than 23,000 Evacuated Due to Japan Floods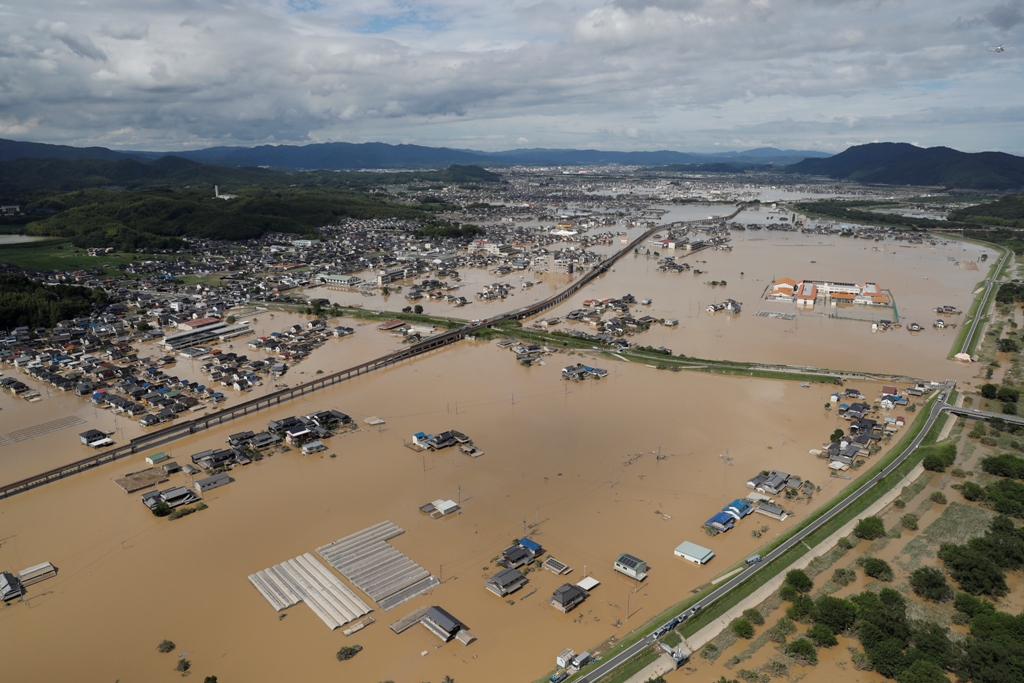 With the death toll already at 119 as of Monday, July 9, torrential rains brought about by seasonal storm fronts are expected to bring further damage to Western Japan, according to official reports in Japan.
Eighty-one remain missing, while more than 23,000 have been evacuated, as relief efforts continue in the Chugoku and Shikoku region disaster areas, the Sankei Shimbun reported.
The Japan Meteorological Agency has called off special heavy rain warnings but continues to call for vigilance against mudslides and river flooding.
According to the Fire and Disaster Management Agency of the Ministry of Internal Affairs and Communications, as of Sunday afternoon of July 8, thousands of people had been evacuated to designated evacuation centers in 15 prefectures. The government also set up a special disaster relief headquarters for the emergency on July 8.
Prime Minister Shinzo Abe announced an increase to the rescue force to 73,000 members. "We are fully committed to life-saving rescue and evacuation," he said.
In the Mami-machi area of Kurashiki city, a well-known tourist area in Okayama Prefecture, the river embankment collapsed, causing about 30% of the area to flood. More than 1,000 people were left temporarily on building roofs while waiting to be rescued.
Meanwhile, the Ministry of Land, Infrastructure, Transport and Tourism is continuing efforts to drain the area. According to the city, there are around 4,600 flooded houses, while evacuees from the entire district are estimated to be between 3,000 and 5,000.
On July 8, deaths were confirmed in several prefectures. In Hiroshima, 12 people were caught up in landslides in the residential areas of Kawasumi in Kumano-cho section of Hiroshima. Their safety has yet to be confirmed, although it was reported that one body had been found. The bodies of three girls were found in the area of a collapsed embankment in the Fukuyama city part of Hiroshima.
In the town of Uwajima in Ehime Prefecture, a 63-year-old man was buried alive in his house due to landslides. A 58-year-old woman in Otsuki-machi, Kochi Prefecture also died. Three people died at the scene in Ayabe City in Kyoto Prefecture, where two houses collapsed. In Seki, Gifu Prefecture, a man's car was overturned in a canal. In Kita Kyushu city, a 68-year-old man was killed in a landslide.
According to the Ministry of Health, Labor and Welfare, as of 1 pm on July 8, about 267,000 households in 11 prefectures, including Hiroshima, were without fresh water supply.
(Click here to read the article in Japanese.)