What Abe Must Be Thinking After A 'Brutal' Drop in Rating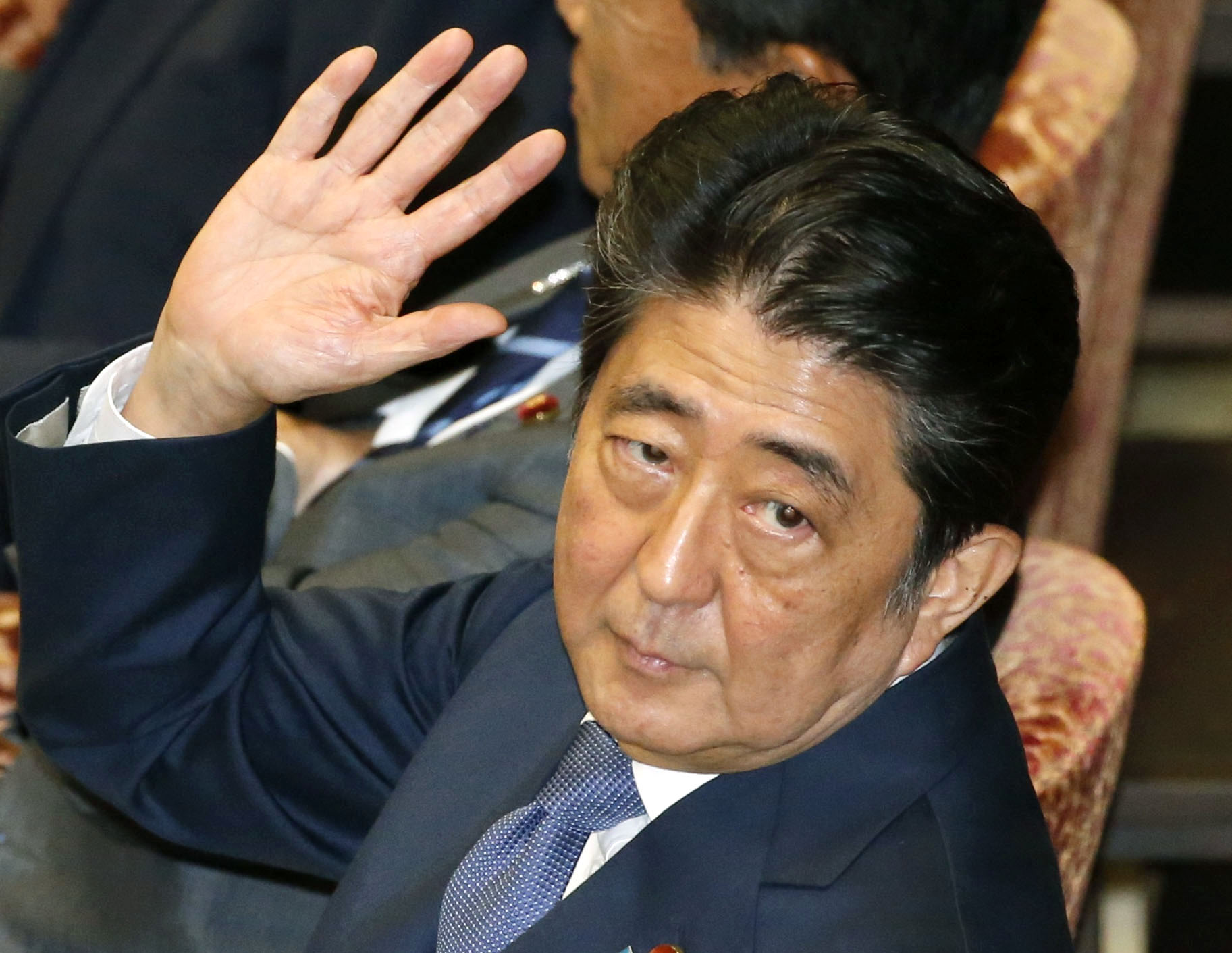 A telephone survey conducted over the weekend by Sankei Shinbun and FNN showed Japanese Prime Minister Shinzo Abe's Cabinet approval rating dropping to 34.7% — a record low since he formed his second Cabinet in 2012.
The survey, conducted July 22-23 had 1000 respondents, who were asked whether he/she supports the Prime Minister Abe's Cabinet?
Abe's approval rating represented a 12.9 points drop since the since the poll last month, conducted June 17-18.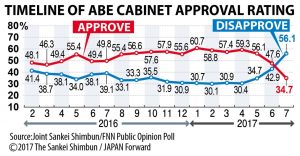 His latest disapproval rating stands at 56.1%, representing a 13.2 points rise from last time.
Abe's Cabinet approval rating appears to have been greatly influenced by two incidents: his response to questions surrounding the formation of the Okayama city veterinary school Kake Gakuen, and his defense of Minister Tomomi Inada's misstatements during an election campaign.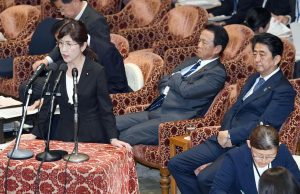 The approval rating of his Liberal Democratic Party (LDP) also dropped 6.9 points to 29.1%, although it still stands well above Japan's other national political parties: the Democratic Progressive Party at 7.0%, Komeito at 5.3%, the Communist Party at 4.6%, and the Japan Restoration Party at 3.2%.
Sankei Shinbun's top analyst Rui Abiru considers what Abe might be thinking at this moment.
***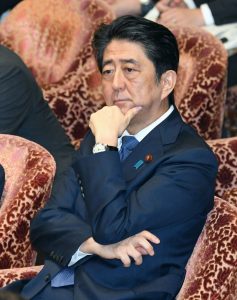 "It's brutal, but a Cabinet rating of 35% is just enough. I must do my best to pull through."
Dropping ratings give a boost to opposing parties, and lead to a loss of unifying force inside the LDP. The destabilization of internal politics will also sink Japan's international influence. Seeing seeds of popular opposition to Abe, the media will be stepping up their criticism of the government.
Doubts remain about the leaked choices of candidate picked for the reshuffling of the Cabinet planned for August 3. The trump card in Abe's deck—a dissolution of the Diet and general election—obviously can no longer be pulled.
Although Abe's government has now entered the most painful stage since the formation of his second Cabinet, in his own mind, I expect that he must regain his initial enthusiasm and move forward one step at a time.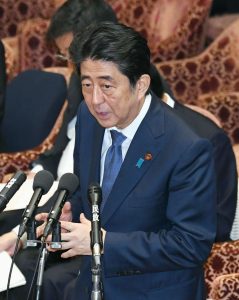 "This is exhausting."
Abe has been heard to say this to those around him. But that doesn't mean he is in low spirits. After his resignation in September 2007 following a relapse in his medical condition a decade before, he was bashed in the media for having "given up the government," and was called a political has-been. Public scrutiny was harsh, and he has often been abused.
"I was once a has-been in politics. At one point, all of Japan was saying, 'To hell with you!' And it was truly hell that I saw."
When he reappeared for the LDP primary election in September 2012, he made many statements like this, stressing the hardships he had been through. Prime Minister Abe, having crawled up out of the depths by his own effort, won't be giving up the fight over a sudden drop in approval ratings.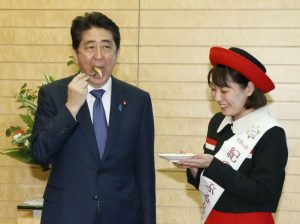 There are things that Abe has long pursued with seriousness and zeal, which nobody besides him is capable of in Japanese politics: resolution to the kidnappings of Japanese by North Korea, for example, but especially, revision of the Constitution.
Abe's dismissive replies on the issue of the Kake Gakuen veterinary school accreditation scandal—about which he had claimed utter ignorance—have brought the wrath of the electorate upon him, for which he seems to bear deep regret.
"There is probably a criticism of how I've replied. People are starting to doubt me. From that standpoint, my replies haven't been sufficient."
The Prime Minister repeatedly replied this way to the House of Representatives budget committee on July 24th, showing his intention to make a more careful explanation. That loss of trust won't come back all at once. With his gradualist approach to politics, however, we can expect him to take his time, and take on the issue slowly and steadily.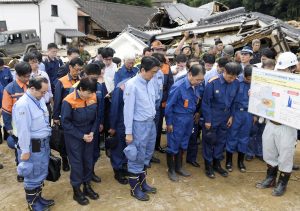 Rui Abiru is an editorial writer and political section editing committee member of the Sankei Shimbun
(Click here and here to read the articles in Japanese.)