Where Nuclear Survivors Tell Their Stories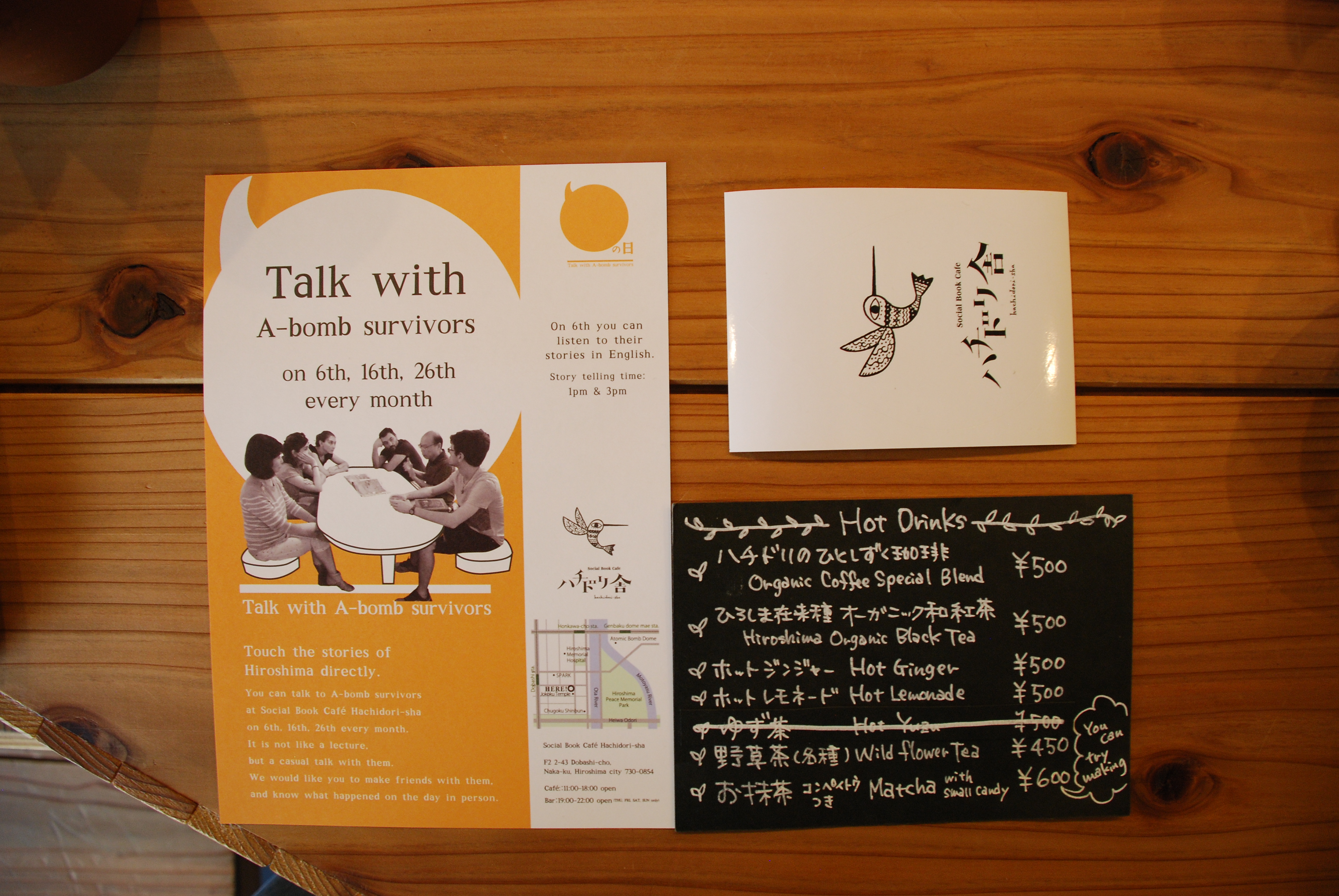 Views on nuclear issues are voiced strongly in Japan, where nuclear devastation has had a direct impact on thousands of lives not only in Hiroshima, Nagasaki, and Fukushima, but also in cases such as the Daigo Fukuryū Maru, the Number Five Lucky Dragon fishing boat whose story inspired the Godzilla movies.
The importance of raising awareness of issues surrounding nuclear weapons and energy has increased in recent years as the hibakusha or nuclear bomb survivors age and the number of survivors decline.
At the Social Book Café Hachidorisha (2F, 2-43-2 Dohashi-cho, Naka-ku, Hiroshima-shi) close to the Hiroshima Peace Memorial Museum, there are three events every month—on the 6th, 16th, and 26th—at which customers can speak to hibakusha. The testimonials allow listeners to hear from those with first-hand experience of the atrocities, including the one that occurred in Hiroshima on August 6, 1945.
Patrons can also share their own experience and ask questions in order to open the discussion on difficult topics relevant to Japan and the rest of the world. The small scale of these events allows the audience to connect on a more emotional level, which in turn provides them with a greater appreciation of this tragic moment in history.
The café itself is a bright, vibrant space with stunning handcrafted wooden tables, chairs, and even kotatsu. It also contains a variety of non-fiction books, many specifically about Hiroshima.
Crossing the threshold, I was warmly welcomed and seated under a warm kotatsu. When my order arrived, I enjoyed an exquisitely-presented Keema curry made with local organic ingredients, served with fresh Hiroshima vegetables, and accompanied by miso soup.
The owner of Hachidorisha, Erika Abiko, explained to me that nearly two million people visit the Hiroshima Peace Memorial Museum every year. However, while the museum's exhibits are poignant and insightful, they only allow visitors to read about the experiences. She created Hachidorisha with the intention of giving visitors the ability to discuss issues more deeply rather than simply experience them superficially.
The café also explores other social issues in Japan and hosts guest speakers who share their knowledge as specialists in their fields. The topics are wide-ranging, including some as obscure as retro vending machines! The owner expounded that the café is a place to expand one's mind and share knowledge in the hope that people can learn from and empathize with others.
In the wake of the Fukushima disaster, anti-nuclear sentiments have risen to the forefront of nuclear energy debates worldwide and reinvigorated the argument for complete nuclear abolition. The argument is only reinforced as tension in North Korea continues to rise. Furthermore, many anti-nuclear movements have expressed hope that the dangers of nuclear energy and nuclear waste will be fully addressed, so that incidents such as Fukushima will never happen again.
A few years ago, I had the chance to hear a testimonial given by Hiroshima survivor Toshiko Tanaka, who was only six years old on that fateful day in August 1945. Using the Japanese NGO Peace Boat, Toshiko has been able to tell her story all over the world, and has been an advocate of ICAN, the International Campaign to Abolish Nuclear Weapons, which was awarded the Nobel Peace Prize in 2017.
Her testimony, while harrowing, epitomizes the perseverance and bravery of the survivors. She is happy to share her story, knowing that doing so enables future generations to understand the horrors faced by the hibakusha and hopefully to ensure that those horrors never occur again.
Oliver Trapnell is an exchange student at Waseda University and freelance journalist based in Tokyo, Japan. He is originally from Berkshire in the United Kingdom.
This blog was originally published on Jigsaw Japan, you can view the original here.